SEPTEMBER 1911 - HIRAM PRATT DIARY
Waveland, Indiana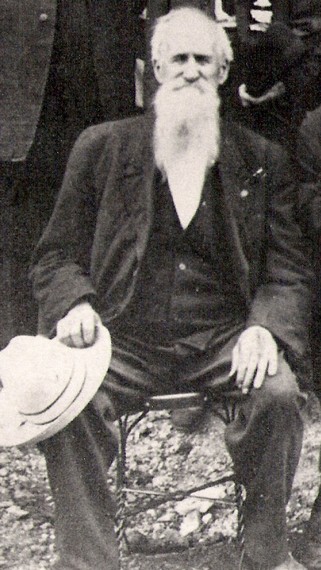 Note: These diaries were in the Waveland Public Library for decades but were disposed of by a librarian several decades ago. Luckily, another librarian's daughter (thanks sooo much Pam, at the death of her mother, Virginia Banta Sharpe found them in some belongings and gave them back for proper housing. A complete circle; however, only 14 of the 50+ diaries were saved from the library's incinerator. I'm a librarian too and thought since they'd been lost to posterity for so many years that it would be a good thing to transcribe them and give them to the world. They are currently housed in proper temperature/storage at the Crawfordsville District Public Library - typed as they were written
Note 2 : Karen Bazzani Zach (transcriber) was raised in the big 'ol town (500 people) where HA Pratt lived 5 decades before I was born. I remember the building where his little shop was and wish it was still there. What an interesting little place. ALAS! Progress ! Oh, and I've tried to type the diaries as is - mistakes & all
Note 3: Some information about Pratt -- he was born in Parke County, Indiana April 20, 1840 the oldest child of eight born to Erastus & Elizabeth Allen Pratt and died October 12, 1914 in his beloved Waveland, Indiana. He was twice married, first to the love of his life (he kept a life-sized poster of her in one of his cabinets at his barber shop, even long after his second marriage) Eliza Franklin Shaw (born Oct 23, 1841 died Oct 12, 1887), and #2 to his friend, Evaline "Eva" McMains. He was very active in the community where he and Eliza chose to live. He gave generously of his time and money to the Methodist Church in Waveland. For a few years, he served as Marshall of the town. Also, he worked diligently for his Odd Fellows, Rebekah & Knights of Phythias Lodges, was for a time on the town board, and read to those who could not read from the several newspapers he was agent for. Pratt volunteered and served for three years during the Civil War (Co. B, 36th Infantry), and spent time in the dreaded Andersonville prison. He and Eliza adopted a son, Willie Franklin Stump, age two (not sure ever officially or just had permission to take him from the Poor House in Crawfordsville) and he was an amazing young boy (high grades, worked in the church, quite musicially inclined, just an ideal child) until Eliza was taken to the hospital where she was operated on for six cervical tumors (one weighing six pounds) from which she died. Willie went wild after that and he and Hiram's second wife, Eva never got along. He ended-up in Reform School (for stealing a dollar twice from Eva among other small crimes), and later sent home to die due to consumption (what we know as tuberculosis) dying in Hiram's arms on April 12, in 1894. Hiram missed Willie and Eliza more than most I do believe as he wrote about them so often in these diaries. Just wish the rest of Pratt's diaries he wrote for over 50 years as a barber in Waveland still existed :( kbz -- ENJOY
---
On front of this diary is a piece of paper glued that says, "Waveland Ind HA Pratt, Diary for the year of 1911.
Inside there is a page to fill out that says "Remembrancer"
Reisdence Waveland PO BOX Ind. Telephone NO 24-6. Business Address Cross Street Telephone no. 6.
Other things are not filled out
Life Ins Policy Union Mutual of Maine at Portland
In case of accident notify Mrs. SE Pratt
---
Friday Sept 1 - $1.50. While in Crawfordsville yesterday paid 25 c for a half peck of real genuine sweet potatoes 15 for a cake of razor pest ? 10 for lunch. Spoke and shook hands with Jim, Mary Ellen and Miranda Ellis. Heart that Phillip McMains was in at the fair. It was not known that he would continue his call to this place. The ride with Dr. Harbeson yesterday was better to me than all the week at the fair.
Saturday Sept 2 - $5.70. The weather has been clear and rather warm 90. My lunch cost me 15. Paid 10 for a water melon. Eva sent Charlie Jones a young chicken and to Mrs. Geo Dillman a loaf of salt rising light bread. I have been trying to tell my friends all about the Auto ride to Lafayette. I surely did enjoy every foot of the trip then too. I had the pleasure to eat dinner with my old time friend, CT Dorwin.
Sunday Sept 3 - Clear or nearly so. 90. I was a little behind time at church service, yet in time to assist in taking up the morning collection. I write this with a new fountain pen that is said to be non-leakable and the pen 14 k gold and only cost 25. This space I am writing on Monday night. Our 4th and last Quarterly meeting will be held here on Monday Sept 24. The warm weather seems to be returning.
Monday Sept 4 -- $3.25. Cloudy 81. Saturday Buddy kelso went to Russellville for some corn meal and I had him to bring me 200 pounds of cracked corn which cost me $3.00 Paid 25 cts for a pound of butter. We have our butter engaged at that price. Butter can be had now for 20c. the price this winter may be 30c but we won't have to pay it. 7 ½ cts now for sugar bought a dollars worth. Spectacles mended 35 cts.
Tuesday Sept 5 - Cloudy. 72. Had a nice rain early this morning no wind and no lightning, could have endured several more hours and remained happy. Ed Cuppy has made a deal for the Hotel building. Dillman owns the building occupied by Cuppy and will move in as soon as Ed gets out. Bob McMains was at Clay Lewis' last night and dined with us today. Paid 20 c for a gallon of good cider braze ? Dillman a dollar.
Wednesday Sept 6 -- $2.15. Cloudy and the threatened rain. Two 1 pound packages of Arbuckle coffee 50c. Sent Arbuckle Brothers of NY 49 signatures cut from coffee packages and a 2 ct stamp and ordered an ostrich plume for my wife. Paid John Tague 20 c for a gallon jug full of new sweet cider. I chide ? Eva consumed a large quantity of it. I have all the peaches that I care to eat. Our trees are loaded, lims (sic - limbs) are held up by props. Apples are good and the trees are loaded.
Thursday Sept 7 - 74. Cloudy. I paid John Holland a dollar for a Nickel alarm clock. I am going to keep it in my shop and take it home on special times when I need to get out of bed at a particular time. Paid Mrs. Margarett Moore 70c. I neglected to make a note of it last week. Paid 60 c for two new shoes put on "Bobs" front feet. My arrangements are to go over to the state fair with my friend, Dr. Harbeson we will go in the Auto to Crawfordsville.
Friday, Sept 8 - Cloudy 70. Rained a very little. Dr. B.M. Harbeson and I started for Crawfordsville this morning at 25 minutes of 5 and got on the Ben Hurt Car that left a 6.05 for Indianapolis. We were in the state fair by 8.15. Round trip car fare cost me $1.40. Ben paid my far to the Fair. Cost 50 to be admitted. I was as busy as I could be most of the time in going from place to see the things to be seen. I seen a man in a biplain flying about at the Fair.
Saturday Sept 9 - Cloudy but no rain. 77. $7.75. Paid 25 c for a pound of butter. 20 for my Evening lunch at Jones' Restaurant. It was 8 o'clock when we got in from The Fair. We left the station in Indianapolis at 5 p.m. I spent close on to $1.10 yesterday in The Fair. Paid 10 for a water melon. It is the intention that we eat dinner with the Forty Niners at the Fair Ground in Crawfordsville tomorrow. Bob McMains returned home this morning.
Sunday Sept 10 - Cloudy 70. Rain in the afternoon. We got started by 8 o'clock for Crawfordsville and by the time we got to the fair ground it was 11:30. Here we met with Jim and Mary Alfrey and Miranda Ellis. Anderson McMains, wife and daughter, Bob McMains wife and daughter John Hunt and wife. They the 49ers spread a very fine dinner. They are to meet for another reunion on 2nd Sunday of Sept 1912.
Monday Sept 11 -- .50. Cloudy 70. We stayed at John Hunt's last night along sometime in the night one side of support for the bed spring became detached and let the side that my wife was lying on fall. Mrs. Hunt came to our relief and we made the bed on the floor for the remainder of the night. I paid 30 c for a couple pounds of pressed beef like Mrs. Hunt had for supper. We had a splendid visit here. We took our dinner with Mrs. Jennie Hanna and supper at our own house.
Tuesday Sept 12 -- $2.50. 65. Cloudy. We had a high wind and a brisk rain at an early hour this morning. Sent a check for 18.85 this morning to Louis Bischof for payment on the good Eva bought yesterday. She payed it all out of her savings. I paid 41 for a little device used to facilitate in darning socks. 5 spools of thread to be used in the darning was included in the purchase. Paid 35 c for "Bob" dinner at the livery stable. I am using the Fountain Pen that cost me 25 c "it is satisfactory". Weather is cooler.
Wednesday Sept 13 - 77. $3.50. We had another good rain this morning. The moon and stars were shining as I went home last night. Paid 15 c for 2 ½ yds of screening to lay our apples and peaches that are spread out to dry from the heat of the sun. Sent the laundry 6.22 by check. The hamper will be sent out in the morning. Paid Max Dillman $1. Mrs. Moore 40. The weather continued rather warm. Ten cts for beef.
Thursday Sept 14 - 60. 40 cts. We had another beautiful rain fall this morning. We would have been wonderfully pleased to have had these showers of blessing 2 months ago. The crops would have been much larger. In a few places farmers say they have a splendid showing for a good yield. Buddy Kelso sent Montgomery Ward & Co of Chicago an order for a Base Burner Hard coal stove costing $33.75 and an order for groceries of 7 dollars. Eva received a letter from her sister Almira. They have an awful lot of hot weather.
Friday Sept 15 -- 72. Rain again this morning. $4 is the receipts for today. There is now an ingathering of The Old Academy students of the Waveland Collegiate Students. The school was organized in 1849 and discontinued in 1877. Prof. HS Kritz and Coyner were the orginators (sic). During the life of the school more than 4000 were educated in this school. Prof. Kritz is yet living but in very bad health. He is in his 87th year. Miranda will be here tomorrow.
Saturday Sept 16 -- $9.15. Cloudy 78. Rained again last night. 10c for lunch. 65 for 24 lb bag of flour. 25 for butter 25 for fresh pork chops. Sylvester McIntire, Mr. Tate, Mr. E. Clodfelter and Al Foley were callers today. As I went home to dinner Theodore C. Smith called me he was on the porch at Irve Fullenwiders. Miranda and Eva attended the reunion of the old students in the Presbyterian meeting house. I was done work by 10. The weather has been real warm.
Sunday Sept 17 - Cloudy. 80. Rained a very little last night. Buddy Kelso, Miranda and Eva rode in the buggy to The Presbyterian Meeting house and listened to a very interesting address by Judge McIntire an old student of the Waveland Academy in the early days 1860 to 70. He was 55 minutes reading what he had written. I did not get tired nor sleepy. Prof Kritz was there. He made a short address at the lawn social at his res.
Monday Sept 18 -- $3.20. 82. Clear most of the day, came very near raining this forenoon, a few drops fell. Paid John R. Canine 15 c for 4 cakes of parafene (sic). 30 c for 3 doz rubber rings for Mason Jars. 5 c for a lamp flue - 20 c for a beef steak. Max Dillman $1. Sent the Indianapolis $13.04 for papers received in the month of August. 20 c for lunch last night as we returned from meeting 15 c for a water melon. Quarterly meeting next Sunday.
Tuesday Sept 19 -- $1.05. 72. Clear most of the time today. I had not taken in a penny when I went home to my supper. Paid 20 c for cinnamon and cloves to be used in making spiced peaches. Eva says she is done canning peaches for this season> She intends making a few gallons of apple butter before the cold weather begins. WR Kelso has received word from Montgomery Wards Co that his order for the stove had been received. John Shanks will go over to Indianapolis tomorrow to see The Sovern Grand IOOF.
Wednesday Sept 20 - Clear as nearly so most of the day. 71. .50 Paid 5 cts for a small bit of dried beef in a glass tumbler. At noon I put "Bob" to the buggy and Eva and her sister drove to Mrs. Bloomfields at 5 o'clock they called at the shop for me and I rode home. There is a series of meetings being held in the Baptist meeting house. Tonight the air is a good deal cooler than at noon. The day and night are equal in length on tomorrow. I will make a note of the rising and setting of the sun.
Thursday Sept 21 - Cloudy, rained early this morning but not very much. 70. $65. Sent the Laundry Co $6.38. Paid 10 for a water melon. They were selling out of the wagon at a dollar a dozen. It is getting rather late in the season for the sale of them. They are real nice melons. Paid 17c for a stice (sic - slice) of uncured Pork ham. Mrs. Moore received a dollar. I meant to have said 40 for the washing of our wearing apparel. Coooler weather tonight.
Friday Sept 22 - 1.65. Paid $2 telephone rent 10 for 1 talk to Jim Alfrey's. Yesterday sun arose at 5.32 today at 5.33 sunset at 5.43 yesterday at 5.44. Eva and sister Miranda were out with the horse and buggy this afternoon they were at Mrs. Sarah EW Dooleys most of the time. Paid 410 on the Parsonage. I subscribed this when the building money was being solicited.
Saturday Sept 23 -- $8.75. 68. The Hard Coal Base burner and grocery package that was ordered came in from Montgomery Ward & Co. came in this afternoon. I saw it on the dray. I was done work a little before 12 tonight. Paid 25 c for my supper and midnight lunch tonight. This evening I received a half dozen photo graphs from my friend C T Dorwin of Lafayette, Ind. I was verry god of this present.
Sunday Sept 24 - Cloudy rain was expected few drops did fall. 70. There was no preaching at the Methodist Church house this morning. I went to hear Bro Berkhart, but got so sleepy I could not hear very much of what he had to say at one time I was sound asleep. After dinner was over I put "Bob" to the little wagon and rove over to Russellville. Margarett Moore was with us. I was asleep when it was time to go to church to late when I awoke.
Monday Sept 25 - Cloudy but no rain after 7 a.m. 73. $.85. Paid $1.40 for a piece of bacon, it cost 18c a pound. Two stalks of celery 5c Express on laundry 35. Last Saturday I shook hands with Mike Conway. He is conductor on a railroad over the Rocky mountains. When a small boy lived here and went to school. Henderson Oliver, wife and Leroy were in home today. They stayed out home all day yesterday looking for us to call on them. We did think of doing so.
Tuesday Sept 26 - 86. Cloudy. .85 cents. Rained nearly all of the forenoon. Paid 20 ct for fresh pork. Eva and her sister are talking of going over to Sam Rambo's tomorrow, if the rain stops and signs are favorable. It is my opinion the farmers are going to get a better yield of corn than was expected. I have some say they never had a better prospect of course now and then the corn is verry poor. Paid 10 c for a water melon. They were selling out of the wagon at a dollar a dozen.
Wednesday Sept 27 -- $1.25. Clear with the exception of a few flakes (definitely flakes - can there be flakes of rain like snow - I mean 81 degrees here). 81. Eva and Miranda got started by half past 8. The day has been very nice for the drive. They think they will return next Friday. Ev said she wouldn't return in the Thunder (flakes of thunder then maybe?). I have been setting up the new stove for Buddy this for noon (sic). I find it to be quite a puzzle to get it to fit without some studdy (sic). When I get it up I thing (sic) it will show up in good shape. The home is lonesome with Eva gone.
Thursday Sept 28 - $1. 66c. We have had a real nice day overhead. I have 4 ton of coal ready for use in my shop asson (as soon?) as the weather gets cold enough. Paid 25 for a pound of butter and 35 c express on laundry. Bob McMains is with me tonight. He was in Shelbyville last Monday and called on Adam P. Hanna a former citizen of this place. Mr. Hanna is very poorly not able to do anything for himself.
Friday Sept 29 - $1.30. 71 Rained last night. Eva and Miranday returned in good time about 10 o'clock. I got breakfast for Bob and entertained him the best I could. Miranda and he returned to Crawfordsville on the 2 p.m. car. The New stove is now on its base and is a fine looker. It weighs 540 pounds. The 2 Good boys and I put it on the base, it was about all we wanted to lift. Paid Max a $ Mrs. Moore 40c 20c for a gallon of cider and 40c for a piece of pork.
Saturday Sept 30 -- $5.35. Cloudy, misted a very little. 80. My supper at the Jones Restaurant cost me 15 cts. Last Saturday night I had a light oyster stew for super at 15. The weather is a good deal cooler at night a heavy dew this morning but no frost. There is a good prospect for a war between Turkey and Italy. (he has in paran. Itily) Mayor Shank put the wholesale price of potatoes down to 75 cts a bu. Commision men put the retail price 5c less but the People bought of the Mayor. Potatoes will be cheaper now.