APRIL 1911 - HIRAM PRATT DIARY
Waveland, Indiana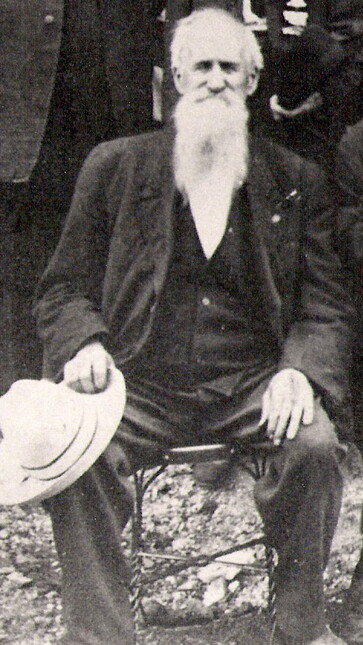 Note: These diaries were in the Waveland Public Library for decades but were disposed of by a librarian several decades ago. Luckily, another librarian's daughter (thanks sooo much Pam, at the death of her mother, Virginia Banta Sharpe found them in some belongings and gave them back for proper housing. A complete circle; however, only 14 of the 50+ diaries were saved from the library's incinerator. I'm a librarian too and thought since they'd been lost to posterity for so many years that it would be a good thing to transcribe them and give them to the world. They are currently housed in proper temperature/storage at the Crawfordsville District Public Library - typed as they were written
Note 2 : Karen Bazzani Zach (transcriber) was raised in the big 'ol town (500 people) where HA Pratt lived 5 decades before I was born. I remember the building where his little shop was and wish it was still there. What an interesting little place. ALAS! Progress ! Oh, and I've tried to type the diaries as is - mistakes & all
Note 3: Some information about Pratt -- he was born in Parke County, Indiana April 20, 1840 the oldest child of eight born to Erastus & Elizabeth Allen Pratt and died October 12, 1914 in his beloved Waveland, Indiana. He was twice married, first to the love of his life (he kept a life-sized poster of her in one of his cabinets at his barber shop, even long after his second marriage) Eliza Franklin Shaw (born Oct 23, 1841 died Oct 12, 1887), and #2 to his friend, Evaline "Eva" McMains. He was very active in the community where he and Eliza chose to live. He gave generously of his time and money to the Methodist Church in Waveland. For a few years, he served as Marshall of the town. Also, he worked diligently for his Odd Fellows, Rebekah & Knights of Phythias Lodges, was for a time on the town board, and read to those who could not read from the several newspapers he was agent for. Pratt volunteered and served for three years during the Civil War (Co. B, 36th Infantry), and spent time in the dreaded Andersonville prison. He and Eliza adopted a son, Willie Franklin Stump, age two (not sure ever officially or just had permission to take him from the Poor House in Crawfordsville) and he was an amazing young boy (high grades, worked in the church, quite musicially inclined, just an ideal child) until Eliza was taken to the hospital where she was operated on for six cervical tumors (one weighing six pounds) from which she died. Willie went wild after that and he and Hiram's second wife, Eva never got along. He ended-up in Reform School (for stealing a dollar twice from Eva among other small crimes), and later sent home to die due to consumption (what we know as tuberculosis) dying in Hiram's arms on April 12, in 1894. Hiram missed Willie and Eliza more than most I do believe as he wrote about them so often in these diaries. Just wish the rest of Pratt's diaries he wrote for over 50 years as a barber in Waveland still existed :( kbz -- ENJOY
---
On front of this diary is a piece of paper glued that says, "Waveland Ind HA Pratt, Diary for the year of 1911.
Inside there is a page to fill out that says "Remembrancer"
Reisdence Waveland PO BOX Ind. Telephone NO 24-6. Business Address Cross Street Telephone no. 6.
Other things are not filled out
Life Ins Policy Union Mutual of Maine at Portland
In case of accident notify Mrs. SE Pratt
---
Saturday April 1 - $6.55. Cloudy and cold 35. Paid 50 c for a beef roast 10c for 4 oranges 5 c for a loaf of bread 7c for a small head of cabbage. 25 c for a pound of butter 1.00 for 3 brooms 15 c for a box of talcum powder for the face. Mrs. Clay Lewis, her hubby and their little daughter were at our house for dinner, Bob McMains too. I paid Charlie Moore $4.60 for the clearing up of our premises. He done a good job. Paid 10 for a box of shoe polish and 20 for an evening lunch at Fred English's.
Sunday April 2 - Snowed like fury nearly. 32 all of this afternoon. I went to hear Bro. Fertich at the forenoon and evening services. At the morning service 6 persons were received into full membership and 3 little girls on probation. At night the weather was so very inclement that the congregation numbered 29. Buddy Kelso and wife put up with us for the night. They now have possession of their house but have not put the house in running order.
Monday April 3 -- .60. Bad disagreeable weather all day 27. Paid 50 for two packages of Arbuckle coffee 2 lbs 10c for a pound package of "BC" baking powder 5c for box of soda and 95 c for a "blue Bell" tieville? I helped to take the dining table back home Buddy left in our care while they were at their daughters to spend the winter. We had several hard thunder claps yesterday while the snow storm was on. Thunder during a snow storm is of rare occurrence. I remember of a like instance long ago.
Tuesday April 4 - Cloudy and rained most of the day. $1.00 The ground is about as wet as it can be made what rain that falls will have to find its way to the branchs. The Extra Session of Congress convened today. It will be likely to last nearly all summer. Champ Clark of Missouri is speaker of the house of representatives. "Uncle Joe Cannon" has a seat on the republican side. The Democrats have a majority in the lower house.
Wednesday April 5 -- $1.00 44. Cloudy but no rain. The weather is a little cooler. The fruit trees have not yet put on their bloom. The continued cool weather keeps them back. Buds are almost out. I am in hopes that the fruit will not get frosted. Wife says we have plenty to last another year if it should fail, but she will be glad to have an opportunity to put up more. Bob McMains was at our house for supper yesterday. Paid 45 c for apples. 60c for calico.
Thursday April 6 -- $1.70. Cloudy and damp all day 68. Charlie Williams overhauled our gasoline stove. It has the appearances of doing as good ever did. Cost me a dollar. I had made up my mind to get a new one but now I think that will not be necessary. Paid 15 c for 10 lb of corn meal bought a gallon of maple molasses for $1.10. 8 cts for a head of cabbage 10c for 3 oranges 10 c for 3 lemons 6 bananas 10 a pine apple 15 cts. The weather is turning cooler.
Friday April 7 -- $1.15. 44. The weather today has been cloudy and chilly. Bought a couple cans of cove oysters for a dime. The cans were small. Paid 10 c for milk and 10c for a can of condensed milk. Miranda Ellis has been gone two weeks tomorrow afternoon. The public well at the corner of Cross Streets has been repaired and is supplying man and beast with good water. There is a cement trough for the horses to drink out of.
Saturday April 8 -- $6.83. 66 Cloudy all day. The sun shone very dimly for a little while this afternoon. Paid Albert Wright a dollar. Paid 60 c for a sack of flour 10 c for a pound of cale (sic) used for "greens" 10 c for a can of Bordens condensed milk. 15 cts for my supper at Jones' Restaurant. $10.5 for Express on the laundry since last report. I was done work by 10 o'clock.
Sunday April 9 - Cloudy and a little warmer. I attended church services with the Presbyterian society this a.m. The preacher lives in Chicago. A graduate of the Moody Bible School. He is a ready speaker, talks easy to himself. He does not read his sermons. It was a trial sermon. The church has been without a pastor since Dr. Pearce left here. Tonight I went to meeting with my wife and heard a good sermon by the pastor. We took Nancy Kelso to meeting twice today.
Monday April 10 -- $1.25. Cloudy a part of the day 51. Paid 10 for 3 oranges Buddy Kelso took "Bob" and the little wagon and went over to Russellville to have some corn ground for meal and some cracked for chicken feed. I gave a dollar for 107 lbs. Yesterday after dinner was over Eva and I drove over to the Sam Jarvis farm and called on Herbert Lewis and wife. They are well pleased with their new home. The dwelling is a 2-story.
Tuesday April 11 -- .85. Paid 25 c for two pounds of fresh fish. 20 for East ? Postal cards15c for POB ox rent 50 cts for red paint. All vessels for gasoline is to be painted red and labeled in black letters one inch high "Gasoline." It has been cloudy all day. Sun shone a little when the clouds had passed 58. Eva received an Easter card from Miranda and Mary Ellen. She sent one to Bro Ed Portland Oregon.
Wednesday April 12 - 61. $1.25. Commenced sometime last night to rain and tonight at 9 o'clock it is still raining. Paid 20 c for fruit to eat. Apples are very high very small ones bring a cent apiece and the largest 10 each. Oranges are 2 for 5 cents. 3 for 10c or 1 for 5 c according to the size. Eva is at her sister Nancy Kelso's tonight until I call for her on my way home. She goes there nearly every night to pass the time until bedtime.
Thursday April 13 -- $1.15. Cloudy and rainy all day 62. I notice that some of the fruit trees are white with bloom. The grass is growing nicely. Some have already had to use the lawn mower. Sent the laundry a check for $4.35. I returned to them a shirt waist for Miss L. Oakes which was not hers and asked that they return the one belonging to her. The lightening set fire to a straw stack at Bob Kelso's and burned it up.
Friday April 14 - Cloudy and rained this forenoon. 64. Emma Russell has had a lot of reference printed in book form concerning her public readings. She is now prepared to enter into the public entertaining business. John Russell met with a very bad accident this morning by falling. His hip on the left side. He is unable to walk or to help himself. He does not feel it necessary to call a doctor as the hip is not swollen at all.
Saturday April 15 -- $6.25. The weather turned a little colder late this evening. Paid Albert Wright a dollar. This I ought to have done last Monday 20 for cured ham. 1 lb 20c for 1 lb of cheese. 22 for a pound and one ounce of pressed ham. Eva was in the shop a few minutes this afternoon. The female portion of the ME Church gave a food and shirt waist sale to day. Paid 15 for my supper after 11 o'clock tonight.
Sunday April 16 - I went to hear Bro Fertich this morning. He had a very interesting talk on Easter Sunday. Tonight attended Easter Sunday services by the little folks at the Methodist Church house. It was very nice and was also entertaining and instructive. Eva attended alike entertainment by her church which was a very nice entertainment. The audience room was full to overflowing. Nancy was there too.
Monday April 17 -- $1.10. Cloudy 59. Sun shone at intervals. Paid Albert Wright a dollar. Deposited 410 in the bank. I have not been in the habit of making entries of deposits. Last year I checked out of bank nearly 9 hundred dollars. This does not take into account money paid out for living and many other usages of money. Ross Bryan an employee on the Central Ind (Midland) has gone to the bad, his residence was searched and stolen shoes found therein.
Tuesday April 18 -- $4.35. Cloudy and rainy all day. Wm. Kelso and Nancy Eva and I were at Richard Rusks for dinner. Had a good one. The coal fire in our hard coal burner has gone out. I am of the opinion that it will be rekindled in the morning as the temperature is going down considerable at dark. We have new neighbors across the street from our house they moved in today. Harry Galey removed to Logansport, Ind.
Wednesday April 19 - Cloudy and rained nearly all day but not hard. Paid 10 cts for a light beef steak. I notice the prices on meat is not as high as it was. Cured ham was 35 a pound last Saturday night I paid 20 c a pound. Cheese cost me 20 cts a pound awhile back it cost 25 cts. Flour that now 60 cts was 75c. Corn in the ear now sells at 40c a bushel. I bought a wagon load the forepart of the winter at 50 c. On the 12 of this month I neglected to make mention of Eliza's and Willie's death am sorry I did it.
Thursday April 20 - Cloudy all day. Clear after night set in. Paid 10 c for bananas. My receipts today were $3.30. This date of the month in 1840 I first saw the light of day. I am now 71 years old. Have had 72 birthdays. I am writing these lines by the light of a gasoline lamp and without the use of spectacles. I see that I wable of (wobble off) the lines a little. The point of the pen is in the shadow made by the lamp. Thank the lord for good healthy.
Friday April 21 -- $1.15. Rained several showers today. 59. The stars were shinning out bright when I went home last night. Bob McMains eat dinner wit us today. I am writing these lines by lamp light and note that I track the line a little better than I did for yesterdays report. Have changed my position and the lamp makes no shadow of the pen. I think I am doing well for an old man. I could do beter with the use of glasses.
Saturday April 22 - Cloudy most of the day 49. $7.35. Paid 70 express on laundry. 65 for a beef roast 18 for a pine apple 10 for 3 oranges 10 for 3 lemons 5 for 3 bananas. I was through my work by 11 o'clock. My supper cost me 15 c at Jones'. Miss L. Oaks' waist was returned to her today it had been lost two weeks. The weather has been so cold that I had to put a fire in the shop store. The hard coal at home has been fired up again.
Sunday April 23 - Partly cloudy but not a drop of rain fell and the first Sunday after Easter. On Easter Sunday a little sprinkle of rain fell. Record of 7 consecutive Sundays of rain has again been broken. I have noticed the failure of this old saying "that if it rain son Easter Sunday that it will rain 7 Sunday in succession." I attended church service twice today with Eva. This afternoon we drove over to Mrs. Eliza Ware's and from there to Frank McClains. Thai r was too cold to enjoy the ride.
Monday April 24 -- $1.05. Cloudy and cold all day 54. Paid Albert Wright 1 dollar 50c for butter since the last report 25 for 10 ilk tickets. There will be frost tonight I hope not enough to injure the small fruit. There is a fine lot of blooms insight. There has been discovered a plot to destroy the soldiers monument with dynamite at Indianapolis. Several are expected to be put under arrest one has already been arrested. The cold waive will continue through out the week.
Tuesday April 25. --$.80. 61 Cloudy a part of the time most of the peach and pare (sic) trees are in full bloom. We have promise of warmer and fair weather for tomorrow. The farmers are getting figity and want to get ready for the planting of corn. Eva has commenced her annual task of house cleaning. Paid 25 for 10 milk tickets and 5 for a half gallon of butter milk and 40 for cloths washing by Mrs. Margarette Moore.
Wednesday April 26 -- $1. Clear and cool wind 69. Paid John R. Canine $1.60 I don't owe a cent in any of the stores. Save FW Kritz. We have a running account. I may perhaps owe him. Ross Bryan is now in jail a conductor on the Central Ind (Midland) for breaking into a freight car and stealing 4 pair of shoes. Buddy Kelso is hardly able to get about and do his necessary work. He is not sick but lame in the left leg caused by a sprain.
Thursday April 27 -- .75 cts. Cloudy and damp. Doc Courtney, a man with one arm says he has plows about 40 gardens this season. He plowed Buddy Kelso's today and done a good job, better than some would do with use of two good arms. (Note: This is Abram Courtney died 3 Aug 1948 Richmond, Indiana - born January 1862 in Kentucky - he also lived in Kansas for awhile - his obit is on the Montgomery Co GenWeb page if you're interested). Dr. TZ Ball has bought a touring car at least he did last week. Dr. BM Harbeson has not yet made a success of fitting my upper set of teeth. (Note from transcriber KZ: Dr. Harbeson was my neighbor and a dentist in Waveland for about 60 years. He died at age 91 in August of 1962. He was quite a character as was his 2nd wife, Cordelia - I didn't know the first one)
Friday April 28 -- $1.25. Cloudy and rainey 54. The sun was in a total eclipse late this afternoon. The clouds kept it from air view. This afternoon at 2:15 Eva went up to Crawfordsville. I took her to the train. She will be at Bob McMains tonight. Buddy Kelso and wife went over to their son Bob's tonight. They went over in our buggy. The fruit trees are full of bloom and present a beautiful sight to behold.
Saturday April 29 -- $7.20. Paid 15 for supper a bowl of milk and bread and a dish of ice cream. $2.10 for 10 gal of gasoline. It is the arrangement now that Nancy Kelso will go with me to Crawfordsville in the morning. I was done work before 10 o'clock. I got very tired in my feet and legs, especially on Saturday. Rev. Leonard Galey died in his home in Crawfordsville Thursday at 2:45 p.m. Burried in Indian Creek cemetery today.
Sunday April 30 - Partly cloudy. 71. There was hail and rain between here and Crawfordsville last night. Nancy Kelso and I started on our trip at 7 o'clock this morning. We found the road heavy cased by the rain last night. We were four hours on the way. Mr. and Mrs. James McCoy and Mrs. Jennie Hanna, Miranda Ellis, myself and wife, Jim Alfrey and his wife were partakers of the many good things provided by Mrs. James Alfrey. Eva and I stayed at her brother Anderson McMains last night.