JULY 1884 - DIARY OF HIRAM AUSTIN PRATT
(Barber, Waveland, Indiana for over 50 years)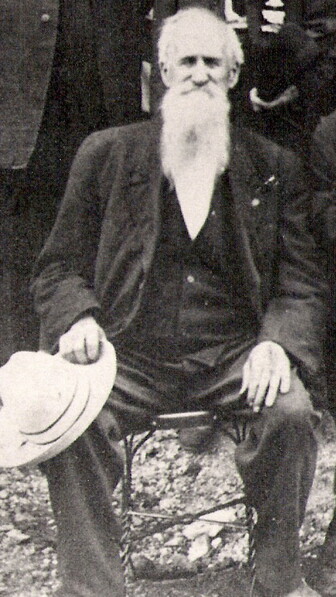 Note: These diaries were in the Waveland Public Library for decades but were disposed of by a librarian several decades ago. Luckily, another librarian's daughter (thanks sooo much Pam, at the death of her mother, Virginia Banta Sharpe found them in some belongings and gave them back for proper housing. A complete circle. I'm a librarian too and thought since they'd been lost to posterity for so many years that it would be a good thing to transcribe them and give them to the world. They are currently housed in proper temperature/storage at the Crawfordsville District Public Library - typed as they were written
Note 2 : Karen Bazzani Zach (transcriber) was raised in the big 'ol town (500 people) where HA Pratt lived 5 decades before I was born. I remember the building where his little shop was and wish it was still there. What an interesting little place. ALAS! Progress !
Note 3: Some information about Pratt -- he was born in Parke County, Indiana April 20, 1840 the oldest child of eight born to Erastus & Elizabeth Allen Pratt and died October 12, 1914 in his beloved Waveland, Indiana. He was twice married, first to the love of his life (he kept a life-sized poster of her in one of his cabinets at his barber shop, even long after his second marriage) Eliza Franklin Shaw (born Oct 23, 1841 died Oct 12, 1887), and #2 to his friend, Evaline "Eva" McMains. He was very active in the community where he and Eliza chose to live. He gave generously of his time and money to the Methodist Church in Waveland. For a few years, he served as Marshall of the town. Also, he worked diligently for his Odd Fellows, Rebekah & Knights of Phythias Lodges, was for a time on the town board, and read to those who could not read from the several newspapers he was agent for. Pratt volunteered and served for three years during the Civil War (Co. B, 36th Infantry), and spent time in the dreaded Andersonville prison. He and Eliza adopted a son, Willie Franklin Stump, age two (not sure ever officially or just had permission to take him from the Poor House in Crawfordsville) and he was an amazing young boy (high grades, worked in the church, quite musicially inclined, just an ideal child) until Eliza was taken to the hospital where she was operated on for six cervical tumors (one weighing six pounds) from which she died. Willie went wild after that and he and Hiram's second wife, Eva never got along. He ended-up in Reform School (for stealing a dollar twice from Eva among other small crimes), and later sent home to die due to consumption (what we know as tuberculosis) dying in Hiram's arms on April 12, in 1894. Hiram missed Willie and Eliza more than most I do believe as he wrote about them so often in these diaries. Just wish the rest of Pratt's diaries he wrote for over 50 years as a barber in Waveland still existed :( kbz
---
Tuesday July 1 - $2.35. Sent Pecks Sun $1. Paid 25 cts for dried beef. We are having real warm weather. I met wit the AOUW Lodge tonight. Dr. Duncan Deputy District Grand Master of Crawfordsville was a visitor with us (see Dr. Duncan's biography on Montgomery Co Indiana Genweb page http://www.ingenweb.org/inmontgomery/)
Wednesday July 2 -- $6.45. Paid 1.65 for Eliza a pair of slippers. 25 cts for 6 loaves of bread and 25 cts for 3 lbs of prunes. We have been blessed with a delightful rain this afternoon. Wheat harvest is in full blast. Farmers are well pleased with the crop.
Thursday July 3 -- $5.30. Paid 50 cts to Charley Taylor for one half days work. We had a splendid rain last night and another today or rather this evening. Mrs. Hutton, Ida Gault and Katie Robertson were at our house for supper.
Friday July 4 -- $3.90. Sent by John Lewis to the Sentinel $4.26. Pd Billy Hauger $3. Today 21 years ago I participated in the battle of Helana, Ark. The day was very hot as was today. One bottle medicine for my wife $1.40. 3# of bacon 35 cts. Billy Hauger went to Indianapolis.
Saturday July 5 -- $9.80. I received a badge of the Methodist Church for which I paid $1. It is about the size of a $20 gold piece and it is gold plated on one side is a portrait of Bishop Asburry (Asbury?) on the other Bishop Simpson. We were done work by 10 o'clock.
Sunday July 6 - I attended class meeting this morning. No ladies were present at the beginning, before the close two little girls came in. This afternoon I was at Sunday School at 2 ½ p.m. At night we went to church. Bro Hollingsworth talked to the children.
Monday July 7 -- $5.40. Paid 75 cts for a porcelain stew pan. Billy Hauger helped Frank Kritz with his harvest today. I gave Mrs. Spruhan a set of silver plated knives for some that I sold her which proved of no value.
Tuesday July 8 - Paid Terre Haute Mail 2.87 Indianapolis Times 3.68. One ham 2.45. Medicine for wife .35. Inter Ocean $1.25. Rained a little today otherwise the weather is nice. The democratic convention met in Chicago today.
Wednesday July 9 -- $4.70. Sent Thomas H. Martin of Chicago, Ill $260 ($2.60?). We all took dinner with John A. Spruhan and wife today. There are 5 candidates nominated today at Chicago. Lizzie Read started for Yorktown Dacota (sic) this a.m.
Thursday July 10 -- $1.45. Sent $16.31 to John C. New & Son for daily journals last month. .20 cents for candy .50 cents for tooth extracted for wife. 10 cents for lemonade. Willie Hauger went with Jap Miller out in the country to sell an organ.
Friday July 11 -- $27.50. Sent the Enquirer Company $3.10. Paid rent for last month $3.50. For a team and light wagon .50 I and little Willie went over to Russellville via Browns Valley. I collected $25. Weather real nice.
Saturday Jul 12 -- $10.50. Paid 90 cts for five gallons of gasoline .10 for one head of cabbage. I took a gasoline stove out to Mrs. Kelso's yesterday. The day has been real warm. We were through work by 11.15
Sunday July 13 - I lay down this morning after breakfast and was soon asleep, did not wake up until too late for class, so I went over to the Campbellites and heard Elder Plunket on the second coming of Christ. Was at SS and class this pm. We heard Plunket again tonight.
Monday July 14 -- $7.20. Paid 25 cts for 7 lemons. This evening I walked over to Wm. Kelso's to see how she was getting along with the gasoline stove. Mrs. K was well pleased. She baked two pones of light bread in 30 minutes. Warm.
Tuesday July 15 -- $2.85. Friday of last week the democrats in convention at Chicago nominated for president Gov. Grover Cleveland of NY. For vice president Thomas A. Hendricks of Indiana (this state). Eliza is complaining of her throat. Rained a little today.
Wednesday July 16 -- $3.00. Eliza was up town today and bought herself a pair of hose 10 cts. Paid 15 cts to a man who gave a public exhibition on a wire suspended across the street from the top of buildings. Pd 20 cts for a hat for Willie.
Thursday July 17 -- $5.85. Pd $1 for 12 pounds of sugar. Mrs. Talburt, Mrs. Mary Farmer Anderson and her three children were at our house today for dinner. Rained a little today. I am calculating to visit my parents in Iowa next month. Temperature real pleasant.
Friday July 18 -- $4.40. Ten cents for nutmeg. 20 cts for a tooth brush for my wife. 75 cts for a small sack of flour. Rained hard last night. Last Tuesday a.m. Dr. Bill Steele and Miss Jennie Manning left this place at 3 o'clock for part unknown.
Saturday July 19 -- $10.40. One gal coal oil 20 cts one large watermelon 40 cts. Our work was slow until about 5 this evening. We were through work by 11 o'clock. Cincinnati papers did not arrive was carried by?
Sunday July 20 - We attended church this morning at 10 ½ Bro Hollingsworth was unusually interesting. I put in to the church expense fund $1.50. Little Willie and I attended Sunday school at 2 ½ p.m. We remained at home tonight.
Monday July 21 - $6.20. Charley Kritz has concluded to go to Crawfordsville tomorrow. Paid 70 cts for lard and 65 cts for 3 lbs of honey and jar. Billy Hauger is helping Dave Brush today in his threshing of wheat.
Tuesday July 22 -- $1.65. Paid $1.25 for 7 gal gasoline. 5 gal of it I did not get but will when I need it. I sent a lot of papers to my sister Eliza, postage 28 cts. One pack of cards .25 Willie Hauger is helping Mr. Goben thresh wheat.
Wednesday July 23 -- $1.85. Bacon 1.20 Vest linen for crash for toweling 1.18. Least might I paid in the order of AOUW 2. For one doz ears of roasting corn 15 cts. One head of cabbage 10 cts. Wheat is selling at 78 cts per bushel. The quality of grain is not the best.
Thursday July 24 -- $3.30. This afternoon I and little Willie took a walk over to Wm. Kelso's to see about that gasoline stove. I believe they will buy it. We have an invitation from JO McCormick a druggist to dine with them tomorrow. Pd Bill H 1.75.
Friday July 25 -- $6.30. I sent $5.47 to Chicago to pay on life insurance. We had a real nice dinner today at Bro. McCormick's. Bro Hollingsworth and I went with the little boys to the creek and took a bath with them.
Saturday July 26 -- $10.55. Lemon exract .10 Sugar .25 Vinegar .25 Meat.75 Sent yesterday $1 to the Western News Co of Chicago for daily papers. We were done work this evening by 10 o'clock. Rained tonight shortly after I got in bed.
Sunday July 27 - I attended quarterly love feast at 9 12 had a good meeting, Eliza and Willie came in for morning preaching. Elder LL Buckles gave us a big sermon. Bro Hollingsworth and family took dinner with us At SS at 2 ½ p.m.
Monday July 28 -- $6.65. Paid one dollar for linen vest, 25 cts for meat Sent 15.10 to American News co. Paid Lewis on painting a barbers pole 5. owe him 5 more. Ida Hauger a sister of Willie Hauger's came in on a visit this evening.
Tuesday July 29 -- $2.80. Paid 45 cts for cheese 10 cts for a head of cabbage and 80 cts for a sack of flour. Sent $21.20 to Thomas H. Martin, Chicago for sewing machine. Eliza paid 40 cts to Maggie McNutt for a neckwear. No rain today. Billy Steele came home yesterday.
Wednesday July 30 -- $1.55 Paid .55 for 5# of beef. Sent 10 to Buffalo NY. Had no rain today. We had an invitation to dine with Mrs. Anna Giltner but declined to attend. A load of hay was put in the barn this afternoon.
Thursday July 31 -- $1.85. Sugar $1. Soap .30 10 cts for stamps cards 25. Had a big rain last night. Billy Hauger helped Goben with hay. An excursion to Leake Maximkucker (?) took two passengers from this station. Pecks sum $1.