Lula Goshorn's Journal - Ladoga, (1930-1944)
"A little background from Judy Goshorn" My grandfather, Ezra Goshorn, kept a journal, which I have somewhere. He died in April 1930 and that is when this one starts. Lula wrote for her church magazine and the county paper, but apprently had not been keeping a journal. The first entryh is a few days after Ezra's funeral, when the older (Marie, John and Roland) children were going back to their lives. Only two children were left at home, my dad, Lewis, age 15, and Ruth, age 9. The running of the farm fell to my dad and Lula. I am amazed at the work a 15-year-old boy did, while attending school and doing well there. Many of the snapshots I have are early 30s and make good illustrations for this journal :)
ENJOY! - JWG
1930
--
1931
--
1932
--
1934
--
1935
-- 1936 -- 1937 -- 1938 -- 1939 -- 1940 -- 1941 -- 1942 -- 1943 -- 1944 Photo is taken much earlier but a neat part of the history of the Goshorn family (sent by Judy) --
Note: Their church was the Brethren Church on 750 South - Ezra had both the pastors :) -the church is mentioned many times during Lula's years of diaries. Thanks to Bill Boone & the Ladoga Facebook page for the photo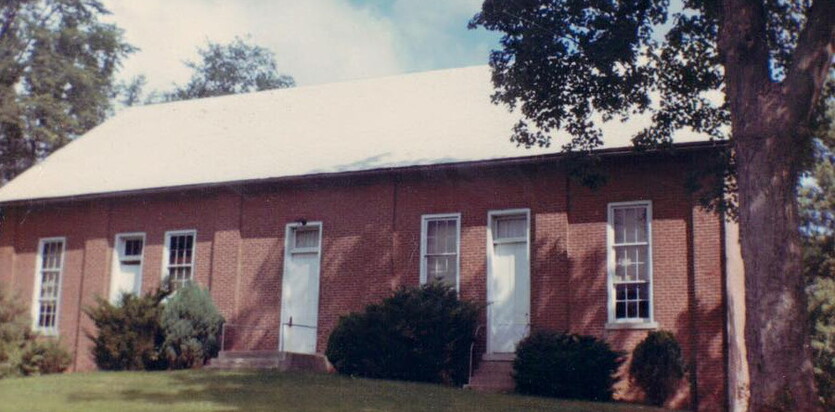 January 1933
Jan 1 - Nothing
Jan 2 - Started Lewis back to school at No. M. Toe not well yet and will be so long till the next vacation. How I do hate to see him leave, yet its best I suppose. I mean its good that he can go on with his education. So many cannot these times. Corn 14 c - wheat 38 c - oats 11c - hogs 3.00 to $3.10. Weather bad and changeable. Paul brought load of corn
Jan 3 - Paul brought load corn
Jan 4 - Hung the beef to dry. Paul brought load corn and aobut 1/2 load this eve. Finished our part. Ave. about 33 bu. acre. Between 7 & 800 bu for us.
Jan 5 - Nothing
Jan 6 - Young black cow sick. Had Dr. for her - has colic. Sent 2 long yearlings to market $71.92 after expenses out (trucking etc)
Jan 7 - Nothing
Jan 8 - Kerd (Kud ?) lost her calf last night, due to be fresh in March. Cline boys back to Geo. Kesslers. Had sent them to the Soldiers Orphans Home in Sept.
Jan 9 - Sold to Mark Himes the estate corn in slat crib. Not all gathered yet. 18c bu and he pay weighing .75 lbs bu. It has been rained & snowed on so much afraid it won't keep. Corn on Sandres place sold for 10 c bu in the fall. He had no place to store it to keep.
Jan 10 - Big fire at C'ville. Burned Penneys. Goodmans .Book store. Tannenbaum (men's clothing) 2 drug stores and offices etc. Almost a block. Very windy. FIre started in basement of Goodman's some time in night & estimated loss $750,000.
Jan 11 - Nothing
Jan 12 - Nothing
Jan 13 -- Mark Himes finished hauling corn today. Hauled 8 loads. Thinks he has about 335 bu (at 18 = $60.30) Cannot pay for a month or so.
Jan 14 -- Nothing
Jan 15 - Nothing
Jan 16 - Took beef down - shrunk awfully but very good now. Pullets laying now. Saving eggs for Rosa Rogers. Rainy and muddy.
Jan 17 - Nothing
Jan 18 - Nothing
Jan 19 - Refund ck on cream for last year $13.99. Refund on para kero oil - 9.61. On elevator supplies 1.57 - refund for estate 97c total of gas - oil kero cup (?) grease bought during year. 96.61.
Jan 20 --Bought 6 bu. big Eng. clover seed of Lewis Bradley. 2 bu. second grade 5.00 bu. = $15.00 4 bu first grad 6.00 = $24.00. We have about 2 bu. old seed - also bought 2 bu seed for estate. They have about a bu. old seed.
Jan 21 - Bought 3 bu timothy seed for us - $1.75 - 5.25 and one bu 1.75 for estate. I paid for all - they will pay their part. Casterated old male hog Thursday.
Jan 22 - Nothing
Jan 23 - Nothing
Jan 24 - Nothing
Jan 25 - Nothing
Jan 26 - Heirs paid me 1.75 for tim. seed. Omer Gates made 4 galvanized hen nests 1.50 Sent to Emloug's Nursery for berry bushes 2 yr. plants 50 (Mich) Blk. berry (Alfred) 25 ( Logan) Blk Rasp . 12 (Chief) red rasp. 12 young berries, i.e. a short of dew berry and 6 Dousing (?) Gooseberries. Hoping to make something of our extra garden space. Mary A. sick this week.
Jan 27 - Cline Mangus wife died in childbirth. Leaves a little girl and iinfant son. Too bad only 28 years old, nice family.
Jan 28 -- Paid estate tax today. Quite a reduction from last year as theres no personal property except a little money and the Farm Bureau was mainly instrumental in getting a reappraisement on land thereby reducing tax. Ours will be about $30 less this spring too. How thankful I am.
Jan 29 -- Nothing
Jan 30 -- Nothing
Jan 31 -- Nothing
February 1933
Feb 1 - Nothing
Feb 2 - Roland left the last day of Jan to enter Purdue U. for the spring semester hoping thereby to either finish his 4 yr course or be in line for a position. Better to be on hand, I guess to catch a job if ever things get better than to be away here. Ruth and I are "baching," rather I am, she is gone all day. Seems very strange without a boy around. Harley & Chester butchered a ruptured sow sold nearly all of her. Much better than to take the market dock & truck expense. Didn't get as much as for the young hogs. Have heard Clarence is equiring about the place here. He has had to move every year since he left.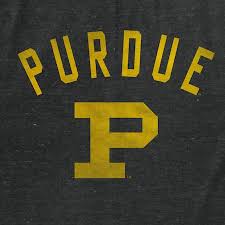 Feb 3 -- Finished husking corn today. Geo. K. not done on estate.
Feb 4 - Nothing
Feb 5 - very cold again 3 below zero. Had no very cold weather in Jan. Mostly rain, some snow
Feb 6 - Nothing
Feb 7 - Nothing
Feb 8 & 9 -- Below zero weather from 6 below on the 8th to 16 below the 9th. Such cold N West wind.
Feb 10 - Nothing
Feb 11 - Nothing
Feb 12 - Nothing
Feb 13 - Warmer trying to rain. Mark Himes said he would leave the estate money at the bank for the corn he bought in Jan. First lambs (twins) came today.
Feb 14 - Nothing
Feb 15 - Nothing
Feb 16 - Nothing
Feb 17 - Nothing
Feb 18 - Nothing
Feb 19 - Nothing
Feb 20 - about 1700 lbs. Glendora coal @4.50 ton. Mark left $59.49 at bank for estate corn. Charley Clarks moving on Mrs. Fergusons place southwest of Smiths. Dorman Brown moving in Sharretts house where Clark's left. Mrs. John Brown continues in the old school house.
Feb 21 - Nothing
Feb 22 - Nothing
Feb 23 - Nothing
Feb 24 -- Nothing
Feb 25 - Stella Kessler paid 150.00 on the estate rent.
Feb 26 - Nothing
Feb 27 - Nothing
Feb 28 - First pigs came 9 living 2nd - lot a day or two later.
March 1933
March 1 - Nothing
March 2 - Nothing
March 3 - Nothing
March 4 - Red cow had calf yesterday evening. Mr. Banta (west of here) got part of the oats he engaged a few days ago.
March 5 - Roland home from Purdue today. I'm so glad he can come sometimes. The folks are all so far away. I have such a stiff right hand can hardly write. Inflamed tendon on the order of arthritis Dr. says. Not much help for it, so must be endured the best I can. Quite painful and very bothersome being my right hand. Sold our old arriage yesterday for 50 c to a Mrs. Dowel who makes her living peddling butter, eggs etc. in C'ville. Has a sick husband and two children to support. The old carriage costs us $100 new almost 30 years ago. It made us feel very fine to be able to take our family out in it. I was sorry to see it go.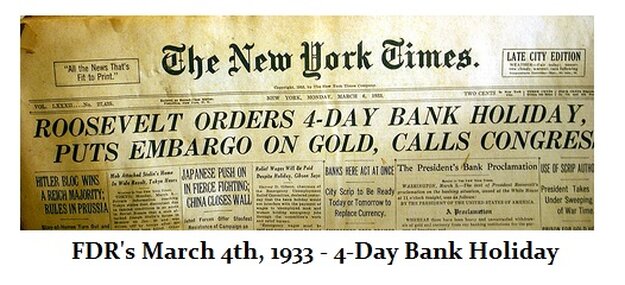 March 7 - For future reference I made this note. This is the third year of "a depression." Last Sat. Franklin D. Roosevelt and John H. Garner were inaugerated as Dem. pres & vice pres. elected by largest vote ever pollef in this country. Everything was going down under Rep. Pres. Hoover. Businesses in chaos. Just before he left office the majority of the US Banks declared a holiday of various lengths of time or a 5% payment on withdrawal. Yesterday to save the countrys credit all banks and Trust Co., B&L Asso, in US were ordered closed. Business is at a standstill. Markets for stock & grain closed. No one can cash any kind of a check. Towns practically dead. People standing around wondering what next!
March 8 -- The black birds came today. Harley commenced to plow in the east field using the horses.
March 9 - Nothing
March 10 - Nothing
March 11 - Nothing
March 12 - Nothing
March 13 - Nothing
March 14 - Federal banks are opening. Others will as fast as they are examind and found sound. Pres. Roosevelt is doing the right thing and if he can get the banking business reorganized it will be a big step in the right direction
March 15 - Nothing
March 16 - Nothing
March 17 - Had an unusual run of visitors today. Paul, Blanche, John Russel. Mary & children and Rosa Rogers. Paul paid for estate corn. $42.63. bu - 284 - 12 lbs.
March 18 - nothing
March 19 -- John Kessler died Friday night (this is Sun) and this morning Sam Graybill died. We are having the biggest rain in years. The water was over the road in two places between here and town. It is about all over the little south pasture and is up to the garden fence.
March 20 - Nothing
March 21 - Nothing
March 22 - Nothing
March 23 - Nothing
March 24 - Still rainy and cold. Ruth is Indian play at school tonight under direction of Loretta Martin music teacher . Over 100 in cast. Richard Harshbarger and Ruth represented bride & groom in wedding ceremony of Seneca tribe. Harley took Ruth and jeanette down. Came home in such a snow storm could hardly see the road.
March 25 - Took Smith Jersey to Lights bull. Not paid until see if all right. Keed (Kud) to Lights bull March 27 see if all right.
March 26 - Nothing
March 27 - Nothing
March 28 -- Sowed clover on wheat.
March 29 - Sold 2 loads real old timothy hay for 1.00 load. Been in south barn for years and years. New hay sold last summer for 3.00
March 30 - Nothing
March 31 - Nothing
April 1933
April 1- Nothing
April 2- Nothing
April 3 - Nothing
April 4 - Nothing
April 5 - sold sow and 25 shoats 158.76 clear after trucking etc. which is always about $10. (connectimes motif?) on a load. This includes yardage commission, truck etc. Shoats ave 167 lbs top price of $3.80.
April 6 - Nothing
April 7 - Nothing
April 8 - Nothing
April 9 - Nothing
April 10 - Berry bushes came and got them set along west side of garden. Blackberries next to road then red & black raspberries. Youngberries (a kind of dewberry) and gooseberries.
April 11 - Nothing
April 12 -- Sowed about 6 or 8 acres of the field east of house in 1/3 timothy 1/3 clover 1/3 lespedya (?) and oats, and turned it into pasture. On account of so much water coming thru there and washing so badly. Th enorth side of the field probably 10 or 12 acres is in corn this year.
April 13 - Sowed oats today. About the latest we ever sowed. No garden made, too wet and looks like rain.
April 14 - Did rain all forenoon. Got new battery for auto. Guaranteed for a year!
April 15 - Nothing
April 16 - Easter Sunday. Roland, Lewis and Ruth at home. Ruth played a piano solo in the Easter program at church. Weather rainy and cool. So glad to have the boys here. Lewis has been away since Xmas. Looks well, is doing fine in college.
April 17 - Nothing
April 18 - Nothing
April 19 - Nothing
April 20 - Nothing
April 21 - Nothing
April 22 - Nothing
April 23 - Nothing
April 24 - Planted potatoes in clover field to stay to escape the leaf hoppers. After planting Harley covered them with straw (Did not raise one - later). Plowed the garden, works well now. Geo. K. sowed oats on estate today. Bro. VB Browning was elected elder for this church again. Lives near Muncie now.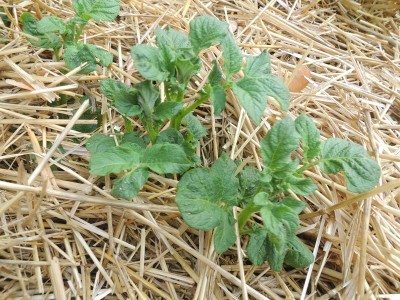 April 25 - Nothing
April 26 - Nothing
April 27 - Nothing
April 28 - Nothing
April 29 - Nothing
April 30 - Nothing
May 1933
May 1 - Sold old limpy gray mare to Ben Buser for 5.00. Mr. Dibble of Lebanon sheared 18 sheep today 15 c each - 1.95 (about 133 lbs wool)
May 2- Nothing
May 3- Nothing
May 4 - Nothing
May 5- Nothing
May 6 - Nothing
May 7 - Nothing
May 8 - Nothing
May 9 - Nothing
May 10 - Nothing
May 11 - Nothing
May 12 - C.D. Comingore tuned piano today $2.58.
May 13 - Nothing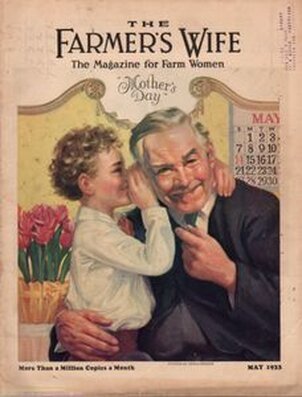 May 14 - Mothers Day - Marie's family and Roland home today. Such a nice remembrance - how dear good all the children and 'in-laws' are to me. May God bless them every one.
May 15 - Nothing
May 16 - Nothing
May 17 - Sold wool 134 lbs. to Henry Ragsdall 33.50 for 25 c. Wool started the season at 10 c lb. All indications are it has reached the top. We have 13 sheep. Half belongs to children that are home yet.
May 18 - Rented Paul M. 14 acres clover pasture $21.00 to be paid Aug or Sept.
May 19 - Marie's 10th wedding anniversary. How time flies! Planted 10 acres of corn. First in neighborhood. Many not done plowing - has been so rainy all spring.
May 20 - Nothing
May 21 - Nothing
May 22 - Nothing
May 2 3- sold 23 hogs - ave weight 212 lbs. Top price with 5c premium 4.85
May 24 - Nothing
May 25 - Lewis came home from No. M. today. Didn't stay for the closing exercises. So glad to have him home again. Room 218 next year.
May 26 - Took sheep to the estate pasture.
May 27 - Nothing
May 28 - Nothing
May 29 - Nothing
May 30 - Decoration day. Finished planting corn. Lots of ground not plowed yet and very few done planting. Rains almost every day. Ground is in poor condition for planting
May 31 - Nothing
June 1933
June 1 -- Fine day - no rain for 3 days. Everyone planting corn. Had to have my eyes tested & glasses changed. Will cost 12. by time I finish. How I do hate to spend that on myself. I don't mind at all if its the rest of the family. I enjoy doing all I can and wish I could do more for them.
June 2 - Had our first strawberry short cake. Mary Alice Rogers 6 yrs old had a birthday party. Ruth went. Frances Miller here this p.m. while Virginia and Rachel were at the party. Violet Eglston from Ill. staying with them. Lora goes to her meals but in bed most of the time. Sold Paul Ronk 6 sacks fertilizer for $1.66 a sack.
June 3 - Harley has fisula. Dr. thinks by getting at it in the early stages he can cure it before long. Lewis has taken over the culitpacking ? Paul McMills.
June 4- Nothing
June 5- Nothing
June 6 - Nothing
June 7 -- 100 Buff Orps - 5 1/2 cents = 5.50 Golden Rule Hatchery - Ladoga. Harley is working some. Awfully hot weather need rain very much.
June 8 - Nothing
July 9 - My baby has come to the place where womanhood and girlhood meet. May her life be a useful happy one.
June 10 - Nothing
June 11 - Roland home from PUrdue. No prospect yet for his chosen work. May he not become discouraged but find some congenial occupation to yield some return for his labor. Its an unjust and vicious social scheme that prevents anyone from working for an honest living. In these years of depression when millions are without work or means of support, it is enough to discourage anyone. May conditions improve greatly and soon is my prayer. I am so glad to have Roland here and how I do wish to be able to pay him what he is worth to me for seeing about things. All the children are so good to me.
June 12 -- Paul M. planted corn today. Very dry and ground hard to work. SO much rain for awhile, now none.
June 13 - John Himes died about 10 p.m. Brights Disease. Real cool. 44 above zero this morning after 10 days of torrid weather running from 90 to 104. Then a strong north east wind started and sent the mercury flying down. Still very hot.
June 14 -- Nothing
June 15 - Nothing
June 16 - Nothing
June 17 - Nothing
June 18 - Nothing
June 19 - Nothing
June 20 - Nothing
June 21 - - Sat. night Dorman Brown was arrested for public intoxication and making himself a nuisance in Ladoga. Was jailed and tried Mon and fined and sentenced to the penal farm 30 days. Some how the sentence was suspended and his mother moved out to live with him. His wife & little boy left him a week ago.
June 22 -- Nothing
June 23 - Nothing
June 24 - Nothing
June 25 - Annie Harshbarger buried today. Was 89 years old. Marie & the children came. Our folks met them at Indianapolis. Roland went to Lafayette afternoon.
June 26 -- Cut wheat. Lewis shocked aobut 10 acres alone while Harley & Roland worked tractor & binder. Then finished shocking after night to avoid the heat. Awfully hot & dry.
June 27 -- Nothing
June 28 - Nothing
June 29 - Nothing
June 30 - Nothing
July 1 - Nothing
July 2 - Nothing
July 3 - Nothing
July 4 -- Put up hay. Cooler but no rain. John's left today had nice firewords last night. John & Roy got them for the children. Donnie is taking whooping cough. John looks much better is fleshier than I ever saw him. Weighs around 140. Roys will leave tomorrow. How we'll miss the children. They are all so nice.
July 5 - Nothing
July 6 - Nothing
July 7 - Nothing
July 8 - Nothing
July 9 - Nothing
July 10 -- Threshed our wheat without a rain except a little sprinkle. (aobut 368 bu). Yield a little over 18 bu to acres. On account of drouth & crop failures in the wheat belt prices are going up got 91 c kept about 200 bu. Had the wheat in the railroad field.
July 11 -- Nothing
July 12 - Roland & Harley covered the little room at Harleys and our garage roof little porch and part of chicken house with roof cement. Roofs are beginning to leak.
July 13 -- Nothing
July 14 - Nothing
July 15 - Nothing
July 16 - Nothing
July 17 - Cut oats. Lewis shocked and kept up with the tractor binder.
July 18 - Clayton out of feed, no corn or oats or grass. Hogs are about to starve. Couldn't find corn for sale anywhere around here. We traded 28 bu. 40 lbs corn for 10 poor shoats. Corn is 55 c now. Very dry and oats are mostly being cut for hay not good enough to thresh. Weath is now 1.05 oats 42. Owing to drouth and speculation market in over 3 years. ? (note from typist kbz - seems like a word is gone)
July 19 - -Nothing
July 20 - Nothing
July 21 - Wheat dropped 35 c corn and oats and rye also down. Too much wild speculation. Wheat today 73c Corn 35c oats 24.
July 22 - Nothing
July 23 - Nothing
July 24 - Nothing
July 25 - Have to put new roof on south bed rooms. Mason Cummins has the job using fireproof Beaver shingles. Total cost $41 - 94 c. Take 6 & 1;2 sauare $5l00 a square incidentals and labor make up the balance. Had a very good rain Sunday night. To late to help gardens much but good for grass and what corn tat is left. First good rain in 2 months. Roy has a Gov. job during vacation investigating tax xituation in states that are calling on the Govs for aid. Will pay him traveling expenses and $350 a month. Job last about 2 months Federal relief work.
July 26 - Threshed oats. Have about 376 bu off field back of Harleys. Drouth almost ruined the oats everywhere. Ours is best in ring so far.
July 27-- Nothing
July 28 - Nothing
July 29 - Threshed oats at Paul's. Our part of 24 acres was 30 bu machine measures. Very light and chaffy.
Article from newspaper - Another university professor today moined the Roosevelt administration making the 22nd to hold a key position in the new governmental setup. Professor J. Roy Blough, associate in public finances at the University of Cincinnati was made a member of the staff of Harry L. Hopkins, federal emergency relief administrator. Bloudh will work with the research and statistical division of the relief administratin on problems of state and local resources for unemployement - July 26, 1933
July 30 -- Nothing
July 31 - Nothing
August 1 -- Bought about 3 & 1/2 tons Kentucky coal $5.25 @ ton off car.
Nothing else until August 18th -- The inflation of prices dropped after just a few days of $1.00 wheat 55 c corn & 35 c oats. Hogs never have come up much, barely reached $5.00 for a short while sometime ago. They range around $3.75 to 4 and up to $4.65. The Government is trying to control the wheat out put for next year, also induce the farmers to raise less corn and hogs. All business is under a National Recover Administration or Act. known as the NRA whose functin is to shorten working hours, raise wages and spread employment. Each business works out a "code" suitable to that business wherein they spread employment by given work to a certain number during certain hours but the farmer works all the same. Its all an experiment to end the depression.
Aug 20 - Nothing
Aug 21 -- Kessler's settled for pasture $19.65 also paid $85 on rent, bal. due $1.00
Aug 22 -- Nothing
Aug 23 - Nothing
Aug 24 - Nothing
Aug 25 - Got oats ground for sows, grining cost 12 c amt . Aid Soc.l met were yesterday p.m.
Nothing until September 10 -- Roland took Lewis to No. Manchester today to begin his second yr. in College. Not being able to find a job, Roland will leave for Purdue U. tomorrow for the first semester. This will finish a yr there. He is hoping something may turn up by that time that he can earn something. How we will miss the boys! Ruth and I are alone, she has been in school a week.
Sept 20 -- Lora Miller died about 9 p.m. from rose cancer of the breast. Virginia and Rachel her own little girls (10 years - Bonnie (7 years older) and Frances step-daughters and Ollie, the husband left. Another good woman gone. (Note: thanks to findagrave for the photo --Lora Wagner Miller born in Illinois on May 14, 188 daughter of Daniel and Elizabeth Riffey married to Oliver Miller. She was just 45 Years 4 Months and 6 days at her death. Buried Stoner Cemetery near Ladoga)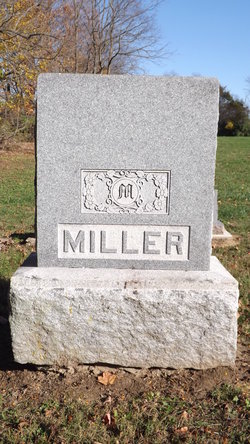 Sept 30 - Mark Himes paid for 91 bu corn 50c bu.
October 2 (sic ) -- Geo. Kessler's paid $25 on rent and we bought 80 rd 32 in fence 30 1/2 rd 10 lbs. staples 44c total $24.84 for Estate. Totaling 220 rods fencing bought for estate this year. 60 rods along south side of place in 1932.
Oct 2 (sic) -- Commenced sowing wheat in 10 acres east of house.l Finished sowing wheat Oct 4 - used 1/2 ton fert. cost 28.60 per ton this fall.
Oct 3 - Nothing
Oct 4 - Dixie, our little driving horse about 28 years old died today. She had something wrong with her hind leg, walked in circles and leaned up against the fence or trees to keep from falling. Kept getting worse. Dr. says no cure on account of her age. zCould not be used so had her put out of her trouble by the Reduction Co and hauled away. ANother good comrade of our early married life gone. So we grow old...
Oct 5 - Nothing
Oct 6 - Clayton got 14 bu. wheat at 80c bu. (11.20) not paid. paid Nov 2
Oct 7 - Mark Himes got 12 bu wheat 85 c and will pay what advance there is in 1929 ? price up to 95 c when I sell the rest of the wheat. Not paid. (Oct 13 - Mark got 2 more bus wheat total bill $14.00 - Oct 18 paid Aug 30 1934 $14.00
Oct 7 - Nothing
Oct 8 - Nothing
Oct 9 - Commenced husking corn in the 10 acres east of house. No frost yet but dry weather has ripened the early corn.
Oct 10 - Nothing
Oct 11 - Nothing
Oct 12 - Nothing
Oct 13 - First frost & a little ice this morning
Oct 14 - At council meeting this evening Wade Baker was elected trustee for the church for 5 yrs. Ralph Gottshall for 3 years. Wilford Harshbarger for 1 yr. Paul Ronk and Paul Mahorney were elected to the office of deacon. Maud Ronk, Supt of SS for 1934. Paul Mahorney asst Supt. Frances MIller, Sec & Viva Mae Gottschall asst sec. Harley ROgers, Treas. Ruth Connor,, music director. Communion to be Oct 28, 1933.
Oct 15 - Nothing
Oct 16 - Nothing
Oct 17 - Nothing
Oct 18 - Caught fingers in corn shear. Crushed flesh off the bone. DIdn't know the cogs were so close. How foolish of me
Oct 19 - Nothing
Oct 20 - Nothing
Oct 21 - Nothing
Oct 22 --Nothing
Oct 23 - Harley finished husking in field eas to fhouse. Real good corn. Estimate about 45 bu (around 45 bu an acres)
Nov 1 - Nothing
Nov 2 - Clayton paid for 25 bu wheat 8-0c = $20.00
Nothing until Nov 12 - Albert Harshbarger licensed to preach.
Nov 15 - Harley finished husking today. Thinks thee was about 550 or 600 bu field south of sow pasture - about 27 or 28 bu to acres.
Nothing until Nov 24 - To Milo Williams. Timber buyer of Frankfort. Ash & Walnut. Walnut dead and ash almost dead with white scale. 22 trees $2.00 per 100 feet. $113-56 c (ash)
Nov 27 -- Paul M and Sam Himes putting up new fence beween Sam's woods & the corn field where Paul lives. 40 rods. 39 in

.
Nov 30 -- Thanksgiving Day. Very nice and sunny. Roland & Lewis at house. Roy is away on gov. work so they could not come. "Marie telephoned & all the boys said Hello. John's could not come but sent a telegram of good wishes. I appreciate all their thoughtfulness very much. Many things to be thankful for. My fingers are healed now, but very sore & so tender can't do anything much yet. Casterated & run pigs today. Boys fixed wind mill on estae. Got 8 loads good corn 4 of bad off place where paul M. lives
Nothing until December 16th - Swapped "Popeye," 6 year old Jersey to Paul Mahoney for 2 yr black 1/2 polled DUrham 1/2 Jersey heifer.
Dec 18 -- Blackie - keeds calf, had first calf. Male, from brown swiss bull.
Dec 19 - settled with Sam Himes for our half of fence between his woods and where Paul Mahorney lives. Our part 8.18 minus 1.50 for barb wire Sam bought of us.
Dec 21 - Cline SUiters wife struck Harley as he was coming up here this morning threw him off the road, cut his head and face, buised his leg & shoulder & broke his glasses. Dr. had to fix him up.
Dec 23 -- Took Ruth for first injection for vaccination for diphtheria Dr Goss.
Dec 30 - Ruth took second injection. Last one will be Jan 6, 1934.