August 1885 - Diary of Hiram A. Pratt, Waveland Barber for 50+ years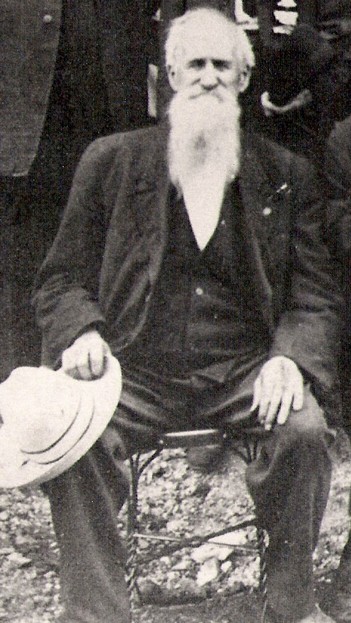 Note: These diaries were in the Waveland Public Library for decades but were disposed of by a librarian several decades ago. Luckily, another librarian's daughter (thanks sooo much Pam, at the death of her mother, Virginia Banta Sharpe found them in some belongings and gave them back for proper housing. A complete circle. I'm a librarian too and thought since they'd been lost to posterity for so many years that it would be a good thing to transcribe them and give them to the world. They are currently housed in proper temperature/storage at the Crawfordsville District Public Library - typed as they were written
Note 2 : Karen Bazzani Zach (transcriber) was raised in the big 'ol town (500 people) where HA Pratt lived 5 decades before I was born. I remember the building where his little shop was and wish it was still there. What an interesting little place. ALAS! Progress !
Note 3: Some information about Pratt -- he was born in Parke County, Indiana April 20, 1840 the oldest child of eight born to Erastus & Elizabeth Allen Pratt and died October 12, 1914 in his beloved Waveland, Indiana. He was twice married, first to the love of his life (he kept a life-sized poster of her in one of his cabinets at his barber shop, even long after his second marriage) Eliza Franklin Shaw (born Oct 23, 1841 died Oct 12, 1887), and #2 to his friend, Evaline "Eva" McMains. He was very active in the community where he and Eliza chose to live. He gave generously of his time and money to the Methodist Church in Waveland. For a few years, he served as Marshall of the town. Also, he worked diligently for his Odd Fellows, Rebekah & Knights of Phythias Lodges, was for a time on the town board, and read to those who could not read from the several newspapers he was agent for. Pratt volunteered and served for three years during the Civil War (Co. B, 36th Infantry), and spent time in the dreaded Andersonville prison. He and Eliza adopted a son, Willie Franklin Stump, age two (not sure ever officially or just had permission to take him from the Poor House in Crawfordsville) and he was an amazing young boy (high grades, worked in the church, quite musicially inclined, just an ideal child) until Eliza was taken to the hospital where she was operated on for six cervical tumors (one weighing six pounds) from which she died. Willie went wild after that and he and Hiram's second wife, Eva never got along. He ended-up in Reform School (for stealing a dollar twice from Eva among other small crimes), and later sent home to die due to consumption (what we know as tuberculosis) dying in Hiram's arms on April 12, in 1894. Hiram missed Willie and Eliza more than most I do believe as he wrote about them so often in these diaries. Just wish the rest of Pratt's diaries he wrote for over 50 years as a barber in Waveland still existed :( kbz
---
Saturday August 1 - $25.05. Pd 16.00 for Gasoline Stoves, Billy Butcher for work in garden 1.25. The weather is very warm. The daily paper speaks of a cool wave to be here within a day or two. We were done working this evening at about 19 o'clock. Work was late coming in.
Sunday August 2-The constant rain fall this morning prevented the funeral of Mrs. Chauncey Smith taking place at the appointed hour and was put off until 1 p.m. This afternoon we had a hard rain storm. The weather continues warm.
Monday August 3-- $4.80. Pd $15 on gasoline stove bill. This morning before day I perceived a radical change in the weather. A fire in the cook stove felt quite comfortable. The wind last night blowed down a good deal of corn.
Tuesday August 4 -- $1.20. I have taken the gasoline stove from McMains over to Bob Williams. I think it is sold. The wather has gain turned warm. The daily papers are filled with funeral notices concerning Gen. Grant's funeral. Oil .25
Wednesday August 5 -- $2.40. One pair of shoes for wife 1.25. Apples .250. Warm weather continues. I have written for the Crawfordsville Journal an article upon the death of Mrs. Chauncy Smith. Wife set up with the sick at Sam Smith's. Two women are bad sick.
Thursday August 6 -- $21.50. Paid life insurance on wife 3646. This amount is to be paid twice each year for 15 years. The weather is real warm again. Bout two water melons 30 cts. Rained today. At present there is considerable sickness in town.
Friday August 7 -- $3. Pd $1 for 8 yds of calico for wife a dress. 10 cts for 12 years (sic) of corn. Sent Enquirer Co $2.10. Thomas H. Martin 14 cts. Postage 28 cts. The weather was extremely hot this afternoon. The old settlers meeting at Russellville yesterday was in numbers immense.
Saturday August 8 -- $9.45. Rent for july 2. 6 cuffs larm (?) dried .18. We have experienced another very warm day. Today the body of Gen. Grant was put away in a temporary vault at Riverside Park, NY. The arrangement is to erect a suitable monument there that will be creditable to his fame.
Sunday August 9 - I remained home all day. The weather was uncomfortably warm. This afternoon we had a delightful shower after which the air was a good deal cooler. Tonight wife and I attended the Campbellite church. Elder Plunket preached.
Monday August 10 -- $4.45. The air is no cooler since the big rain of yesterday. Gave 25 cts to a beggar. He wanted to go to Terre Haute, was a layer (brick layer? lawyer?) by profession so he said. Have rented the room joining mine on the north for Clara Shaw.
Tuesday August 11 -- $2.85. 35 cts for a couple Mellons. We have had another very warm day. Paid Mo Hennon $40 for an order for a Howe Sewing Machine. $12 is to accompany the order when I order the machine.
Wednesday August 12. -- $3.10. Sent the American News Co $5.05 for 1 gal of vinegar 25 cts. The weather continues warm. A letter from Bro William announces an increase in his family, a daughter. I answered his letter immediately. Brad (Bread?) .50
Thursday August 13 -- $4.65. One bunch of postal cards .25. We have had another hot day. The old Baptist Association at "Old union" closed today. Our last quarterly meeting is next (Saturday) and Sunday. Sister Clara is not so sure she will come up next month.
Friday August 14 -- $1.15 - Sent John C. New & Son $15.99 this includes for the Sentinel and Journal. For a set of chroquet (?) 75 cts. This I got for Willie (Croquet probably). Ordered a bill of paper from Chicago. I am going to print 2000 notes for the bank. The weather is cooler, glad of it.
Saturday August 15 -- $11.25. 1 gal berries 20 cts. 1 gal coal oil 25. Paid 2 dollars on Ministers Salary - 35 cts for a water melon and 25 cts for a muskmelon. Quarterly meeting in cession today and tomorrow. The air not quite so hot.
Sunday August 16 - I attended quarterly meeting love feast at 9 o'clock this a.m. Wife and Willie came in at 10 1 /2 for preaching. Bro. John Todd and wife were at our house for dinner. We were at Church tonight. JW McMullen was orator.
Monday August 17 -- $3.95. Paid 60 cts for 1 water mellon (sic) and 2 nutmeg melons. We are now having delightful weather for all kinds of laber (sic) nights are cool and days are pleasant. I bought 7 gal of gasoline last week of which not any note was made 1.12 cts
Tuesday August 18 -- $1.65. 3 packages of coffee 50 cts. Express in paper from Chicago 50. The weather has turned a little warmer. Willie Hauger at Newman, Ill last week took in $10.05. Sister Clara Shaw will not be up here before Christmas. She will be in Farmersburg this winter.
Wednesday August 19 -- $3. One gal of coal oil 25 cts. The atmosphere has been real pleasant during the day. The new post office room will be ready by the first of September. I have not been well for the past week, yet I am able to do my usual share of the work.
Thursday August 20 -- $3.95 - I sent FP Elliott & Co of Chicago 3.30 for papers and envelopes rec'd last Monday. Peppermint candy 20 cts. The weather is getting warmer. Jim Barr & Emma Sharp went to Crawfordsville and were married.
Friday August 21 -- $8.20. Paid 20 cts on a watermellon (sic). Charlie McCormick died yesterday morning at 6:30 and was buried this evening at about 6. The weather is quite warm this evening. I attended the funeral of Charles McCormick.
Saturday August 22 -- $8.95. 1 water mellon .20 Preachers salary during Quarterly Meeting $2. Three oz of insect powder 25 cts. I use this to kill the flies. Our work was very dull today. I have a ticket for Forepaws Show at Terre Haute Sept 8, 1885. The weather has been very warm again.
Sunday August 23 - I attended class meeting this morning and afterwards went to the Presbyterian Church and heard Prof. RV Hunter read a sermon. He is pastor of the 7th Street Presbyteiran Church of Indianapolis. Willie and I attended Sunday School at 2 ½ p.m.
Monday August 24 -- $4.80. Salt 35 cts. Soap 30 cts. Peanuts 15. 4 prs ladies hose 40 cts. 2 cans of Royal baking powder 50 Side meat from Mrs. Bloomfield some 6 weeks or more ago 60 cts. We have had several showers of rain today. I will have two or three gasoline stoves left over.
Tuesday August 25 -- $1.45. Postage stamps 15 cts. I had some trouble in getting someone to take a barrel of gasoline that was shipped to me from Cleveland. CF Moore took it for what I paid for it. The weather is a little cooler. Mr. and Mrs. Spruhan eat dinner with us.
Wednesday August 26 -- $2.75. Paid 71 cts freight on a sewing machine I sent to Chicago for remoddling (sic). Bread tickets 50 cts. I got Will Read ponies and buggy and with wife and Willie we went over to John Todds 4 ½ miles east. They were not at home.
Thursday August 27 -- $1.30. The weather was real cool last night very near cold enough for frost. I am going to put up a small coal stove in our present dining room. We can use a gasoline stove for baking.
Friday August 28 -- $4.50. Sent Pecks Sun 31 cts and asked papers to be discontinued. Stamps .05 cts. Thos H. Martin $1. AOUW on last Tuesday night $3. I have had a fire in the shop all day but not a large one. Nights are not cold enough lay under three or four cover lids.
Saturday August 29 -- $8.60. One doz quart tin can 75 cts. 15 peaches .25 Trip to JW Todds 1.25 Made this trip Thursday. Weather cool - no front yet to amount to anything. We were done work by 11 o'clock. Thornton & Bilbo are fitting up the room adjoining mine on the North.
Sunday August 30 - We attended church at 10 ½ a.m. This is our ministers last day with us for this conference year. He preached another good sermon here tonight. Yesterday he preached at the residence of John Crutchfields and at 4 at Russellville. The day has been pleasant.
Monday August 31 -- $4.00 Nine gallons of gasoline 1.44. I attended IOOF Lodge tonight. John R. Hutton and wife stayed at our house tonight. In the morning they will start for Humbolt, Kansas. Several of the neighbors called in to see them. We are sorry to see them go away.