JANUARY 1890 - DIARY OF HIRAM A. PRATT
Waveland, Indiana Barber 50 + Years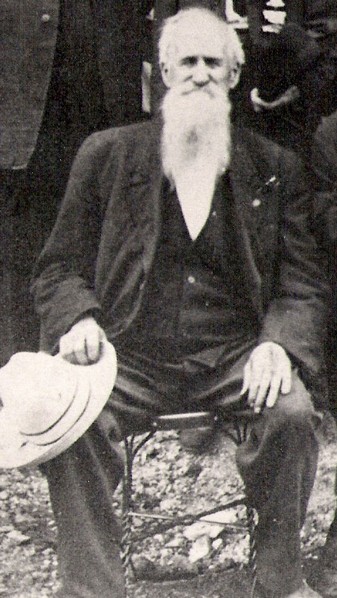 Note: These diaries were in the Waveland Public Library for decades but were disposed of by a librarian several decades ago. Luckily, another librarian's daughter (thanks sooo much Pam, at the death of her mother, Virginia Banta Sharpe found them in some belongings and gave them back for proper housing. A complete circle; however, only 14 of the 50+ diaries were saved from the library's incinerator. I'm a librarian too and thought since they'd been lost to posterity for so many years that it would be a good thing to transcribe them and give them to the world. They are currently housed in proper temperature/storage at the Crawfordsville District Public Library - typed as they were written
Note 2 : Karen Bazzani Zach (transcriber) was raised in the big 'ol town (500 people) where HA Pratt lived 5 decades before I was born. I remember the building where his little shop was and wish it was still there. What an interesting little place. ALAS! Progress !
Note 3: Some information about Pratt -- he was born in Parke County, Indiana April 20, 1840 the oldest child of eight born to Erastus & Elizabeth Allen Pratt and died October 12, 1914 in his beloved Waveland, Indiana. He was twice married, first to the love of his life (he kept a life-sized poster of her in one of his cabinets at his barber shop, even long after his second marriage) Eliza Franklin Shaw (born Oct 23, 1841 died Oct 12, 1887), and #2 to his friend, Evaline "Eva" McMains. He was very active in the community where he and Eliza chose to live. He gave generously of his time and money to the Methodist Church in Waveland. For a few years, he served as Marshall of the town. Also, he worked diligently for his Odd Fellows, Rebekah & Knights of Phythias Lodges, was for a time on the town board, and read to those who could not read from the several newspapers he was agent for. Pratt volunteered and served for three years during the Civil War (Co. B, 36th Infantry), and spent time in the dreaded Andersonville prison. He and Eliza adopted a son, Willie Franklin Stump, age two (not sure ever officially or just had permission to take him from the Poor House in Crawfordsville) and he was an amazing young boy (high grades, worked in the church, quite musicially inclined, just an ideal child) until Eliza was taken to the hospital where she was operated on for six cervical tumors (one weighing six pounds) from which she died. Willie went wild after that and he and Hiram's second wife, Eva never got along. He ended-up in Reform School (for stealing a dollar twice from Eva among other small crimes), and later sent home to die due to consumption (what we know as tuberculosis) dying in Hiram's arms on April 12, in 1894. Hiram missed Willie and Eliza more than most I do believe as he wrote about them so often in these diaries. Just wish the rest of Pratt's diaries he wrote for over 50 years as a barber in Waveland still existed :( kbz
---
Wednesday January 1 - $.25. It will be my purpose to keep in this pocket diary the amount of money rec'd daily from what soever sources. Mary Ellen Alfrey, Eva's sister from Crawfordsville and JB Durham and wife from Rossville Illinois are at our house today. Wife, Willie and I took our meals at the Reformer Church table at Dietrich's Hall cost $1.20. Willie and Eva have each a base cold. I am as well and hearty as could be asked for.
Thursday January 2- Mary Ellen and Sittie (Mrs. JB Durham) went to Crawfordsville today. Eva and I will go out to Rossville with Settie next Saturday. The trade in the grocery is growing lighter and I will leave it with my clerk, Willie Butcher to attend while I am gone. The weather is so warm that wild flowers in the woods are in bloom. The Panzies in our door yard are in bloom. A fire in the setting room is kept up to keep out damp air.
Friday January 3 - $16. Hat $2. Shoes $2.25 for Willie. Cotton goods 45 c for Eva. Flem ? for home use 60 cts. My diary for last year from Jan to July 8th was burned by the burning of the block in which I was located, and from then until the close of the year, it was more or less neglected. Christmas Eva and I were at her sister Mary Ellen's on Christmas night we were at the Opera and saw Estella Clayton of Madison Square NY play "Scene on the Hudson."
Saturday January 4 - - We left this morning for our visit to Henry Ellis's at Rossville, Illinois. Arrived at our destination at about 2 p.m. Twenty seven months ago yesterday my little woman and I went down to Terre Haute, Ind. She was encumbered with abdominal tumor ovarian and fibro cystic. She wanted them removed. There were 6 in all. She was not able to stand the drain upon her system and died on the morning of Oct 12, 1887. There is a slow rain falling. Roads bad.
Sunday January 5 - Henry Ellis and I were at the Presbyterian Church this forenoon. Eva and I spent the afternoon at Charlie Ellis at night Henry Ellis and I were at the Methodist Church. It was their quarterly meeting. I partook of the emblems of our Saviors broken body and of his blood. Their presiding elder is named Webster and their pastors name is Beedles. Rain continues to full at intervals. We are well.
Monday January 6 - We left Bro. Ellis' at half past one and arrived at Philipp (sic) McMain's at about 2 o'clock. We made the trip in a two seated hack. The roads we found to be fearful bad. Turned cold and began freezing. Before going to bed it turned warm and the indications are good for snow. Philipp (sic) lives four miles north of Rossville. Prairie country is all the style over here. The corn crops in this region did not mature only in part last season. Times are dull.
Tuesday January 7 - We left Phillip (sic) McMains at 20 minutes of 11 o'clock in a lumber wagon. The ground was covered with snow. The weather was cold but not freezing to amount to anything. Arrived at Bro. Ellis' in Rossville at 15 minutes past 12. I did not eat any dinner and I am not feeling well. We will remain here at Ellis's until morning then we will go to East Lynn and call on Eva's brother David. Snow melted some.
Wednesday January 8 - We left the Depot at 7.10 and arrived at Hoopeston 15 minutes later. We walked to the Eastern limits of the town & called upon Mrs. Sachel. She gave us information where to find Mrs. Anna Sanford whose maiden name was Bloomfield, a nice of Mrs. Amanda Bloomfield our nearest neighbor. Left for East Lynn at 12.10 p.m. and in 10 minutes were at our journeys end. I eat no supper. The folks were well.
Thursday January 9 - Up at 4 o'clock and as soon as dressed went to the Depot. At 4.44 a.m. boarded the train and in a few minutes were at Hoopeston. Here we had to wait until 6.55 a.m. and were at Bro. Ellises in time for our breakfast, though I eat not a mouthful. Drank a glass of sweet milk for dinner. At 3.40 we are on our way to Anderson McMains near Armstrong this (vermillion Co). Train late several hours and we can't go.
Friday January 10 - Anderson McMains went with us as far as Alvan. We left Rossville at 12.40 p.m. and waited at Danville until 3 minutes of 4. Our train was 15 minutes late on arrival at Crawfordsville, but we were in good time for the train home. Here we arrived at 6.6 p.m. Found every one well so far as were well when we left home.
Saturday January 11 - Richard Smith was burried today. He was an old soldier but not a member of any GAR post. The weather is so warm that we can't have fire in the stoves for heating rooms. Doors of all business houses are kept wide open until late at night. Yesterday I see a bird preparing to build a nest. Flowers in my instances out of doors are in bloom. Wonderful days!
Sunday January 12 - Commenced raining sometimes last night and has been rather damp most of the day. Eva attended her church social services at 11 o'clock and then went to the Baptist Church and with them to the creek where a few new converts were baptized in water. At 3 p.m. Willie and I were at our Sunday school.
Monday January 13 - There was considerable wind and rain last night. The papers of this a.m. give an account of a fearful cyclone at St. Louis. Much damage was done to shops, dwellings and manufacturing houses of various lines. Four lives reported lost. Eva concluded the weather was too bad to do the washing. She has a very bad cold as well as myself. Have paid $1 for medicine.
Tuesday January 14 - Eva got Mrs. Dave Moore to do our washing for us this week. The papers are filled with accounts of the big storm. It done a great amount of damage in some of the southern states. My cold is giving me considerable trouble. Eva coughs a good deal her cold does not seem as deep seated as mine. Rec'd a letter from Ella and Perla Petty of Mommouth Springs, Ark.
Wednesday January 15 - I was intending to have gone to church tonight but my clerk wanted to go and I stayed. Eva has been at work on a new dress. Willie went out to Kelso's last night and came in this morning. I attended to the carrying of the US Mail from the train for him. Trade in the grocery is not as brisk as it was during the holliday season. Cold and blustery tonight.
Thursday January 16 - Weather was tolerable cold last night and most of today. I and Eva have a very bad cold - we cough almost incessantly. We are to have a new preacher at the Methodist Church on Saturday. His name is Andrew Yount of Yountsville this county a grandson of Dan Yount and a senior member in Wabash College. I will endeavor to go hear the little man. Weather has moderated considerable.
Friday January 17 - The weather for the time of year is entirely too warm. Thus far ice has not formed on the ponds over 2" thick. Last year our coldest weather was in the month of February. Ice was then formed 6" thick. Tomorrow is old Bro Badgers day here. I will go hear him Sunday night. More people are complaining of colds than I ever noticed heretofore.
Saturday January 18 - Trades in the grocery has not been as brisk as it ought to have been. I am thinking of accepting the cash plan, there I can make no bad debts. Eva has had Mrs. Dave Moore to do her washing since we left for Illinois. I worked some in the shop today and tonight until nearly 11 by the clock. Weather is turning for the worse.
Sunday January 19 - We have had a rather disagreeable day not cold but cloudy, damp and chilly. Willie and I were at church and heard our young brother preach. He done very well for a new beginner. We were at Sunday school at 3 p.m. Tonight I went with Eva. Bro. Badger is afflicted with this universal bad cold called by some the LaGrippe. Willie was at Stones until after church.
Monday January 20 - James Alfrey and his wife, my wife's sister was at our house Friday night and last nights Saturday night they were at Wm. Kelso's. They went home this morning. I have read most of my diary of 1866 it was the year of my marriage with Eliza F. Shaw. I seemed to live the time over again some of the circumstances were forgotten until I read of them in this diary.
Tuesday January 21 - Eva got Mrs. Moore to do the washing again this week. I bought for her 4 ½ yds of gingham 45 cts. 5 yds of the same kind of goods for Willie 50 cts. The weather has fared off considerable. I am some better with my cold. Eva is about the same. I am reading my diary of 1867 now and am very much interested. I often see notices of my dear little woman of very precious memory.
Wednesday January 22 - Weather turning colder. I look for snow. Eva done her ironing yesterday. I see by my Diary that it was just 23 years ago today that my little woman and I moved from Uncle Dave Pratt's into the property now owned by Dow Stone a few years west and on the opposite side of the street. She was the proudest little woman I ever saw when we had got to ourselves.
Thursday January 23 - The ground is covered with snow and cold weather is all the rage now. I have sent away for papers and SM supplies in all $6.90. I would like to be out of the grocery trade. There is lots of hard work and very poor pay. If I have a good stand for a barber shop I can beat it bad for money making. Willie was at Billy Kelso's last night for milk. Frank Kritz is not very well today. I am some better.
Friday January 24 - Eva was coughing a good deal last night when I went home. She had gone to bed. I gave her some cough drops which soon gave her rest. She slept well through the night. I find the early morning air pretty cold when I get up to make the fires. Snow melted some today. Our town paper is not very well printed this week.
Saturday January 25 - I rec'd today in the shop for work 42.75 was at home by 10 o'clock. Eva's cough continues about the same. Took her 5 cts worth of cough drops. There was not as many people in town today as for common. I am very much interested in the reading of my Diary of 1867. It reminds me of many things that I had forgotten. Some of the incidents are entirely obscure. The weather is pleasant overhead.
Sunday January 26 - Willie and I attended class meeting at 9.48 a.m. and at 11 a.m. we were at the Presbyterian Church and heard a lawyer from Terre Haute by the name of Sydney B. Davis lecture on the Immortality of the soul. It was well written and interesting Willie went to hear him at night. I stayed at home. Eva attended social services at her church at 11 a.m. had chicken dumplings for dinner.
Monday January 27 - Mrs. David Moore done Eva's washing again today. We done a tolerable good days work in the grocery. I have engaged a barrel of the finest coal oil I ever saw. It will burn without charing the wick or smoking the chimney. It will sell at 25 cts per gallon. The B&L is paid regular every Monday and charged to expense of the store. Borrowed $75 of Mrs. Mary V. Read.
Tuesday January 28 - Eva done her weeks ironing of cloths. The weather has fared off so that we can keep the doors of the store open. Men are setting out of doors in the sunshine. Eva wrote sister Eliza a letter on yesterday, I added a few lines to that of hers. Had a letter from Mary Ellen of Crawfordsville, Eva's sister. Eva and a lot of her friends will go up there one day this week. I am well
Wednesday January 29 - Willie complained of been sick and was not up for his breakfast. He did not go to school. The weather is real warm for winter almost remarkable. Only twice this winter has the ice formed to exceed three inches in thickness. Eva done her ironing yesterday and the mending of rents today. She had partial arrangements to visit her sister at Crawfordsville. It failed.
Thursday January 30 -We have had another nice day the mud in the streets is getting more firm. The trade in the grocery has been tolerable fair for this time of year. Willie was not at school today. He thinks he will go tomorrow. He was at the shooting match just south of our house. Eva is at work in a couple of gingham shirts. I was at Prayer meeting tonight. Had a good meeting.
Friday January 31 - I wrote my good friend Mrs. Carrie Harrow of Blakesburg a letter in reply to the one sent me last July. She sent me a card of inquiry. Some time next week I want to write to my little friend, Miss Lottie Hollingsowrth of Knoxville, Iowa. Eva was to see her sister Mrs. Kelso yesterday. She is not well. Jacob Mitchel died this a.m. was about the farm the day before.