SEPTEMBER 1888 - Diary of Hiram Austin Pratt
Barber in Waveland, Indiana 50 + Years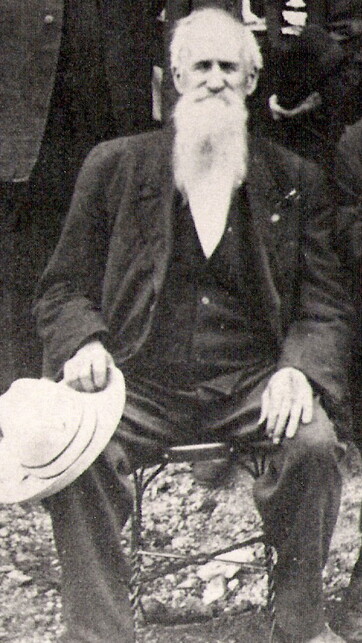 Note: These diaries were in the Waveland Public Library for decades but were disposed of by a librarian several decades ago. Luckily, another librarian's daughter (thanks sooo much Pam, at the death of her mother, Virginia Banta Sharpe found them in some belongings and gave them back for proper housing. A complete circle; however, only 14 of the 50+ diaries were saved from the library's incinerator. I'm a librarian too and thought since they'd been lost to posterity for so many years that it would be a good thing to transcribe them and give them to the world. They are currently housed in proper temperature/storage at the Crawfordsville District Public Library - typed as they were written
Note 2 : Karen Bazzani Zach (transcriber) was raised in the big 'ol town (500 people) where HA Pratt lived 5 decades before I was born. I remember the building where his little shop was and wish it was still there. What an interesting little place. ALAS! Progress !
Note 3: Some information about Pratt -- he was born in Parke County, Indiana April 20, 1840 the oldest child of eight born to Erastus & Elizabeth Allen Pratt and died October 12, 1914 in his beloved Waveland, Indiana. He was twice married, first to the love of his life (he kept a life-sized poster of her in one of his cabinets at his barber shop, even long after his second marriage) Eliza Franklin Shaw (born Oct 23, 1841 died Oct 12, 1887), and #2 to his friend, Evaline "Eva" McMains. He was very active in the community where he and Eliza chose to live. He gave generously of his time and money to the Methodist Church in Waveland. For a few years, he served as Marshall of the town. Also, he worked diligently for his Odd Fellows, Rebekah & Knights of Phythias Lodges, was for a time on the town board, and read to those who could not read from the several newspapers he was agent for. Pratt volunteered and served for three years during the Civil War (Co. B, 36th Infantry), and spent time in the dreaded Andersonville prison. He and Eliza adopted a son, Willie Franklin Stump, age two (not sure ever officially or just had permission to take him from the Poor House in Crawfordsville) and he was an amazing young boy (high grades, worked in the church, quite musicially inclined, just an ideal child) until Eliza was taken to the hospital where she was operated on for six cervical tumors (one weighing six pounds) from which she died. Willie went wild after that and he and Hiram's second wife, Eva never got along. He ended-up in Reform School (for stealing a dollar twice from Eva among other small crimes), and later sent home to die due to consumption (what we know as tuberculosis) dying in Hiram's arms on April 12, in 1894. Hiram missed Willie and Eliza more than most I do believe as he wrote about them so often in these diaries. Just wish the rest of Pratt's diaries he wrote for over 50 years as a barber in Waveland still existed :( kbz
---
Saturday, Sept 1 -- (written on Sunday) Willie and I went to church at 10
1/2. This year I have given $15 to church expences the weather has been real
nice. Wrote a letter to Eva. Took a good nap this afternoon. I am well.
Sunday Sept 2 -- (written Saturday in wrong place) $17.15 - Beef 90 cts
Sugar 1. Eggs 25 nails 25 gas 15. Hull Vapor Stove Co $5.20. Helpmate Sewing
Machine Co. 5. $6.05 Linetopeptine 85 cts. Wagon load of MIllet hay 5.50.
This report is for Sept. 1 -- a letter from Eva a good one!
Monday Sept 3 -- RR TIckets $12.25. Eatabiles 25. Am News Co 5.05. THB Mc
Cain 7.65 B&L $5. Rent 3. Arrived in St. Louis at 7:30 p.m. Changed car was
in the city 40 minutes and will have to change again tonight at Mobertz, Mo.
Eleven months ago today my wife and I were in TH (Terre Haute).
Tuesday Sept 4 -- Changed cars this a.m. at Mobertz MO at 1:30. Arrived at
my brother Tom's at 7:00 a.m. in time for breakfast. Miss C.M. Harron came
in from Blakesburg at 5 p.m. was glad to see her. She did not know me at
first sight. The folks are all well.
Wednesday Sept 5 -- Stayed last night with Bro Tom and tonight will stay
with brother Ed. Will atttend State Fair on tomorrow. Had a dog photos taken
$3. Called on Pop Turpin in South Otterman. I am well. (sure wish we had
that picture -- assume a dog photo is a derrogotype)
Thursday Sept 6 -- Ticket to state fair 5.60. Had Carrie harrow as far as
Knoxville here I met Lottie Hollingworth was with her all day - pd her fare
1.50. State Fair 1.60 including railroad tickets. Fruit 80 cts. Home by
11:30 - Tooth ache bad.
Friday, Sept 7 -- Had a good letter from Eva on my arrival from the fair in
yesterday evening. Ticket for Blakesburg 45 cts. Arrived at 12.20. Folks are
all well. Bought a piece of bacon for father 1.80. Have been busy ever since
my arrival talking. Weather nice.
Saturday, Sept 8 -- Stayed last night and tonight with father and mother.
Have seen about all of my old timers. I called on Virginia Verdan late this
p.m. Wrote to Eva yesterday. She desires that I stay no longer than two
weeks.
Sunday, Sept 9 -- Took dinner at Ellen Coopers then she went with me to her
daughter Mussey's. After returning home father and mother accompanied me to
Aunt Rhoda's and from there I went home with Eva Miller, daughter of Mary
Mary (sic) a cousin of mine.
Monday Sept 10 -- Visited the cheese factory and bought 1 1/2 lbs 1.20. Eat
dinner at Al Babb's (?) he married Sarah King a cousin of mine. Took supper
at Lawson Carltons an old school mate. Have had a splendid time. Clif and
his wife Eva Miller conveyed me to father's afternight (sic).
Tuesday Sept 11 -- Bon Abegg came in for me this morning. Was at his house
for dinner and supper. Here I met with Nelson Dirby, Cal Smith and John
Belles. We were together all day and had a good reunion. Tonight I am at Mr.
Harrows the guest of his daughter Carrie. (I think this is the Carrie he
mentions so often earlier in the year and bought the very expensive coat
for)
Wednesday, Sept 12 -- Eleven months ago today my dear little woman died in
Terre Haute, Indiana. My heart is sad and tears of grief blind my eyes while
of her I write. Took Carrie over to the schoolroom where she is engaged to
teach for the winter. Her brother Ottis brought me over to the burg in a
wagon. Took supper at Charlie Readings and remained until after 10. We had
an interesting time talking of old times in the army and of when we were
young folks. At father's tonight.
Thursday Sept 13 -- Gave mother $10. Was at Aunt Miranda's and Aunt Rhoda's
this forenoon. Left Blakesburg at 7:20 a.m. with father and mother for
Ottamawa. Tickets $1.35. Gave Ethel Johnson ? 10 cts. Writing material 15
cts. 10 cts. Eat supper with Bro Wm. We were at Erb's until 10 o'clock. No
letters.
Friday Sept 14 -- Called on Comrade Lorenzo H. Case have not seen him since
the spring of 1866. Tonight I took Emma Harrow to the Turner Hall and heard
" Skiped out by the lihgt of the moon!" 1.00 Took dinner with Bro Erd 15 cts
for fruit.
Saturday Sept 15-- Tickets yesterday for Ottumwa 1.30 Two iounces of
reptirtine ? $1.50 . I owe my nephew Erd's son 25 cts. Stayed with brother
Wm. last night and out at the brick yard tonight. Wrote to Eva yesterday.
Have had a big walk (talk?) with my father. He says he is 78 years old. Mother says
72.
Sunday Sept 16 -- Rained today. DInner at Bro. Ed's Here Comrade Benj. F.
Chisman called to see me and dined with me. We were very intimate and good
friends during the war. Bro. William took Father and Bro. Ed and Comrade
Chisman and I over the river to see South Ottumwa and the purchase of 10
cts. We stayed on the return and called on Comrade Wm. Sylvia an old comrade
of the war. Had not seen him since 1865. Chrisman and I took lodging and
breakfast at Bro. Wm.s' Restaurant. Met with Comrade Michael's yesterday.
Exchanged photos.
Monday Sept 17 -- BF Chisman left for Dudley, Iowa his place of residence at
9:40 a.m. I took dinner at Bro. Ed's. He gave me one of Pinkerton's
Detective books. Took supper at Bro Williams. Bought a pair of James Mean's
Shoes. $.00 One lb of nuts 20 cts. 100 cigars 3.20. Father and mother
William and wife, Ed and Emma Harrow and Lib Stewart accompanied me to the
train upon which I shipped for Indiana. The train left at 9 p.m. My visit
has been a nice affair. I enjoyed myself as well as could be expected having
had such a time with my tooth.
Tuesday Sept 18 -- Arrived in St. Louis at 7 a.m. and in Terre Huate at 2
p.m. and at home at 5:30 p.m. Found that Willie had not done anything which
I had assigned him and gave him a good whipping. He must mind me or I will
punish him severely. I was with Eva until quite late had a real good time
with her. We are to be married the 9th of next month. Everybody seemed glad
to see me. I am feeling well.
Wednesday Sept 19 -- $28.50 -- Frank Kritz had to turn over to me my share
of the business transacted while I was gone to Iowa. The expenses of the
Shop including Building and Loan was 6.80. W hat I have taken in for work
today will be counted on the receipts of tomorrow. It was half past one when
I got in bed last night.
Thursday Sept 20 -- $5.45. Broom .30. Lamp chimneys .20. Willie for school
outfit 4. Harry a slate 20 cts. Silk umbrella 3. Two attomisers (?) .75. Had
a rain this morning. The weather is fair and fine for ret (?) work.
Friday, Sept 21- $5.35. Ham 3.80. Sugar 1. Onions .30. Beef .25. 2 chickens
.50 Stamps 25 cts. 3 bot ink .25 NY Tribune 3. John SHanks is papering two
room sof our house. Eva was in to see the rooms and is well pleased.
Saturday, Sept 22 -- $8.55 Mellon .10 cts feed for chickens. 25 Butter .90
Coffe .60. Eggs .30 Vinegar 20 cts. We have had a very pleasant day. Work
has not been very brisk. Wrot to Emma Herron. Rec'd letter from Calra.
Sunday, Sept 23 - By 9 o'clock this morning we were on the way to Uncle Rich
Evans had a good visit. At home by sundown. Called on Eva at 7:30. Had a
good time with her. Two more Sundays and then she is mine!
Monday, Sept 24 -- $8.10 -- B&L 5. Pears .75. Sugar 1.50. Attended Odd
Fellows meeting last night. Oyster stew .25 Postage on papers 10 cts. Spices
.25 Cider .15 Gass .30. Indianapolis Journal 32.05. The weather is very
fine. I am well.
Tuesday, Sept 25 -- $3.40. Coal oil 20 cts. Stamps 65. Two weeks from
tonight I hope to be in St. Louis with a new wife in the person of Eva
McMains. She is 43 past has never been married and weights 163 lbs. The
weather continues delightful.
Wednesday, Sept 26 -- $2.60. Sent $1 for Eliza to Free Methodist of Chicago.
One wood bowl 35. Oil 20 cts. Cards for brother William of Ottumwa 2.75.
Sent them by mail tonight. Painters will not get done whis week in our
house.
Thursday, Sept 27 -- $31.50. Three large onions 20 cts. carpet took 5.
Thread 10 cts. AOW $2. Had a nice visit with Eva tonight. Two weeks from
today we expect to be at her sisters Almyra's in Missouri. The weather
continues very fine.
Friday Sept 28 -- $5.70. 6 yards of goods for hair clots 5.5 2 gal gas .50
Tacks 5 cts bolt & scre 5 c. Two of the six room sof our house are done.
Mrs. Hunt has been arranging things in the rooms. Barber's soap 60 cts.
Weather continues nice. Onions gone.
Saturday Sept 29 -- $10.25. Butter .30 Fish .50 Oysters 25 c. Flour 1.30
Crackers .25 Jim Roberts donation 50 cts. Hay 5.50 Roberts was 35 years old
today. Political rallies at SOuth Waveladn by Democrats at Russellville by
Republicans.
Sunday Sept 30 -- I attended the services at the Baptist new church. It was
dedicated tot he servic eof God. The minister was from Terre Haute and a
very interesting speaker. Was with Eva awhile this p.m.