DECEMBER 1911 - HIRAM PRATT DIARY
Waveland, Indiana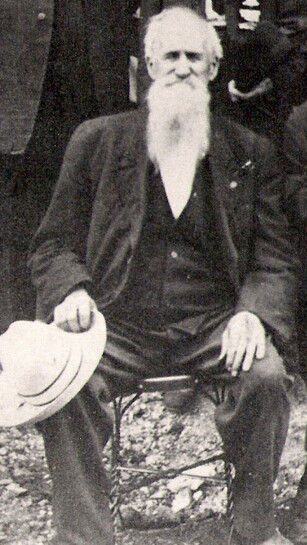 Note: These diaries were in the Waveland Public Library for decades but were disposed of by a librarian several decades ago. Luckily, another librarian's daughter (thanks sooo much Pam, at the death of her mother, Virginia Banta Sharpe found them in some belongings and gave them back for proper housing. A complete circle; however, only 14 of the 50+ diaries were saved from the library's incinerator. I'm a librarian too and thought since they'd been lost to posterity for so many years that it would be a good thing to transcribe them and give them to the world. They are currently housed in proper temperature/storage at the Crawfordsville District Public Library - typed as they were written
Note 2 : Karen Bazzani Zach (transcriber) was raised in the big 'ol town (500 people) where HA Pratt lived 5 decades before I was born. I remember the building where his little shop was and wish it was still there. What an interesting little place. ALAS! Progress ! Oh, and I've tried to type the diaries as is - mistakes & all
Note 3: Some information about Pratt -- he was born in Parke County, Indiana April 20, 1840 the oldest child of eight born to Erastus & Elizabeth Allen Pratt and died October 12, 1914 in his beloved Waveland, Indiana. He was twice married, first to the love of his life (he kept a life-sized poster of her in one of his cabinets at his barber shop, even long after his second marriage) Eliza Franklin Shaw (born Oct 23, 1841 died Oct 12, 1887), and #2 to his friend, Evaline "Eva" McMains. He was very active in the community where he and Eliza chose to live. He gave generously of his time and money to the Methodist Church in Waveland. For a few years, he served as Marshall of the town. Also, he worked diligently for his Odd Fellows, Rebekah & Knights of Phythias Lodges, was for a time on the town board, and read to those who could not read from the several newspapers he was agent for. Pratt volunteered and served for three years during the Civil War (Co. B, 36th Infantry), and spent time in the dreaded Andersonville prison. He and Eliza adopted a son, Willie Franklin Stump, age two (not sure ever officially or just had permission to take him from the Poor House in Crawfordsville) and he was an amazing young boy (high grades, worked in the church, quite musicially inclined, just an ideal child) until Eliza was taken to the hospital where she was operated on for six cervical tumors (one weighing six pounds) from which she died. Willie went wild after that and he and Hiram's second wife, Eva never got along. He ended-up in Reform School (for stealing a dollar twice from Eva among other small crimes), and later sent home to die due to consumption (what we know as tuberculosis) dying in Hiram's arms on April 12, in 1894. Hiram missed Willie and Eliza more than most I do believe as he wrote about them so often in these diaries. Just wish the rest of Pratt's diaries he wrote for over 50 years as a barber in Waveland still existed :( kbz -- ENJOY
---
On front of this diary is a piece of paper glued that says, "Waveland Ind HA Pratt, Diary for the year of 1911.
Inside there is a page to fill out that says "Remembrancer"
Reisdence Waveland PO BOX Ind. Telephone NO 24-6. Business Address Cross Street Telephone no. 6.
Other things are not filled out
Life Ins Policy Union Mutual of Maine at Portland
In case of accident notify Mrs. SE Pratt
---
Friday December 1 - $1.20. Clear 21. A bag of 24 ½ pounds of flour at Moore & Burnsides 63 cts. I have agreed to take of Jim O'dell a fore quarter of a young beef. Not yet a year old. He thought the quarter would weight about 80 pounds. Henderson Oliver will move back to his home here in town tomorrow. S am Scott was married Wednesday for the second time. Dillman has moved into the house vacated by Ed Cuppy. Thursday
Saturday December 2-Cloudy most of the day. 23. $5.15. Paid 75c Express on the piece of casting for the front of the fire box to our cook stove. The casting cost a dollar at the factory in Cleveland, Ohio. Three pounds of crackers 25c canned goods 75 cts. Two small bits of Porter House steak for 20 c . Mary Alfrey will be here next Friday night to attend the concert in the Christian Church. A young woman from Bischof Store (Note: a large department store in Crawfordsville) will accompany her. I was done my work at 11. Hope to be home by 12.
Sunday December 3 - cloudy and tried to snow. 28. I was too late to go to meeting. I had to see to the proper distribution of The Sunday morning papers. The boy I had engaged proved of no account. I will dispose of these papers at the first opportunity. I went to meeting tonight and heard a good sermon by Bro. Riley. Wife and I before church time went over to Henderson Oliver's. Eva stayed with Mrs. Oliver while Mr. Oliver and I went to meeting. Henderson moved back from the farm yesterday. They had been away 3 mos.
Monday December 4 - Clear all day. Clouded up a little after sun down. 31. $4.50 For several evenings the sun has been setting at 4.20. today sun arose at 6.51. The 21st day of this month it is claimed is or will be the shortest of th year. I am going to note the rising and setting of the sun until near the close of the month. The daily News will be the source of my information. Paid a dollar to the Moore boys for the distribution of the Daily News last week. Paid Margarette Moore a dollar for the washing of our wearing apparel.
Tuesday December 5 -- $1.50 Cloudy most of the time today 37. Paid 65 c for sausage at 16 c per lb. F.arMith (?) 40 cts since last reports. Some 2 lbs of butter 50 cts. Onions 25c at the rate of 3 1/3 cts per pound. Three lbs of crackers for 25 cts. Two pound cans of corn two of them. The repairs of our cook stove all told is $1.35. The sun set at 4.20 and arose at 6.52 only 8 minutes more and then it will be 7 o'clock at sun rise. This has been a lovely winter day. Bob McMains eat dinner with us today. Buddy Kelso was up to see the doctor and have his face busted.
Wednesday December 6 - Cloudy 40. $3.25. Paid 75 c for 3 tickets for the entertainment to be given by Emma Russell at the Christian Church house, the proceeds to go into the Parsonage fund. Paid $1.50 for fresh hog meat at 11 c per pound. Eva and Cinda Deer attended the Mite Society over at Eliza Ware's her first married name was Jarvis (Henry). 15 lbs of Buck wheat flour 35 cts. Sun arose at 6.53 and set at 4.20. Have ordered the Star sent to TL Hanna.
Thursday December 7 -- $1.10. Cloudy all day. 45. The sun could be located at any time (sic although he said it's cloudy?). Sun arose at 6.54 and set at 4.20. Paid 35c for linement made from the following formula 8 oz coal oil 8 oz benzene 4 oz of sassafrass. Shake all together and apply externally. Sent the laundry $5.56. Express on the laundry 35c. Paid 75 c for Three tickets for the entertainment given by Emma P. I notice mention was made of this yesterday. There was good signs of rain or snow tonight when I went home.
Friday December 8 -- $6.20 Sun arose at 6.55 and set at 4.20. Cloudy 53. I was done work by 11 o'clock. Mary Ellen returned to her home in Crawfordsville on the up train this morning. She came down yesterday at 3.35. Buddy Kelso met her at the station with Bob and the buggy. The receipts at the Entertainment last night was $47.10. Paid 15 c for my lunch tonight. The damp weather continues and mud, the plague of the day.
Saturday December 9 - Cloudy and very damp. Very close to rain, water dripped from eaves of houses. Paid Jim Odell 25 for a pound of butter. Rent on the telephone $2. Thirty gallon coal oil $1.80. I was done work by 11 o'clock and hope to be at home by 12. My evening lunch consisted of a bowl of milk, some crackers and a dish of ice cream. Will Oglesby has moved into the house his mother built on west Main Street opposite Christian Church west.
Sunday December 10 - Rainey all day on account of which Eva never went to her church servise (sic). I was not ready for the meeting when it was time to go so I stayed at home. Tonight we slopped (sic) in at Irve Fullenwiders and stayed until it was time to go to meeting. There was a small number to the meeting on the account of the rain. The stars were bright the sky clear when we entered the meeting house. When we went home a slow easy rain was on. The weather is warm like summer. 61.
Monday Dec 11 - 53. Rain all day long. $2.50. Spent 30 cts for Christmas cards. (Postal), and 25 c for candy. I most always spend a dollar and sometimes more for candy and other Christmas goodies during the Hollidays (sic). The Sun arose this morning at 6.56 and set at 4.20. The News had the figure 5 in the place where it ought to have been 4 making it read 5.20 instead of 4.20. Eva is at Emma Russells tonight. On the way home I will call for her Bob Kelso brought me 32 bu of corn test Saturday at 55 c per bushel.
Thursday Dec 12 - Cloudy and damp. 40. $2.50 Bought of Jim Odell 100 lbs of beef for $7. Paid the Moore boys a dollar, Margarete Moore 40 cts. IOOF dues $1.65, 24 years and 2 months ago My Sweet little Lady in Terre Haute gave her life to Jesus our Lord and Master. 17 years and 10 months ago our Foster son Wm. F. Pratt passed into the spirit world at the home of Mrs. Amanda Bloomfield next house East of where I lived at the time. Last Saturday ordered Crawfordsville Journal for Loudermill.
Wednesday December 13-- $8. Cloudy all day. Sun shone dimly for a few minutes. Some of the corn Bob Kelso put in crib is not very sound. I am going to make a kick when the time comes for settlement. Jim O'Dell brought in the quarter of beef yesterday evening, it weighed 100 pounds. I have sold 52 pounds of it for what it cost me vis. 7 cts per lb. A spool of white thread 5c. The sun arose at 6.59 and set at 4.20. Mrs. Chars O'conor had the use of Bob & the buggy this afternoon.
Thursday December 14 -- $.85. Cloudy 54. I gave Jim Odell a check for $7 for the quarter of beef he brought me. The Sherwood Pension bill has passed in the US Congress. Now if the Senate endorses it the President will sign it. If it should become a law I will be entitled to a dollar a day pension. This would put me on Easy Street. John Rice has had a three light gasoline light put in his residence and is wonderfully delighted with it.
Friday December 15 -- $3.65. Cloudy and damp. 35. The sun arose this morning at 7 o'clock and set at 4.21. The length of the day today and yesterday is the same. Six more days before the 21st. I have an idea the days will be getting longer before that date. Richard Rusk eat dinner at our house today. His wife is in Crawfordsville since yesterday. She will return sometime on tomorrow. Paid 25 c for 10 milk tickets. We get a pint every evening.
Saturday December 16 - 410.25. Sunrise 7.01 sunset 4.21 temp 35. Paid 25 c for a pound of butter 15 for a head of cabbage. The head weight within an ounce of 6 pounds. Eva received a letter from her sister Maranda. She is coming back to Waveland soon after the holidays are over. My supper at the Restaurant cost 20 cts. I was through with my work by 10 o'clock and hope to be in bed before 11. Rained a little last night and today. Turning a little cooler tonight.
Sunday December 17 - Sunrise 7.02 Set 4.22 Cloudy and very damp 33. Almost rain. I was at the church not at the opening but in time to hear the preacher read a part of the scripture lesson, heard the usual announcements and to assist in taking up the collection. I put in 5 cts. Tonight I was a head of time. The house was not full, only a few turned out. Eva remained at home all day. She stayed at Kelsos until I returned from church. T he mud in the streets if freezing.
Monday December 18 - $3.85. Cloudy, a mist almost rain made things very damp. Eva was up in the busy part of town this afternoon and spent $2 for Christmas presents to send to her little nephews and nieces, some went to Illinois and some to Oklahoma, some to Kansas City, Missouri. I have spent to date 40c for postal cards 28 cts for stamps. Eva sent Christmas greetings to Brothers Ed at Portland, Oregon, Sellwood Station. It will soon be 4 years since he was here on a visit of 5 weeks. I parted with him Jul 6, 1909 at Crawfordsville.
Tuesday December 19 - 85 cts. Cloudy about the same as on yesterday. 33. The sun arose at 7.03 and set at 4.22. Yesterday morning it was the same and no change at the setting. Pait (paid) the boys a dollar for distributing the Indianapolis News last week and 40 c for the washing to Margarett Moore. I believe the prospect is good for the dollar a day pension bill to pass the senate, if so the President will sign it and then I will get $30 a month as a present form the US for having served 3 years and 18 days in Union Army.
Wednesday December 20 -- $4.65. I have paid 35 c for candy and gave it to Eva to eat and to give away. Paid 25 cts last Saturday for a pound of butter, 10 cts for buttermilk and 25 c for 10 milk tickets. A few days ago I drank a glass of cider Dave Russell and I made last fall and it was as good as when first made. It was heat to the boiling point skimed and canned which preserved it. I gave a check for $3.94 to pay for dues to the laundry. Paid dues in the IOOF $1.65 Knights of Pythias Lodge $1.30.
Thursday December 21 - Sunshine 2.04 and set at 4.23 $2.15 Buddy kelso is having a hard time with a severe pain in his left cheek. I am very sorry for him, but that avails nothing. I do what I can to relieve him from care of the little chores necessary to be done about the house. He finds partial ease by hyperdermick injections of morphine in his affleted (sic) cheek. Dr. TZ Ball is doing what he can to ease the pain. Salmon Clore and wife are now in Jacksonville, Florida. Left here last Tuesday.
Friday December 22 -- $1.25. 44. Cloudy but the sun could be located the clouds being very thin. The sun arose at 7.04 and set at 4.23. I notice that the Indianapolis News has a notice that today was 6 seconds shorter than it was on yesterday. Practically yesterday and today are the same. Winter the paper says began at 6 o'clock this evening. Buddy Kelso is yet a great sufferer. Richard Rusk starts to Ft. Wayne in the morning to visit his daughter.
Saturday December 23 -- $3.25. Cloudy no sunshine today 30. Sun arose at 7:05. set at 4.24. I am not able from the dates made which was the shortest day. It is claimed the 22 was 6 seconds shorter than the 21st. Today the sun arose one minute later and set one minute later. Paid Robert Glover $2.70 for 30 pounds of candy in the stick. My lunch - a bowl of milk and 2 biscuits and a dish of cream cost me 15 cts. Paid Jim Odell 25 cts for a pound of butter, small bag of flour 60.
Sunday December 24 - Cloudy all day real damp too 36. I was the last one to enter the meeting house. Eva started from home in time but on the way happened to get into a talk with Martha Fisher and came very near being too late. We ate dinner at Buddy Kelso's had a good one, too. Tonight we were on time at the church service. The congregation was rather small. Eva put a dollar in on her church dues $8 she has agreed to pay.
Monday December 25 - Cloudy the entire day. 37. Rained a very little dampness continued all day. We did expect to take our Christmas dinner at Mr. Ike Ritter's today but when we were at breakfast, Eva answered a call over the telephone which proved to be an invite dine with Mrs. KL Rusk a niece of Eva's and daughter of WR and Nancy Kelso's. We had a real good dinner. Mr. Rusk was at his daughters in Fort Wayne, Ind. I never opened my shop for work.
Tuesday December 26 - Cloudy and rainy all day. 44. $1.55. Paid 15 for 12 lbs of meal. Last evening Eva went down to John Rice's to spend the evening. I joined her there before 9 o'clock and accompanied her home. The report of the weather bureau is a cold wave is coming. Snow is expected and a drop in temperature of 25 degrees by morning. I am ready for it and hope the mud and slush will be congealed. Sunrise 7.06 set 4.26. The shortest day was on the 22. 6 seconds shorter than 21.
Wednesday December 27 - The sun shone a few minutes 23. $.055 - Turned cold and snowed a very little. Sent The News a check for $2.50 for one years subscription to the News for EF Oglesby of this place. TE Huston, Editor of our town paper made me a present of 100 No. 6 envelopes with return address on them. I thanked him and gave an order for 500. Some of our people think mercury will go down to 8 degrees before morning. Richard Rusk returned yesterday evening.
Thursday December 28 -Clear all day. 20. $1.25. Mercury was down to 12 at sunrise. The sun arose at 7.01 and set at 4.27. The sun is rising later and setting alter. The evenings are 7 minutes longer than Dec 12 on that morning it arose at 6.59. Buddy kelso is suffering very very bad with a nerve on the left side of the face. Eva was over there until bed time. Bob McMains was at our house for dinner today. Cold tonight.
Friday December 29 -Cloudy 22. $.0.55. The sun arose at 7.07 and set at 4.28 one minute longer than on yesterday was the day. Eva sent a good long letter to her sister Almira today and rec'd one from her. Tonight or rather before going to supper a light rain was falling and freezing. Emma Russell is in Indianapolis. She is for a recitation Jan 5 at the Farmers Institute. I think she is going to be a married woman soon. Gail Shular not yet 18 was married this week
Saturday December 30 - Rained nearly all day. 32. $6.10. Sun arose at 7.07 set 4.29. Paid $1.10 for a gallon of Maple Molasses can included 25 c for a pound of butter, 10 c for a gallon of milk (sour). 25 cts for 10 milk tickets. 35 cts on the return of the laundry. Buddy Kelso has been a great sufferer today. The pains were more severe than ever before. The News all sold out tonight. 70 of them. Paid a dollar for the delivery of the papers last week.
Sunday December 31 - Cloudy all day but no rain. 30. I never went to church anywhere until after night then I went to hear the Presbyterian pastor FB Solin. He is a good speaker. The congregation was rather light. I stoped (sic) at JD Fishers on the way to meeting and we went along together. About 40 minutes were spent in Song service. Miss Waneta Kleiser played a violin and Miss Ailene Fisher presided at the organ. Both are good musicians. There is a cold wave on hands. Mercury is 8 at 7 a.m.