FEBRUARY 1902 - HIRAM PRATT DIARY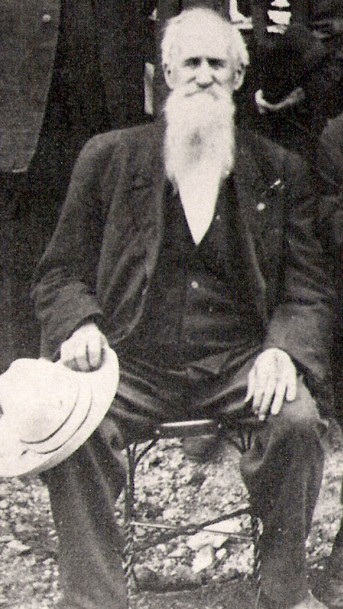 Note: These diaries were in the Waveland Public Library for decades but were disposed of by a librarian several decades ago. Luckily, another librarian's daughter (thanks sooo much Pam, at the death of her mother, Virginia Banta Sharpe found them in some belongings and gave them back for proper housing. A complete circle; however, only 14 of the 50+ diaries were saved from the library's incinerator. I'm a librarian too and thought since they'd been lost to posterity for so many years that it would be a good thing to transcribe them and give them to the world. They are currently housed in proper temperature/storage at the Crawfordsville District Public Library - typed as they were written
Note 2 : Karen Bazzani Zach (transcriber) was raised in the big 'ol town (500 people) where HA Pratt lived 5 decades before I was born. I remember the building where his little shop was and wish it was still there. What an interesting little place. ALAS! Progress ! Oh, and I've tried to type the diaries as is - mistakes & all
Note 3: Some information about Pratt -- he was born in Parke County, Indiana April 20, 1840 the oldest child of eight born to Erastus & Elizabeth Allen Pratt and died October 12, 1914 in his beloved Waveland, Indiana. He was twice married, first to the love of his life (he kept a life-sized poster of her in one of his cabinets at his barber shop, even long after his second marriage) Eliza Franklin Shaw (born Oct 23, 1841 died Oct 12, 1887), and #2 to his friend, Evaline "Eva" McMains. He was very active in the community where he and Eliza chose to live. He gave generously of his time and money to the Methodist Church in Waveland. For a few years, he served as Marshall of the town. Also, he worked diligently for his Odd Fellows, Rebekah & Knights of Phythias Lodges, was for a time on the town board, and read to those who could not read from the several newspapers he was agent for. Pratt volunteered and served for three years during the Civil War (Co. B, 36th Infantry), and spent time in the dreaded Andersonville prison. He and Eliza adopted a son, Willie Franklin Stump, age two (not sure ever officially or just had permission to take him from the Poor House in Crawfordsville) and he was an amazing young boy (high grades, worked in the church, quite musicially inclined, just an ideal child) until Eliza was taken to the hospital where she was operated on for six cervical tumors (one weighing six pounds) from which she died. Willie went wild after that and he and Hiram's second wife, Eva never got along. He ended-up in Reform School (for stealing a dollar twice from Eva among other small crimes), and later sent home to die due to consumption (what we know as tuberculosis) dying in Hiram's arms on April 12, in 1894. Hiram missed Willie and Eliza more than most I do believe as he wrote about them so often in these diaries. Just wish the rest of Pratt's diaries he wrote for over 50 years as a barber in Waveland still existed :( kbz
---
Saturday, February 1 -- $7.10. Cloudy, warm. Sent the Chicago News $1.88 expense 5c Paid Lester Clark 25c. Hoy Deer helped me a few hours this afternoon. I have been alone since 4 o'clock. Never got a chance to eat supper with the Ladies Aid Society of the Methodist Church. Eva was there. I hear it said they had a real nice supper. I went to get supper after 8 o'clock but found the room deserted A letter from Plainfield, Ind Reform School for boys came yesterday addressed to Wm. F. Pratt. The Superintendent was making inquiry of his whereabouts and condition in life. They had not heard of his death. I leave for home at 11:10 a.m.
Sunday February 2 - 10 below zero at 6 a.m. Clear and Cold. I was late to meeting this morning. Did not get out of bed until 8 o'clock. Another light snow fell last night On my way home last night, I was unobserved by a man and woman standing at the south end of Uncle Billy Peterman's wood and coal house, until within 10 feet of them. They were sheltered from the snow by an umbrella. I didn't know them they were closely muffled. I was the first to break the snow in the graveyard when I visited the grave of little Willie. Eva and I took dinner at Jim Alfrey's - Jim and Susan Smith of Alamo were there too. Mrs. Smith is Alfrey's youngest girl. I went alone to meeting tonight. When we went to bed Mercury was 1 degree above zero.
Monday February 3 - 10 below zero $4.50. Partly cloudy. Paid rent for last week, $1.25. Flour, "Pride of Iowa" 70 c. Fresh beef 40c On account at Canines 40c. This morning at 6 o'clock Mercury was 10 below zero. It was one degree above yesterday morning at 8 o'clock. The entry on this subject yesterday is not correct. Ice is being hauled from Deer's Mill down 12" thick. Eva wore yesterday the dress made of the goods I bought her as a present Ottumwa by Miss CM Harrow. It is real pretty. Jim Alfrey said that if $1.25 a yard has been paid for it and then paid a dress makes $6 for making it. It would not be an unreasonable price.
Tuesday, February 4 -- $1.10. 10 below zero. Paid 15c for fresh pork at 12 ½ per pound. John Reddish wants to learn the barbers trade and I have taken him in to be instructed. Mercury was 10 degrees below zero at our house this morning at 6 o'clock. I called on little man JJ Fischer in my shop and advised him not to use the words, "I want to say or" I want to tell" and will ? "Let me say" so often in his sermons, it is a rut into which he has fallen and I think I have helped him out. There was a little more snow fell last night. Good ice crop now.
Wednesday February 5 -- $2.35. 10 below zero. Paid Express on laundry received last Saturday 30. Eva was at Alfreys last night as I went home stoped in for her, had her shoes mended cost 20c. She had within the past 12 days made me two new shirts. JM Ghormley has returned from Judson with his branch store. Jim Alfrey has been sick since Sunday, has a very bad cold. Large apples are selling 2 for 5c. I have invested 15c can't afford to eat many at that price. The Thermometer at our house registered this morning 10 degrees below zero. There is much suffering reported in many places throughout the county at large.
Thursday February 6 - 20 degrees above zero at 6 a.m. Cloudy. 70c. Sent the Cincinnati Enquirer $1. Snow flurries have been frequent during the day. The ladies aid society of the Disciples Church convened at our house this afternoon. I have been interested in reading Drummond's Lectures, a little book sent me for a Christmas present by my friend Miss Carrie Harrow of Ottumwa, Iowa. Some of the lectures are very interesting, especially the one on Sanctification. Last Monday I paid 42.63 for 25 galls of gasoline. Paid 30c yesterday for the weeks washing. I pay this every week but sometimes forget to make a note of it.
Friday February 7 -- $1.35. Ten below zero - cloudy and cold. Eva and I attended the variety supper given by the women of the Presbyterian Church. We paid 3c for every foot and 1 cent for every odd inch or fraction of a part of a foot that we measured. I measured 5' 11" cost 26c. Eva's height 5'4" cost 19c. Total 45c. We had a good supper. I did not like the flavor of the sherbert; I am thinking of getting a sprayer with which to spray trees, apple, peach and cheery trees and take apples for pay. The sprayer can be used for washing windows and the buggy. Eva was at Wm. Jarvis' after the supper.
Saturday February 8 - 5 degrees below at 6 a.m. Cloudy and warmer. $4.15 Paid 30c for beef steak, 25 for Lester Clark's help in the News department. We heard last night that Charley Ellis' wife had drank carbolic acid with suicidal intent and that she would die. They live in Rossville, Illinois. Have had no further word today. I was done work today or rather tonight by 10 o'clock but did not leave for home until after 1 1o'clock. Nancy Kelso is at our house tonight. The women at the supper last night took in over $40. Paid John Rosebaum 15c for services on the Pension Voucher. This was done last Monday morning. Paid 10c for two sanwich's. This was my dinner today.
Sunday February 9 - Cloudy. Again, I was a little late in getting to meeting. I took a seat in the little room called the annex and listened to what the preacher had to say and did not molest the audience by going in at a late hour. After the meeting I drove the horse and buggy belonging to Miss Nancy Durham around to the front for which she was glad. I then made my accustomed visit to the grave of little Willie. I went with Eva at 2:30 p.m. to hear Jack Ashley. After the meeting he immersed 3 persons one was Bob Moore who is not long for this world. He has consumption badly.
Monday February 10 -- $3.15 . Cloud - Paid the rent due last week $1.25 50c for Lard. Gave Miss Blanch Wolf 50c to buy coal for Mrs. McKinsey. 25c to pay for pacKnights of Pythiasost cards $5.07 for a money order to Cincinnati News 30 for Express on return of laundry last Saturday. I received a letter from sister Eliza J. Donahoo. She says Mother is unable to help herself, can't walk alone nor turn in bed and is growing weaker all the time. She talks but little. The end is near at hand. Eliza sent her picture, husbands and Laura Donahoo all on one card. She also sent a picture of my oldest brother James N. He has on a large fur coat.
Tuesday February 11 --- $3.80 - Paid 25 c for 1 gallon of vinegar. 10c for Hominy- sent Hurst's Chicago American $1.29 expense 5c The Crawfordsville Journal $4.97 expense 7c Miss Almira McMains wrote a letter to Eva concerning the suicide of Charlie Ellis's wife. She drank as they supposed about 2 oz of carbolic acid on Friday morning and when found was unconscious one of her son's found her in an upstairs room, the door was barricaded, he carried her downstairs and sent for his father and the doctor. When the letter was written she had regained conscience and assigned the reason of her attempt at suicide. She thought her son Clay was going to leave home and she wanted to die before he left. Bob McMains was at our house for dinner. Snowed all day.
Wednesday February 12 -- $47.40. Clear. Paid John Spruhan $15.35 for coal previot? I had paid him $12.20. Total paid out this winter $27.55. This day 14 years and 11 months ago at 2:30 of the morning my little lady Eliza F. Pratt died in the city of Terre Haute. She had an operation performed 6 tumors removed from her abdomen. It was more than she could endure. Seven years and 11 months ago at 2:30 of the morning our Foster son Willie died in the home of Mrs. Amanda Bloomfield, one house east of where I now live. Eva visited at Mrs. J. Russell's Sent the Indianapolis News $7.55 Record Herald $500 expense 17c.
Thursday February 13 -- $.50. Paid 10c for a can of pumpkin. 55cv for a peck of apples toe at. At 6 o'clock this morning mercury registered 5 degrees above zero. I made a guess before looking that it was zero weather. I had very little to do today in the shop. We hear that Harrison McMains at Baltimore, Md is doing a practice of $900 a month in Osteopathy. He is a son of Anderson McMains who is my wife's brother. Harrison is a graduate of the school in Kirksville, MO. I left for home tonight at 12 minutes of nine o'clock. Have had no supper yet.
Friday February 14 -- $1.55 - I have no paid out one cent today for anything, last night as I went home gave 15c for a package of corn meal - weight not over 12 pounds. Eva sent a letter today to her niece Miss Almira McMains at Rossville, Illinois. I added a few lines. She is writing a letter to Perla Petty today and tonight. There is a dance in progress tonight in the armory of the Knights of Pythias Hall a good many church members are in attendance. If church members will sing the hymn, "Where he leads, I will follow," they will not be lead to the ballroom. The snow melted considerable today. Shaved Salmon Clore at his residence he is sick.
Saturday February 15 - 5 above at 6 a.m. $7.75. Paid Jim Goslin $1.48 for corn feed at the rate of $1.20 per hundred. Thawed some in the sunshine while in the shade this morning was 12 degrees below the freezing point. I commenced the writing of a letter to Miss Carrie McHarrow yesterday. Don't know when it will be completed, will try and get it started in route some time next week. Received the paper from Blakesburg this evening. I am done work by a few minutes after 11 and hope to be home in bed by 12 or midnight. Bob Oldshue and Salmon Clore are both bad sick with pneumonia.
Sunday February 16 - Cloudy. Eva went with me to meeting this forenoon. I put "Bob" to the buggy and we rode. This being Quarterly meeting the collections were very scant. I gave $2. After the meeting I visited the tenement of clay containing the mortal remains of poor little Willie. Since the snow fell mine are the only footprints to be seen in the enclosure. Stockbarger of Ladoga was acting Presiding Elder. Eva and I went to night and heard JJ Fischer. We walked. Meetings for two weeks will be held in the Methodist Church house by a Baptist Minister by name of Stark. Union Meetings.
Monday February 17 -- $2.25. Cloudy. Paid 30 c express on laundry $2.10 for gasoline 20 gallon. 10c for hominy. 20c for baking powders. $1.00 for half a bushel of good apples to eat. 70c for a bushel of corn. There was more snow fell last night and during the day a little could be seen falling at times. It is not deep. Roads are bare. Water dripped from houses as the snow melted. I attended meeting at the Methodist Church house tonight. Bro. Stark is a good one. There was a goodly number out to meeting, but room for more. There is to be meeting at 2 o'clock each day except Saturday. The meetings are to continue for two weeks.
Tuesday February 18 - $1.60. 6 below zero. Cloudy. Paid rent due last week $1.25. 10c for stamps. Sent a pair of Spectacles to be exchanged for stronger ones. They were a Christmas present, Eva's sister Mary. I attended meeting this afternoon at 2 p.m. There are not very many out, but we had a good meeting. Bro. Stark is a good speaker and an enthusiastic preacher. Bro's Fischer and Gibson invited every business house to close at 7 p.m. during the service. They were well pleased with the readiness to which everyone agreed to close. Eva was at the meeting tonight. I did not see her until close of the meeting. The sick of our town are reported to be on the mend.
Wednesday February 19 -- $1.30. 4 below zero at 5 a.m. Partly cloudy. Paid Irve Fullenwider last Monday 70 c for a two bushel bag of corn. I did not attend the meeting this afternoon a traveling man in the interest of barber supplies called to see me and it was half past two o'clock when he left. They had a good meeting. The cut to? Prayer meetings were spiritual. I was at the meeting tonight. The side room was opened that the people might be accommodated. If the crowds continue to increase it will soon fail to hold the people. Bro. Stark was not as interesting tonight as on last night. I was not as much interested as on last night.
Thursday February 20 -- $1. Cloudy. 10 above zero at 7 a.m. Paid 18 c for 1 ½ yds of chambray, Eva wants to use it in making an ornamental pillow. I attended the meeting at 2 p.m. while the number present was not considered large, the spirit of the Lord was present. I was wonderfully blessed in my humble effort in giving Christian testimony. I used about 10 minutes of time. While I was speaking Bro Stark would shout AMEN! Our Pastor JJ Fisher shouted Glory to God, Hallelujah. Praise the Lord and when I was seated Bro. PM Conner was on his first praising the Lord. After the meeting, I was congratulated by Pastors and laymen. They were glad I said what I did that it was just right. I love to Praise Lord on the Hallelujah line.
Friday, February 21 - Clear and warm. $1.40. Paid 35 for fresh pork and 25 c for express on the laundry work returned from Crawfordsville. Received a letter from my brother CW Pratt of Ottumwa. He was to see our mother a few days ago, says she is getting weaker every day. She does not talk any except when spoken to and help herself at all to even a drink of water. She seems to be waiting for the summons of death. God bless her. I never expect to see her alive again. Eva went with Mrs. James Dulin over to Russellville to hear Jack Ashley. He is holding a meeting in the Knights of Pythias Hall.
Saturday February 22 -- $6.55. Cloudy and clear. Paid 65 c for a half bushel of Apples 15c for supper at the restaurant. Snow melted fast today. Ground bare in many places. The deepest snow of the season fell Thursday night. Eva attended the meeting tonight. She stoped a few minutes at the door on her way home. I was done work by 11 o'clock but did not home befor 12 o'clock. I did not get to go to the afternoon meeting on yesterday - a report of a good meeting came to me later. I don't think I ever seen a happier man than John J. Fisher when he is singing.
Sunday February 23 - Clear and warm. "Bob" was hitched to the buggy and Eva went with me or rather we went to the Union meeting at 11 o'clock. We heard a good sermon by the Baptist minister from Thorntown. We attended the general class meeting at half past two. Had a good meeting. I took Mrs. Roberta Johnson to the meeting. She is the oldest woman in town. After meeting took her home and then took her to the night meeting and back home. Eva stoped at Mrs. Bloomfields until the night meeting. The house was about full heard a good sermon. There was no response to the invitation for sinners to renounce the devil and to identify themselves with Christ. Visited Willie's grave after 2 ½ o'clock meeting.
Monday February 24 -- $4. Partly Cloudy. Paid $1.25 for rent6. $1.10 for Lard, 65 c for half bushel of apples to eat. I was not at the meeting this afternoon but went to night. I was not much interested in the sermon a good sized audience was in attendance. Four little boys presented themselves for church membership. They were presented with cards to sign their names and to name the church organization preferred. Finished and mailed my letter to Miss Carrie McHarrow. There were 24 pages. Paid for postage 10c. Eva bought 3 nice head of cabbage last Saturday for 25c Snow melted considerable today.
Tuesday February 25 - Party Cloudy, warm. $1.10 Paid 25 c for 2 pounds Arbuckle coffee. 15 c for a beef steak. The meeting this afternoon at 2 o'clock was especially for old people but young people were not expected to stay away. I hitched "B" to the buggy and took Eva, Mrs. Johnson was taken to meeting by Mrs. Casse Fullenwider. There was a good feeling manifested by a good many. In spiritual uplift it was below my expectation. After the meeting I visited the grave of my little Willie. It will soon be 8 years since his little body was consigned to the grave. Miss Pine Russell took supper with Eva tonight. They were at the meeting tonight.
Wednesday February 26 - Cloudy and rainy. .70. Paid 50 c for 4 lbs of fresh pork. I commenced a letter to my sister Eliza. Attended the meeting at 2 o'clock this afternoon. There was but few out comparatively to the gatherings at night. It seems to me that testimonies are not brighted (?) enough of the spirit of the Lord. They do not make the right kind of impression. There is not enough of the overflow. Religion is to me nothing tangible. I can't take hole of it as a garment. Yet it is to be felt and experienced. It is an enjoyment within and stimulates to deeds of valor and nobility. Something that shines out in our everyday life. Eva was in to the meeting tonight. Home before 9 o'clock.
Thursday February 27 - Cloudy & Rainy. .70. Did not get my letter off to Siss Eliza yesterday or today either. Sent the Laundry at Crawfordsville $5.00 The Indianapolis News $6.13. Expense 10c. Frank Seybold had a years subscription in with the remittance for the News. Gave $1 to John Sharpe to be applied to expense of the union meetings. I was at the meeting this afternoon. The bad wet weather had a tendency to keep some away. The meeting tonight was short as to number in attendance. Rev Gibson's address before the sermon was good, very good. Miss Edwards in prayer was very fine.
Friday February 28 -- $2.40. Sent the Indianapolis Journal $3.51. The Sentinel $2.35. Buterick's Delineator 15c. $1.25 for a cord of stove wood for the cook stove. 20c for oranges. 70c for a 24 lb sack of flour. I did not forget to go to the meeting this afternoon but was detained by work. I went tonight and heard a good sermon by Bro. Stark on the subject of excuses. Miss Fannie Edwards sang a beautiful song without the use of the organ. Joe Hicks and Miss Maud Straughan sang a pretty duette. Eva was at the meeting. We eat supper in the restaurant 30c.