JUNE 1884 Hiram Pratt DIARY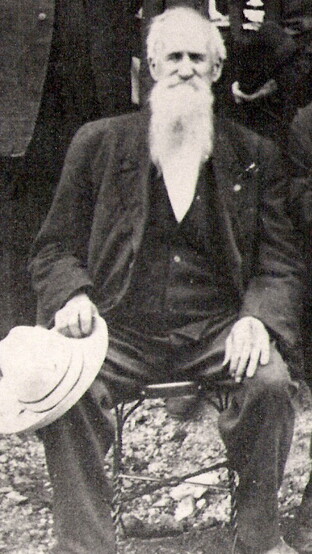 Note: These diaries were in the Waveland Public Library for decades but were disposed of by a librarian several decades ago. Luckily, another librarian's daughter (thanks sooo much Pam, at the death of her mother, Virginia Banta Sharpe found them in some belongings and gave them back for proper housing. A complete circle. I'm a librarian too and thought since they'd been lost to posterity for so many years that it would be a good thing to transcribe them and give them to the world. They are currently housed in proper temperature/storage at the Crawfordsville District Public Library - typed as they were written
Note 2 : Karen Bazzani Zach (transcriber) was raised in the big 'ol town (500 people) where HA Pratt lived 5 decades before I was born. I remember the building where his little shop was and wish it was still there. What an interesting little place. ALAS! Progress !
Note 3: Some information about Pratt -- he was born in Parke County, Indiana April 20, 1840 the oldest child of eight born to Erastus & Elizabeth Allen Pratt and died October 12, 1914 in his beloved Waveland, Indiana. He was twice married, first to the love of his life (he kept a life-sized poster of her in one of his cabinets at his barber shop, even long after his second marriage) Eliza Franklin Shaw (born Oct 23, 1841 died Oct 12, 1887), and #2 to his friend, Evaline "Eva" McMains. He was very active in the community where he and Eliza chose to live. He gave generously of his time and money to the Methodist Church in Waveland. For a few years, he served as Marshall of the town. Also, he worked diligently for his Odd Fellows, Rebekah & Knights of Phythias Lodges, was for a time on the town board, and read to those who could not read from the several newspapers he was agent for. Pratt volunteered and served for three years during the Civil War (Co. B, 36th Infantry), and spent time in the dreaded Andersonville prison. He and Eliza adopted a son, Willie Franklin Stump, age two (not sure ever officially or just had permission to take him from the Poor House in Crawfordsville) and he was an amazing young boy (high grades, worked in the church, quite musicially inclined, just an ideal child) until Eliza was taken to the hospital where she was operated on for six cervical tumors (one weighing six pounds) from which she died. Willie went wild after that and he and Hiram's second wife, Eva never got along. He ended-up in Reform School (for stealing a dollar twice from Eva among other small crimes), and later sent home to die due to consumption (what we know as tuberculosis) dying in Hiram's arms on April 12, in 1894. Hiram missed Willie and Eliza more than most I do believe as he wrote about them so often in these diaries. Just wish the rest of Pratt's diaries he wrote for over 50 years as a barber in Waveland still existed :( kbz
---
Sunday June 1 - I attended services this forenoon, Sunday School at 2 ½ p.m. and childrens meeting tonight. I gave one dollar to church expense fund. We are behind with our preacher. I am up with my part.
Monday June 2 -- $5.90. Paid butter 30 cts. Gasoline 1 gal 1.25. Tuition for Willies summer schooling $2.50. Sent $8.10 to Dr. JL Leighthall of Peoria, Ill for one doz bottles Spanish oil. Eliza is considerable better of her lung trouble.
Tuesday June 3-- $5.30. Paid 25 cts for beef. 20 cts for soda water. I unthoughtly went home for dinner and left my shop door unlocked. A friend (CF Moore) took $2.50 out of the drawer just to tease me. I acknowledged my carelessness and set up the soda water.
Wednesday June 4-- $2.95. Two soda drinks 10 cts. 1 gal vinegar 25. I took a gasoline stove to Mr. EM Milligan's for their use a few days. My lady and Mrs. Hutton calculate to go to Crawfordsville Friday. Rained today.
Thursday June 5 -- $2.50. Rained nearly all day. Sausage 65 cts. 50 cts for coffee. One paper of Cucumber seed 10 ts. .55 cts for Express charges on one doz bottles of King of Pain from Peoria, Illinois.
Friday, June 6 -- $3.10. Eliza and Mrs. Hutton and our little boy Willie were among the excursionists to Crawfordsville. Tickets .90 cts. Suit of cloths for Willie $4. Silk gloves for wife 70 cts Bus fare 25. James S. Blain (sic), JA Logan are the candidates for president and vice president of the republicans.
Saturday June 7 -- $10.85. Had no rain today. The nomination of Blane (sic) & Logan has created an unprecedented enthusiasm throughout the United States. Paid .45 cts for butter. Coal oil 20 cts. We were done by 10.45. Bill Watson will open a barber shop soon.
Sunday June 8 - A big rain all this forenoon prevented our attending any services. At 2 ½ I and little Willie were at the childrens meeting. My wife was with us at the services tonight. I gave to the fund of education $1.40.
Monday June 9 -- $8.30. Paid rent for the month of May - one small foot tub and bucket or pail $1. A rain has been falling all day. My little woman done her usual Mondays work but could not finish the weather is turning cooler.
Tuesday June - $2.45. Paid 20 cts for bananas. Had but very little rain today, weather is cool men are wearing their heavy over coats. Paid 2.25 for a pair of shoes for my wife. We are to have 3 barber shops in town.
Wednesday June 11 -- $3.35. Paid 75 cts for a beef roast. For the halling of two load of gravel 60 cts for one doz pickles 10 cts. The weather is cool and damp. Eliza had a bad spell of sick head ache tonight. Blaine & Logan do not give universal satisfaction.
Thursday June 12 -- $4.05. Sentinel & Times $5.46. The convention met this afternoon at one o'clock; none of the regular nominees or candidates were nominated but on the 1 & 2 ballot Mr. Snider of Crawfordsville was declared the nominee. The weather is warm.
Friday June 13 -- $2.35. Paid 25 cts for 3 doz pickles; 10 cts for 3 bananas. The weather has been like summer. Minnie Haley with her elocution class gave an entertainment in the Academy chapel. I had tickets but had not the time to go.
Saturday June 14 -- $10.50. Sent $4.25 to the Enquirer Co. We were done work by 10.45. The weather has been warm. Charley Kritz will work for me in the shop until he has to go back to school. He teaches in the high school at Crawfordsville.
Sunday June 15 - Rev. McDaniels a local minister from New Market preached in the Methodist Church this morning. I gave $1 to church expense fund. Attended Sunday school to 2 ½ p.m. and at 8 retired for the night. Warm
Monday June 16 -- $6.60. Yesterday I contributed to church expense fund $1. 25 cts for a beef steak. I met with the Odd Fellow Lodge tonight. We had barely enough for a quorum. Paid .20 for one gal gasoline. The day has been real warm.
Tuesday June 17 -- $7.75. Sent John C New & Son $12.22 including 10 cts for exchange charges. Paid 2 assessments in the AOUW Lodge. The democrats held a convention here today and placed in nomination George D. Hurley for circuit judge.
Wednesday June 18 -- $2.35. Paid 85 cts for railroad fare to Crawfordsville and return $2.50 for a barber pole. It will cost me perhaps $10 by the time it is done. Late dinner with the county treasurer. 90 cts for coffee. 50 cts for tea; 15 cts for soda drinks. Pd McCain on account $5.
Thursday June 19 -- $1.75 Lard 50 - beef steak 20 cts. Billy Hauger worked today in gravel road. My object in that trip yesterday was to hire a barber chair for 3 months, was unsuccessful. One bottle shoe dressing 1.5. The weather is warm.
Friday June 20 -- $1.75. Beef 65 cts. Pickels .25 I have contracted for a telephone one which will be put up next week. Several persons in town are having theirs put up. They are very convenient. Had a few nice showers of rain today.
Saturday June 21 -- $10.00. Bananas .40. Shoe blacking .35 102 degrees. We were done work by 10 ½ o'clock. The day was warm. Next Saturday I want if possible to have 3 chairs. Billy Hauger worked with Ab Thornton this evening. Chas Kritz worked with me.
Sunday June 22 - I heard no bell this morning and remained at home until 2 ½ when I attended Sunday school and class meeting. Tonight we retired before it was dark. I gave 50 cts to the SS to pay for supplies.
Monday June 23 -- $4.85. Dried apples .50 Peppi (?) .35. Starch 25. Molasses .10 Interest .70 American News Co. $10.10. Gasoline 7 gals 2.00. Beef steak .30 Billy Hauger picked us a couple gals of cherries this morning at Mr. McCormicks and worked upon the street this afternoon. Weather real warm.
Tuesday, June 24 -- $2.55. One broom 25 cts. The democrats hold their state convention tomorrow in Indianapolis. Billy Hauger worked this forenoon on the street and an hour or two this afternoon in the gravel pit. The weather was real sultry late this evening local rains cooled it off.
Wednesday June 25 -- #3.45. Two balls of tidy cotton 25 cts one gal coal oil 20 cts. 35 cts Express chargers on barber pole from Crawfordsville. Local rains cooled the air nicely late this evening. Gen. Malon D. Manson of this county (Montgomery) Dem. Can lt. Gov.
Thursday June 26 -- $3.25. Paid Billy Hauger $2. Paid PM Conner 2 for putting a base on my new barber pole. Pd 25 cts for a fish. 25 cts for a beef steak and 30 cts. For calico 2 yds and a spool of silk thread. Two men killed on our railroad today by a wreck.
Friday June 27 -- $3.55. Paid 50 cts for 25 two cent postage stamps .25 cents for 3 papers of matches. Yesterday I paid Billy Hauger $2. Mr. Lewis is going to do the painting of my new barber pole. Mrs. Spruhan was to see my wife this evening.
Saturday June 28 -- $10.05. We had a light days work until late in the evening. I think by next Saturday business will be better. 2 doz pickles 20. Beef .75 shampoo .20. We were done work by 10.45. Weather very pleasant.
Sunday June 29 - I gave one dollar to the church expense fund and agreed to give 50 cts a week for the next 7 weeks for the church mission. The day has been warm. I did not go out to church tonight. Billy Hauger went to Turkey Run.
Monday June 30 -- $5.65. Paid quarterly dues in IOOF Lodge $1.30. One campaign flag with portrait of Blain .25. Sugar 12# one dollar. Machine repairs .75. Sent to Inter Ocean of Chicago for sample papers and campaign pictures .40 cts. Weather has been real warm, with local rains.