OCTOBER 1888 - Hiram Pratt Diary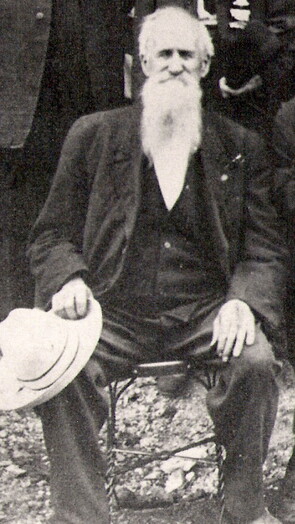 Note: These diaries were in the Waveland Public Library for decades but were disposed of by a librarian several decades ago. Luckily, another librarian's daughter (thanks sooo much Pam, at the death of her mother, Virginia Banta Sharpe found them in some belongings and gave them back for proper housing. A complete circle; however, only 14 of the 50+ diaries were saved from the library's incinerator. I'm a librarian too and thought since they'd been lost to posterity for so many years that it would be a good thing to transcribe them and give them to the world. They are currently housed in proper temperature/storage at the Crawfordsville District Public Library - typed as they were written
Note 2 : Karen Bazzani Zach (transcriber) was raised in the big 'ol town (500 people) where HA Pratt lived 5 decades before I was born. I remember the building where his little shop was and wish it was still there. What an interesting little place. ALAS! Progress !
Note 3: Some information about Pratt -- he was born in Parke County, Indiana April 20, 1840 the oldest child of eight born to Erastus & Elizabeth Allen Pratt and died October 12, 1914 in his beloved Waveland, Indiana. He was twice married, first to the love of his life (he kept a life-sized poster of her in one of his cabinets at his barber shop, even long after his second marriage) Eliza Franklin Shaw (born Oct 23, 1841 died Oct 12, 1887), and #2 to his friend, Evaline "Eva" McMains. He was very active in the community where he and Eliza chose to live. He gave generously of his time and money to the Methodist Church in Waveland. For a few years, he served as Marshall of the town. Also, he worked diligently for his Odd Fellows, Rebekah & Knights of Phythias Lodges, was for a time on the town board, and read to those who could not read from the several newspapers he was agent for. Pratt volunteered and served for three years during the Civil War (Co. B, 36th Infantry), and spent time in the dreaded Andersonville prison. He and Eliza adopted a son, Willie Franklin Stump, age two (not sure ever officially or just had permission to take him from the Poor House in Crawfordsville) and he was an amazing young boy (high grades, worked in the church, quite musicially inclined, just an ideal child) until Eliza was taken to the hospital where she was operated on for six cervical tumors (one weighing six pounds) from which she died. Willie went wild after that and he and Hiram's second wife, Eva never got along. He ended-up in Reform School (for stealing a dollar twice from Eva among other small crimes), and later sent home to die due to consumption (what we know as tuberculosis) dying in Hiram's arms on April 12, in 1894. Hiram missed Willie and Eliza more than most I do believe as he wrote about them so often in these diaries. Just wish the rest of Pratt's diaries he wrote for over 50 years as a barber in Waveland still existed :( kbz
---
Monday Oct 1 -- B&L $5.Bottle of medicine for Eliza 1.25. Shoes mended for Harry 55 cts. Grapes to eat 10 cts. Pump 5.50. Sent Montgomery Ward & Co of Chicago 41.40. The weather is yet very fine. I am in good health.
Tuesday, Oct 2 - $2.65. Five gal coal oil 90c. Telegram to Montgomery Ward & Co. 35 cts. Countermended the order for window shades No. 3327. I was with Eva last night until after 11. The weather is a little cooler.
Wed. Oct 3 -- $2.20. One year ago my dear little woman and I went to Terre Haute. She will never return. The painters will barely get done their work this week. We have had several big frosts. Yesterday morning water was frozen.
Thursday Oct 4 -- $1.35. Beef 25. One cow got into Ad Hannah's corn he put her up and askss damage which I have promises to pay. Threatended rain this evening. Rec'd a letter yesterday from Emma Harrow of Ottuma, Iowa was at prayer meeting.
Friday Oct 5 -- $1.75. Uncle Kiah Evans and wife were at our house today. Bought of them 4 gal apple butter for 3 dollars. Two 2 gal jars 35. Pomade (?) 2# .60 One year ago today my little woman was cut open and 6 tumors removed at Terre Haute, Ind.
Saturday Oct 6 -- Shoes resoled for Willie. $7.30 Bought a suit of cloths for Willie cost $10. Eat at 11:30 at Alspaughs a brunch 15 cts. work was slow about coming in. The new suit of cloths made by TJ Scott I took home today cost $38. Hat $3. Yarn 75.
Sunday Oct 7 -- Nice day to the church last year (conference year beginning with SEpt) $15. Today 50 cts. Bro. Kindig our new pastor took dinner with me today. I find him a very sociable person to be with. We had two calls on him.
Monday Oct 8 -- American News Cot 10.08. $10. The Enquirer 2.20. Sentinel Co 8.38. Butten T. Co of Chicago for cards 1.70 Tickets to Crawfordsville & return .85. Fruit 25. Window curtain balls 15. Marriage license 2. B&L for two weeks 10. Window curtains 6.80 News 60 cts.
Tuesday, Oct 9 -- $6.40. Gave Eliza $1. Box of jutes ? 25. yarn for kniitting 75 cts. At 9 o'clock this a.m. was married by Elder OP Badger to Miss Eva McMains. Marriage $5. At 10:30 we left for her sisters' at Foster Mo. Dinner .50 Fruit .50. 75 for bus fare in St. Louis to St. Lous Hotel. Here we remain over night.
Wednesday Oct 10 - Room last nigh $2. Breakfast 1. Gold vet ? chain for little Ellen $3. I write this on board the steamer The New South. Trip to Shaw's Garden 1.80 Exposition 50 cents. Comb .25 Compher 10 cts. Supper .70. At the garden we were most wonderfully entertained. The Garden must ? to be appreciated. No coloring by words can do it justice. It contains 5 1/2 acres and is open for the public free. We were upon the reservoir from whence the city is supplied with water. Was in the Exposition building 1 1/2 hours. This well pay anyone to visit.
Thursday Oct 11 -- Left St. Louis last night at 8:20 and rode all night arriving at Kansas CIty at 6:30. Left at 9:05 and arrived at our destination Wm. John Petty's at 1:65 p.m. Found them all well. Mr. Petty is an advocate of the Union Labor ? We talked until nearly 12 o'clock. Ella, his oldest daughter played the organ and was assited by the little girls in singing. Perle and Myrtle are their names. They gave us a real good concert.
Friday, Oct 12 -- This morning we went out East some 4 miles to the woods and gathered about a bushel of pecans. Had to chop down three trees to get them will take apart of the home. Tomorrow we expect to take a trip to the farm of old John Brown whose ? goes marching on St ? in about 14 miles away to the northwest of this town (Foster, Mo). Rec'd a good letter from Miss Carrie Harrow and a card from Frank Kritz. Went up town this evening got showed ? bought candy and nuts for the children 35 cts.
Saturday, Oct 13 -- One year ago today my little woman was consigned to her tenement of clay. This is the day we went hunting the pecan nut and on tomorrow we expect to visit the old farm of John Brown. I made a big mistake in report yesterday. The day as an uneventful one. The condition of the weather is fine. The face of the country is beautiful. Timber low and scarcely along the ravines. Beautiful rolling prarires make up the land scape as far as the eyes can penetrate.
Sunday, Oct 14. -- By noon today we had arrived at the farm of Old John Brown 260 acres compare (?) the farm most of it. A slow rain began falling and we were unable to make the ....stization (?) as compleat (sic) as we had hoped to. We visited the spit (?) where 12 men were surrounded by the slave holders and most of the 12 were murdered. A few pecans and a bucket of apples and a jug of boiled cider 3 years old was presented and are going to take them home with us. Sat home after dark and were wet and cold.
Monday, Oct 15 -- The day has been one of pleasure in the way of home comforts. The rain yesterday spoiled Eva's summer shawl. Spent 75 cts yesterday for that gallon of boiled cider and 15 cts today for a bottle of shoe polish for Eva. She has been quite a time today clearing off the mud. She wishes John Brown had never died. There are many beautiful mounds scattered over the marries (?) of this country. The orchard of the Brown farm is on one of three mounds and is mostly covered with stone.
Tuesday Oct 16 -- Read a letter from Frank Kritz. The dog has been real nice. Wife, her sister and I take a walk out to the west side of town and got a few persimmons. Bro Petty went out to a neighboring village to make a stump spread in the interest of the Union Labor Party.
Wednesday, Oct 17 -- I visited a coal pit today to see the manner in which they did the business here. 60 to 80 teamsters find steady work in transporting coal to the cars. Wrote Frank Kritz a letter. Rec'd copy of invitation cards.
Thursday, Oct 18 -- Late this evening Mrs. Petty, wife and I took a walk out in town. We passed through what is known as the Foster Syndicate two rows of business houses. Rec'd a copy of Labor union doctorine. Rained tonight.
Friday Oct 19 -- Spent 20 cts for postage, cuff buttons and medicine. Read Congressman McKinleys speeches delivered yesterday in Cin Ohio. Eva and I took the hull off of a gallon of peacans. We are going to take them home with us. Rec'd a letter from Sittie (?) Ellis.
Saturdady Oct 20 - Spent 50 cts for turnips beef and sweet potatoes, sent a letter to Settie Ellis. They desired to meet us at Guion but we decline. The boys are going to make me ride a mule on our return. The weather is delightful.
Sunday, Oct 21 -- Have had a slow rain nearby all day. I called at the depot and signed my ticket. Eva will sign hers tomorrow. Sister Petty has given her sister several little momentoes for keepsakes. The little girls have given their mitten ?
MOnday, Oct 22 -- We boarded the train for Butterlee at 11:45. Arrived at B 12.15 Left B. at 4.50 and arrived at Pleasant Hill at 6:30 . Left PH at 9.52 and will run all night. We have chair cars. Supper and dinner 55 cts. Eva has not been sick today. I am well.
Tuesday Oct 23 - Left Pleasant Hill at 9.52 last night arrived in St. Louis at 6.35. Breakfast 50 cts. Arrived at Terre Haute 12.25. Dinner 50. ? 1.40 Bread .10. At home 5.35. By special invitation 60 persons took supper with us. Had a splendid supper and every one had plenty to eat and enjoyed themselves.
Wed Oct 24 -- $29.05 -- Frank had saved up for my share while we were gone. Eva has been busy all day putting things to rights. It will take her several days to get every little thing as she would have it. I have given her as much help as I could.
Thursday Oct 25 -- $3.05. The supper given in our reception cost $2815 (surely $28.15 but no period) of course not all of everything was used up. Coffee, sugar and meat and a few other things were left over. Eva's sister Mrs. Ellis and daughter Rossville, Ill was at our house overnight.
Friday Oct 26 -- $3.35. We are having very fine waether for the time of year. 3 gal of gas 45. Two pairs of hose for Eva 95 cts. We are invited to Wm. Kelso's for dinner next Sunday
Saturday Oct 27 -- $7.05 - I was trhough twork and at home by 11.30. Most of the work came in after 4 p.m. Rec'd a letter from Calra - she wanted me to give her a set of pillow shams worked by my little woman her sister and a Patmonnie (?). I can't see it that way.
Sunday Oct 28 -- We had a nice dinner at Bro. Kelso's today. Penn Hanna and wife, Mrs. Ellis and daughter and daughter-in-law were there and so was Eva's mother. The evening is cooler than was the day. I and "Buddy" Kelso walked to town.
Monday, Oct 29 -- $6.10. I have burried 10 bushel of Apples and have about 6" boxes and barrels for present use. There was a sharp frost last night. Eva seems proud of her new home. She has everything in good order.
Tuesday, Oct 30 -- $3.05. Four hards of cotten flannel for Eva 50 cts. She bought a rauche (?) white last Saturday cost 10 cts. B&L on yesterday $5. I went to Crawfordsville tonight Hack fare 50. Supper 25. Window curtain fixture 35. Basket of peaches 50 cts. Weather nice. McLain's paper 1.05
Wednesday, Oct 31 -- $1.70. One pair of under shirts for Eva $3.75. Meat since our return 90 cts. THB McCain $1.05 this I paid him yesterday. I had the washing done away from home this week. I am well pleased with Eva as my wife.