SEPTEMBER 1886 - HIRAM AUSTIN PRATT DIARY
Waveland, Indiana Barber for 50+ Years; CW Soldier + More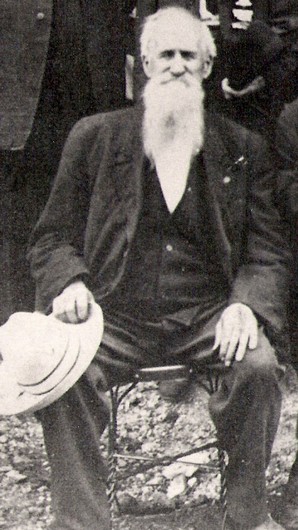 Note: These diaries were in the Waveland Public Library for decades but were disposed of by a librarian several decades ago. Luckily, another librarian's daughter (thanks sooo much Pam, at the death of her mother, Virginia Banta Sharpe found them in some belongings and gave them back for proper housing. A complete circle; however, only 14 of the 50+ diaries were saved from the library's incinerator. I'm a librarian too and thought since they'd been lost to posterity for so many years that it would be a good thing to transcribe them and give them to the world. They are currently housed in proper temperature/storage at the Crawfordsville District Public Library - typed as they were written
Note 2 : Karen Bazzani Zach (transcriber) was raised in the big 'ol town (500 people) where HA Pratt lived 5 decades before I was born. I remember the building where his little shop was and wish it was still there. What an interesting little place. ALAS! Progress !
Note 3: Some information about Pratt -- he was born in Parke County, Indiana April 20, 1840 the oldest child of eight born to Erastus & Elizabeth Allen Pratt and died October 12, 1914 in his beloved Waveland, Indiana. He was twice married, first to the love of his life (he kept a life-sized poster of her in one of his cabinets at his barber shop, even long after his second marriage) Eliza Franklin Shaw (born Oct 23, 1841 died Oct 12, 1887), and #2 to his friend, Evaline "Eva" McMains. He was very active in the community where he and Eliza chose to live. He gave generously of his time and money to the Methodist Church in Waveland. For a few years, he served as Marshall of the town. Also, he worked diligently for his Odd Fellows, Rebekah & Knights of Phythias Lodges, was for a time on the town board, and read to those who could not read from the several newspapers he was agent for. Pratt volunteered and served for three years during the Civil War (Co. B, 36th Infantry), and spent time in the dreaded Andersonville prison. He and Eliza adopted a son, Willie Franklin Stump, age two (not sure ever officially or just had permission to take him from the Poor House in Crawfordsville) and he was an amazing young boy (high grades, worked in the church, quite musicially inclined, just an ideal child) until Eliza was taken to the hospital where she was operated on for six cervical tumors (one weighing six pounds) from which she died. Willie went wild after that and he and Hiram's second wife, Eva never got along. He ended-up in Reform School (for stealing a dollar twice from Eva among other small crimes), and later sent home to die due to consumption (what we know as tuberculosis) dying in Hiram's arms on April 12, in 1894. Hiram missed Willie and Eliza more than most I do believe as he wrote about them so often in these diaries. Just wish the rest of Pratt's diaries he wrote for over 50 years as a barber in Waveland still existed :( kbz
---
Wednesday Sept 1 - Ben Dowell came over this morning and took us over to Wm. Zaw's. Father and Mother Shaw accompanied us. Sister Alice Yaw was taken by surprise by our visit. We partook of a good dinner and at 3 p.m. returned. Wife, Willie and I took supper at Uncle Sam Pratt's.
Thursday Sept 2 - Father Shaw took us to Mr. Ridgeway's this morning after dinner Willie Hauger, our Willie and I went over to saw mill and watched the work a little while. At about 3 ½ p.m. we returned via Ben Dowell's where we will remain over night.
Friday Sept 3-- $3.05. I left father Shaw's at 10 this morning. Wife and Willie will remain until next Thursday. In Farmersburg I bought 1 ½ yds of gingham for 15 cts for wife an apron. Theodore Shaw, Ben Dowell and Willie came over to Farmersburg with me. Dinner 25 cts. Tomatos ? 2.75. Shirt 50 Collars 25 cts.
Saturday Sept 4-- $8.50. Rec'd in shop and $5. paid in by Mrs. Belton. She has now paid all she agreed to for the gasoline stove. It was a few minutes past 1w tonight when I went to bed. Paid $1 for one bushel of pears. I had engaged those early in the season. They are rather ripe.
Sunday Sept 5 - I remained at home all the forenoon and wrote my wife a letter. At 2 ½ this afternoon I was at Sunday school and at night went to the Presbyterian church. Heard 4 colored men sing two songs. The best vocal music I ever heard.
Monday Sept 6 -- $3.90. B& L 2.50 "Married 20 years ago today." Enquirer 1.65. Martin of Chicago 1.20. The American News Co 5.05. Postage stamps 10 cts. 25 cts for a ticket to hear a colored troup sing. Heard them on five pieces last night and was perfectly delighted. We had rain Saturday night. Weather warm. Coal oil 20 cts.
Tuesday Sept 7 -- $2.05. one gal coal oil 15 cts. Mrs. Miller has preserved the pears. The darkies had a good house last night but their singing was not as good as it was at the Presbyterian Church Sunday night owing to the acoustics of the room.
Wednesday Sept 8 -- $2.60. Paid Mr. McCall for work done at the wood yd and garden $1.25. The calf has been permitted to run in the front yard to eat the grass. It done more the vines ornamenting the porch has been nearly spoiled. Weather warm.
Thursday Sept 9 -- $2. Sent McCain $5 by Charlie Kritz. Wife and Willie arrived by this evening train. Wife is not well has had an other severe spell with her stomache. I had the barouch from the livery stable there to convey them home. A rain was falling. They were not wet by it.
Friday Sept 10 -- $5.25. For washing 1.25. Wife has improved some today. She has been able to do her work - I opened up our sweet potatoe patch this forenoon. Had a very light rain. A lady went up in a balloon at the fair today destined for Cincinnati.
Saturday Sept 11 -- $8.40. Sent 2.56 to the Indianapolis Sentinel Frank Kritz helped me today. The work did not come in very lively until late in the day. The weather has been some what cooler since last night. Wife has not yet called a doctor.
Sunday Sept 12 - We remained at home all the forenoon. This afternoon Willie and I attended Sunday school. PM Conner late in the evening on his way to the Campbellite Meeting stoped a few minutes in our house. Our house is on the adjoining lot just east of the church.
Monday Sept 13 -- $2.05. Had very little work today Building & Loan Association 2.50. Two and one half bushel of chicken feed 65 cts. Mrs. JP Mahorney is very sick. My wife concluded she would do her usual days work - is very tired tonight.
Tuesday Sept 14 -- $2.60. 4 gallons of gasoline .64. One lamp reflector .50 One bottle of medicine 65. We use bakers bread made in Crawfordsville on the account of our Grocers oven having them demolished since Aug 31. The night of the big earth quake.
Wednesday Sept 15 -- $2.00. Two water melons 40 cts one of them I bought last Saturday. Sunday we cut it open and found that it was rotten no good - whatever. The weather is considerable cooler than it has been for several days. Stamps 10 cts.
Thursday Sept 16 -- $3.65. One gal vinegar 25 cts one broom 35 cts. 1 package Arbuckle coffee 15. Just before noon we were in receipt of a big rain. Storm. The wind blew tolerably hard. The roof over Mahorney, Fisher & Cos room and also over McCormick's Seybolds rooms were torn off.
Friday Sept 17 -- $3.75. The wind storm of yesterday noon was a big affair throughout the state in some place considerable of damage was done. Paid $1.45 for 18 pounds of sugar and a three gal jar then 40 cts for a two gal jar and a nickel wroth of Mace doves spice & cinnamon.
Saturday Sept 18 -- $6.15. Paid rent for last month 2 dol. Spent 40 cts for Willie in replenishing his school outfit. The weather has turned cool and I have had a fire in the shop stove all day. We were done work 11 o'clock tonight. The tinners will work all day tomorrow on the roof injured by Thursdays stern ?
Sunday Sept 19 - Willie and I attended church this forenoon. This afternoon before Sunday school time we laid down and over slept the time. Tonight we were at church. Wife did not feel well enough to venture out. We have had a fire in our big stove today.
Monday Sept 20 -- $2.85. Paid 90 cts for medicine for wife. She has trouble with her bladder, which may terminate in inflammation. Paid in to the B&L 2.50. Lard 40 cts this is a balance. I owed on a 50 pound lot. Mrs. David Moore done our washing.
Tuesday Sept 21 -- $2. Paid 25 cts for a beef steak. Last week I sent the commercial Gazette 3.27. Last night I was up quite frequently with my wife heating water to furnish hot cloths for her bowels. Mrs. Perry Mahorney was buried today. Died last Sunday morning 9 ½.
Wednesday Sept 22 -- $1.70. Paid 1.20 for 3 yds of red flannel for wife. Washing 60 cts. Minnie Haley had been turned out of home by her father. We gave her permission to make her home with us until she could do better. Coal oil 15. Had considerable rain this morning.
Thursday Sept 23 -- $2.20. Charlie McMains a former resident of this town (Waveland Ind) died at St. Joe, Illinois last Monday and was buried here today. Wife is considerable better. Minnie Haley doing the work which is a great relief to her. Lamp chimney 5 cts.
Friday Sept 24 -- $1.75. Paid on last Saturday night 85 cts for half soling and repairing a pair of shoes for myself. 10 cts for pawpaws. The mail train was several hours late coming down, owing to a wash out at the north end of the road.
Saturday Sept 25 -- $5.75. 3# of crackers 25 cts. 5# of fresh beef 45 cts one gal of coal oil 20 cts. 50 cts to The Printers Opportunity." We have had a steady rain fall since near sundown, it is now 11 p.m. Wife is improving slowly. She hopes to be up soon.
Sunday Sept 26 - I attended our class meeting at 9 ½ and at 11 heard Rev PJ Engstrom now pastor of the Presbyterian church - by 12 ½. I was at home eating my dinner. Willie and Minnie went to Sunday school at 2 ½. We retired at an early hour.
Monday Sept 27 -- $4.00. Paid 2.50 in the B&L 25 cts for 5 spools of thread and 50 cts for coffee. Last week I sent 255 to J. Hambetton & Son of Philadelphia for a couple of Eagle razors. Had a big rain yesterday evening and another one today. Wife is considerable better.
Tuesday Sept 28 -_ $3.65. The weather since the rains has turned cooler. One large sack of flour $1.10. Shoes for Willie 1.75. Wash board 30 cts. Charlie Johnson, Frank Bolton and Merle Evans are off on a hunting tour.
Wednesday Sept 29 -- $6.55. Willie and Perle McCormick took a trip after pawpaws and were late in returning home. We had some frost this morning. Five bushel of chicken feed 1.20. Wife is again as well as usual.
Thursday Sept 30 - AOUW $2. $1.25. One pound of salts 10 cts. I am going to take one teaspoon full every morning for a couple of weeks to see if it will help me of indigestion. Willie sold his share of the pawpaws for 32 cents. Quite chilly tonight.