APRIL 1884 Hiram Pratt (Waveland Barber) DIARY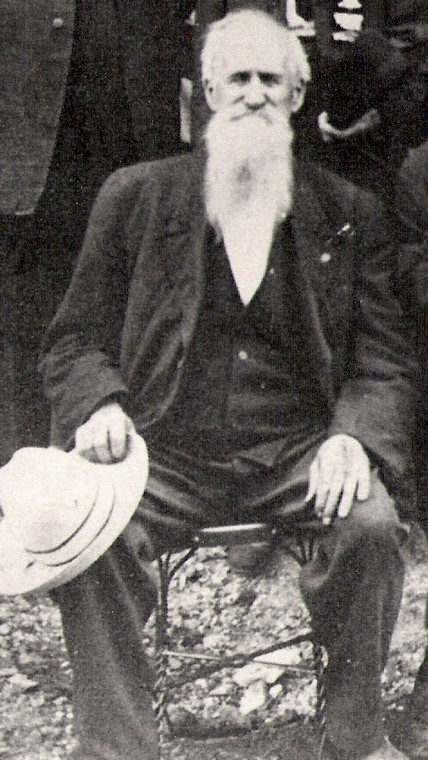 ---
Tuesday April 1 -- $4.20. Paid 75 cts for 3# of butter. 50 cts for tea. $1.10 for beef. The weather has been rough all day, late this evening the wind began to raise and mercury began to fall have had considerable rain. One package of coffee 20 cts. A good many of our citizens were April fooled.
Wednesday April 2 -- $3.75. We have had a real blustery day snowed most all day not much of it remained on the ground. Charley Kritz came in yesterday, has been with me most all the time.
Thursday April 3 -- $1.50 - Paid $1 for dried fruit. Peaches and apples and 20 cts for 2 galons (sic) of butter milk. I am not very well yet am able to be at my post of duty. Tom Robertson and Mary Giltner were married tonight.
Friday April 4 -- $4.15. Paid for repairing our little boys shoes 45 and for a side of breakfast bacon 2.50. Express on Machine head to Chicago .65. Daily Express for last month $2. American News Co. 5.05. The weather has been nice all day.
Saturday April 5 -- $12.50. Our work was not very brisk until after 12 o'clock and we were alone by 10 ½ tonight. Have had to keep a small fire all day. The weather has been real nice.
Sunday April 6 - I attended class meeting this morning lead by brother A. J. Wolfe, had a tolerable good meeting we attended Sunday School this afternoon, Willie put a nickel (5 cts) in the Sunday school fund. I remained until after class, lead by bro. J. O. McCormick.
Monday April 7 -- $8.55 -- $1.05 paid for 7# of lard. Sent $1 to Pittsfield Mass for 5 Family Records. The weather has been tolerably fair. Eliza done her usual washing. Willie Hauger planted a few potatoes for early use. 10 cts for box rent in the post office.
Tuesday April 8 -- $2.45. Paid 41.25 for butter 10 cts for lemons $1 AOUW 60 cts for interest on 30 dolars (sic) 3 mon. $2 for last months rent. Snow, hail, rain, wind and sunshine has been the order of the day. I am not very well.
Wednesday April 9 -- $2.70. We had more bad weather today. Willie Hauger done nothing yesterday and put in half a day today. Eliza is enjoying better health just now than for several weeks past. We had an election last Monday - I vote the republican ticket.
Thursday April 10 -- $1.85. Paid 25 cts for a package of coffee. 15 cts for 2 # oatmeal. 25 cts for something to eat which I gave to a drunken man who asked me for money had I given him the money he perhaps woult (sic) have bought more drink.
Friday April 11 -- $2.15. Paid 20 cts for one gallon of coal oil. $3 for one pair of shoes for wife. We have had a nice day overhead. Have kept a fire all day in the shop. Today was arbor day and a great many trees were replanted.
Saturday April 12 -- $9.70. The weather has been rather dull for our business work came in pretty fast this afternoon & night. Pd 50 for 4 doz eggs, 5 cts for a fishing line for Willie. Dr. AT Steele came very near dying tonight. Posened (sic) by taking cin (?) over ? (it doesn't look like dose although that would make sense) of opium.
Sunday April 13 - Bro. Hollingsworth was not able to preach today. The Rev. JH Sammis preached in his stead. Had a beautiful Easter service tonight in the Methodist Church. Dr. AT Steele died from the effect of opium poisen(sic) this morning a few minutes past 12.
Monday April 14 -- $6.70. Last week I sent to John C. New & Co. $21.10. Yesterday I gave $1 to church expenses. .25 cts for coffee. The funeral of Dr. AT Steele took place at his residence 2 p.m. was buried in the Presbyterian Church Cemetery.
Tuesday April 15 -- $2.70. Sent to the Enquirer Co. $4.36. Yesterday I sent to the Journal of Indianapolis a short account of Dr. Steele's death. I will write more elaborately for the Crawfordsville Journal tomorrow. Rained about all day. Coal oil .20
Wednesday April 16 - Eliza got out her Washington today. The weather has not been very fair. Willie Hauger run the printing press. C. F. Moore has had 8.100 little dodgers printed to give for his dealers to circulate having their imprint.
Thursday April 17 -- $1.55. Paid 45 cts for 3 ½ # of fresh beef. 50 cts for a box of Alabastine. 05 cts for nails. Billy Hauger used them in repairing the west line of fence. He has been helping clean house today. Teac 50 cts. The day has been fair.
Friday April 18 -- $2.85. Paid $1 for 12 # of sugar. 10 cts for carpet tacks. The weather has been rather damp. Paid 30 cts for stove pipe and 25 cts for the pulling of a tooth for my little boy. To AOUW $2. IOOF $1.30.
Saturday April 19 -- $10.60 Paid for fish .50 coal oil .20 . Our work today did not open up until later. Late this evening a rain began falling. We were done work by 10 o'clock. I have a hurting in my stomach, feel bad.
Sunday April 20 - I attended services this a.m. have felt drowsey (sic) all day, could hardly keep awake at church. I did knod (sic) a little. At Sunday school I was the same. Tonight I remained at home. Today is my 44th birthday. I have lived longer that (sic) I ever expected too (sic).
Monday April 21 -- $5.40. Paid state & co. tax 5.60 dried apples $1. Starch 25. Corn meal ½ bu 40 cts. We have had a disagreeable day rained early this morning. Eliza done her washing, least wash on Thursday. I sent $20 to THB McCain a journal account.
Tuesday April 22 -- $.80 . We have had rain and a little sleet today. Today I sold a sewing machine to CH McCullough for $35 to be paid the first of next August least Saturday I paid to church subscription on expense of church $1.50 .25 for a set of 4 casters.
Wednesday April 23 -- $2.25 - Sent American News Co $5.05. 30 cts for cheese one bbl of flour $6. Wheat bran 90 cts. Butter 40 cts. Rained most all day. Willie Hauger has had nothing to do except to cut up one cord of wood which cost me $1.60.
Thursday April 24 -- $2.75 Paid .75 for half soling my shoes. .50 cts for a half pound of Tea. 25 cents for a gallon of vinegar. Cheese 30 cts. The weather. The sun shone a few hours this forenoon. Pd Billy Hauger $12.50 for the present month.
Friday April 25 -- $8.20. Bran and chicken feed $1.54. Four pounds of butter $1. Billy Hauger wants to Crawfordsville today, returned on the 6.15 p.m. train. I have been kept pretty busy all day and until later in the night. I love to be well employed.
Saturday April 26 -- $13.65. Paid 50 cts for two lbs of butter. 60 cts for milk. I have not heretofore made any not of the milk we have been buying for table use. Our cow will soon be fresh, then we will save the expense of buying butter & milk. Weather very nice.
Sunday April 27 - I attended and lead class meeting at 10 ½ a.m. but few present and but little interest manifest. After Sunday school this afternoon little Willie and I took a big walk out to South Waveland to see if we could hear of our cow.
Monday April 28 -- $4.50. Sent Peck's Sun $1.17 .5 for expenses. Paid .45 for 3 lbs of ham - sausage. Yesterday Doree Moore came very near getting his house burned up. It caught fire on the roof. The wind was up but did not strike the house fair. (Hard to read Doree's name - could be Donee or Doues? I saw nothing resembling that except Donen in 1880 census but he lived at Crawfordsville - kz).
Tuesday April 29 -- $2. Paid 75 for having the garden plowed. Sent .35 cts to SH Moore, NY for papers. I attended Lodge Meeting of the OUW tonight and last night the IOOF. The weather is real nice. Indications of rain.
Wednesday April 30 -- $2.90. Fish .35 beef .45 cts. Most of our garden is planted. Paid 25 cts for garden seed and 50 cts for Alabastine (alabaster?). Eliza has done her washing and ironing and today commenced house cleaning.