AUGUST 1886 - Hiram Austin Pratt Diary (Standard Diary #31)
Pratt - Waveland Barber 50+ Years; CW Soldier; + More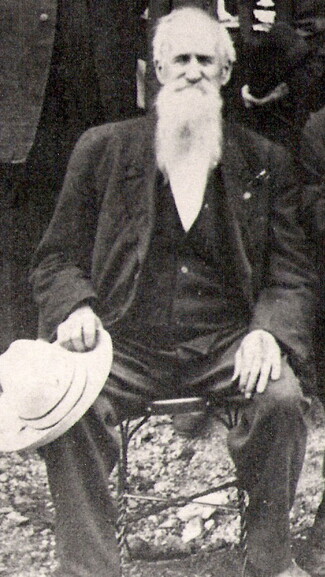 Note: These diaries were in the Waveland Public Library for decades but were disposed of by a librarian several decades ago. Luckily, another librarian's daughter (thanks sooo much Pam, at the death of her mother, Virginia Banta Sharpe found them in some belongings and gave them back for proper housing. A complete circle; however, only 14 of the 50+ diaries were saved from the library's incinerator. I'm a librarian too and thought since they'd been lost to posterity for so many years that it would be a good thing to transcribe them and give them to the world. They are currently housed in proper temperature/storage at the Crawfordsville District Public Library - typed as they were written
Note 2 : Karen Bazzani Zach (transcriber) was raised in the big 'ol town (500 people) where HA Pratt lived 5 decades before I was born. I remember the building where his little shop was and wish it was still there. What an interesting little place. ALAS! Progress !
Note 3: Some information about Pratt -- he was born in Parke County, Indiana April 20, 1840 the oldest child of eight born to Erastus & Elizabeth Allen Pratt and died October 12, 1914 in his beloved Waveland, Indiana. He was twice married, first to the love of his life (he kept a life-sized poster of her in one of his cabinets at his barber shop, even long after his second marriage) Eliza Franklin Shaw (born Oct 23, 1841 died Oct 12, 1887), and #2 to his friend, Evaline "Eva" McMains. He was very active in the community where he and Eliza chose to live. He gave generously of his time and money to the Methodist Church in Waveland. For a few years, he served as Marshall of the town. Also, he worked diligently for his Odd Fellows, Rebekah & Knights of Phythias Lodges, was for a time on the town board, and read to those who could not read from the several newspapers he was agent for. Pratt volunteered and served for three years during the Civil War (Co. B, 36th Infantry), and spent time in the dreaded Andersonville prison. He and Eliza adopted a son, Willie Franklin Stump, age two (not sure ever officially or just had permission to take him from the Poor House in Crawfordsville) and he was an amazing young boy (high grades, worked in the church, quite musicially inclined, just an ideal child) until Eliza was taken to the hospital where she was operated on for six cervical tumors (one weighing six pounds) from which she died. Willie went wild after that and he and Hiram's second wife, Eva never got along. He ended-up in Reform School (for stealing a dollar twice from Eva among other small crimes), and later sent home to die due to consumption (what we know as tuberculosis) dying in Hiram's arms on April 12, in 1894. Hiram missed Willie and Eliza more than most I do believe as he wrote about them so often in these diaries. Just wish the rest of Pratt's diaries he wrote for over 50 years as a barber in Waveland still existed :( kbz
---
Sunday August 1 - I spent most of the day in the hammock in front of the house. A very light rain fell in the afternoon. Willie and I attended Sunday school at 2 ½ p.m. We retired for the night at a very early hour. The air has become a little cooler. Baptist meeting in MCC
Monday August 2 -- $4.60. B&L 2.50. Sent by AJ Miller to John C. New & Son of Indianapolis 7.68 to pay for daily Journals. The weather is yet warm and dry, but not so warm as on last Saturday. A rain is much needed.
Tuesday, August 3 -- $4. Bought 4 gal of black berries.60. 7 gal of gasoline 1.12. 2 ½ bu of chicken feed .60. One sacKnights of Pythiasatent flou .70. The weather is considerable cooler tonight, though we have had no rain. Green apples .20 cts.
Wednesday August 4 -- $4.50. sent PS Westfall 1.75 and CFBragg 10 cts for papers. One gal of coal oil 20 cts. The weather not so cool as on last night. Wife is making arrangements to go on a visit to her father's the last of this month.
Thursday August 5 -- $4.30. Wife was uptown this after noon and bought goods for Willie a pair of pants and a couple of shirts which cost $2.20. The Old Settlers held a reunion at Russellville today. There was a large crowd out - I had to use corporal punishment on Willie for lying and disobeying.
Friday August 6 -- $5.60. Paid 15 cts for Pea Nuts and 20 for tomatoes. There was a big rain went south of us this afternoon. Not a drop fell here. The weather continues warm. Wife had a bad spell with her stomach. Life insurance $36.46.
Saturday August 7 -- $10.35. Paid rent for last month $2. One half bushel of apples for cooking 25 cts. Dr JD VanNuys, Dr. Arthur Kleiser and Johnson, Hanna & Co. are preparing to build a one-story block of business rooms on West Side of Cross Street at the North end.
Sunday August 8 - I remained at home until it was time to attend Sunday school. The weather has been very warm during the day. There is no signs of rain though we have heard of showers in other parts of the country hereabouts. Wife wrote a letter to Mrs. Hutton of Thayer, Kansas.
Monday August 9 -- $8.30. Paid the B&L 2.50. One 6-ounce bottle of medicine for myself .65 cts. I sent an order down to Terre Haute this morning to the Bucky Cash store for a dress pattern for my little woman. The water mellon we used last week cost 20 cts. Had neglected to itemize.
Tuesday August 10 -- $2. The goods ordered from Terre Haute cam ein this morning. Cost $8.50. Express 25 cts Money order 10 cts. We noticed a mistake in the goods sent as not comparing with the Sample. We ordered 35 cts goods and they sent 80 ct goods. Sent American News Co $8.02 check on Philadelphia
Wednesday August 11 -- $1.25. One loaf of bread .05. 3 lbs of starch 25 cts. Commercial Gazette 1.80. An Enquirer Co .80 fees .10 One pound package of coffee .15. Paid JT Scott $4. I owe him no more. We have had another warm day and no rain. Sentinels are all engaged this week. Rare thing.
Thursday August 12 -- $2.15. We have had a shower of rain. It came about 8 o'clock tonight and was accompanied by a considerable dash of wind, lightning and thunder. Wife was up town to day and spent 45 cts for dress trimming. She was at Mrs. Read's on business.
Friday August 13 - 42.80. Peppermint lozengers (sic) one pound 20 cts. Water melon 25 cts. Coal oil one gallon 20 cts. Tonight about 9 o'clock we had another good rain. Wife has commenced to work of caring for the grapes and plumbs. When this work is over we want to take a short visit at her fathers.
Saturday August 14 -- $6.30 - A blind man having feather and wool dusters was lead into my room and I purchased a woolen duster for my wife to use at the house cost 65 cts. We have had no rain today. The weather has been extremely warm. We were done work by ten p.m. Ed Davis has a new chair.
Sunday August 15 - We attended church at 10 1/2 . This was the last regular service of our pastor. He left and appointment for 18 ½ Sunday the 29. He will start for conference the following Tuesday morning. Willie and I were at Sunday school. I gave 15 cts to SS. We were at church tonight.
Monday August 16 -- $2.50. B&L 2.50. Pd Bro. Wolfe $5. Express on one gross of Ink from NY 1.80. We have had two good showers of rain, one this forenoon and a big one at 8 ½ this evening. Billy Hauger came in this evening and will go away in the morning.
Tuesday August 17 -- $1.80. Paid 75 cts for one doz of qt tin cans and 60 for 4 one half gal glass cans. Wife is canning tomatoes and grapes. Todays papers contain numerous accounts of instances of damage by the storms of yesterday. The warm weather continues, though not quite so warm as yesterday.
Wednesday August 18 -- $2.05 Paid 50 cts for 2 bu of chicken feed. Wife was uptown and bought more dress trimming spent 48 cts. I did not get home until about 10 o'clock. Paid 25 cts to Mr. Scott for the cutting of a pair of pants for our Willie. Weather cooler tonight.
Thursday August 19 -- $2.30. Sent the Times Co. of Indianapolis $2.06. Hull Vapor stove Co 23 cts. 2.50 yd spool silk 10 cts. The temperature of the weather today has been delightful. Eva McMains began work for us today. Wife has not the time to attend to her sewing. Eva is doing it.
Friday August 20 -- $1.55. Paid 25 cts for 3 boxes of TM Shoe blacking. Dress trimming for wife 45. Last night was most too cool to sleep well under one thin cover. The weather today has been very pleasant indeed.
Saturday August 21 -- $9. 2 prs of Brittish (sic) hose 40 cts. One water melon 15 cts, one package of coffee .15 cts 27 bread tickets $1. The weather has been very warm. Some say the hottest of the season. The Sunday school picnic here today was light.
Sunday August 22 - I remained at home all the forenoon. At 2 ½ Willie and I went to our Sunday school. Tonight I went to the Presbyterian church to hear JP ENgstrom a man from Sweeden. Been in this country 17 years. He is a good preacher.
Monday August 23 -- $3.75. Building & Loan $2.50. Chicken feed 60 cts. Sugar 1.40. There was a small shower of rain fall here yesterday but a very big one passed to the east by the north. Pd Mrs. Read for cutting wife's dress $1.25. Sentinel Co the 4th inst $2.07.
Tuesday August 24 -- $1.95. Tonight I attended the order of AOUW and paid an assessment of $2 on death rate. The streets and street crossings are receiving a good supply of gravel. The weather is dry and warm. Rain is needed.
Wednesday, August 25 -- $2.50. Bread tickets one dollar. Bread previous to buying the tickets 25. Postal cards 25 cts. I was called upon to see Billy Canines gasoline stove. It was not doing just right. It is going all right now. No rain yet, weather is dreadful warm.
Thursday August 26 -- $1. One sack of "Peerless" flour 60 cts. I notified Clara Shaw that on next Monday we proposed visiting them. Wife and Willie are making jellies and plumb butter Willie ran off again today and received punishment
Friday August 27 - 2 prs hose for self .40. $2.25. I set up the cream to 7 young men cost me 35 cts. Paid $1.20 for 5 bushel of chicken feed. Two pairs of hose for wife 45 cts. Spool of thread 10 cts. Wrote Clara yesterday. We would be at Farmersburg next Monday.
Saturday August 28 -- $6.10. Sent to John C. New & Son 7.03. to pay for papers the past 4 weeks. We had a good shower of rain this afternoon. We have not had a very good days work. Since 3 ½ this evening until 10 we have had a good run. Cream 15 cts.
Sunday August 29 - Church 50 cts. I remained at home this afternoon - a rain came up as it was time to start to Sunday school. Willie and I attended church this forenoon. Bro Buckles preach his last sermon for this place this conference year.
Monday August 30 -- $5. Paid $5 for three tickets to Terre haute and 2.70 for tickets to Farmersburg. In Terre Haute I paid PS Westfall 1.12. 30 cts for collar and cuffs for wife. 10 for a toothbrush. At home the B&L 2.50 for a mellon 10 cts. Sugar 1.75 Eva McMains 1.50. Nannie Bloomfield 25 cts.
Tuesday August 31 - We found the folks all well on our arrival yesterday. Today we dined at Ben Dowells and at night we are back at father Shaws we make this our head quarters. Our railroad tickets are return or round trip tickets. Willie will perhaps return to Waveland on half fare. Corn crops here are very light.