AUGUST 1902 - HIRAM PRATT DIARY
Waveland, Indiana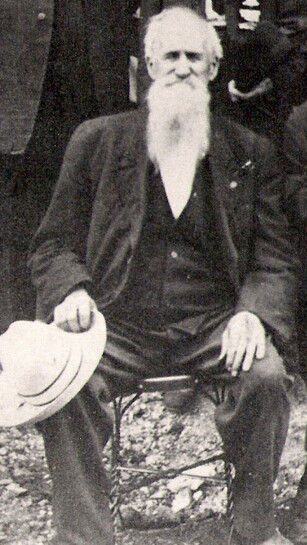 Note: These diaries were in the Waveland Public Library for decades but were disposed of by a librarian several decades ago. Luckily, another librarian's daughter (thanks sooo much Pam, at the death of her mother, Virginia Banta Sharpe found them in some belongings and gave them back for proper housing. A complete circle; however, only 14 of the 50+ diaries were saved from the library's incinerator. I'm a librarian too and thought since they'd been lost to posterity for so many years that it would be a good thing to transcribe them and give them to the world. They are currently housed in proper temperature/storage at the Crawfordsville District Public Library - typed as they were written
Note 2 : Karen Bazzani Zach (transcriber) was raised in the big 'ol town (500 people) where HA Pratt lived 5 decades before I was born. I remember the building where his little shop was and wish it was still there. What an interesting little place. ALAS! Progress ! Oh, and I've tried to type the diaries as is - mistakes & all
Note 3: Some information about Pratt -- he was born in Parke County, Indiana April 20, 1840 the oldest child of eight born to Erastus & Elizabeth Allen Pratt and died October 12, 1914 in his beloved Waveland, Indiana. He was twice married, first to the love of his life (he kept a life-sized poster of her in one of his cabinets at his barber shop, even long after his second marriage) Eliza Franklin Shaw (born Oct 23, 1841 died Oct 12, 1887), and #2 to his friend, Evaline "Eva" McMains. He was very active in the community where he and Eliza chose to live. He gave generously of his time and money to the Methodist Church in Waveland. For a few years, he served as Marshall of the town. Also, he worked diligently for his Odd Fellows, Rebekah & Knights of Phythias Lodges, was for a time on the town board, and read to those who could not read from the several newspapers he was agent for. Pratt volunteered and served for three years during the Civil War (Co. B, 36th Infantry), and spent time in the dreaded Andersonville prison. He and Eliza adopted a son, Willie Franklin Stump, age two (not sure ever officially or just had permission to take him from the Poor House in Crawfordsville) and he was an amazing young boy (high grades, worked in the church, quite musicially inclined, just an ideal child) until Eliza was taken to the hospital where she was operated on for six cervical tumors (one weighing six pounds) from which she died. Willie went wild after that and he and Hiram's second wife, Eva never got along. He ended-up in Reform School (for stealing a dollar twice from Eva among other small crimes), and later sent home to die due to consumption (what we know as tuberculosis) dying in Hiram's arms on April 12, in 1894. Hiram missed Willie and Eliza more than most I do believe as he wrote about them so often in these diaries. Just wish the rest of Pratt's diaries he wrote for over 50 years as a barber in Waveland still existed :( kbz
---
Friday August 1 -- $3.50. Gave the church folks 35c all the churches are going to join in for a union ice cream supper. 45c for a two gallon can and a pint of wood alcohol. 30c for express on the laundry. Fount Johnson is going over to Indianapolis tomorrow and in all probability buy an automobile. He will attend the camp meeting at Bethany Park o Sunday. His wife and son Ted and Miss Sarah Barton will also be there. Eva has concluded that she lost $1.75 while we were on the visit to her brother Anderson's. She is short that among and is sure she did not spend it for anything. I don't think the weather was quite so warm today.
Saturday August 2 -- $6.40. Paid 70c for 2 bushel of oats. 35c for 22 peaches, $1.35 for last weeks rent. Mort Acker has my gas lamp a smaller on than I have in use all the time. He will pay a dollar a month for it. The warm weather has been oppressive all day. Mrs. Clay Jarvis died last night at 11 o'clock . We heard yesterday that Charley Ellis was sick of typhoid fever. Her funeral will take place at her late residence about two miles west of town. She was a member of the Baptist Church.
Sunday August 3 - I went to meeting at 11 o'clock, hooked "Bob" to the buggy and wanted Eva to go with me, but she excused herself by getting dinner and having it served on time so we could go to the funeral of Mrs. Clay Jarvis at 2 o'clock this afternoon. There was a large gathering of the neighbors. Rev. SK Fuson of Rockville preached the sermon. The corpse was put away in a beautiful casket. It was trimmed in white and caused the body to appear as if it had been put to bed. Visited Willie's grave after the meeting Weeds are tall in the cemetery.
Monday August 4 -- $5. Paid 98c for ice 30c express. $10.80 for 90 gal of gas. It cost 1/2c more on the gall 11c now. Yesterday we had young chicken for dinner. After the funeral yesterday we drove west to Wm. Rusk's then north to No. 7 school house, then straight East to the intersection of the road with the gravel road to Crawfordsville in all 12 or 15 miles. This afternoon Harry Barr commenced the gathering of our pears. Eva and I pulled or dug our onions a bushel or more. I mowed weeds at the noon hour. Charley Ellis has sold his farm to John C. Canine for $8,600.
Tuesday August 5 - Sent the Cincinnati News Co $2.50 express 50. Paid Harry Barr for picking the pears from one tree 25c. We sold 3 bushel at a dollar a bushel. There was a little rain shower came up this evening after dark. Stars were shining when I went home at 9 o'clock. Eva was at Alice Moores as I passed by on the way home. The Indianapolis news makes its statement that the state of Indiana has never had such a large yield of oats, rye and wheat as this year. Corn is looking fine.
Wednesday August 6 -- $1. Sent EO Voile of Chicago a dollar money order for the Week's Current for Nancy McCormick. Express 5c. Eva received a letter from Pearly Petty. She is not yet married. She talks some of visiting us this fall, but I don't believe she will. Paid 98c for ice used last week and 20c for a pound of beef steak. Eva and Mrs. Mooreman was over at Kelso's this afternoon. Bob and the buggy will make a trip to Crawfordsville tomorrow. Wm. Butcher's mother and his wife are going to Crawfordsville. Cooler.
Thursday August 7 -- $2.05. Paid 45 for a piece of pickled pork at 13c per pound. 5c for 3 nice peaches. Rec'd a card from Miss Clara Shaw, sister of my deceased wife Eliza. She lives in Terre Haute. She will meet me at the station on next Tuesday evening and I will go home with her. Wednesday I will visit the county fair and hope to meet another sister Mrs. Alice Yaw and go home with her. She lives near Pine (Pim? Pisento?). Thursday night I want to visit another sister Mrs. Martha Dowell. She lives near Fletchers Chapel where my little Pet is burried. Charles Ellis is at Mary Alfreys tonight.
Friday August 8 -- $3.95. Telephone rent for last month $1. Gave Bro. Moorman 25 to help pay for a chair for an invalid woman. Mrs. Bernham Davis. Yesterday I wrote to Mrs. Alice Yaw of Piment? Vigo CO Ind and today wrote to Clara Shaw to meet me at the station in Terre Haute at noon next Tuesday. The Chicago Daily News has sent me prepaid a large Thermometer. It denotes 86 degrees of heat today. The thermometer is about 3' in length. Eva and Nancy Fullenwider I mean Bloomfield went out to Sam Jarvis's this evening after milk for ice cream tomorrow night.
Saturday August 9 -- $8.65. I gave Harry Barr 10 to get a dish of ice cream. Paid 10c for a dish for myself. Paid 30c for a small piece of beef. Rent for last week $1.35. We had a very light rain early this morning. The four church's gave a union Ice Cream Social in the Glover building. I wanted to eat a dish of cream with them but could not find the time. We were done work by quarter to midnight and there is signs of a rain, thunder is heard in the northwest, yet it may blow around and not rain here.
Sunday August 10 - We had no preaching in the Methodist's meeting house and I attended meeting in the Christian's house of worship. After dinner we had a rain that scared Eva out of a drive, so Charles Taylor and I went to Pleasant View, he treated to Ice Cream, we spent perhaps, 3 quarters of an hour there and made the return home in less than 2 hours. Eva and I attended to church union service in the Presbyterian's property. The sermon was by John H. Deer in the Baptist faith. He gave us a splendid sermon. The house was full of people, had on our seats been provided more could have been accommodated. Visited Willie's grave before the noon hour at about 11 o'clock.
Monday August 11 --- $12.35. Bought a new suit of cloths from Kritz Bros $11.50. Bought 10 gallon of Eocene oil 10 1/2c per gal $1.05 35 gall of gasoline at 12c per gal. $4.20. Mercury got up as high as 70 at 3 p.m. Eva went down to Irve Fullenwider's and bought 2 bu of wheat for 60c a bushel $1.20. I have made arrangements for visit to my deceased wifes father's family and will leave on the down train tomorrow morning. Paid 74c for ice used in the refrigerator at home. John McMains has gone over to Rossville with a team of mules. Charley Ellis bought for home use.
Tuesday August 12 -- $2.60. Paid $1.12 for a round trip ticket to Terre haute 30c for express on the Laundry. Arrive in Terre Haute at 11:30 a.m. Clara Shaw, sister of my first wife was at the station to receive me and to pilot me to her home No. 527 South 5th Street. Street car fare was 10c. After dinner, she and I went to the courthouse and I paid 41.62 tax on the town lot Lloyd McMains in his will gave Eva Clara and I went to see the lot. We got on board a street car running North on 13th street and stoped at 15th and Maple Avenue. The lot is No. 33 3rd Lot east on North Side. Street fare 20c cool tonight. Rained hard in Terre Haute.
Wednesday August 13 - This forenoon I tried a while to find Hoy Deer, but found no one that knew him. This afternoon Clara and I went to the Fair. Paid out on this trip 20c for car fare. 15 for 3 glasses of orange cider. 20c for a pass in show to see Miss Cora Beckwith swim. She can do more feats in the water than I ever thought could be done. She could tumble the water same as on a grass lawn, could lay on the water on her back or front and not move an arm or foot. She will give up her life on the 26th of September or prove to the world that the whirlpool Rapids of Niagra can be swam. I don't believe she can successfully pass over the Rapids. At half past 5 p.m. started for Mrs. Alice yaw's, her son Epsy came for me, we made the trip in ½ past 7.2 miles.
Thursday August 14 - I got badly scared last night in my sleep, thought some one was in bed with me and was laying crosswise on my breast, I yelled until Alice came downstairs an called to know what was the matter. Her second child Fred is married and is going to be a proud father in a few weeks, has been married 8 months. Alice is feeling the loss of her husband very severely and refuses to be comforted. I set the razors for Epsy, Fred and Bert for shaving. After dinner, Epsy hitched a horse to a buggy and took me to Ben Dowell's. Ben gave me a horse and buggy and I went to Theo Shaw's for supper, was in the old cabin where Eliza and I were married Sept 6, 1866 (shaky hand)
Friday August 15 - This morning at 5 o'clock and 50 minutes, I was standing at the head of the grave where my dear little pet was burried Oct 13, 1887. At exactly 6 o'clock I bade farewell the charmed (?) home and by 20 minutes of 7 had taken leave of Ben and Mat Dowell and in company with Eliza's brother, Theodore was on my way to the Prairie City. Eat dinner with Clara Shaw and her sister Helen McMullen. Bought Razoine (? The word is NOT razor) 15, strop 40c 1 lb can of PeaNut Butter 25c 2 resurrection plants 25c. The girls gave me their picture and that of Jennie McMullen, a daughter of Helen's 17 years old. At home by 6 pm. Big rain.
Saturday August 16 - $10.75. Paid 41.35 for last weeks rent, 5c for bread. For the return of the laundry last week and this 60c. It was Aquilla Groves' brother that died last Monday night. His name was William and I thought when the telephone message came in saying Will Groves died last night, it was Aquilla's son Will. Eva and Will Kelso attended the funeral, it was largely attended. I gave Harry Bar 10c to get ice cream for himself. The Pres. Women gave an entertainment in the Glover building tonight.
Sunday, August 17 - I did not get to visit Willie's grave today there was no preaching by JJ Fischer and went to meeting with my wife. I took the buggy to the branch and washed off the mud. I had done this here to fore at home. After dinner we went over to Russellville and visited Eva's brother James for about 3 hours. Sarah his wife is strenuously opposed to her widowed daughter prospective marriage to Wm. Hopkins the daughter Emma McQuown is opposed to mother's interference. We were at home in time to go to the Union Services held in the Baptist house for worship sermon by Moorman.
Monday August 18 -- $2.75. 86 degrees. While in Terre Haute I paid the Express Printing Co. $3.13. I had 3 rubber stamps made cost 60c and bought a bottle of ink prepared for the stamps 20c bought 1 nutmeg mellon for 10. The girls Clara and Helen live in a large two story frame No. 527 S. 5th Street. Rent is $25 per month. Mr. James Soules a widower with two small children furnishes everything for house keeping and pays them $6 a week to care for the little girl and boy. Eva and her sister Mary went to Mrs. Sarah E. W. Dooleys and spent most of the day. Paid 20c for meat Eva got while I was gone, 5c for a cup of cakes ? warm today.
Tuesday August 19 -- $1.05. Yesterday I paid $5.40 for 45 gallon of gasoline. Frank Kritz and wife left on the 10:30 a.m. train for Omaha, Nebraska via St. Louise, St. Joseph and Council Bluffs. Mrs. Kritz has a sister out there se will visit. Mrs. Alice Moore is doing our washing now. She has been paid regular from the house in eggs, milk, butter, and coal oil. The strike of coal miners in the Antharcite mines commenced this 10th week yesterday and the end is not yet. The operators will not yield their point not to discuss their business to outsiders. Hard coal is getting scarce and the price is advancing.
Wednesday August 20 -- $1.90. 89 degrees Paid .05 for a small water mellon. Ice bill this week was 85c. I am going to send the laundry tomorrow to JJ Campbell at Logansport. The Crawfordsville Laundry is neglecting their business not doing as good work as at first and I am losing trade. John Johnson has graded his lot and will sow it in grass. He bought the corner house just west of Gillilands livery stable on west main first street west of Cross. Mrs. Charles Sutger was burried last Sunday. The weather has been real warm this afternoon.
Thursday August 21 -- $4.05. This afternoon Eva and her sister Mary went out to John Warrick's wood pasture where the Spencer's were holding a reunion. Everybody related to the Spencer family held a reunion and served a dinner in common. In the afternoon as many others attended this meeting as desired. They had a good sized gathering. Freemont Alfrey came in from Missouri and spent the night with Jim & May Alfrey. He has a farm about 6 miles NW from town that is being tilled by Jim and his son John. The weather is cooler.
Friday August 22 -- $1.45. Paid 5c for cakes. Sent the Cin Enquirer $1. The Cincinnati News Co 42. T.L. Hanna has a team - a mule and a horse that were hitched to a wagon to engage in a run away - no one was hurt as they kept in the road. A party of young Americans are having a social party at the McCormack's Mansion tonight. I gave them the use of one of my gasoline gas lamps. Mercury ran up as high as 73 ½ to day. Considerable cooler than day before yesterday. I wrote the "Acam Brass Works" an article in the shape of a testimonial concerning the "Doram" light. I am using, bought of them in 1900.
Saturday August 23 -- $8.45. Paid 10c for cream to the Junior League. Donated to them 25c. The League had promised $20 missionary money and tonight are able top ay the claim or rather the promise. Mr. Samuel Taylor reports a light frost viable early this morning. Pearl Kelly and wife are preparing to visit the Bloomfield's property. We will be glad when they are gone. Mrs. Richard Rusk of Crawfordsville, a former resident of Waveland was reported this morning not likely to lie until the evening. Mrs .Joe Hicks is reported worse.
Sunday August 24 - Charles Taylor and I started for Greencastle this morning at 6:10 and arrived at the end of our journey at 20 minutes past 10. After "Bob" was provided for, we started out to find where Mrs. Marry K. Smalley lived, found her at 505 S. Jackson Street. She had gone to church at College Avenue. We were direct to Locust Street Church after meeting was over, went back to the residence and after waiting a short time we started to find where she had gone and met her on the way home. Edith, her little daughter, 12 years old ran to meet me. We started home at half past? and was home in time to go to church. Edith came home with me.
Monday August 25 -- $3.05. Paid $7.35 for 40 gal of gasoline and 30 gallon of perfection oil. 10c for 2 mellons 5c for 5 large beets 25c for beef at 18c per pound. 5c for bread 15 for a peck of apples. Edith spent the most of the afternoon with me at the shop. She was riding around most of the afternoon. She drove "Bob" to the funeral of Richard Rusk's wife held in the Presbyterian Church at 11 o'clock. Eva was her passenger. She took Eva home and then came after me at the noon hour. One year ago, I started on my trip to Iowa. The day of the week was Sunday. Pearl Kelly and wif (sic) have gone. Glory! Mort Aker has attempted to move away. In attachment was taken out on his goods to John Gilliland for a lot. He had to pay. Ice bill 81c 3 shoes on Bob 85.
Tuesday August 26 -- $1.10. Paid 15c for bread and cakes. After dinner Edith and I went down to Irve Fullenwider's and got a bushel of wheat cost $1.25. This morning I wrote a postal card to Mrs. Mary K. Smalley (one to many l's). From 3 o'clock until after 6. Edith and Jessie Alspaugh were out driving they report a very nice time and enjoyed the buggy ride very much. One year ago this morning, I landed in Ottumwa, Iowa at 1.20. The country was needing rain then much more than now.
Wednesday August 27 -- $2.00 sent the Indianapolis News $9.10 including expense. Edith Smalley (two l's are correct). (Jack Ashley was in town today. I will send the laundry again to JJ Campbell of Logansport) spent most of the day with me in the shop. Eva and her sister Mary went out to Kelso's this evening after their return Edith took a drive, she also assisted in the delivery of the evening papers. I get 35 News every day and on Saturday 50. This is the most in demands of any papers received. Mercury ran up to 89 at 3 p.m. Edith was with me until after 9 o'clock.
Thursday August 28 -- $4.25. Two gallon of vinegar 40. 1 water mellon 20. Two Nutmeg or cantelope melons 20c. Beef stead 10. Mrs. Mary CooKnights of Pythiasortland Mills, Ind and Mrs. Sarah Smith of Waveland and Mary Alfrey were at our house for dinner. Paid 30c for a bushel of tomatoes. Eva canned 12 quarts. Edith has had the horse and buggy in use most of the day. Mercury ran up to 90 degrees today. Edith got a letter from her mother containing 25c and two waist belts. I have bought two razors that were drawn by ticket wraped in chewing gum from Dan Bilbo for $1.10. Both are splendid. 50c for Electric Cloths Cleaner receipt.
Friday August 29 -$1.75. Peanuts 10c. Edith spent most of the forenoon in the shop this afternoon she made preparations for the party given by Miss Jessie Alspaugh. Harvey Woodgate and his sister Mrs. Mesa Beaupre of Indianapolis were at our home for supper and will remain over night. Mece (Mesa above is whom I think he is speaking of) is the proud possessor of a $1200 Automobile. They live in Indianapolis, 20 years ago they lived here. They made a stop at Crawfordsville of 2 or 3 days, life there at 4 o'clock. They punctured a tire first a few minutes before they were ready to drive in for the night.
Saturday August 30 - $11.05. Paid 35c for beef, 35 for cakes. The repair of the Punctured tire did not prove to be a success. Harvey drove the machine to the scales and had it weighed. It weighed 1100 pounds. I took my first ride on the Horseless carriage. The sensation was like unto being pushed by some force from behind. I had Edith on my lap, she enjoyed the ride very much. She was at the McMains reunion held in the woods east of town. Philip and Miranda from Rossville, Ill, Dave, his wife and daughter, Ida from Hoopeston, Ill and Aquilla Groves from Waynetown, Ind were at the feast.
Sunday August 31 - Edith went with me to church this morning. Visited Willie's grave after the services. The weeds and brush have been cut and piled. I did not know that this had been done. The church has a new carpet and the rostrum (?) has been raised 6". The change adds greatly to the general appearance. While at the dinner table, we conclude it was best to take Edith home and by 15 minutes of one by the clock we were on our way. Arrived at Greencastle in time to attend the last of the union meetings which was held in the College campus. It was nearly 11 o'clock when I went to bed.
---