JUNE 1903 - HIRAM PRATT DIARY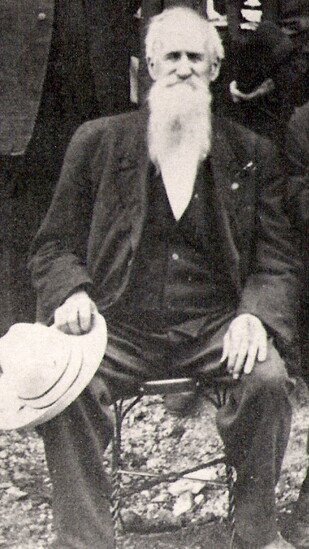 Extra NOTE - His pen was VERY light at the beginning of this month - he got a new one on the 12th and it was MUCH easier to read. Hope there aren't any booboos in my transcriptions - I do know the family, area ... so hopefully, it is perfect-o
Note 1: These diaries were in the Waveland Public Library for decades but were disposed of by a librarian several decades ago. Luckily, another librarian's daughter (thanks sooo much Pam, at the death of her mother, Virginia Banta Sharpe found them in some belongings and gave them back for proper housing. A complete circle; however, only 14 of the 50+ diaries were saved from the library's incinerator. I'm a librarian too and thought since they'd been lost to posterity for so many years that it would be a good thing to transcribe them and give them to the world. They are currently housed in proper temperature/storage at the Crawfordsville District Public Library - typed as they were written
Note 2 : Karen Bazzani Zach (transcriber) was raised in the big 'ol town (500 people) where HA Pratt lived 5 decades before I was born. I remember the building where his little shop was and wish it was still there. What an interesting little place. ALAS! Progress ! Oh, and I've tried to type the diaries as is - mistakes & all
Note 3: Some information about Pratt -- he was born in Parke County, Indiana April 20, 1840 the oldest child of eight born to Erastus & Elizabeth Allen Pratt and died October 12, 1914 in his beloved Waveland, Indiana. He was twice married, first to the love of his life (he kept a life-sized poster of her in one of his cabinets at his barber shop, even long after his second marriage) Eliza Franklin Shaw (born Oct 23, 1841 died Oct 12, 1887), and #2 to his friend, Evaline "Eva" McMains. He was very active in the community where he and Eliza chose to live. He gave generously of his time and money to the Methodist Church in Waveland. For a few years, he served as Marshall of the town. Also, he worked diligently for his Odd Fellows, Rebekah & Knights of Phythias Lodges, was for a time on the town board, and read to those who could not read from the several newspapers he was agent for. Pratt volunteered and served for three years during the Civil War (Co. B, 36th Infantry), and spent time in the dreaded Andersonville prison. He and Eliza adopted a son, Willie Franklin Stump, age two (not sure ever officially or just had permission to take him from the Poor House in Crawfordsville) and he was an amazing young boy (high grades, worked in the church, quite musicially inclined, just an ideal child) until Eliza was taken to the hospital where she was operated on for six cervical tumors (one weighing six pounds) from which she died. Willie went wild after that and he and Hiram's second wife, Eva never got along. He ended-up in Reform School (for stealing a dollar twice from Eva among other small crimes), and later sent home to die due to consumption (what we know as tuberculosis) dying in Hiram's arms on April 12, in 1894. Hiram missed Willie and Eliza more than most I do believe as he wrote about them so often in these diaries. Just wish the rest of Pratt's diaries he wrote for over 50 years as a barber in Waveland still existed :( kbz
---
Monday June 1 -- $1.60. Horse feed 25. Paid a boy 25 for finding Eva's cape it had fallen out of the buggy. We missed it about a mile from Browns Valley. I made a long and fruitless drive back to find it. Eva got out and stoped at a house to avoid being in a rain. The cape was here and I had a long ride for naught. 15 c for meat and a box of bread. Had lots of rain today. Kansas City flooded.
Tuesday June 2 -- $5.80. Paid to the order of Ancient Order of United Workman $4.09. For onions 5c for radishes 5. two boxes of strawberries 25. Last night I bought 2 boxes for 25. We have had several nice showers of rain. Sent Globe Dem 17 c and The Past-Dispatch 24. Stamps 4. Eva was at Penn Hannas tonight when I went home.
Wednesday June 3-- $4.45. Pd 37 c at Wolfes for Eva 40 c for meat 25 c for strawberries 35. Express on 29 pieces of pates ? tableware. The plating was done by Deggs & Musick of St. Louis. The damage done by the flooding of Kansas City is estimated at 4 million. 25 lines last. We had several showers yesterday and today also. Some have not yet this complement?
Thursday June 4-- $1.40. Paid 20 c for two boxes of strawberries. Sent the Crawfordsville Journal $4.59. Bought 3 one gallon crocks for 25. One half pound of uncolored Japan? for 30. We had several good showers of rain during the day. It has rained every day this week. Farmers are having a hard time to find the ground dry enough to turn ? the crops.
Friday June 5 -- $2.80. Paid 37 c for a 3 pound fish sent it home by John McMains he prepared it for dinner and eat his dinner with us. President Roosevelt was in Indinapaolis last night between 9 and 10 o'clock. He is in Washington tonight. He was gone on his trip 2 months. More rain today.
Saturday June 6 -- $10.35. Yesterday I visited the grave of little Willie. Today we had more rain for the last 10 days we have had rain every day. Bought beef 25 c 6 tomoatoes 20. 1 gallon of new potatoes 25. 1 gal green peas 25. 1 doz bannas 15c. L \unch at the restaurant 25. The Indianapolis morning Star made its debut today. It sells at 1 per copy.
Sunday June 7 - The rain yesterday evening and last night made the roads too muddy to be out on the road with the buggy. I went to church with Eva today. I forgot there was preaching in the Methodist Church. Late this evening we went out to Kelsos. Nancy is over at Rossville Ill in a visit. She and her brother Sam went out there the forepart of the week.
Monday June 8 -- $8.80 ? Paid 45.50 for oil and gasoline. We had a pine apple cut and ready for dinner. Yesterday but we took dinner at Mary Ellens yesterday had a new chicken fried. The pineapple cost 20 c. A pound of ginger snaps ? 10 c. Sent the Indianapolis News $12.46. I find that I do not get my record of expenses always correct some items I forget to put down.
Tuesday June 9 -- $2.05. Sent the Crawfordsville Journal $1.50. Mr. Joseph Meng of the Indianapolis journal called to see me today in the Interest of the papers I paid him $5.39 for the Journal. The flood at Topeka, Kansas city and St. Louis has done its best. River biggest since 1858 lots of people drowned and millions of damage.
Wednesday June 10 -- $3.65. Paid 30 c for meat 20 c for 2 boxes of strawberries. I took to Sadie Barton a 10 c dish of ice cream 10 c worth of oranges and bananas 5c. She has been sick for several days and is on the mend now. Eva was up to see me after prayer meeting and I went home with her. We took home qt of ice cream. 25c Perla Petty was married today.
Thursday June 11 -- $1.80. Bought a bunch of onions for 5c. The weather has been so cool today that I put a fire on the heating stove and kept it going all day. I came up to the shop real early this morning and billed out the laundry before train time. Sent $3 in the hamper. Sent Hearsts Chicago American 37 including expenses of set.
Friday June 12 -- $2.35. I have had a fire in the heating stove all day. Eva has kept up a fire in the stove in our dining room all day. There was no frost visible early this morning. When I looked at the thermometer mercury was standing at 41 above zero. I sent the Chicago News 60c express 2 cts. Yesterday's News contained an account of the assassination of the King and Queen of Serbia.
Saturday June 13 -- $8.05. Frost this morning. Paid 50 for 3 pineapples 15 c for a package of grape nuts 15 c for 2 cucumbers. 20 c for beets and peas. 30 c for a spring chicken. 35 for a quart stone jar (with bale ?) of apple butter. Two fish weight 2 ¾ lbs 40 c. We dispensed with fire nt he heating stove today. It was after 12 or midnight when I done my last job. Was home by 1. This day I write on 15th
Sunday June 14 - I hitched Bob to the buggy and took Eva to church, then went to the Methodist church for class but there was no meeting of the class. So I took the class leader PM Conner home and went to the Presbyterian church and heard Rev. Gibson. It was communion day with them. After dinner we went up to Alfreys, Sam Rambo, his wife and son an Sam McMains were there. We were at Kelsos before church time.
Monday June 15 -- $9.03. Paid $4.10 for oil and gasoline expense on the laundry for 2 weeks 60 c. We got a letter from her niece Mrs. Perla M. Conover. Her husband is 1st assistant doctor in the Kansas City Hospital. They are preparing to go to housekeeping in Kansas City, Mo. She could not get married at her fathers on the account of her husband's detention at the hospital considered by the big flood. Warmer
Tuesday June 16 -- $1.60. The weather this forenoon was real warm, after the shower at 5 o'clock p.m. it turned cold. The rain was a light one, barely laying the dust, dripping off the house tops just a little. Eva says she intends going out to Kansas City to see Perla someday in the near future. Sam McMains was at our house last night. I treated to ice cream 40 ct.
Wednesday June 17 --- $1.30. Sylvester McIntyre of Toledo, Ill was editor of the Era the only republican paper published in the county. He was born and raised in this vicinity until he was 16 years old. I have not yet seen him. The weather is fine - a rain would be of great benefit to the farmers.
Thursday June 18 -- $1.30. This forenoon I seen "Vesta" McIntire but did not know him. This afternoon he came in to see me and invited me to take a ride out to the shades. We were gone until after 5. I showed him the points of interest at the Shades. He was wonderfully surprised at the wonderful sights to be seen.
Friday, June 19 -- $5.20. Bought cheese at 20 c per lb 65 c worth. Beef 40 c since last report. Onions 16 c. Our cow is giving over 2 gal of milk each day and will be fresh the 9th of August. She is doing much better than at any time since we have had her. Sulvester McIntire went home today. Rain a little this p.m.
Saturday June 20 -- $8.05. Beef roast 65 c. Ham 30 c. Ice cream 40. Two pine apples 40 c Tues ? 30c Express on the return of the laundry 30. We were done work in the shop before 12 and when I got home it was 10 minutes of one. I write this on Monday 22. Got behind a little. Sent 1.50 to EF Harris Springfield, Mass.
Sunday June 21 - I was at the preaching service this morning and went to sleep. The preacher stoped speaking and it awoke me. I felt ashamed and was a good listener to the end. Visited Willie's grave after the sermon. After dinner we went over to Russellville to the Woolman's memorial and decorative service.
Monday June 22 - $4.60. Paid $1.40 for 10 gal of gass. We attended the childrens day service in the Methodist Church last night. It was good. I gave 50 to the cause of education. At the morning service I gave $1 o n dues. Paid a dollar for a bit umbrella for the spring wagon. I bought of Irve Fullenwider. Rained today. Sent 10 dollars to Cin News.
Tuesday June 23 -- $1.55. Spent 10 c for young beets 7. For two weeks washing 70. There was a rain last night or early this morning. Seen Fannie Edwards over at Russellville last Sunday did not know she was in this part of the country. Heard her sing a beautiful song. Eva spent the evening at Bro Monmans. LE Acker returned from a 5 month visit in Ohio yesterday.
Wednesday June 24 - $4.15 - One quart of apple butter 25 c. Paid 6 weeks rent $6.60. This pays to and included 30 c of May. Harry Kritz and Miss Grace McCampbell are to marry tomorrow afternoon paid 15 c for a chain and staple to be used on a gate to keep "Bob" in the pasture. Clover is being harvest some are cutting wheat. The Masons had a big day here 300 or more present.
Thursday June 25 -- $.095 - Paid 20 c for a beef steak and 5 c for a box of Smith Brothers cough drops $1.15 for 50 lb bag of flour. 5 c for new onions. Paid John McMains 50 c for mowing the grass and weeds from the yard of the home place. Some one took the scythe from where I put it last year and put an old one in its place.
Friday June 26 -- $4.05. Paid 20 for cheese 20 for potatoes 15 c for pine apple and 32 c for express on return periodicals to Cincinnati. Mr. Harbesin and wife John Warrick, Nancy Odell and other daughter of Warricks. Will Warrick a son, Nancy Kelso and daughter Mary Jessie Roberts and Mary Alfrey and Minetta Odel Nancy Odel's daughter were at our house for dinner.
Saturday June 27 -- $7.40 paid 20 c for a pine apple 5 c for bread never eat my bread and milk until after midnight. It will be one o'clock by the time I a in bead (sic). I eat cucumbers for dinner and was sick for a couple of hours, vomited and lost about half hours work. Eva was up to the ice ceram supper given by the women of Pres Church.
Sunday June 28 - Eva has a sore eye it is badly swollen and pains her a good deal. We were intending to go to Portland Mills today. It is Jack Ashleys last preaching day there. I put Bob to the buggy and took Irene Clemens and Jessie Roberts to Crawfordsville. We passed through Browns Valley at 9 o'clock and were at the ends Journey at 11. I put the girls out at Mrs. Sarah McIntosh's and went to the Methodist Meeting. I then met with Mrs. McIntosh on the way home with her I stoped and Mrs. James McClures for dinner. She runs a boarding home in the Sabbath day most of her patrons are away. She had two only for the noon meal. Mrs. McIntosh or Mackin I found to be a real good talker. She is Mr. Grahams leading dress maker came from NY City where she had been the past 12 years. We were home by 7.30 and attended childrens day in the Presbyterian church. Warm today.
Monday June 29 -- $4.00. Yesterday after dinner I and ? McIntosh went over to Oak Hill Cemetery. It is a beautifully located burying ground on the way home Bob was introduced to the automobile a new mode of locomotion. It has four rubber tired wheels and is propelled to electricity or steam generated by gasoline. He did not take up very well with the horseless carriage. $40 gas 5.60. Median for Eva 50 cts.
Tuesday June 30 -- $5. AOUW $4.84. For express on the laundry 30 c for ice cream 30 c. yesterday John Spruhan and his son Guy started on a visit to his daughter in southern part of Texas. Eva's face is not any better. She is badly bunged up. Harry Kritz and wife returned from their wedding trip to Indianapolis yesterday. The weather is hot. Good weather to make corn grow fast.