SEPTEMBER 1903 - HIRAM PRATT DIARY
Waveland, Indiana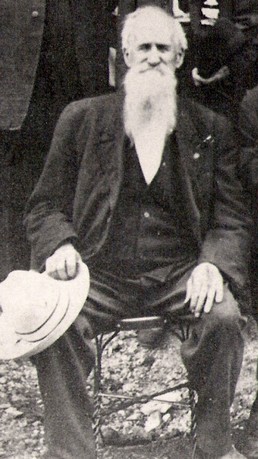 Note: These diaries were in the Waveland Public Library for decades but were disposed of by a librarian several decades ago. Luckily, another librarian's daughter (thanks sooo much Pam, at the death of her mother, Virginia Banta Sharpe found them in some belongings and gave them back for proper housing. A complete circle; however, only 14 of the 50+ diaries were saved from the library's incinerator. I'm a librarian too and thought since they'd been lost to posterity for so many years that it would be a good thing to transcribe them and give them to the world. They are currently housed in proper temperature/storage at the Crawfordsville District Public Library - typed as they were written
Note 2 : Karen Bazzani Zach (transcriber) was raised in the big 'ol town (500 people) where HA Pratt lived 5 decades before I was born. I remember the building where his little shop was and wish it was still there. What an interesting little place. ALAS! Progress ! Oh, and I've tried to type the diaries as is - mistakes & all
Note 3: Some information about Pratt -- he was born in Parke County, Indiana April 20, 1840 the oldest child of eight born to Erastus & Elizabeth Allen Pratt and died October 12, 1914 in his beloved Waveland, Indiana. He was twice married, first to the love of his life (he kept a life-sized poster of her in one of his cabinets at his barber shop, even long after his second marriage) Eliza Franklin Shaw (born Oct 23, 1841 died Oct 12, 1887), and #2 to his friend, Evaline "Eva" McMains. He was very active in the community where he and Eliza chose to live. He gave generously of his time and money to the Methodist Church in Waveland. For a few years, he served as Marshall of the town. Also, he worked diligently for his Odd Fellows, Rebekah & Knights of Phythias Lodges, was for a time on the town board, and read to those who could not read from the several newspapers he was agent for. Pratt volunteered and served for three years during the Civil War (Co. B, 36th Infantry), and spent time in the dreaded Andersonville prison. He and Eliza adopted a son, Willie Franklin Stump, age two (not sure ever officially or just had permission to take him from the Poor House in Crawfordsville) and he was an amazing young boy (high grades, worked in the church, quite musicially inclined, just an ideal child) until Eliza was taken to the hospital where she was operated on for six cervical tumors (one weighing six pounds) from which she died. Willie went wild after that and he and Hiram's second wife, Eva never got along. He ended-up in Reform School (for stealing a dollar twice from Eva among other small crimes), and later sent home to die due to consumption (what we know as tuberculosis) dying in Hiram's arms on April 12, in 1894. Hiram missed Willie and Eliza more than most I do believe as he wrote about them so often in these diaries. Just wish the rest of Pratt's diaries he wrote for over 50 years as a barber in Waveland still existed :( kbz - ENJOY !

---
Tuesday September 1 -- $3.80. Charley Ellis and his mother and Philip McMains and Charley's little girl and boys went over beyond Portland Mills to visit Sam McMains and his two daughters, Mrs. Turner Grimes and Mrs. Sam Rambo. The weather is yet cool. Leslie Carrington has sold his meat market to Mr. Williams of Browns Valley.
Wednesday September 2 -- $3.20. I get 30 copies of the Crawfordsville journal every day. Two have fell by the wayside. Look for more next week. I was called to shave Penn Hanna after 9 o'clock this evening. Eva had put up there on her way home from the Prayer Meeting. A war is looming up between Turkey and Bulgaria. Beef steak 20c.
Thursday Sept 3 -- $2.00. Sent Buterick's Publishing Co 90 c for CS Kritz for the Delineator one year. Expense 3c Samps (Stamps?) 6 cts. Sent JJ Campbell of Logansport Ind $5.12 to pay dues for laundry work done. Eva spent the afternoon over at her sister Nancy kelso's. Warmer
Friday Sept 4 -- --$3.25. Paid 25 c for 2 packages of Arbuckle Coffee 25 c for a beef stead 5 c for a loaf of bread 20c for 5 lbs of sweet potatoes. Charles Ellis and company re at our house tonight. Penn Hanna has had to keep his bed all day. He had a sinking spell last night and had to call a doctor. The weather has been fine today.
Saturday Sept 5- -$12.20 Paid 5c for 3 peaches 5c for cheese and crackers for my supper. Sent a beef roast down home by Tom Roberts cost 35 c. Last Tuesday I paid for washing 35 c. Bought an ice mellon for 15 c. We were done work a little before 12 or midnight. My feet are so sore I can hardly walk at times.
Sunday Sept 6 - 47 years ago today, Eliza F. Shaw and I were married. She died Oct 12, 1887. Charley Taylor and I went to Crawfordsville today was at First Presbyterian Church and heard the pastor Dr. Kanu. "In the beginning was his text." We ate dinner at Bob McMains. Returned via Yountsville and Alamo. Heard brother Moorman tonight. On our way home stoped at Penn Hanna. He had just died the hour of his death 8:28 p.m.
Monday Sept 7 -- $3.85. Paid $6.05 for gas and oil - oil cost 10 c and is selling a t 15 c. gasolene cost 13 1/2 and is selling at 17 per gallon. Paid 20 c for a beef steak. The funeral of comrade Penn Hanna is announced for 3 o'clock tomorrow afternoon. Harry McMains and wife were at our house last night. I mean tonight.
Tuesday Sept 8 -- $3.65. Paid 75 c for 5 pound of lard. The funeral of Penn Hanna was held at his late residence on West Main Street and was attended by a large gathering of relatives and friends. A rain came while the service was being conducted. Sermon was by the Presbyterian Pastor. The body of Penn Hanna is at rest in the Maple Ridge cemetery north of town.
Wednesday Sept 9 -- $3.00. The fair at Crawfordsville is being largely attended. If Eva recovers sufficiently we expet to be there on Friday. She has a lame back and gets around very slow, she has to be careful for the least variation from a perpendicular causes her to yell like she was pierced by a dagger. Warm today. Mellon 10c.
Thursday Sept 10 -- $1.90. sent eh Cincinnati News Co. $10. Expense 10 c. Paid Charlie Kritz 30 for two pair of socks. We had a little rain last night and also this afternoon. Harry Barr has promised to keep shop for me tomorrow wile Eva and I drive up to Crawfordsville John Spruhan sold 256 tickets for the fair this morning.
Friday Sept 11 -- $1.10. Eva and I were on the road to the county fair 20 minutes of 7. The morning train passed us after we had passed Browns Valley. We were in the fair ground at 10. Tickets 75 c. dinner 50. Pd Wm. Warrick for a picture group 25 c. We were home a little after sundown.
Saturday Sept 12 -- $5.95. Paid Harry Barr 80 c. He charged me a dollar for keeping shop open. He done work to the amount of 45 c sold a few papers. Yesterday at the fair I bought a package of Borsted Talcum powder fo4 20 c and spent 5 c for a drink of orange cider. It was poor stuf. (sic). Charles Ellis and his company started home yesterday morning. Warm today.
Sunday Sept 13 - This morning Sarah Barton and I started out for a buggy ride at 20 minutes of 7 o'clock. We went north and east over a rout that neither had ever been over. Freedom Church we passed north of and up and down the hills over hills and valleys through the neighborhood of "Possum Ridge" we winded our way crossed Rock River "Sugar Creek" on a very high iron bridge about a mile from this place I stoped at Mr. Stonebrakers for information and found we were on the right road and 7 miles from home and 10 from Crawfordsville. Passed through Yountsville and were in Crawfordsville in good time for church in the First Methodist. Took dinner at Mrs. McClures boarding home. Spent an hour at Oak Hill cemetery and was back home in time for church.
Monday Sept 14 -- $2.15. Paid $5.44 for gasoline. Beef steak and roast 45 c. yesterday morning at 3 o'clock Mrs. Livings died of typhoid fever. She was taken sick the Sunday before. She left 2 children one a very young babe about a month old. She was the wife of George Livings. I have known her all her life. She was Lora Mitchell before marriage. Eva was at Kelso's yesterday.
Tuesday Sept 15 -- $2.15. Beef roast 35 c. George and Fred Wymore, Fred's wife and a Mrs. Hutton were at our house for dinner. They had been at the funeral of Mrs. George Livings. George lives in Cherry Vale, KS. He moved from this place 20 years ago. Fred lives at Marshall Park (sic) Co Indiana. Snow 10 feet deep in drifts in North Dacota. (sic)
Wednesday Sept 16 -- $2.20. Sent Cin Post 44 expense 7. This morning papers say a white frost done great damage to the corn crop in Iowa Minnesota and Nebraska. It was so cold here today that fire was put in a good many heating stoves. We had a fire in ours at home and in the shop. Saida Barton is teaching school at No. 10 the Penn school house.
Note: Saida Barton was the daughter of William Barton and Catherine Trump, one of 10 children.
Thursday Sept 17 -- $1.60. Paid 25 c for 70 pounds of sweet potatoes. Sent Hearts Chicago American 88c express 7c. There will sure be frost in the morning. I have had a fire in the heating stove since before sundown. Alex Moore's wife died this morning. She had been sick but a few days - was in town Monday to see the doctor.
Friday Sept 18 -- $2.15. Frost this morning. Eva was up town today and called on the Miss McCormick's to have her dress fitted. They are making her a new dress and a new dress skirt. She is going to visit her niece Mrs. Perla M. Conover in Kansas City, Mo some time in October. She wants to surprise her. Yet there might something take place, that she would not get to go.
Saturday Sept 19 -- $5.20. Sent the Crawfordsville Journal $1.58 expense 5 c. The frost was too light to do much damage. The funeral of Mrs. Ethel Moore will be held in the ME Church house, sermon by JJ Fisher our pastor two years ago. I have had very little work today. Paid 50 c for fresh pork. 10 c for 8 bananas 25 for beef steak.
Sunday Sept 20 - Eva went with me to meeting. The funeral of Mrs. Alex Moore occupied the hour. Bro Fischer sang a beautiful solo "I surrender" was the name of the song. It was a favorite of the deceased. After dinner we drove over to Russellville and was at Jim McMains an hour or so. Returned home and went to church. Eva visited at Mrs. Dulin's. I visited Willie's grave at 11:20 a.m.
Monday Sept 21 -- $3.45. Paid Mag Moore 35 for last weeks washing. Paid the Standard Oil Co $3.38 for 25 gallon of gasoline. Eva rec'd a letter from her niece Perla and two Kodack (sic) pictures - one of herself and husband and one of two children of her husbands sister. The conditions of the weather is very fine now.
Tuesday Sept 22 -- $1.90. Paid 85 c for the grinding of two razors. The work was done in Terre Haute. I have commenced to move into my new quarters. Rent $6.60. I paid last week it paid to and including the 8th of August. I hope to get moved entire this week. I have quite a lot of old papers to remove. Paid one dollar and 20c for canton flannel for Eva.
Wednesday Sept 23 -- $2.85. Eva stoped on her way from prayer meeting at Mrs. Penn Hannas and stayed until I was passing by. It was 10 o'clock. The Evening News failed to get here tonight it has failed twice already this week. There will be frost in the morning but not heavy.
Thursday Sept 24 -- $4.40. I heard today that J. W. Robertson came very near dying yesterday evening. I see him out on the street today. I have not yet got all of my goods moved to the new room. I hope to make a finish of it on tomorrow. There was a frost this morning and I think there will be one in the morning.
Friday Sept 25 -- $11.90. I got my chairs in position in the new shop and some work this evening. The first man in the chair for a shave was Wm. Milton a laborer on the Big 4 Railroad a resident of Virginia. He was helping to put in cement butments (sic) for culverts and bridges east of town.
Saturday Sept 26
. $8.15 - Dues in the AOUW $3.81. In the IOOF $1.36. A 1 lb can of baking powder 25. lard 6 ½ lbs 80 c. Flour 80 c. There was a good rain fall before I went home. I left the shop after 1 o'clock. The Stars were shining as I winded my weary way home. Clay Jarvis is not expected to get well. Warm day.
Sunday Sept 27 - This morning 20 minutes of 8 Eva and I were on our way to Ladoga. We were there in time to attend meeting. I went to hear the Methodist minister, there was no preaching there until night. I droped in at the services in the Presbyterian church. We are at Anderson's tonight.
Monday Sept 28 -- $1.65. In company with Anderson McMains wife we went to the funeral of Badger Groves' wife. TJ Shuey a former pastor of the church at this place conducted the services. We were at home before 5 o'clock. Paid 30 c for ham sausage and 5c for a loaf of bread. The doctors have given up all hopes of the recovery of Clay Jarvis. Warm day.
Tuesday Sept 29 -- $4.05. Eva paid the McCormick girls $6 for the making of her dress skirt and a dress. If Perla Petty does not come here on a visit by the 20th of this month she will go to see her. She is making arrangements looking that way. Clay Jarvis died this evening at about 8 o'clock. Warm today.
Wednesday Sept 30 -- $3.15. Paid another weeks rent to Mrs. McCormick. This pays the second week in Aug. The rent here in TL Hannas building is $5 a month. I had to do the papering - cost me $10. I have the nicest room now that I ever had. Several years ago I dreamed of having a shop in this room. We have had several showers of rain since last Saturday night. Warm today.