MAY 1911 - HIRAM PRATT DIARY
Waveland, Indiana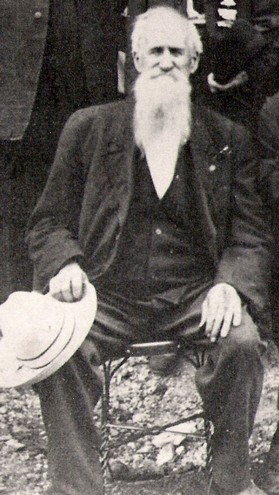 Note: These diaries were in the Waveland Public Library for decades but were disposed of by a librarian several decades ago. Luckily, another librarian's daughter (thanks sooo much Pam, at the death of her mother, Virginia Banta Sharpe found them in some belongings and gave them back for proper housing. A complete circle; however, only 14 of the 50+ diaries were saved from the library's incinerator. I'm a librarian too and thought since they'd been lost to posterity for so many years that it would be a good thing to transcribe them and give them to the world. They are currently housed in proper temperature/storage at the Crawfordsville District Public Library - typed as they were written
Note 2 : Karen Bazzani Zach (transcriber) was raised in the big 'ol town (500 people) where HA Pratt lived 5 decades before I was born. I remember the building where his little shop was and wish it was still there. What an interesting little place. ALAS! Progress ! Oh, and I've tried to type the diaries as is - mistakes & all
Note 3: Some information about Pratt -- he was born in Parke County, Indiana April 20, 1840 the oldest child of eight born to Erastus & Elizabeth Allen Pratt and died October 12, 1914 in his beloved Waveland, Indiana. He was twice married, first to the love of his life (he kept a life-sized poster of her in one of his cabinets at his barber shop, even long after his second marriage) Eliza Franklin Shaw (born Oct 23, 1841 died Oct 12, 1887), and #2 to his friend, Evaline "Eva" McMains. He was very active in the community where he and Eliza chose to live. He gave generously of his time and money to the Methodist Church in Waveland. For a few years, he served as Marshall of the town. Also, he worked diligently for his Odd Fellows, Rebekah & Knights of Phythias Lodges, was for a time on the town board, and read to those who could not read from the several newspapers he was agent for. Pratt volunteered and served for three years during the Civil War (Co. B, 36th Infantry), and spent time in the dreaded Andersonville prison. He and Eliza adopted a son, Willie Franklin Stump, age two (not sure ever officially or just had permission to take him from the Poor House in Crawfordsville) and he was an amazing young boy (high grades, worked in the church, quite musicially inclined, just an ideal child) until Eliza was taken to the hospital where she was operated on for six cervical tumors (one weighing six pounds) from which she died. Willie went wild after that and he and Hiram's second wife, Eva never got along. He ended-up in Reform School (for stealing a dollar twice from Eva among other small crimes), and later sent home to die due to consumption (what we know as tuberculosis) dying in Hiram's arms on April 12, in 1894. Hiram missed Willie and Eliza more than most I do believe as he wrote about them so often in these diaries. Just wish the rest of Pratt's diaries he wrote for over 50 years as a barber in Waveland still existed :( kbz -- ENJOY
---
On front of this diary is a piece of paper glued that says, "Waveland Ind HA Pratt, Diary for the year of 1911.
Inside there is a page to fill out that says "Remembrancer"
Reisdence Waveland PO BOX Ind. Telephone NO 24-6. Business Address Cross Street Telephone no. 6.
Other things are not filled out
Life Ins Policy Union Mutual of Maine at Portland
In case of accident notify Mrs. SE Pratt
---
Monday May 1 - I took Nancy Kelso to her brother Anderson McMains and went back to Alfreys and took Eva and Miranda to Jennie Hanna's for dinner. Tonight then go to this brother Robert's and stay over night and from there will be taken to the station for the cars and will be here at 10 o'clock. We were on the way home by 10 minutes of 10 o'clock and were 3 hrs and 25 minutes on the road. The wind was high and a real cool rain
Tuesday May 2 - Yesterday I paid CW Spencer $6 for 4 blets (?) Bbls (?) of Portland cement and 70 for a double cooker which I gave to Mary Alfrey. Spent 75 for bacon and beef steak. 25 for buller ? one lb. John Alward has commenced the building of a cement walk across the north end of Eva's vacant lot between Kelsos and Russells. He does the work on payment of account of store debt he made with me in 1893-4.
Wednesday May 3 -- $1.25 There was frost plain to be seen this morning. The small fruit in perhaps injured some it will be known to what extent later. Paid 10 for soap 45 for a beef roast and 5 for a loaf of bread and the same for a box of carpet tacks. Paid Mrs. Eva Collings a niece of Eva's a dollar for her assistance in house cleaning. Albert Wright will move to Crawfordsville Saturday. Paid Sims the hotel man for my breakfast Tuesday.
Thursday May 4 - Cloudy turned a little warmer 57. $11.40. Lat this evening. Paid 10 c for 3 oranges 15 c for 1 pound of nice lettuce. Paid Mrs. Eva Collings a dollar for helping to clean house. They will get house cleaning done tomorrow. Bob McMains was at our house for supper. McNutt & Mitchell have consolidated their meat market with the McNutt grocery store and occupy one room instead of two. I put 10 dollars in the bank. I have a cold and hoarse.
Friday May 5 - Clear a part of the day 56. $5.25. The women finished house cleaning this evening. We celebrated the event by feasting on ice cream and cake. I paid 50 c for a half gallon of ice cream. TL Hanna and wife returned from California at 2 18 this afternoon. Mr. Hanna people say w ho have seen him say he is looking fine and seems to be enjoying life. Paid 25 c for ten milk tickets. 25 c for a pound of butter. Getting warmer.
Saturday May 6 --$5.30. The sun shone quite warm. 67. Albert Wright has gone to Crawfordsville. He failed to call for settlement. He owed me $1.62 and I owed him 75. It is now 20 minutes after 12. I was done work half hour ago. Paid 10c for a bowl of sweet milk and two biscuits. The dancing class have a fine bouquet at the Jones restaurant tonight. All of the churches in town have representatives in the dance.
Sunday May 7 - 73. Clear most of the day. I went to hear Bro Fertich at the morning service. He was very interesting and in spite of my best efforts I got drowsy. I could not keep my eyes open all the time. The clock when I had got in bed struck one. This afternoon I got a little sleep setting in a chair and tonight never got the least big sleepy. He talked about the King James translation of the bible. I am very much interested.
Monday May 8 -- $2.25 Clear 74. I spent nearly the whole of the forenoon in cleaning the hen house and preparing the garden for plowing. Bought 10 gal of gasoline for 2.10. A pound of cheese for 20 c. Tonight I noticed a lare? Lose? Sore on the right jaw of Buddy Kelso's cow and concluded I did not want to use any more milk or butter from that cow. Paid John Holland 50c for 2 lbs of butter made by Mrs. Eliza Ware.
Tuesday May 9 - Clear and warm 79. $1. Paid Henderson Oliver 80 c for plowing the garden. Dave Russell has the care of it this season. He gets half of the garden to plant whatever he wants to raise. He planted nearly all of it today. Paid 18 c for a half gallon of onion sets. 5 c for a paper of lettuce seed. 25c for pork chops. The weather has warmed up considerable since Monday of last week. It was uncomfortable cold that day. Auntie Rosebaum was at our house this afternoon.
Wednesday May 10 -- $.95. Paid $1.50 for 100 pounds of bran and shorts. The war in Mexico seems to be growing worse all the time. The insurrects are offering $50 a day for recruits. If Diaz the President would resign peace would be restored. This has been the warmest day of the season 80. One sun stroke recorded in Chicago. Sent The News a check for $13.59. Paid 18 c for 1 ¼ lbs beef steak.
Thursday May 11 --$45.85. Clear or in a maner so all day. 78. 85 cts. 15 c for dried beef 10c for bread since last report. Paid Mrs. Moore 40c for washing. Eva and Miranda spent the day at Herbert Lewis'. Mrs. Allen Moore went with them. Everybody is well pleased with the fine prospect we have for small fruit and apples. New matured onions are on the market at 7 c a pound. I weighed in my shirt sleaves even 200 lbs. have fallen off 35 pounds. Put $45 in bank today.
Friday May 12 -Clear 76 $1. This date is a reminder to me of the death of my precious little woman 23 years ago and 8 months. This seems like it was long ago but the time has passed so quietly and swiftly that I do not realize it has been so long. B y and By I hope to meet her on the ever green shores of home of the soul. It has been 17 years and two months since our foster son William F. Pratt died. He was born May 2, 1873. Near New Market Indiana.
Saturday May 13 --$5.50. Clear 71. 75 c for 24 lbs of flour 75 half pound of tea 40c Farmers are real busy now at corn planting and don't come to town only when they have to. After supper they come in and stay some of them until after midnight. I was working on my last man at 15 minutes before midnight. It will perhaps be after 12 before I get my supper eat. I am so sleepy now that I can hardly sew (sic) what I'm writing about
Sunday May 14 - Clear or nearly so all day 80. I put the horse to the buggy and Eva and Mirandy were taken to meeting. I got a little sleepy before the meeting closed. John Pickard saved me from sleep. I thanked him for it. Tonight I took all three of the sisters to meeting. Brother Hally Burkhart was our guest from Saturday night until Monday morning. Miss Etta Brown took dinner with us. She is one of the Hello (?)girls -a lovely young woman.
Monday, May 15 -- $6.10. Cloudy 82 and warm with no signs of rain. Paid Fred Rice $1.30. He attended to the delivery of the papers for me. Buddy Kelso took Hally Burkhart over to Milligan Station in time for the train going to Indianapolis at 8:56 a.m. My lunch at Jones' Restaurant last Saturday night cost me 15c. It was half past 2 when I got to bed after eating my midnight meal I rested a while from my labor by going to sleep.
Tuesday May 16 -- $3.35. Cloudy but don't indicate rain. 83. Paid John Holland $1.40 1 pineapple 15 3 bananas 05. There is a small green bug working the destruction of the peach crop. The new preacher for the Presbyterian Society came in today. His name is Salin. Nancy kelso and her sister Miranda Ellis spent the day at Bob Kelsos. This was the warmest day of the season. Mercury at 3 p.m. reached 87. Some of the farmers are done planting corn.
Wednesday May 17 -- $1.10. The mercury at our home recorded 90 at 2 p.m. decided by the warmest day yet. Bought a small can of dried beef for 15 c. Six bread tickets 25 a pound of Graham crackers 10. W ill Kelso used "Bobby" for a trip to Russellville for chicken feed. Have paid 70c express on the laundry since last report. Mrs. Margarett received 40 c for having done our weeks washing. No sign of rain yet.
Thursday May 18 - Cloudy. Heard thunder no rain. $1.30. Two box of strawberries 25. The farmers are getting restless on the account of lack of rain. Charles Spencer was the first one to oil the street in front of his store. Eva is using the gasoline stove that my little woman used - the first one ever brought to Waveland. The big stove is in for repairs. The cement used in our concrete walk between Kelso's and Russell's cost $16.25.
Friday May 19 -- $75. Cloudy and a few drops of rain fell between 2 and 3 o'clock. 87. Will Kelso's brother John, wife and a daughter from Liberty, Kansas came in on the 2:18 p.m. train. They left home yesterday morning. I have repaired 3 of the wire screen doors and have as many more to repair. The wire cost 70 c. Miranda Ellis will leave for Crawfordsville sometime tomorrow, then the fore past of next week she will go to Rossville, Ill. She will return before fall.
Saturday May 20 - Cloudy and rained a little 83. $5.90. Paid 15 c for evening lunch. A pound of butter 25. 6 bananas 10 yesterday. I paid 25c for 2 boxes of strawberries and the same for a quart of ice cream. I was done work by half past 11. It will be after 12 before I can get to bed. I get very tired and sleepy about this time tonight. I catch myself oftentimes in a stagger - am so sleepy. Buddy and his brother John went fishing. Left the fish in the creek.
Sunday May 21 - Cloudy rain last night. 82. I heard our pastor WH Fertich both morning and evening. I notice the male attendance is very scarce or rather few about 5 families to one male. Eva and John Kelso's daughter Jennie were at the meeting tonight. Jennie met a few of her friends who were her school mates when they were children. She remembered them as their names were made know. John Kelso is not a church man he never goes into a church service.
Monday May 22 -- $1.25. Rained a good shower before the noon hour. 86. Paid Fred Rice $1.50. Mrs. Moore 40c. Express 35. Sewing machine band 10c. The rain made the ground too wet in many places to cultivate. I bought a dozen wonder burry plants for 5 cts. It is claimed that it will bloom and bear berries until killed by the frost. Our black berry bushes are full of bloom we will feast on pies if not proved initially hindered.
Tuesday May 23 - 77. Clear or nearly so. $1.10. Paid 10 c for dried beef. John Kelso, wife and daughter went over to Russellville to visit George Spencer and other relatives. Our conveyance was furnished by CW Spencer. Bob McMains was at our house for the noon day meal. This is a bussy time with the farmers some are not yet done plowing some are through with the planting some are cultivating the young plants of corn.
Wednesday May 24 - Clear sunshiny day. 77. $1.10. Paid 25 c for a few slices of pork at 16 per lb. I weighed this morning even 200 lbs. A few years ago I weighed 235. I am not sick nor have I been for quite awhile. I don't understand the cause of this unless it be on the account of my age 71 - 2 mos. Mable Robertson was married this morning to a man of Indianapolis, a lawyer. Bob McMains is with us tonight.
Thursday May 25 - Clear a few clouds could be seen flashing. Practically clear. Paid 4 cts a pound for 10 ½ worth of white onions grown in Texas. The President of Mexico has had to get down from his porch. He had been president 30 years a new man has bee put in his place. The war is at an end and for awhile the dove of peace will reign. Mr. Shadrick died of apoplexy this a.m. He was an old man and had grown deaf. We would be glad for rain.
Friday May 26 - $2.35. Clear, no signs of rain 90. At 3 p.m. Mercury reached 93. Mr. RA Shadrich's funeral service was held at the residence at 2:30 p.m. Frank Kritz was his daughters or is his daughter's husband. Mrs. Floyd Yeager of Rockville was in our house a few minutes this morning. She moved away from here. T he spring Bro EE Moorman of Indianapolis had the use of our house n buggy this afternoon. He ge (sic) a half dollar for the use of the outfit.
Saturday May 27 -- $6.15. 92. Clear and no rain in sight . Local showers are expected tomorrow. Yesterday I paid $2.10 for 20 gal of gasoline. Today 2 packages of Arbuckle coffee for 50c. a pound of butter 25. a small roast of beef 25. I was bothered with excessive warm weather today more so than at any other time this season. Memorial and decoration tomorrow. Bro Moorman went home this a.m. I will be at home before 11 tonight.
Sunday May 28 - Clear or about so there was not obstruction to the sun rays. I attended church and hear a good sermon by Bro. Burkhart. At 2:30 p.m. we went to hear Bro Solin an memorial of the Union Soldier dead and alive. He gave a good patriotic talk. At night we went to hear the baccalaureate sermon by Bro. Burkhart. The house was nearly full of people. Carrie Talburt Mitchel and old time resident was there too.
Monday May 29 -- $2.45. 92. We had a little sprinkle of rain late yesterday afternoon not enough to lay the dust and yet it cooled the air so that the heat was not so strong. Paid the boy $1.05 including the Record Herald. I went to read about the war 50 year ago to me it is verry interesting. I helped to make the history my enlistment however did not occur until Aug 9, 1862. I was then in my 22nd year. Paid last Saturday 50c for 2 pounds of butter. I will be at home by 9 o'clock.
Tuesday May 30 - Cloudy and threatened rain. 73. Paid 70 c for 7 cans of Chalenge brand of condensed milk. Eva bought nearly 3 quarts of nice strawberries for 25 c. We had all we wanted to eat at the evening meal and enough left over for a short cake tomorrow. At The Speed was for automobile racing in Indianapolis today one man was killed and 15 other injured. The race is 500 miles and the one that got there first is the winner. $1.55 is the receipts for today.
Wednesday May 31 - Rain was expected and anxiously looked for but failed to come to pass. This evenings News gives account of rain. Lighting and thunder in a good many places several houses and barns were struck by lightening. Paid 50 c for a pair of suspenders. The President. 25c for 10 milk tickets 5c for new onions. 10 for new potatoes at the rate of 3 cts per pound. GE Hanna and wife start on a trip west in the morning to be gone from here.