Diary of Hiram A. Pratt, Waveland Barber
(Standard Diary #31) --
September 1870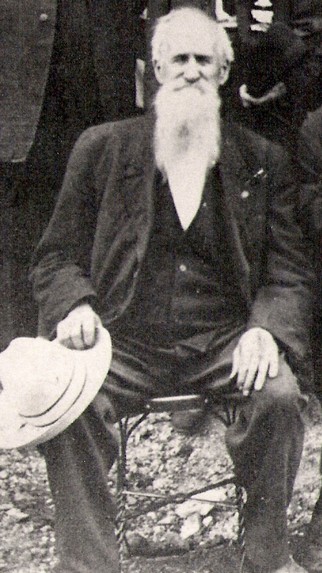 Note: These diaries were in the Waveland Public Library for decades but were disposed of by a librarian several decades ago. Luckily, another librarian's daughter (thanks sooo much Pam, at the death of her mother, Virginia Banta Sharpe found them in some belongings and gave them back for proper housing. A complete circle. I'm a librarian too and thought since they'd been lost to posterity for so many years that it would be a good thing to transcribe them and give them to the world. They are currently housed in proper temperature/storage at the Crawfordsville District Public Library - typed as they were written
Note 2 : Karen Bazzani Zach (transcriber) was raised in the big 'ol town (500 people) where HA Pratt lived 5 decades before I was born. I remember the building where his little shop was and wish it was still there. What an interesting little place. ALAS! Progress !
Note 3: Some information about Pratt -- he was born in Parke County, Indiana April 20, 1840 the oldest child of eight born to Erastus & Elizabeth Allen Pratt and died October 12, 1914 in his beloved Waveland, Indiana. He was twice married, first to the love of his life (he kept a life-sized poster of her in one of his cabinets at his barber shop, even long after his second marriage) Eliza Franklin Shaw (born Oct 23, 1841 died Oct 12, 1887), and #2 to his friend, Evaline "Eva" McMains. He was very active in the community where he and Eliza chose to live. He gave generously of his time and money to the Methodist Church in Waveland. For a few years, he served as Marshall of the town. Also, he worked diligently for his Odd Fellows, Rebekah & Knights of Phythias Lodges, was for a time on the town board, and read to those who could not read from the several newspapers he was agent for. Pratt volunteered and served for three years during the Civil War (Co. B, 36th Infantry), and spent time in the dreaded Andersonville prison. He and Eliza adopted a son, Willie Franklin Stump, age two (not sure ever officially or just had permission to take him from the Poor House in Crawfordsville) and he was an amazing young boy (high grades, worked in the church, quite musicially inclined, just an ideal child) until Eliza was taken to the hospital where she was operated on for six cervical tumors (one weighing six pounds) from which she died. Willie went wild after that and he and Hiram's second wife, Eva never got along. He ended-up in Reform School (for stealing a dollar twice from Eva among other small crimes), and later sent home to die due to consumption (what we know as tuberculosis) dying in Hiram's arms on April 12, in 1894. Hiram missed Willie and Eliza more than most I do believe as he wrote about them so often in these diaries. Just wish the rest of Pratt's diaries he wrote for over 50 years as a barber in Waveland still existed :( kbz
---
Thursday, Sept 1
-- A letter from Bro Ben & Mary J. Shaw. $1.50 I made today in shop, besides I put in 7.15 on the road. We had a little shower of rain in the evening that prevented our work on the road any further. General Lewis Wallace our candidate for congress spoke to the people of this place at the ME Church. His speech was good.
Friday, Sept 2 -- $1.75 I made in the shop concluded I could make more money easier in the shop than on the road shoveling gravel. In the Rockville Republican "Old Soldier" has an article for Soldiers of Parke Co. decidedly the best thing I have read for many days. Eliza has her health some better now.
Saturday Sept 3 -- $4.50 I made today in shop. Spent 50 this morning for fresh beef. We had a little shower of rain after nightfall. I come in by 11.08 it was clear above stars were shining. Several neighbor women have been in to see Eliza this afternoon. The fair held at Bridgeton Ind was a success. Tomorrow we want to get a buggy and horse or go and see Uncle Roy Grimes folks HAP (Note: When I received these I typed some up and shared on the Montgomery County list serve- we all fell in love with this man and his life - after we saw his initials in this entry we began calling him HAP - kbz)
Sunday Sept 4 -- I got Bill Steels' Mollie" and buggy this morning and we went out to Uncle Roy Grimes. There was 4 other grown persons there for dinner besides us two. Aunt Margarette gave us a splendid dinner, and when we started home gave us 3 good pumpkins. We stoped a few minutes at Uncle Marshals none were at home but Becka and Nan.
Monday Sept 5 -- I bought me a buck saw this morning for one dollar paid 25 cents for a file to sharp it with. Pd 75 for 1 pt hair oil. I had to make me a saw buck before I could use my saw, got it done soon after dinner then spent the remainder of the day in making stove wood. Eliza washed and ironed.
Tuesday Sept 6-- $2.30 I made today in shop. Napoleon of France has surrendered and Gen McMahon wounded. The germans have now another big battle. It seems to me that the French could do well to give up. The Russelville fair commenced yesterday. We expect to go Thursday and Friday. Bought 2 # of fresh beef for 25 cents. The weather is most delightful.
Wednesday Sept 7 -- $2.10 I made today in shop. There was several went through town out to the fair ground today. Tomorrow and next day will be the 2 best days. Eliza was at Mrs. Haleys awhile this a.m. There is to be a minstrel troup perform here to night. (in town 4 o'clock ) 40 for hair day?
Thursday Sept 8 -- $2.50 I made in shop today. Pd one dollar for ticket to fair. Pair of ? Linnen .50 1 for pocket handkerchief 50 cents for string the Glass steam engine 85 for 2 pr of suspenders. 35 for lamp chimneys 65 for beef total $5.85. We were suprised to meet Miss Allice Shaw on the fair grounds. We will stay at J. Hovermills Allice at uncle Marshals.
Friday Sept 9 -- We returned to fair tolerable early. Allice never come until after we had been there about one hour. A great many people attended the fair yesterday and lady Janne Robinson brought us home. It cost us nothing to go out nor return. Had a little sprinkle of rain tonight. Allice sayes she is going to stay with us 2 months or more.
Saturday Sept 10 - $3.50 I made in shop today. Pd 25 cents for 1/2 gal coal oil, 75 cents to hear the Blind mens concert of vocal and interesting music. They play Lincoln's funeral dirge decidedly the best pice (sic) of music I ever had the pleasure of hearing. Eliza and Alice have been busy already.
Sunday Sept 11 - We stayed at home all day at night we went to the Presbyterian church. There was not as many out as I have commonly seen. The weather remains beautiful only it is today the dust is a great pleague (sic). Eliza and her sister have a good deal of talking to do. We are all well.
Monday Sept 12 -- $1.40 I made this afternoon in the shop in the forenoon I piled up some wood and sawed off a lot of blocks to be split up for the cooking stove. Eliza bought a hat for Allice last Saturday cost $2. They have been making a dress for Allice today. A trial took place today between JT Moore & Dan Witter ? JTM defends it. DW ? JTM $. for work done ? last. Mary to let him have 2 bu of ? W Sued forth money Defendant gained the case. (very dim and hard to read - best I could translate KZ)
Tuesday Sept 13 - 6# of sugar for 1.00 Rent for Aug $2. 1.20 made this in afternoon. Eliza done the washing to do Allice worked at her dress. Pd Milligan & Bro $8.95 for Elizas shoes and dress pattern. I got to attend the fair. Pd $3.50 for a pair of shoes for Allice, the shoes she brought from home were to small Eliza will take them, they cost $3 in Allice's favor .50
Wednesday Sept 14 -- $1.25 made in the shop. The weather has been real warm, had a very light sprinkle of rain. Eliza & Allice and Mr. Halys went out to John Crutchfields on a visit today. They were well pleased with their trip. Bought 4# coffee $1.53 cent. Postage stamps 15 . I am special constable today.
Thursday Sept 15 -- 50 cents is all I made today. Rode with Bill Steele up to Old Bennie Smith's place to serve a summon on young Ben Smith to appear on the 17 as a witness in the case of Thomas J. Lough vs. Wm. H. Hutten. Rev. Mr. Ballard of Rockville will be our preacher next conference year. Hayes goes up close by Lafayette. JW Hoban was expelled for indiscreete actions with some girls. Bought 1 box logwood for Allise 15. Pd J. Bushong $3.50 ?
Friday, Sept 16 -- $1.40 I made today in shop. Pd 75 for 1 pint hair oil. No work came in for me to do untill very late in the afternoon. Vice President Colfax will speak in Terre Haute Sept 29. OP Morton will speak in Crawfordsville Oct 8. Both of these men I want to go and hear.
Saturday Sept 17 -- A letter from Ause Pratt. $4.70 is all I made in shop today. Our preacher for next year is not Ballard but Stallard, we look for him here tomorrow week. The weather continues warm and dry. Rain is needed to replenish the branches so that the stock can have water to drink. The corn crop is going to be good. Fresh beef 1.10 one water mellon .20. 3# butter .75
Sunday Sept 18 -- We went to the Presbyterian Church at 11 a.m. and were at our church at 3 p.m. Bro Harrison preached for us. Our regular pastor will be here next Sunday week. Tonight we will go sit up at Ben McIntosh's his youngest ? (Fife? Tife?) is very sick. It is about tootie ? when I come home last night. Noticed a light in the south west which proved to be a fire at Rockville. A very loss it was.
Monday Sept 19 -- $.70 is all I made in shop today. David Philabum has sold out and is going to move to Michigan in 2 weeks. The big fire at Rockville destroyed 6 business houses and one livery stable. The fire originated in the upper story of Col. Thomas Yeverly (?) store. We are well.
Tuesday Sept 20 -- No work came in for me today. I wrote one letter to CF Vent Cincinati Oh and one to father Shaw, sent for Allice's shall (sic) to be sent her by express. Bought 1/2 bushel of peaches for one dollar; such as I got would not be used only in extreme cases of scarcity caned nearly 5 qts cans. Sealing wax .15
Wednesday Sept 21 - .20 is all I made today. A Wheeler and Wilson sewing machine was left with me today. I have it here at home and am going to try to learn to operate on it, if successful I have the priveledge to sell as many as I can, for every one sold will get $15. If I can't find sale for any I will give up the one I have left with me.
Thursday Sept 22 -- I have done no work today spent most of the time trying to learn to sew on the machine. Have had very poor health (in paranthesis it says luck) at learning. Sometimes I can get it to do pretty well, then it will get contrary and I cant do any work of any account. Eliza and Allice done the washing today.
Friday Sept 23 -- Ben McIntosh's youngest child died this morning at 2 o'clock. I dug the grave, no one came to help me, got it done by 12 or noon. The burrial took place at 3 p.m. Services by Reece Davis Baptist minister. WW's machine agt was here a little while this p.m. Spent 50 for 1 1/2 yds cotton and 2 spools thread.
Saturday Sept 24 -- 7.40 I made today. We had a little rain to day not enough to wet the dust through. I am of the opinion that I can find sale for a few machines before I undertake to canvas in earnest I want to be a good operator so that I can show just what the machine can do. Allice seems to remain with us perfectly satisfied, Eliza is well pleased with her company. .45 for beef.
Sunday Sept 25 -- There was no preaching in town today at 3 p.m. we went up to Haleys intending to go to class but found out there was none, Eliza and Alice went down to see Ben and Mollie McIntosh, late this evening a couple of ladies called in to spend a few minutes in chat. Note he had spelled Allice consistently with two l's but this time spelled with one
Monday Sept 26 -- .30 is all I made today. Spent .35 for butter 1.50 for 50 # flou .30 for 16# salt. The weather continues warm and dry. A good many wells in town have gone dry, my well has 9 ' of water in it yet. I have learned to do pretty fair work on the machine.
Tuesday Sept 27 -- I done no work at the shop today. Eliza and Alice have gone visiting to Zachie Robinsons. Bob McMains helped me take the machine down to his fathers and then I done a lot of work for Evaline his sister Sat dinner there. I believe I have a good chance to sell a machine to Mr. McMains. He tole me when he concluded to buy one he would get it from me.
Wednesday Sept 28 -- .25 is all I made today. Late this evening The Age for Wheeler and Wilsons Machine came around - we took one out to Wm. Kelso. I am in hopes that I can sell him one. We left it there till Friday next. Fresh beef .75 cents 3 box matches .25 one Brown .40 6# strach .55.
Thursday Sept 29 -- This forenoon I went out to Mr. Kelsos to see if he would take the machine. He was not ready to just now. At 3 o'clock this evening John Thorntown, John Cochran, Wm. Watson and Bob McMains and I started to Terre Haute to hear Vice President Colfax speak upon the politicle issues of the day. Rain.
Friday Sept 30 -- Rain last night. We got home last night or rather this morning at 3. We did not get to listen to Colfax for only about one hour. I knew him by his picture. He is a pleasant man. At the close of his speach, 3 cheers were given for Grant's administration and 3 for the Republican party, then 3 groans for Voorheese. Colfax said he did not approve of the graons or it was not the way to treat a public man & show denounce him at the ballot box.