DIARY OF HIRAM A., PRATT, Waveland Barber (50+ years)
(Standard Diary #31) -- MARCH 1885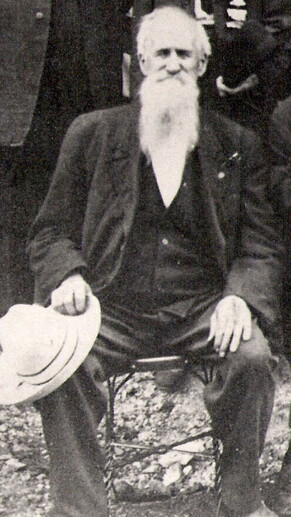 ---
Note: These diaries were in the Waveland Public Library for decades but were disposed of by a librarian several decades ago. Luckily, another librarian's daughter (thanks sooo much Pam, at the death of her mother, Virginia Banta Sharpe found them in some belongings and gave them back for proper housing. A complete circle. I'm a librarian too and thought since they'd been lost to posterity for so many years that it would be a good thing to transcribe them and give them to the world. They are currently housed in proper temperature/storage at the Crawfordsville District Public Library - typed as they were written
Note 2 : Karen Bazzani Zach (transcriber) was raised in the big 'ol town (500 people) where HA Pratt lived 5 decades before I was born. I remember the building where his little shop was and wish it was still there. What an interesting little place. ALAS! Progress !
Note 3: Some information about Pratt -- he was born in Parke County, Indiana April 20, 1840 the oldest child of eight born to Erastus & Elizabeth Allen Pratt and died October 12, 1914 in his beloved Waveland, Indiana. He was twice married, first to the love of his life (he kept a life-sized poster of her in one of his cabinets at his barber shop, even long after his second marriage) Eliza Franklin Shaw (born Oct 23, 1841 died Oct 12, 1887), and #2 to his friend, Evaline "Eva" McMains. He was very active in the community where he and Eliza chose to live. He gave generously of his time and money to the Methodist Church in Waveland. For a few years, he served as Marshall of the town. Also, he worked diligently for his Odd Fellows, Rebekah & Knights of Phythias Lodges, was for a time on the town board, and read to those who could not read from the several newspapers he was agent for. Pratt volunteered and served for three years during the Civil War (Co. B, 36th Infantry), and spent time in the dreaded Andersonville prison. He and Eliza adopted a son, Willie Franklin Stump, age two (not sure ever officially or just had permission to take him from the Poor House in Crawfordsville) and he was an amazing young boy (high grades, worked in the church, quite musicially inclined, just an ideal child) until Eliza was taken to the hospital where she was operated on for six cervical tumors (one weighing six pounds) from which she died. Willie went wild after that and he and Hiram's second wife, Eva never got along. He ended-up in Reform School (for stealing a dollar twice from Eva among other small crimes), and later sent home to die due to consumption (what we know as tuberculosis) dying in Hiram's arms on April 12, in 1894. Hiram missed Willie and Eliza more than most I do believe as he wrote about them so often in these diaries. Just wish the rest of Pratt's diaries he wrote for over 50 years as a barber in Waveland still existed :( kbz
---
HA Pratt - April 20th birthday age 45 written in front of book
---
Sunday, March 1 - I remained at home until time for Sunday School then Willie and I attended. I gave 5 cts in the school. Tonight Webb Hanna and wife and their two children were at our house for a social chat and remained for over two hours.
Monday March 2 -- $6.05. Mr. Wilkerson paid me $30 on a sewing machine. I paid 2.50 on lard bought 50 lbs owe as much more 35 cts for repairs on clock. 25 cts for a bunch of cards. Sent NY Tribune 95 cts. The Inter Ocean 85 cts. 10 cts for stamps. Snow is bout all off the road.
Tuesday March 3 -- $3.30. Paid 2 for rent for last month. 1 for a pair of rubber overshoes. The weather has been tolerable warm, roads are getting real muddy. Miss Nancy Bloomifeld was to see our property today with a view to purchasing.
Wednesday March 4 -- $1.90 . Tub and wash board 1.10. Pd Acker on Life insurance $17.14 on policy of 2 000 for wife. The weather continues warm. Mrs. Hanna likes the gasoline stove I sent or took down here first rate. She will buy one this spring.
Thursday March 5 -- $2.55. Pd one dollar for a few pounds of bacon, perhaps 8 lbs. I read two pages in the Journal concerning the proceedings in Washington yesterday concerning the inauguration of Grover C. Cleveland, President of these united States.
Friday March 6 -- $20.40. Last Saturday I sent by Bert Kritz 18 dollars to THB McCain. 40 cts for bread. Snowed today but it melted as fast as it fell. The Senate in executive session failed to endorse th cabinet for the new President.
Saturday March 7 -- $10.65. Pd 50 cts for oysters and crackers. The weather has been rather raw, snowing at intervals and freezing a little tonight. We were done work by $10.10. Mrs. Bloomfield has bought Jacksons town property. He will move to Kan's next week.
Sunday March 8 - I attended class this morning. Five male members were all in attendance. Charley Talburt eat dinner with us, wife prepared an excellent oyster stew. This afternoon I went over and shaved Bob Moore. Willie was at Sunday School church at the Campbellite tonight.
Monday March 9 -- $5.65. One sack of corn meal 35 cts. The snow has all melted from off the streets, and in the country the ground is bare in many places. Wm. Jackson will move to Atica, Kan next Monday. We will be glad when they are gone.
Tuesday March 10 -- $4.45. Sent The Sentinel Co $4.28 and 27 cts to the Tribune of Washington DC. 25 cts for coal oil. I printed 300 tickets for the lecture of James Hedley, March 30, There is a dance in Milligan's Hall tonight. The weather is fine for sugar making.
Wednesday March 11 -- #3.10 Pd balance on lard 2.50. Two razors 2. There was a brisk little hail storm this afternoon. It did not last one half minute yet the ground was white with hail. The snow yet lingers in places. The pool table, a new business since last Monday draws well.
Thursday March 12 -- $3.65. Candy 30 cts beef 85 cts. Coffee 50 cts 6 yds of calico for hair cloths 50 cts. Pd Sam Milligan $50. The weather has turned some cooler. .50 cts for bread tickets. .25 cts for soap. Rev. WC Davisson was at our house today on a special charge about Jackson's.
Friday March 13 -- $2.60. Billy Hauger left this afternoon for Archie, Illinois where his Uncle Steve Shaw lives, but a couple of miles distant. He will work on a farm this summer and in the fall buy a barbers outfit and locate in some little town for business. Not quite so warm today.
Saturday March 14 -- $7. A young man walked a wire that was stretched across the street from the top of the buildings. He did a good many daring deeds. The roads are getting verry muddy. We were done work by 10 o'clock. Cooler weather.
Sunday March 15 - We attended church at 10 ½ this morning. At 2 ½ Willie and I attended Sunday school after which we went over to Mr. Kleiser's sugar camp and drank some sugar water. The weather was rather cool for the water to drip much. Church tonight
Monday March 16 -- $5.65. Pd 50 cts for cheese. Coal oil 25. 15 cts for onions. Willie traded one doz of eggs for the. Snowed some yesterday. The weather is cold today, Mercury will get pretty low by morning. The pool room has a good run of customers. $43 the first week.
Tuesday March 17 -- $1.65. Sent John C. New & Son for the Journal last month $12.10. Peaches 25 cts. Mercury was below zero this morning. Thawed some during the middle of the day. Pd $1 for a bottle of Harters Iron tonic. Our little boy is quite sick.
Wednesday March 18 -- $1.65. Paid $1 for a visit by Dr. Dunlavy to see our little boy. Beef 40 cts. Willie has been real sick today. We think he has a bilious attack and in the course of a few days will be up and about. Cold and snowing - we are having real March weather.
Thursday March 19 -- $4.65. Paid Charley Read $5 for a pair of shoes. 10 cts for oranges for our sick boy. He is some better tonight. The fever has left him. Snow fell nearly all day. Cold as Greenland tonight. Knights of Pythias card 25 cts. Yesterday's daily papers came in today.
Friday March 20 -- $1.35. 5 cts for a cake of soap. The ground was covered with snow this morning. Snowed at intervals during the day. Dr. Dunlavy was to see Willie again this evening. He is not as well as he ought to be considering his fever is down.
Saturday March 21 -- $13.95. Paid Dr. Dunlavey 1.25 for medicine and a visit to Willie. Willie is not getting along very well, no appetite and very weak. I paid 5 cts for candy for Willie. A letter from Willie Hauger today. Snowed last night. Oil .25
Sunday March 22 - I remained at home all day, Willie has been quite poorly, his body has broken out with red splotches which is pronounced by Dr. Dunlavey as scarletina. The doctor was to see him this evening. The day has been a cool one. Roads in many places are dry. Several of the neighbors called this evening.
Monday March 23 -- $3.80. The weather is yet cold for the time of the year. I attended meeting in the IOOF Hall tonight. AJ Hart took a degree, he had been initiated on last Monday. Willie is some better I paid the doctor 1.25. Wife will soon have her new carpet ready for weaver.
Tuesday March 24 -- $2. I sent the American News Co of NY $10.10. I met with the AOUW order tonight and paid my assessment of $2. I think there is going to be a demand for gasoline stoves this summer and I hope to sell a few. Inter Ocean .65
Wednesday March 25 -- $3.35. Paid 40 cts for Diamond dyes four packages, wife wants to color some carpet rags. We have had a beautiful day. One gal of coal oil .25 and one of vinegar .25 I have a hurting in my stomache (sic) that annoys me considerably. My food is not proberly (sic - properly) digested.
Thursday March 26 -- $2. Log wood and copperas .25. Carpet stretcher 1.25. Coal 2. The day has been the warmest of the season. A few more days and the grass will begin to show. Shep McCormick brought or rather returned a sewing machine that he has had on trial. Oat meal .15
Friday March 27 -- $4.60. Bought a pair of scissors, 1 gross of pens, 2 doz lead pencils and a box of envelopes for 2.55. 1 paper of diamond dye 10 cts. 1 woolen undershirt $1. The weather is a little bit cooler, some indications of rain. We had an invitation to dine with Mr. Milligan today did not go.
Saturday March 28 -- $8.80. The weather is rather cool. Ed Davis was my assistant today. Frank Kritz has been for several weeks and will be again as soon as Davis sis done. I am dieting on oat meal and milk to see if it is for my good. Cow feed 3.
Sunday March 29 - I remained at home today after dark I went over to see how Mary McMains was for several days she has been on the sick list, but is better now. The weather is turning out nice, not withstanding the ground was covered with snow.
Monday March 30 -- $7.45. Charley Kritz came home for a week this morning. He paid my state county tax for me which was $5.05. Wife was uptown Saturday and spent 30 for Willie, material for a couple of waists. Bought a gallon of Maple Molasses 1.
Tuesday March 31 -- $3.40. Bought 17 cakes of laundry soap for $1. The weather continues growing warmer and more like spring. Sent one dollar to Peck's Son Tickets to hear Dr. James Hedley last night at the Methodist Church .70. He is a fine speaker.