September 1885 - Diary of Hiram A. Pratt
Waveland Barber 50+ Years (Standard Diary #31)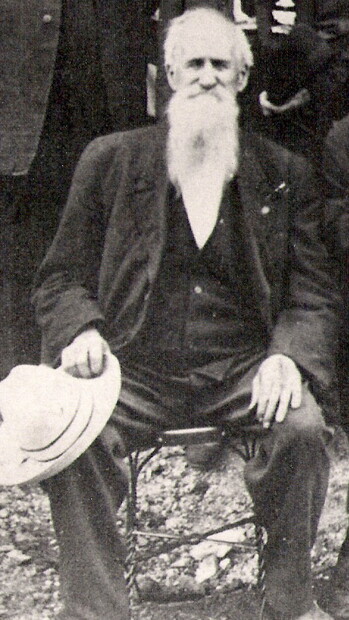 On front of book - HA Pratt - April 20th birthday age 45
Note: These diaries were in the Waveland Public Library for decades but were disposed of by a librarian several decades ago. Luckily, another librarian's daughter (thanks sooo much Pam, at the death of her mother, Virginia Banta Sharpe found them in some belongings and gave them back for proper housing. A complete circle. I'm a librarian too and thought since they'd been lost to posterity for so many years that it would be a good thing to transcribe them and give them to the world. They are currently housed in proper temperature/storage at the Crawfordsville District Public Library - typed as they were written
Note 2 : Karen Bazzani Zach (transcriber) was raised in the big 'ol town (500 people) where HA Pratt lived 5 decades before I was born. I remember the building where his little shop was and wish it was still there. What an interesting little place. ALAS! Progress !
Note 3: Some information about Pratt -- he was born in Parke County, Indiana April 20, 1840 the oldest child of eight born to Erastus & Elizabeth Allen Pratt and died October 12, 1914 in his beloved Waveland, Indiana. He was twice married, first to the love of his life (he kept a life-sized poster of her in one of his cabinets at his barber shop, even long after his second marriage) Eliza Franklin Shaw (born Oct 23, 1841 died Oct 12, 1887), and #2 to his friend, Evaline "Eva" McMains. He was very active in the community where he and Eliza chose to live. He gave generously of his time and money to the Methodist Church in Waveland. For a few years, he served as Marshall of the town. Also, he worked diligently for his Odd Fellows, Rebekah & Knights of Phythias Lodges, was for a time on the town board, and read to those who could not read from the several newspapers he was agent for. Pratt volunteered and served for three years during the Civil War (Co. B, 36th Infantry), and spent time in the dreaded Andersonville prison. He and Eliza adopted a son, Willie Franklin Stump, age two (not sure ever officially or just had permission to take him from the Poor House in Crawfordsville) and he was an amazing young boy (high grades, worked in the church, quite musicially inclined, just an ideal child) until Eliza was taken to the hospital where she was operated on for six cervical tumors (one weighing six pounds) from which she died. Willie went wild after that and he and Hiram's second wife, Eva never got along. He ended-up in Reform School (for stealing a dollar twice from Eva among other small crimes), and later sent home to die due to consumption (what we know as tuberculosis) dying in Hiram's arms on April 12, in 1894. Hiram missed Willie and Eliza more than most I do believe as he wrote about them so often in these diaries. Just wish the rest of Pratt's diaries he wrote for over 50 years as a barber in Waveland still existed :( kbz
---
Tues Sept 1 - $4.85. There was a large assembly of our town people down to the depot to see Mr. and Mrs. Hutton off for Kansas. Jerome Austin of New York Mills, Minnesota was in to see me today. He was a resident here some 15 years ago - hardly knew him.
Wed Sept 2 - Willie and I went over to see Willie Hauger at Newman, Ill. We arrived at that place at 12:30. Willie was at the depot waiting for us. He has a nice shop and is doing a fair business. We will start home in the morning at 12.40. Expense 5.25.
Thurs Sept 3 -- $3. Paid 30 cts for one half pint of Glycerine for wife. 20 cts for peppermint lozengers (sic). We were let off the train this morning at 2.40. By the time we walked home it was sun up. I have been very sleepy all day. Signs of rain tonight.
Fri Sept 4 -- $2.70. Paid 50 cts for 13 bread tickets and 70 cts for a quart of Bay Rum. I am going to send Willie Hauger for the use in his shop a gasoline stove. He is going to batch in order to cut down expenses. Charley Jenkins started for Kansas.
Sat Sept 5 -- $9.60. 50 cts for 13 bread tickets. Sent $1 for or to the American News Co .30 cts for postal cards. I have had fire in the shop all day. The air was cheerless with out fire. I was at home by half past 10. 2 gal of plums 75 cts.
Sun Sept 6 - This afternoon we attended Sunday school stopping on our way at Isaac Sharp's he is sick. After Sunday school we called at Perry Mahorneys and spent an hour or more in a social conversation. We were not out tonight.
Mon Sept 7 -- $4. 2 oz of perfumery .40 The weather is considerable cooler. Pd John Milligan rent for the month of Aug $2. Considerable frost has been reported in various localities but no great damage done to vegetation. Sam Smith's wife is expected to die.
Tues Sept 8 -- $3.50. sent $3 to the Commercial Gazette $2 of it was for the Enquirer. Bought 4 bars of barbers shaving soap $1. Rained considerable this forenoon. Our preacher for next years LS Buckles, W. Davisson goes to Plymouth.
Wed Sept 9 -- $3.85. Sent 10 cts to Doughaday & Co for price list of type & cuts 10 cts to Montgomery Ward & Co for thin juice (?) list of general merchandise. A slow rain has been falling most all day. Montgomery County fair is in session this week. We will not attend.
Thurs Sept 10 -- $3.20. Pd $5 on preachers salary -sent 5 to the American News Co of New York. The Montgomery County fair now in session at Crawfordsville is cause of much business depression here at present. Wife and Willie attended prayer meeting.
Fri Sept 11 -- $2.30. Sent John C. New & Son $14.38 cts. Postage stamps .10 Boots half soled and heels taped 85 cts. 10 cts for Shampoo. Bro Davisson our retiring minister dined with us today. He will leave in the morning.
Sat Sept 12 -- $8.25. I paid yesterday for Boots repaired 85 cts. I should have said shoes 50 cts for two gal of coal oil. Our brother Davisson departed for Plymouth this morning. The weather was considerable warmer. I sweat about as much as in the hot days of July.
Sun Sept 13 - A rain came upon us last night and we have had frequent showers during the day. Willie and I attended Sunday school at 2 ½ this afternoon. Wife wrote a letter to her parents. At night we retired for slumber at an early hour.
Mon Sept 14 -- $2.70. 12 gal of gasoline 1.92. School books and general outfit for Willie cost $5.20. Paid 50 cts for dinner for our new minister and wife at Garwoods. They took supper at our house and will move here this week.
Tues Sept 15 -- $1.75. Paid 35 cts for a broom and 20 cts for one pound of peppermint lozengers for wife. Isaac Sharp is very bad sick and in my opinion will not be alive next Sunday. The weather is a little cooler.
Wed Sept 16 -- $2. The weather is getting warm. I set up at Bro. Isaac Sharp's tonight. He is very bad sick of typhoid fever and will not live but a day or two. I have made up a few items for the Crawfordsville Journal. This I do every week.
Thurs Sept 17 -- $3.10. Paid on account at hardware store for shingle $20. One water melon .25 Bro Isaac Sharp died this evening a few minutes before 8 o'clock. He was a good citizen a member of the Methodist Church, a good and faithful man in attendance upon the means of grace.
Friday Sept 18 -- $22 - 3 packages of roasted coffee .45 cts. The water melon I took home yesterday was not verry good. I have a letter from the Hull Vapor Stove Co desiring me to answer several questions concerning the gasoline stove with a View to further improvement.
Sat Sept 19 -- $8.70. 25 cts for a gal of coal oil. The weather has been real warm. I called on John Lewis this morning and shaved him. He is very poorly and perhaps will never more be about. Bro. Sharp was buried today.
Sun Sept 20 --- We were at church this forenoon. This afternoon we called on Mr. McCall's to see old Aunty Butch. Some 6 years ago she resided here. She now lives at Newcastle Kentucky. She was at our house and drank a cup of tea.
Mon Sept 21 -- $43.30. 3 qts of cranberries 40 cts. Catarh medicine 15 cts. Mrs. Butch and Mrs. Petty returned home this morning. John Spencer of Burlington Kansas called to see me. He used to live here. AC Sherman of Kansas called Saturday also Rev. WC Davisson.
Tues Sept 22 -- $1.10 . Paid 70 cts for a small sack of flour ½ of a barrel. 5 cts for a melon of the nutmeg species. Wife paid 25 cts for an assistant in washing. The weather has turned considerable cooler this evening. The machine I sent to Chicago for repairs is being returned.
Wed Sept 23 -- $2.50. Paid $3.50 for 2 table cloths 2 ½ yds long one pound of cheese 20 cts. The weather is decidedly cooler, it may frost tonight. John Lewis is now bedfast, and it is my opinion never more to get up and about. He has consumption [tuberculosis] . We are well.
Thurs Sept 24 -- $1.00 Paid $1 freight on a sewing machine. 25 cts for a gal of coal oil. There was no front this morning that I saw, though a heavy dew. Wrote a letter to Charley Kritz in answer to the one received yesterday. I have been coughing more today than usual .20 cts stamps.
Fri Sept 25 -- $2.80. I have not been very busy except since lamp lighting work was done by 9 ½. PS Westfall of Terre Haute send (sic) me 25 papers to give away. John Lewis continues very poorly. Mrs. Cowan and daughter was (sic) at our house this afternoon for 3 hours.
Sat Sept 26 -- $8.50. Bread tickets 50 cts. 10 cts I gave to a little boy to buy coffee for his ma. They were moving to Missouri. We were not done our work until after midnight. There was but very few people in from the country until after 6 p.m.
Sun Sept 27 - I and Willie attended Sunday school at 2 ½ p.m. Put 10 cts in for Sunday school cause I have a bad cold. Took cold all day yesterday and feel bad today. Have slept and read at intervals during the day. Some indications of rain.
Mon Sept 28 -- $7.65. 1.15 for sugar. At different times during the day a light rain fell perhaps before it is over there will be a general wetting of all things not under shelter. Meassa Williams assisted my wife an hour this morning with her washing.
Tues Sept 29 -- $2.80. Rained all of last night and all day. At no time has it rained so hard as to prevent a person being out for a short time. Paid into the AOUW 2 dollars on Assessments and one on dues. A bare quorum present.
Wed Sept 30 -- $1.60. Paid 20 cts for 2 lbs of pork. 5 cts for postal cards. Sent Thos H. Martin $15.10 to pay for the sewing machine I had repaired. The post office was moved to the new room built for it just across the street from my shop. I am now quite handy to it.
---