MARCH 1902 - HIRAM PRATT DIARY
Waveland, Indiana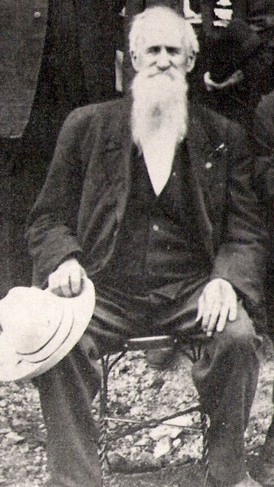 Note: These diaries were in the Waveland Public Library for decades but were disposed of by a librarian several decades ago. Luckily, another librarian's daughter (thanks sooo much Pam, at the death of her mother, Virginia Banta Sharpe found them in some belongings and gave them back for proper housing. A complete circle; however, only 14 of the 50+ diaries were saved from the library's incinerator. I'm a librarian too and thought since they'd been lost to posterity for so many years that it would be a good thing to transcribe them and give them to the world. They are currently housed in proper temperature/storage at the Crawfordsville District Public Library - typed as they were written
Note 2 : Karen Bazzani Zach (transcriber) was raised in the big 'ol town (500 people) where HA Pratt lived 5 decades before I was born. I remember the building where his little shop was and wish it was still there. What an interesting little place. ALAS! Progress ! Oh, and I've tried to type the diaries as is - mistakes & all
Note 3: Some information about Pratt -- he was born in Parke County, Indiana April 20, 1840 the oldest child of eight born to Erastus & Elizabeth Allen Pratt and died October 12, 1914 in his beloved Waveland, Indiana. He was twice married, first to the love of his life (he kept a life-sized poster of her in one of his cabinets at his barber shop, even long after his second marriage) Eliza Franklin Shaw (born Oct 23, 1841 died Oct 12, 1887), and #2 to his friend, Evaline "Eva" McMains. He was very active in the community where he and Eliza chose to live. He gave generously of his time and money to the Methodist Church in Waveland. For a few years, he served as Marshall of the town. Also, he worked diligently for his Odd Fellows, Rebekah & Knights of Phythias Lodges, was for a time on the town board, and read to those who could not read from the several newspapers he was agent for. Pratt volunteered and served for three years during the Civil War (Co. B, 36th Infantry), and spent time in the dreaded Andersonville prison. He and Eliza adopted a son, Willie Franklin Stump, age two (not sure ever officially or just had permission to take him from the Poor House in Crawfordsville) and he was an amazing young boy (high grades, worked in the church, quite musicially inclined, just an ideal child) until Eliza was taken to the hospital where she was operated on for six cervical tumors (one weighing six pounds) from which she died. Willie went wild after that and he and Hiram's second wife, Eva never got along. He ended-up in Reform School (for stealing a dollar twice from Eva among other small crimes), and later sent home to die due to consumption (what we know as tuberculosis) dying in Hiram's arms on April 12, in 1894. Hiram missed Willie and Eliza more than most I do believe as he wrote about them so often in these diaries. Just wish the rest of Pratt's diaries he wrote for over 50 years as a barber in Waveland still existed :( kbz
---
Saturday, March 1 -- $5.30. Paid $2.80 for two bags of hominy hearts for feed. Our cow's milk is not considered good. She will be fresh by April 7th. Three pairs of socks 25c 10 yds of calico for Eva. 50c meat, ham and beef 65. I was done work by 10 o'clock. Rained and snowed yesterday and some also today. Miss Francis Edwards preached tonight. Bro. Stark is sick and not able to fill the appointment. I took supper in the restaurant cost 10c had milk and bread - a nickels worth of ham. Did not write any to Siss Eliza today.
Sunday, March 2 - Clear. There was a snow fell last night, nearly all was away today. I was at the morning meeting and was again at 2:30 p.m. and at night. Jim and Mary Herbert Lewis and one of John Alfrey's boys took dinner with us. Eva went with me to meeting tonight. Jim and Mary were there too. Fannie Edwards preached last night. Her effort is well spoken of. She is wonderfully acquainted with the Lord. She don't believe in Christian sinners - no saved sinners -but sinners saved. Visited Willie's grave at noon.
Monday, March 3 -- $4.55. The weather has turned colder and the ? is frozen hard enough to hold a team of horses. Eva received on last Saturday night a letter from her sister Almyra Petty. She is now at her daughter Ella's who lives in Okmulgee, Indian Territory; her husband is a blacksmith and is going to put up a shop. They move from place to place and do not stay long enough in one place to accumulate much. "A stone that keeps rolling will gather no moss." I was home tonight by 8 o'clock. Prince Henry of Prussia is in Chicago tonight.
Tuesday March 4 -- $.80. Yesterday I paid AOUW $4.09. This was done last Saturday. Sam McNutt is calculating to get moved into his new quarter some time this month. Perry Garland and wife returned from their winter trip into Texas and Mexico last Saturday. Irve Fullenwider brought me 10 bales of oat straw at 25c a bale. Paid wash bill of 30c Eva wrote letter to her sister Almyra Petty yesterday. I mailed it in time for the train south. The Kritz Brothers will open their new store of business some day this week. Frank Johnson has traded his wife's farm to Sam Jarvis for his property in the east part of town and got $3,000 to boot. The farm sold once for $3,000 dollars.
Wednesday March 5 - Cloudy. $1.35. Express on laundry package last Saturday was 25c. Sent a package of pictures to Miss C.M. Harrow, Ottumwa, Iowa. Spent 35 c for postage stamps. Prince Henry of Prussia was in Chicago yesterday and in Minneapolis today and is expected at Niagra Falls on tomorrow. He is delighted at the ovations and demonstrations all along the line of travel. Sent the Cincinnati Post 13c. I was home by 8 o'clock found Eva at her sister Mary's. May gives us what skimmed milk she can spare while our cow is out of business.
Thursday March 6 -- $1.75. Sent the Cincinnati news Co a 5 dollar money order and to the Standard Fashion Co. 75 c. Paid for stamps 35c. Sugar water (maple sap) is running nicely. There are several sugar camps opened. The weather was fine all day and the frost is about all out of the ground. Prince Henry looked upon the great Niagra Falls and in wonder exclaimed, "It is magnificent, most wonderful." Jim Alfrey has bought for Fremont Alfrey the evaporator used for making maple molasses. Jim and his son John will make molasses on the farm sold to Wolfe.
Friday March 7 -- .95. Cloudy. Paid $1.25 for last week's rent. Sent the Courier-Journal of Louisville, Ky 19c for almanac for George Pile of Milligan, Park (sic) Co Ind. A slow easy rain began falling this afternoon. The farm refered to yesterday was once sold by Lloyd McMains for $3,000. It was traded by Frank Johnson to Sam Jarvis valued at $6,000. Don't know what it cost Wolfe. Paid 5 c for a spool of thread. Eva has been at work on her new calico gown. Prince Henry was in Albany NY today. He will be in NY City tonight and start for home sometime during the day.
Saturday March 8 - Cloudy. $6.40 Paid 30 c for fresh meat 25c for white beans 10c for my supper at the restaurant at 11 o'clock. I never sit down a moment until I went to eat my supper from the time I eat dinner. There is a dance going on in the Knights of Pythias Armory. There are church members living in this town who indulge in wanton amusements such as dancing and card playing. Sap did not run very well today. The Clore brothers have made about __ gallon. Alfrey had made 17 gallons by midnight of last night. My letter to sister Eliza contained 8 papers and was mailed this a.m.
Sunday March 9 - Clear. Eva went to meeting with me tonight. I was alone at the morning meeting. Visited Willie's grave before going into the meeting. This afternoon Mrs. J. Doolin, Mrs. Will Smith and Eva's sister Mary were in to spend a few minutes socially. Jim Alfrey was in for a few minutes. The maple sap has about quit running. There will very likely be several more good runs. It takes freezing weather of nights and thaws of days to make successful maple sugar weather. Warm all day.
Monday March 10 -- $5.45. Paid a dollar and 5 cents for 10 gallon of Erocene oil (sic). It retails at 15c per gallon. The weather has been warm all day. Spring birds are about all in. If this weather continues for a few days blue grass will begin to show up. I look for more freezing weather. The past winter has been the coldest known in this part of the state for over 40 years. We have had lower temperature but not as low an average. The average cold weather is 12 degrees below zero. The Kritz Brothers are doing business in their new store. It is after 9 when I leave for home.
Thursday March 11 - Cloudy, rain. $1.75. Paid 30c for Express on Laundry from Crawfordsville. Rent for last week $1.25. The weather is warm fire in the heating stove needs a good deal of attention to keep it from going out. Paid 95 c for meat bacon and fresh beef. Prince Henry of Prusia sailed this afternoon at 3:30 on the Steamer Deutchland from the NY Harbor. The sum of $275,000 was used in this country for his entertainment. The Prince was well pleased with his short stay in the United States. The Boers in South Africa have won a big battle over the British. I hope they will conquer in the end.
Wednesday March 12 - Cloudy, windy and rain. $1.05. Wind has been rather high all day. An occasional shower of rain but too warm for snow. Maple buds are showing up and blue grass is making a show. Spring is nigh at hand, but little cold weather from now on is looked for until next fall the latter part of Oct or first of Nov. Eight years ago today at 2:40 a.m. my poor little Willie died. I was the only person present at his death. He said to me the evening (Sunday) before, "Pa, I don't want you to leave me tonight." Fourteen years and 5 months ago at the same hour of the morning, my sweet little lady, Eliza F. Pratt died- just 7 years and 5 months before Willie died. I am filled with sadness.
Thursday March 13 - Cloudy & clear. $1.05. Eva went over to her sister Nancy Kelso's in company with Mrs. Jim Dulin, it was very near sundown when she got home. I sent out by them 1 ½ pounds of lettuce 26c and a dozzen bananas 15c. Tonight paid 10c for 3 large organs and 30c for a pound and a half of cheese. The weather has turned cooler but I don't think enough to cause a freeze. John Canine has sold 300 acres of land for $20,000 and will move to Missouri. I have not yet completed the letter commenced to Br. Ed a few days ago. Mr. Jim Goslin will have a telephone put in his residence tomorrow. Miss Lola Ghormley's school closed yesterday. It was her first school. S he came home this evening.
Friday March 14 - Cloudy part of day. $1.45. Sent the Crawfordsville Journal $5.34. Expense 7c a renewal subscription was included for George Livings. The mud on the street has been removed in part. The rest of it has dried and is packing hard and smooth. The Kritz Brothers have their new store in good shape. They are going to have a milliner store added, having bought out Kelso & Kritz and have engaged Miss West as trimer and sales woman. At last Mary Alfrey is pleased with the spectacles. Had to send them back to Chicago for exchange twice. I gave them to her Christmas for a present.
Saturday March 15 -- $6.25. Paid 25c for supper at the Restaurant. 25c for a tender loin beef steak. I was done work by 11 o'clock, a rain is falling, we have the promise of colder weather by the signal service. The package of News was 19 papers short. At Guion where the transfer is made the bundle burst open when it was thrown from the train and the wind scattered them all around the premises and there was no time given to gather them up. Had Bob's shoes pulled and hoofs trimmed. I do not intend to have him shod until the roads get real dry and hard.
Sunday March 16 - I was at meeting on time. Heard a good sermon by Pastor John M. Fischer. After the meeting I made a short call at the grave of poor little Willie. I noticed the "live forever" I transplanted in the grave from a bunch that he had planted in the northwest corner of our premises was showing life. Jim and Mary Alfrey stayed over night in our house and eat breakfast with us this morning. I have arrangements with neighbor Henderson Olliver to go over to Russellville tonight to hear Miss Fannie Edwards. She is conducted a series of meetings there in the Methodist Church house. She has preached twice here in this place but it has never been convenient for me to hear her. She is well liked by those who hear her.
Monday March 17 - Cloudy snow. $2.80. Paid $3.15 for 30 gallon of gasoline. It was after 10 o'clock when Henderson Olliver and I got home last night fro Russellville, I was well pleased with the sermon as preached by Miss Francis Edwards. She is a good and forcible speaker. I did not think she was dressed becomingly for one in her station. She was not adorned as a woman should be professing godliness. Diamonds and jewelry are out of good taste. Had she been worth in her own name many thousands of dollars and not a follower of the meek and lowly Nazarene her dress would have been in better tast. Nevertheless she is a brave fearless sweet womanly woman.
Tuesday March 18 -- $1.20. Yesterday was a raw windy day, snowing a good many times during the day. Mercury ran down to 10 above zero by 8 o'clock. This morning at 6 o'clock when I looked it was 10 above. It was reported by Frank Willoughby very early this morning 4 degrees above zero. We have the promise by the signal service warmer weather and it has moderated considerable. Sugar water driped just a little from trees favorable to the rays of the sun. Eva and I took dinner with Jim and Mary. Nancy Kelso was also there for dinner.
Wednesday March 19 -- $2.00 Beef roast 65 c one gallon of lard $1.10. 2 lbs of prunes 25c l lb of butter 18c We had with us for dinner today Mary and Jim Alfrey, Nancy Kelso and Mrs. Mary Belton. Charley Ellis of Rossville, Illinois was at our house for supper. He is over on a prospective tour of buying a farm. He is at Jim Alfrey's tonight. I received a telegram from Farmersburg, Ind announcing the death of W. YAW, husband of my deceased wife's sister Alice M. Yaw nee Shaw. The funeral will be on tomorrow morning at 10:30. I would like to be there but I have too short notice to get ready. I am sorry for sister Alice. (Note from typist, this is William K. Yaw 29 Jan 1851 - 18 March 1902. He married Margaret "Alice" Shaw who was born 8 Jan 1853. I do not have a death date for Alice).
Thursday March 20 -- $1.15. Partly cloudy. We have had moderately fair weather all day. Sugar water run tolerably well in some localities. The train due at 10:04 a.m. yesterday was about 4 hours late all were on time today. I came very near missing the train with the laundry hampers this morning. Some it seems are destined to be a little later. Bought a bushel of corn in the ear of Charles Patton for 80 and mighty poor corn it is. Ordinarily it would not be considered marketable until all defective ears had been taken out. I am proud of the pocket knife I found in our hay mow a few days ago.
Friday March 21 -- $1.00 cloudy all day. Paid rent for last week $1.25. Telephone rent $1. Sugar water made a better record on running today. I have had none to drink, have heretofore had sugar water every season to drink. There is talk of two bake ovens being started here. Our merchants are shipping in bread from Crawfordsville and Indianapolis. It was after nine oclock when I went to my supper. Paid 60c for Express on the laundry for last week and this. A very light sprinkle of a rain this afternoon. Weather is a little cooler, but not enough to frost.
Saturday March 22 -- $6.05. Fair weather today. Paid 70c for 24 pounds of flour "Pride of Iowa" is the trade brand, manufactured in Paris, Ill. A dish of oysters for my supper cost 15c. Wash bill for 3 weeks past 90c. Perl Kelly got home tonight from the Philipine Islands he came via New York having made the circuit of the Glove, some three years ago he enlisted in the army at Indianapolis and went to San Francisco and from there to the islands. Henry Moore has embarked in a 7 yr course of schooling, studying to be a minister of the Gospel from a Christian (Methodist) standpoint. Charley Ellis and John McMains were at our house for dinner. Paid 30c for 2 lbs of veal steak.
Sunday March 23 - Eva and I went over to Russellville this morning to hear Miss Fannie Edwards. She did not preache this forenoone the pastor Dr. Pavy did in her stead. I was well entertained, although a little sleepy a part of the time. We went to Eva's brother Jim McMain's for dinner. Had a real good meal and stayed all the forenoon and at night hear Miss Fannie Edwards. She talked for one hour to a house full of people. She is a most wonderful woman, converted when 6 years old, convinced to preach when 10, and is now 24 years old. The Lord blesses her in her labor of love.
Monday March 24 -- $2.20. Clear. Paid $2.55 for 30 gal of oil at 8 ½ c per gallon it retails at 12c per gallon. Paid 35c for 4 lamp chimneys to be used on my gasoline lamp known as the "American Arc Light." I have put it over in Ghormley's store for him to use for a few nights or weeks. He has Acetylene lights in use in the store the plant cost him 65 dollars. He would sell it for 25 dollars. I got Henderson Olliver to deliver the News for me tonight and I took our pastor John J. Fischer over to the meeting at Russellville. We will leave here at about 6 o'clock. Weather is mild and pleasant.
Tuesday March 25 - Clear. $2.35. Paid 5c for a spool of thread 25c for 2 packages of "grape Nuts," 50c for a large broom to use at home. Eva prefers the large brooms for house use. Rev. John J. Fischer and I arrived at the meeting house in Russellville 15 minutes ahead of time. Fannie Edwards was sick, had been in bed most of the day. The doctor had been called to her aid, yet when time for meeting she was there. Fischer preached on the "Judgement." There was one united with the church. I heard 14 had been added to the church since this series of meetings began. It was after 11 o'clock when I got home and eat my supper. Moon shone beautiful.
Wednesday March 26 - Cloudy $1.95. Paid 25 c for 3 six ounce cans of Chapman's Baking powder. 25c for 2 ½ lbs of prunes. Bob McMains of Crawfordsville is at our house tonight. Little Hellen is 17 months old. She can walk with the use of a chair, can't talk any yet, has been unwell since last Christmas, is better now. Rev. John Fischer and wife were at the meeting over in Russellville last night. Fannie Edwards is sick and was not able to be at the meeting. She thinks she will be by Sunday. No more maple molasses made this year.
Thursday March 27 -- $1.75. Paid 10c for a dozen cookies. 5c for a loaf of bread. John McMains went over to Milligan with Bob and the buggy to get Miranda Ellis, Eva's Sister from Rossville, Ill. She did not put in an appearance, perhaps missed connection at Hinsdale, Park (sic) Co, Ind. Warren E. Pennington and Miss Clara E. Fisher were married in Crawfordsville yesterday. She is well to do in finance and his senior about 20 years. Some say she is 50 years old. We have 3 Bakerys (sic) in town now. There will be one less before many months. 1 gal maple molasses 90c.
Friday March 28 -- $1.55. When I went home for dinner I had done no work in the shop. Sent the Indianapolis News $4.98. The Indianapolis Journal $4.98. The Cincinnati Commercial Tribune $1.30. Chicago Herald $1.98. Chicago American $1.14. Expense 16c stamps 52 c. Sent Glove Democrat of St. Louis Mo 28c. The new gasoline light at Sam McNutt's was put in today - at a late hour tonight it was lighted. The light is fine. Paid 75 c for a 2 bushel bag of corn in the ear. J.D. Fisher says his sister Clara is 48 years old her husband 24.
Saturday March 29 - Cloudy. $8.60. Paid rent for last week $1.25. 2 lbs of sausage 20c a small beef roast 35c and a small ham steak 10c. I was done work befor (sic) 12 or midnight but did not leave the shop until after 12. While I write these lines a thunder storm is right at hand. Spent 15c for break and cakes. We are having good work done here by the bakers. The best one will be apt to hold the honors. I have had no help today. The new lights at Sam McNutts show up in good shape, he has the best lighted store room in town.
Sunday March 30 - I was in my accustomed seat at 11 o'clock and heard our pastor John J. Fischer deliver his first effort on an Easter day sermon. I got a little sleepy, but heard him to the close. After meeting was over, I visited little Willie's grave, the visit last Sunday was omitted for the want of time and convenience. The Easter service tonight I think was the nicest I remember to have ever seen. Singing was splendid, on my way home stoped in and heard Elder John C. Ashley. He will be here again the 3rd Sunday of this month. Turned cold this p.m.
Monday March 31 -- $2.30. Cloudy. Paid dues in the IOOF order $1.36 and in the Knights of Pythias order $1.30. Today we have had all kinds of weather, rain, snow, wind, clear, cloudy and calm. Eva reported a little ice in a bucket at the well this morning. At 2:46 this afternoon I went over to Milligan with the horse and buggy to get Eva's sister Miranda, Charley Ellis had sent a telegram that his mother would be there. The train from Rossville was late, so I returned home alone. We went out to Wm. Kelso's after supper to stay over until this morning. Fannie Edwards is sick and the meetings have closed. 9 additions.