SEPTEMBER 1884 - Diary of Hiram Austin Pratt
Waveland, Indiana (Barber over 50 years there)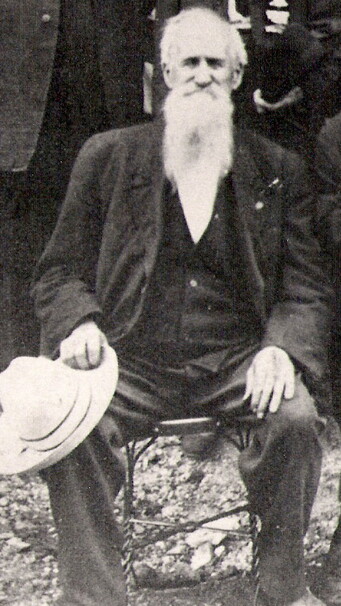 Note: These diaries were in the Waveland Public Library for decades but were disposed of by a librarian several decades ago. Luckily, another librarian's daughter (thanks sooo much Pam, at the death of her mother, Virginia Banta Sharpe found them in some belongings and gave them back for proper housing. A complete circle. I'm a librarian too and thought since they'd been lost to posterity for so many years that it would be a good thing to transcribe them and give them to the world. They are currently housed in proper temperature/storage at the Crawfordsville District Public Library - typed as they were written
Note 2 : Karen Bazzani Zach (transcriber) was raised in the big 'ol town (500 people) where HA Pratt lived 5 decades before I was born. I remember the building where his little shop was and wish it was still there. What an interesting little place. ALAS! Progress !
Note 3: Some information about Pratt -- he was born in Parke County, Indiana April 20, 1840 the oldest child of eight born to Erastus & Elizabeth Allen Pratt and died October 12, 1914 in his beloved Waveland, Indiana. He was twice married, first to the love of his life (he kept a life-sized poster of her in one of his cabinets at his barber shop, even long after his second marriage) Eliza Franklin Shaw (born Oct 23, 1841 died Oct 12, 1887), and #2 to his friend, Evaline "Eva" McMains. He was very active in the community where he and Eliza chose to live. He gave generously of his time and money to the Methodist Church in Waveland. For a few years, he served as Marshall of the town. Also, he worked diligently for his Odd Fellows, Rebekah & Knights of Phythias Lodges, was for a time on the town board, and read to those who could not read from the several newspapers he was agent for. Pratt volunteered and served for three years during the Civil War (Co. B, 36th Infantry), and spent time in the dreaded Andersonville prison. He and Eliza adopted a son, Willie Franklin Stump, age two (not sure ever officially or just had permission to take him from the Poor House in Crawfordsville) and he was an amazing young boy (high grades, worked in the church, quite musicially inclined, just an ideal child) until Eliza was taken to the hospital where she was operated on for six cervical tumors (one weighing six pounds) from which she died. Willie went wild after that and he and Hiram's second wife, Eva never got along. He ended-up in Reform School (for stealing a dollar twice from Eva among other small crimes), and later sent home to die due to consumption (what we know as tuberculosis) dying in Hiram's arms on April 12, in 1894. Hiram missed Willie and Eliza more than most I do believe as he wrote about them so often in these diaries. Just wish the rest of Pratt's diaries he wrote for over 50 years as a barber in Waveland still existed :( kbz
---
Monday Sept 1 - We left Olce (?) Blakesburg at 6.45 and arrived at Ottumwa about 10.30. My father and mother are with me. Received 3 good letters fro my wife. She was as well as usual. Bro. Ben has made arrangements for me to go to Des Moines on Wednesday. Met my brother AEP from Crete, Neb.
Tuesday Sept 2 - My father and brothers Ed and Ben have taken me to all the principal points of interest in this city. I and Ed roomed in Al's room tonight. So that we could be here early in the morning for the state fair.
Wednesday Sept 3 - We left here for Des Moines at 6:30 this a.m. arrived at Desmoines at 15 minutes of 11. Seen Sam Swiggette my special friend and capt. Of Co. B 36 Iowa. I was the guest of my brothers Will and AE Pratt, we were all over the state capital and out to the fair ground. Swiggette too.
Thursday Sept 4 - We never got in from the state fair until about 3 this morning. A rain this morning prevents me from getting down town earlier than 11 o'clock. Ed and I went home with Bro. Will. I bade the girls (Will's wifes sisters good by). Mother, Ed & Mag and I took dinner with Eliza Swigette. Father, Will and Ben and Ed accompanied me to the train tonight.
Friday Sept 5 -- $3.20. yesterday evening before leaving for the train Ben bought a napkin ring for my wife. Had her name engraved on it. Ticket for Crawfordsville $9.95. Ticket home .45. Since last report I have spent $1.65. I gave my mother and sister $5 each. Gave father a note of $15. $1 in money. $1 each to Rhoda and Mag. Arrived at home at 10:30. My wife was very much elated.
Saturday Sept 6 -- $13. Paid Scott $10. Rent $3.50. Gasoline .90. Coal oil .20 Soap .25. Hat 2.50 this I bought before I went to Iowa. I wrote to Bill and Ben this morning. Mike White delivered a republican speech tonight in banks hall. We are done working 10 p.m.
Sunday Sept 7 - We remained home this forenoon. At 2 ½ Willie and I went to Sunday School. The attendance was very small, weather real warm. We remained at home tonight. Our little Willie has a base cough and is not well.
Monday Sept 8 -- $6.65. Paid 50 cts for a bot. of cough medicine for our Willie. Sent the Times Co. of Indianapolis 3.56. Postage stamps 50 cts. I attended IOOF Lodge tonight. Was home by 10 o'clock.
Tuesday Sept 9 -- $1.40. Sent to the sentinel Co. $5.17. To the Enquirer 3.70. Our little Willie is a little better of his cough. He reads and plays as usual. The Nurse and Spy I brought from Ottumwa a present from his Uncle Ben he has read through.
Wednesday Sept 10 -- $2.85. This has been another warm day. Paid 25 cts for 3 water melons. Bread tickets .60. Another bottle of cough medicine for Willie .50 Globe. Dem .25 cts. The breakfast bacon I brought from Ottumwa is the best I have ever eat $1 to church.
Thursday Sept 11 -- $2.35. Paid $1.25 for a carving knife and fork. The knife is long which makes it convenient for cutting light bread. The county fair was largely patronized by our citizens today. Charley Kritze has gone to Crawfordsville to teach.
Friday Sept 12 -- $2.35. Eliza was uptown today and bought goods for Willie a pair of pants 1.60. Spent .60 for yarn and 4 yds of gingham. I sent $17.89 to John C. New & Son of Indpl's to pay for the daily Journal received last month. Weather cooler today.
Saturday Sept 13 -- $10 -- .25 cts for one bar of soap. Fresh beef .50 I kept the money I received for work separate from money rec'd on sales. The sales amounted to 3.05 this is very near a correct statement. The day has been a little cool.
Sunday Sept 14 - I attended class at 10 ½ this morning. This afternoon Willie and I attended Sunday school. My wife has had a real bad spell with her stomache (sic) a kind of neuralgia. She was better by 8 o'clock . 5 cts to SS.
Monday Sept 15 -- $6.00 Freight on two sewing machines 1.95. 1 broom .35 Eliza went through with her usual weeks work notwithstanding her severe illness yesterday evening. Miles and Chamness are making a cistern for us. It will hold about 35 lbs.
Tuesday Sept 16 -- $25.75. Express on 6 doz bots of ink from NY $1.05. The cistern will be completed by tomorrow provided it does not rain. Paid 25 cts for a large water mellon (sic). 05 cts for Willie a pen and pencil for school. He started to school yesterday.
Wednesday Sept 17 -- $6.60. Coffee .20 Beef .30 Soap .25. Sugar .50 Paid for digging walling and cementing our cistern $10. We estimate the cistern to hold about 30 barrels of water. We have concluded to visit Ben Dowell next week.
Thursday Sept 18 -- $6.75 - Bought a campaign cap for Willie, it has the name of Blaine in front in gold letters. Willie Hauger went down home this morning. He and Watson are talking of starting a barber shop in Rockville Buttons Hose &.
Friday Sept 19 -- $2.75. Sent 21.38 to Thomas H. Martin of Chicago. The republican glee club met at our house tonight. WB Jackson of Oskaloosa Iowa is in town on a visit. I have a car load of nut coal ready to be delivered.
Saturday Sept 20 - Willie Hauger returned by the up train this morning. He says that father and mother Shaw are coming to see us this fall. The air is real cool. This p.m. THB Mc 5. By CS Kritz Sept 15th.
Sunday Sept 21 - We attended Church this forenoon. I remained till after class meeting. This after noon little Willie and I were at Sunday school. I remained until after class. I have paid 42 to the church since returning from Iowa.
Monday Sept 22 - Pd Dietrick for 4 loads of gravel for our cistern 1.20 and for taking wife Willie and I to Guion 1.25. Tickets to Murdock, Ill 5.90. Apples 10 daily Journal .5 Postal cards .5 Ben Dowell met us at Murdock. We arrived at his residence at 2 p.m. Had a splendid dinner.
Tuesday Sept 23 - Rained last night and at different times during the day. I sent to Murdock for a daily Journal but did not get it. I have had considerable trouble with a hurting in my stomach caused by indigestion. Tomorrow you go to Alice Shawes.
Wednesday Sept 24 - We arrived at Steve Shaws at 10.30. They were not looking for us did not know we were in the country. On our way over we stopped at Steve's brothers James' he was not at home, we found him here on our arrival. Ben Dowell & family returned at 2 o'clock. We will stay here until morning all are well.
Thursday Sept 25 - We arrived at Ben Dowells by 10.30. Steve and family returned at 2 p.m. This evening Ben & I went to Newman 8 ½ miles distant Mr. Clark of Tuscola made a republican speech. I paid 60 cts for a couple of dishes of fresh oysters .10 for apples. A gentleman gave me daily Indianapolis Journal home by 11.
Friday Sept 26 -- $9.55. We left Ben Dowells at p2.40. arrived at home at 4.45 p.m. Billy Hauger had $8.55 to turn over to me. He paid 40 cts for eatables. I paid Dietrick $1.25 for conveyance from Guion. 25 cts for meat and 20 cts for coal oil.
Saturday Sept 27 -- $15.35. Paid 70 cts for a bag of flour. $2 to AOUW. $6 on coal account $5 on cistern account 40 cts for coal oil. To SH & EY Moore $21.85. To the American News Co $10. The last two accounts were paid last week. Rained.
Sunday Sept 28 - Rained all this forenoon. I remained at home. This afternoon little Willie and I were at Sunday school. I gave 5 cts for a school journal. I remained until after class but very few were present. There was not a female in the room.
Monday Sept 29 -- $6.30. Cincinnati Enquirer $2.80. Linseed oil used in painting our barn $3.75 on coal $4. 30 cts for beef 5 cts for knitting needles. Republicans had a speaking here tonight. Rained a very little. Eliza done a big days washing.
Tuesday Sept 30 -- $2.85. Pd $1 for wife a pair of slippers. 20 cts for a package of coffee. Sent $1 to Peck's The day has been very warm, considering the time of year. Paid 50 cts for a bottle of cough medicine for Willie. I am well.