DIARY OF HIRAM A. PRATT (Waveland Barber 50 + years)
APRIL 1885 -- Standard Diary #31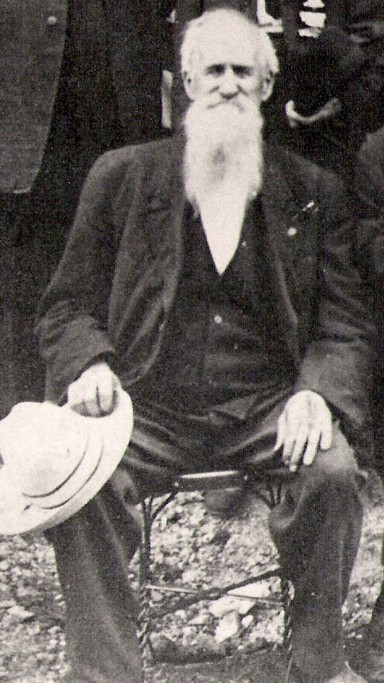 HA Pratt - April 20th - age 45 written in front of his book
---
Note: These diaries were in the Waveland Public Library for decades but were disposed of by a librarian several decades ago. Luckily, another librarian's daughter (thanks sooo much Pam, at the death of her mother, Virginia Banta Sharpe found them in some belongings and gave them back for proper housing. A complete circle. I'm a librarian too and thought since they'd been lost to posterity for so many years that it would be a good thing to transcribe them and give them to the world. They are currently housed in proper temperature/storage at the Crawfordsville District Public Library - typed as they were written
Note 2 : Karen Bazzani Zach (transcriber) was raised in the big 'ol town (500 people) where HA Pratt lived 5 decades before I was born. I remember the building where his little shop was and wish it was still there. What an interesting little place. ALAS! Progress !
Note 3: Some information about Pratt -- he was born in Parke County, Indiana April 20, 1840 the oldest child of eight born to Erastus & Elizabeth Allen Pratt and died October 12, 1914 in his beloved Waveland, Indiana. He was twice married, first to the love of his life (he kept a life-sized poster of her in one of his cabinets at his barber shop, even long after his second marriage) Eliza Franklin Shaw (born Oct 23, 1841 died Oct 12, 1887), and #2 to his friend, Evaline "Eva" McMains. He was very active in the community where he and Eliza chose to live. He gave generously of his time and money to the Methodist Church in Waveland. For a few years, he served as Marshall of the town. Also, he worked diligently for his Odd Fellows, Rebekah & Knights of Phythias Lodges, was for a time on the town board, and read to those who could not read from the several newspapers he was agent for. Pratt volunteered and served for three years during the Civil War (Co. B, 36th Infantry), and spent time in the dreaded Andersonville prison. He and Eliza adopted a son, Willie Franklin Stump, age two (not sure ever officially or just had permission to take him from the Poor House in Crawfordsville) and he was an amazing young boy (high grades, worked in the church, quite musicially inclined, just an ideal child) until Eliza was taken to the hospital where she was operated on for six cervical tumors (one weighing six pounds) from which she died. Willie went wild after that and he and Hiram's second wife, Eva never got along. He ended-up in Reform School (for stealing a dollar twice from Eva among other small crimes), and later sent home to die due to consumption (what we know as tuberculosis) dying in Hiram's arms on April 12, in 1894. Hiram missed Willie and Eliza more than most I do believe as he wrote about them so often in these diaries. Just wish the rest of Pratt's diaries he wrote for over 50 years as a barber in Waveland still existed :( kbz
---
Wednesday, April 1 - $1.90. Paid 10 cts for box rent at the post office. 10 cts for stamps. I set out 40 rasburry (sic) bushes and spaded up a small patch for early potatoes. Willie and wife planted the potatoes afternoon. Rain a little this evening. One gallon coal oil 25 cts.
Tuesday April 2 -- $3.65. One day last week I paid 70 cts for a piece of beef. We have had lots of rain today. Ella Steele is going to get a gasoline stove of me to be paid for in music lessons to Willie. Arnica (?) for wife. 10 cts. Marbels for Willie 10 cts.
Friday April 3 -- $4.30. It turned quite cold at some time last night and has been very disagreeable all day. There is a dance in Milligan's Hall tonight. Charley Kritz has gone back to Crawfordsville and will not return until the middle of June.
Saturday April 4 -- $11.30. yesterday I received a card from my little lady friend at Knoxville, Iowa. I met with her on the cars last summer. Butter 75 cts. Willie and wife attended Easter services in the Methodist Church tonight.
Sunday April 5 - We went to meeting tonight. I went alone in the forenoon. This afternoon Willie and I were at Sunday school after which we went over in to Mr. Kleiser's sugar camp for a drink of sugar water. John Spruhan went along with us.
Monday April 6 -- $7.30. Sent the Times Co $3.91. Sentinel $4.88. Christian Herald (Geo Hanna or Hamm?) $1. Rent for March $2. One gal coal oil 25. Stamp .30. The weather has been real spring like have had no fire in shop stove. Ordered a 3 burner Gasoline stove from Cleveland, Ohio.
Tuesday April 7 -- $4.05. Stamps 5 cts. Beef 35 c. Calico for hair cloths 40 cts. The weather is warm and threatening rain. Wife and Willie are expecting to go up to Crawfordsville in the morning. Pd 20 cts for onion sets and 25 cts for garden seed. Shoes P. 15
Wednesday April 8-- $1. Wife and Willie were at Crawfordsville, Ind to day, fare for the round trip including 15 cts for buss fare $1.10. Wife spent exactly $15 for goods including a suit of clothes for Willie which cost 6.50. They were well pleased with their visit. Weather has been cold.
Thursday April 9 -- .50 cts. Work in the shop was mighty dull today. Paid 20 cts for Peppermint candy and 20 cts for a package of coffee. Gen US Grant is expected to die at any moment of cancer in the throat. Paid 25 cts for work done in cleaning premises. The weather has been fair.
Friday April -$1.70. General Grant is not expected to live from one day to the next. Postage stamps 60 cts. Chicken feed 40 cts. The weather is turning cold. A few of the farmers have commenced plowing for corn. Oats have been just in. I am not very well.
Saturday April 11 -- $9.85. Ed David left me and went to Rockville to work. Frank Kritz helped me today. He took in $4.10. I got one half. We were done by 11 p.m. Willie brought me my supper. I ate but very little. My stomache (sic) is badly out of order.
Sunday April 12 - Willie and I attended Sunday school at 2 ½ p.. Wife remained at home and wrote a letter to her father. She too is not feeling well. We have had to keep up a big fire all day, just like it was in mid-winter. Elder Plunket preached tonight for the Campbellites.
Monday April 13 -- $4.30. One gal of maple molasses $1. John C. New & Son $13.87 one half lb of tea .50 cts. Paid for work done o n the garden 1.30 to John Phillips. Snowed some last night and also this fore noon it melted away by night. Wife done her usual weeks work this a.m.
Tuesday April 14 - $3.50. Snow began to fall at an early hour this morning at times it covered the ground. Finally it turned into rain and at 9 o'clock tonight the rain bids fair to continue during the night. I ate no supper tonight because I felt such an annoyance in my stomache.
Wednesday April 15- - $3.95. One half bushel of potatoes 35 cts. 3 lbs of crackers 25. Rained nearly all of last night and most all of today. The Township assessor was to see me today. I have not ate but little today. My digestive organs are badly out of shape. Otherwise I am well
Thursday April 16 -- $2.15. 7 gal of gasoline 1.25. Fish 50 cts. Cream of tarter 10 cts. We have had another rainey day. I took a wheal barrow load of coal from the shop home. Coal at the latter place has given out. Wife visited the sick in the extreme end of town.
Friday April 17-- $2.60. 2 gal coal oil .50. Had a few showers of rain. Weather is rather cool. Mr. Conley's infant child 6 mos old died last night. Gen. Grant is reported much better. Willie's music teacher did not come down yesterday.
Saturday April 18 -- $10.10. Four pound of butter .75. Wife had a bad spell with her stomache today. I have had a hurting in that rain nearly all day. Paid 40 cts for two bushel of chicken feed. 25 cts for a gal of kraut.
Sunday April 19 - I waited upon a sick customer, JP Mahorney this morning and attended preaching in the Methodist Church. Willie attended the Sunday school. Tonight he and I attended church. Wife has had a bad spell of indigestion. She was considerable better at bed time.
Monday April 20 -- $4.10. I am 45 years old today am not in the enjoyment of as good health as I once enjoyed. Yet I am thankfull to the Lord for whatsoever degree of health I may have. Starch .25 Coal 1.25. Sent 5.05 to the American News Co. Have had no fire in shop.
Tuesday April 21 -- $4.20. Wife was up town for carpet chain spent 10 cts for Willie. I paid one dollar for a bottle of medicine. Freight on two gasoline stoves $1.20. Te 4-burner stove is the nicest I ever saw and works admirably. Weather is getting warm.
Wednesday April 22 -- $3.35. Pd 10 cts for lemonade. .50 cts for 6 yds of calico 2.10 for ham & 70 cts for a small sack of flour. Wife has had to use of a washing machine and has fell in love with it. .50 to for bread tickets. No fire in Stoves today.
Thursday April 23 -- $1.15. Paid 50 for 3 lbs of green coffee. $1.30 for medicine. I find that some remed must be resorted to in order to over come this trouble of indigesti
on. Wife has cleaned a couple of rooms. Hurt one of her fingers in driving in the carpet.
Friday April 24 -- $1.90. Pd 2.50 for a carpet broom. The air became considerable cooler at night and a fire was almost a needcessity (sic - love that word). I have ordered 3 more of those gasoline stoves and two barrels of gasoline. Tea .50 cts
Saturday April 25 -- $9.35. 25 cts for a gal of coal oil. We have had considerable change in the weather since yesterday. Several showers of rain. Willie brought me my supper. I am not in condition to do much good at eating.
Sunday April 26 - I remained at home this forenoon. At 2 ½ p.m Willie & I attended Sunday school. Late this evening wife, Willie & I spent a couple of hours at Webb Hannas. We have had a fire in the heating stove all day.
Monday April 27 -- $5.50. 25 cts for 3 lamp chimneys. I took a gasoline stove over to Stant Harris' to complete with one Mr. Haley has over there. Mrs. H. likes mine the best. Wife is well pleased with the washing machine she has on trial.
Tuesday April 28 -- $3.60. Beef 25 cts. Fish 35 cts. Stamps 15 cts. Sent AJ Fowler of Chicago on last Friday 3.46. Paid the AOUW 3. Carpet tax .15. Renovation three ceilings 1.25. The day has been cold and a fire has been necessary to keep a room comfortable. I sent Willie Hauger some papers.
Wednesday April 29 -- $1.85. Paid $1 for dried beef. 80 cts for 4 bushel of chicken feed 25 cts for a gal of coal oil. 75 cts for Garmat (?) Byerleys. The weather is damp and chilly, a very backward spring. Wife is getting in fine at her house cleaning. The new carpet will be done this week.
Thusday April 30 -- $1.30. Paid 35 cts for broom. 40 cts for 2# of butter. We have had rain today. Have kept up fire in shop all day. Mrs. Harris likes the gasoline stove. I took over there much better than the one Mr. Haley has there. Stamps 10 cts. Blade 90 cts.
---