FEBURARY 1888 - Hiram Pratt Diary
Waveland, Indiana Barber 50+ Years , CW Soldier, Much More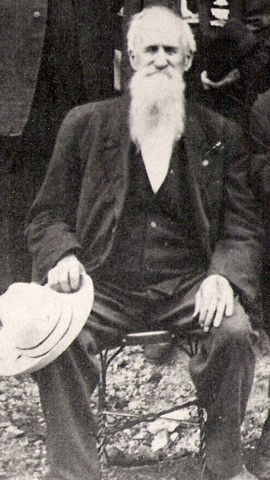 Note: These diaries were in the Waveland Public Library for decades but were disposed of by a librarian several decades ago. Luckily, another librarian's daughter (thanks sooo much Pam, at the death of her mother, Virginia Banta Sharpe found them in some belongings and gave them back for proper housing. A complete circle; however, only 14 of the 50+ diaries were saved from the library's incinerator. I'm a librarian too and thought since they'd been lost to posterity for so many years that it would be a good thing to transcribe them and give them to the world. They are currently housed in proper temperature/storage at the Crawfordsville District Public Library - typed as they were written
Note 2 : Karen Bazzani Zach (transcriber) was raised in the big 'ol town (500 people) where HA Pratt lived 5 decades before I was born. I remember the building where his little shop was and wish it was still there. What an interesting little place. ALAS! Progress !
Note 3: Some information about Pratt -- he was born in Parke County, Indiana April 20, 1840 the oldest child of eight born to Erastus & Elizabeth Allen Pratt and died October 12, 1914 in his beloved Waveland, Indiana. He was twice married, first to the love of his life (he kept a life-sized poster of her in one of his cabinets at his barber shop, even long after his second marriage) Eliza Franklin Shaw (born Oct 23, 1841 died Oct 12, 1887), and #2 to his friend, Evaline "Eva" McMains. He was very active in the community where he and Eliza chose to live. He gave generously of his time and money to the Methodist Church in Waveland. For a few years, he served as Marshall of the town. Also, he worked diligently for his Odd Fellows, Rebekah & Knights of Phythias Lodges, was for a time on the town board, and read to those who could not read from the several newspapers he was agent for. Pratt volunteered and served for three years during the Civil War (Co. B, 36th Infantry), and spent time in the dreaded Andersonville prison. He and Eliza adopted a son, Willie Franklin Stump, age two (not sure ever officially or just had permission to take him from the Poor House in Crawfordsville) and he was an amazing young boy (high grades, worked in the church, quite musicially inclined, just an ideal child) until Eliza was taken to the hospital where she was operated on for six cervical tumors (one weighing six pounds) from which she died. Willie went wild after that and he and Hiram's second wife, Eva never got along. He ended-up in Reform School (for stealing a dollar twice from Eva among other small crimes), and later sent home to die due to consumption (what we know as tuberculosis) dying in Hiram's arms on April 12, in 1894. Hiram missed Willie and Eliza more than most I do believe as he wrote about them so often in these diaries. Just wish the rest of Pratt's diaries he wrote for over 50 years as a barber in Waveland still existed :( kbz
---
Installment #2 for 1888 -- February
Wednesday, Feb 1 -- .85 -- GAR 50 cts. Meat .30. Sent Montgomery Ward & Co. $10.79. In this order is a gold head coin for a present to father Shaw (his 1st wife's father). Its a razor and strap. Meal 40. Coffee 55 cts. 1 pk of green apples 35. Sister and I have bad colds.
Thursday, Feb 2 -- $2.25 -- Harry came up with me at noon and had a tooth pulled cost 25 cts. I had one pulled too cost 25. My jaw is very sore. 30 cts for fresh meat. Cough drops for sister 5 cts.
Friday, Feb 3 -- .85 -- Sent the TH Mail and our town paper to Clara. I send these every week. Sent a letter yesterday to sister Helen, my wife's youngest sister. She is a widow of nearly 3 years. Sister rec'd first paper Tuesday.
Saturday, Feb 4 -- $8.50. 5 lbs of sugar 50 cts. We have had a poor run of custom work today. I took a dish of oysters tonight in preference to going down home for supper. My mouth is yet very sore from the tooth pulling.
Sunday, Feb 5 -- This has been a lonesome and sorrowful day with me. Just four months ago today my little woman submitted her body to the surgeon's knife for the removal of ovarian tumors. Was at church.

Note:

His first wife died as a result of this surgery.
Monday, Feb 6 -- $4.10 -- B & L .$5. Freight on wash stand $1.40. Postal cards 10 cts. Bacon .80. Krout .35 Oyster 25 cts. I am now occupying my newly fitted room. Everything is in good shape (sic) and I am well pleased.
Tuesday, Feb 7 -- $2.65. Paid $4.02 for a wagon load of coal for shop use. Yesterday I rec'd a good letter from Clara. I have sent to Chicago for a nice seal silk plus coat for her. Also a beaver coat for my sister.

Note

: At this typing, I'm not sure who Clara is although his brother, Cyrus Pratt, has a Clara Harrow living with him in 1880 marked as "sister-in-law," and single. It's odd he hardly has enough money to feed his son Willie or purchase Willie shoes, but is buying Clara presents. Unless Clara is a daughter I don't know about?!? Note2 - After much research, I've decided this is his first wife, Eliza's sister, Clara.
Wednesday, Feb 8 -- 5 yds of bleached muslin for sister 50 cts. 4 1/2 pounds of rice 40 cts. Everybody who comes in my shop have a word of congratulations on the nice appearance of the room. Cold and snowing tonight.
Thursday, Feb 9 -- $3.10. Sent The Sentinel of Indianapolis 2.40. The American News Co $5.05. Stamps 50 cts. Sent my mother at Blakesburg, iowa $5. Commenced a letter to Clara - have ordered her a nice coat from Chicago.
Friday, Feb 10 -- $3.70. A ticket to the show by home talent 30 cts. I did intend to go but had a lot of work come in. I gave the ticket to Evaline McMains a neighbor girl. A light snow is on now.

Note

: He calls her "girl" but she is 25 and he marries her later in the year.
Saturday, Feb 11 -- $8.30. 5# prunes 50. 3 # peaches .35. 1 # Apricots .25. Express on goods from Montgomery Ward & Co. 40 cts. Our winter is well nigh gone. Have ordered from New York a beautiful Valentine for Clara. Hope she will get it the 14th. (

Note

: Ahhh, is he whooing Clara whoever she is?).
Sunday, Feb 12 -- Willie and I remained home all day. His foot wear is in bad repair. I wrote a letter to Bro. Ben Dowell (

Note

: I'm not sure who he is either) Am of the opinion that I will go down there (Farmersburg) soon. The snow and ice is about all gone.
Monday, Feb 13 -- $6.10. B& L 5. Mrs. Adaline Pickard was buried today. She used to visit at our house years ago. Sent a letter to my brother-in-law, Ben Dowell. I have taken the sewing machine from Wm. Milligans. (The next sentence was written with a different pen but Feb 14 is same pen as 13th so must have been written later). Rep on boots 40 -- Willie.
Tuesday, Feb 14 -- $6.25 -- Coal oil .40 - gas .30 2 1/4 yds jeans for Willie a pair of pants cost $1. We have a cold spell upon us again. Sister Eliza spent the evening at Mrs. Broomfields. The coat for sister and Clara has not come.
Wednesday, Feb 15 -- $1.80. sent Western Sprtman $1.50 - 5 cts fees. Thawed a little. Ed Scott had a leg broken while in a scuffle with Alslapugh and Dred Hargrave - the latter is a colored man. I am troubled with sore teeth.
Thursday, Feb 16 -- $1.35 -- Seven and a half pounds of sugar 50 cts. 5-yds of gingham for my sister .50 thread .05. Frank Kritz went yesterday to see his bro Bert at Flora. He is sick.
Friday, Feb 17 -- $2.70. Postage stamps .25 cents 80 cts for cutting and the trimmings Willies pants. Eva McMains is to make them. Wrote Clara a letter. We are having some soft weather. Suguar (sic) making is about here.
Sat, Feb 18 -- $9.20. Dried Beef 1.50. Baking powders 25 cts. Oysters and crackers 55 cts. The roads are getting very muddy and everything looks like we were to have and early spring. Sent letter to Clara.
Sunday, Feb 19 -- Willie and I attended the Methodist Church this forenoon -Clara Talburt took dinner with us. Afternoon we were at the funeral of John Spruhan's little girl Edith. Rained. (Edith born 16 Nov 1885 died 18 Feb 1888 - father: John Mother: Joan Bohannon)
Monday, Feb 20 -- $6.30. B&L 5. Blade 1. GD 65 cts one qt of Orlean Molasses 15 cts. Sent Clara a nice seal skin silk plush coat. It came in at noon today. The coat will be returned if it does not fit.
Tuesday, Feb 21 -- $3.25 -- one gallon of krout 35 cts. The roads are getting fearful muddy. Several farmers have opened up their sugar camps and I look for Maple molasses next week.
Wednesday, Feb 22 -- $2.35. Sent the Jouranl $14.95. Stamps 50 cts. I read my last years Diary today from the month of May to the last of November. Pd Eva McMains 50 cts for the making of Willie's pants.
Thursday, Feb 23 -- $2.20 -- Sent commercial gazette Co. 5.15. John W Shaw died at 7:30 p.m. The day has been most beautiful. Had a tooth extracted paid 25 cts. (Note: This is Civil War soldier, John Wesley Shaw who was about 55 when he died)
Friday, Feb 24 -- $2.70 -- Sausage 45 cts dried apples 25 cts. Rained most al day very sloppy and hard to get around. Eva Mc was at our house today and done some sewing for herself. Shaw will be buried tomorrow. (Note: this love triangle is quite interesting. Obviously, HAP is strongly interested in his first wife's sister, Clara but Eva McMains seems to be after him. Eva wins, doggone it :)
Saturday, Feb 25 -- $7.90 -- The weather is like into March, very blistery. Snow and sunshine. At half past 11 tonight I was turning cold. Rec'd a letter from Clara this morning. She says that a revival meeting of three weeks closed Thursday night . Glorious time.
Sunday, Feb 26 -- Willie and I were at our Sunday School at 2 1/2 p.m. I made a fire in my shop today -- I never before in my life did the like.
Monday, Feb 27 -- $4.45 -- B & L 5. 8% of beans 50 cts. Starch and blueing for sister Eliza .35 also 2 cakes of cuticura soap 40 cts. Rent for last month 3 dollars. Weath as cold as Greenland this morning. Coal oil 20 cts.
Tuesday, Feb 28 -- $.95 -- AOUW $2.50. Yesterday and todays paper have an account of a big strike of Engineers and firemen on the CB&O 11,000 of them. Recd a letter from sister Helen McMullen.
Wednesday, Feb 29 -- $2.25 -- 10 yds bleached muslin for sister. Her coat cost $10.50. Clara's cost 32.50. Doll for little Jennie McMullen $1. Two gallon of Maple molasses 2 dollars. 10 yds muslin for sister.