MARCH 1895 - Hiram Pratt Diary
Waveland, Indiana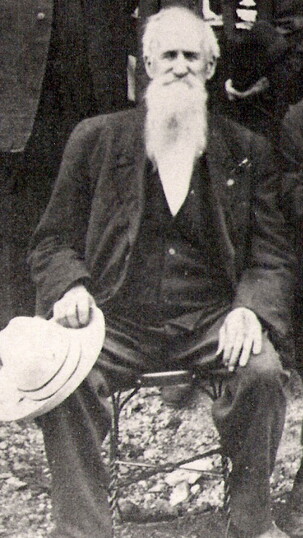 Note: These diaries were in the Waveland Public Library for decades but were disposed of by a librarian several decades ago. Luckily, another librarian's daughter (thanks sooo much Pam, at the death of her mother, Virginia Banta Sharpe found them in some belongings and gave them back for proper housing. A complete circle; however, only 14 of the 50+ diaries were saved from the library's incinerator. I'm a librarian too and thought since they'd been lost to posterity for so many years that it would be a good thing to transcribe them and give them to the world. They are currently housed in proper temperature/storage at the Crawfordsville District Public Library - typed as they were written
Note 2 : Karen Bazzani Zach (transcriber) was raised in the big 'ol town (500 people) where HA Pratt lived 5 decades before I was born. I remember the building where his little shop was and wish it was still there. What an interesting little place. ALAS! Progress !
Note 3: Some information about Pratt -- he was born in Parke County, Indiana April 20, 1840 the oldest child of eight born to Erastus & Elizabeth Allen Pratt and died October 12, 1914 in his beloved Waveland, Indiana. He was twice married, first to the love of his life (he kept a life-sized poster of her in one of his cabinets at his barber shop, even long after his second marriage) Eliza Franklin Shaw (born Oct 23, 1841 died Oct 12, 1887), and #2 to his friend, Evaline "Eva" McMains. He was very active in the community where he and Eliza chose to live. He gave generously of his time and money to the Methodist Church in Waveland. For a few years, he served as Marshall of the town. Also, he worked diligently for his Odd Fellows, Rebekah & Knights of Phythias Lodges, was for a time on the town board, and read to those who could not read from the several newspapers he was agent for. Pratt volunteered and served for three years during the Civil War (Co. B, 36th Infantry), and spent time in the dreaded Andersonville prison. He and Eliza adopted a son, Willie Franklin Stump, age two (not sure ever officially or just had permission to take him from the Poor House in Crawfordsville) and he was an amazing young boy (high grades, worked in the church, quite musicially inclined, just an ideal child) until Eliza was taken to the hospital where she was operated on for six cervical tumors (one weighing six pounds) from which she died. Willie went wild after that and he and Hiram's second wife, Eva never got along. He ended-up in Reform School (for stealing a dollar twice from Eva among other small crimes), and later sent home to die due to consumption (what we know as tuberculosis) dying in Hiram's arms on April 12, in 1894. Hiram missed Willie and Eliza more than most I do believe as he wrote about them so often in these diaries. Just wish the rest of Pratt's diaries he wrote for over 50 years as a barber in Waveland still existed :( kbz
---
Friday March 1- .45. Cloudy. 47. Rained most all night last night. Late this evening it turned cooler and by dark was freezing. Cards are out announcing the marriage of Herbert S. Kritz and Miss Minnie Cuppy of Montezuma, Indiana. Bert lives here and is Junior partner of the firm of Hanna & Kritz. There was a large attendance at meeting tonight. Bro. Campbell spoke for 1.40 - 1hr and 40 minutes.
Saturday March 2 - 2.30. Cloudy. I harved ? but little today. I paid on Life Insurance 2.30. Lloyd returned yesterday from Anderson McMains. He was at his bro Bob's last night who lives in Crawfordsville. Bro. Wolfe was at the meeting last night he did not put in an appearance tonight, neither did I but I heard of a good meeting. Bro. Campbell was in to see me a few minutes today. He was born in Pennsylvania.
Sunday March 3 - Clear & Cloudy. I was ready for meeting. 48 by 10 a.m. Eva and I walked together as far as to her church house then I went on. AJ Ghormley a brother of our townsman Justice M. was the preacher. Tonight he gave a stereotypical song service, which was a new feature in church worship. He is an interesting speaker. I visited Willie's grave before going in the church house before noon. We had a good congregation and a good sermon and a general good feeling tonight out at 9:15.
Monday March 4 - Snow. 14 degrees. Made 20 cents. One lb of soda 10 on the 2 ? Daily Journals. Had Eva's shoe mended 15 cts. 1 ¾ lbs beef steak 15. Snow at intervals throughout the day. Snow melted nearly as fast as it fell. Wm. Bridges said if the following was not contained in the Bible he would join the ME C. Man is prove to sin as the sparks are to fly upward. The meeting was poorly attended tonight. The sermon was real good. Several children were forward for prayer.
Tuesday March 5 -- .60. Cloudy 17. The presumption now is the meeting will close with tomorrow night. Bro. Ghormley's brother has a magic lantern show at their church which drew a good many "Christians" away from the revival service. The little man Campbell was never so eloquent as tonight in the delineation of the text. "If we neglect so great salvation." We had a good meeting, though our numbers were small.
Wednesday March 6 - Snow 2 " deep this a.m. 25. 30 cts. The meeting closed with the service tonight. Bro Campbell said that every service throughout the year would be a revival service. 13 united with the church. Quite a good number entered into the experience of perfect love. Eva went out with her sister Mary to sell pillow sham frames. None sold. Mary was at our house for dinner.
Thursday March 7 - 40 cts. Clear. 29. We have had a clear day and the snow has all melted away where exposed to the sun. I finished paying on a load of wood 25 cts. Paid 10 cts for 2 mackerel. Susan Smith a daughter of James Alfrey, residing at Alamo and several other ladies called on Eva this afternoon. Bro Campbell was sick tonight and could not attend the prayer meeting. We had a good meeting. The room was well filled and a goodly number had testimony for Jesus.
Friday March 8 - 35. 20 cts. Snow & Rain. We have had real March weather, snow awhile and then rain, wind high all day. The war with Japan and China is nearing a close with the little Japs victors. The Chinese are no match for the Japs. Rheumatism is hurting my knees the left knee more than the other. Every step taken is with pain. Eva was milking when I went home for supper. Loyd and her at been to supper. (sic)
Saturday March 9 - 1.20. ¾ doz eggs 10. Clear 18. Mercury was up to 38 at noon and in the shade, too. No sighns (sic) of the wing in the shade of our portico. Last night in my secret worship, the Lord gave me unusual liberty and I received a wonderful spiritual uplift. I do so love this showers of blessings. I nearly always after blowing out the lamps kneel and have a few words with my blessed Lord. I love my savior.
Sunday March 10 - Total eclipse of the moon at 9 p.m. There was a man from Wisconsin who has passed through the devastating forest fires of last Autumn, who had the use of the Methodist Church for preaching. He was a failure so far as to his ability as a preacher. I did not go to hear him tonight but went with Eva to her church and heard a good discourse from TJ Shuey. Eva called in company with Nancy Bloomfield to Wm. Smith's to see Badger Groves and family. I paid my weekly visit to the grave of poor little Willie just before going in to hear the Dutchman from Minnesota or Wisconsin. I noticed the track of some cow brute ? on the edge of his grave. He did not want to be buried where stock would run over his grave.
Monday March 11 - 30 cts. Paid 15 for the daily Journal. Eva done her usual weeks washing. The day was not a drying one so the cloths did not get quite dry. Tonight I attended IOOF Lodge tonight for the first time in six months. By half past 10 o'clock I was home. Mrs. Dr. JP Russell was a caller at our house yesterday evening. China has agreed to sign a contract for indemnity in favor of the little government of Japan. China pop over 4,000,0000. Japans 70,000,000.
Tuesday March 12 - 10 cts. The ground was covered with snow this forenoon but before night it was all gone. This is the first anniversity (sic) of Willie's death. I cannot help feeling somewhat depressed in spirit. I had had the care of him ever since he was 2 ½ years old. Eliza had gone up to Crawfordsville in the fall of 1875 in company with Lydia Farmer. They went out to the poor farm where she first met him. She returned home with him and after a few weeks we adopted him as our foster son. After Eliza's death he went wrong and had a very hard time. I done all I could do for him.
Wednesday March 13 -- .30. Cloudy 19. Little Willie was buried on year ago today. Bro. AC Guyer preached the funeral. Mrs. Dr. Zopher Ball died today about half past 11 o'clock of hemorage (sic) . Herbert S. Kritz of the firm of Hanna & Kritz was united in marriage to Miss Minnie Cuppy of Montezuma, Ind at 8 o'clock pm. Mrs. James Dulin took dinner with us today. Paid 10 cts for repairs on breast pin for Eva. I have a bad cold.
Thursday March 14 - 1.25. Cloudy. Amount order of United Workman last month cost me $2 no mention being heretofore made of it. We had a real good prayer meeting last night lead by our pastor Larribe Campbell. He is the best Methodist preacher we ever had, he has a way of gitting (sic) the membership to take part in the services that none other has ever exhibited Loyd McMains bought 8 gal of maple molasses at 80 cts per gal. 6.80. Sassafras root for tea 5 cts.
Friday March 15 -- .45. Cloudy 15. My cold is giving me considerable trouble. I have a very bad cough. Have invested 5 cts in a box of Smith Bros cough drops. I told Eva this evening that I would not stay uptown but a short time. Hary Kritz and Irve Fullenwider came in and engaged in pleasant conversation and time passed rapidly. It is now after 9 o'clock. This evening I called at Sam Cully's to see his wife's sewing machine. Then called to see Bro. Campbell.
Saturday March 16 - 2.20. 10 degrees Cloudy & Clear. When I went home last night Eva had water hot for foot bathing, I soaked my feet thoroughly and went to bed and never coughed once until morning. Eva had been down to FN Johnsons. A house belonging to John Canine burned tonight no one lived in it. The house was about 3 ½ miles NW from town. Spain will have to apologize handsomely for one of her gun boats firing on US Stormer.
Sunday March 17 - Clear 29. We were up by 7 and in a few minutes Eva had ready our breakfast and in good time were on our way to meeting. Eva stoped at her church house and I went up to hear Bro. Campbell. Eva went with me to hear Bro. C. at night. James Alfrey and wife went with us. I had the pleasure of hearing two good sermons today. This forenoon I made my weekly visit to little Willie's grave.
Monday March 18 - Clear & Cloudy. .65. 32. Eva done her usual weeks washing had good luck in getting the cloths dryed (sic). Paid 15 for the daily Indianapolis Journal. James Alfred halled (sic) a wagon load of coal from the depot for me one third of it I had unloaded at my shop and the remainder at home. TZ Ball and Mrs. Sue Thornton are bad sick. My cough is a good deal better . Rheumatism is about the same. Pain in my left knee all the time.
Tuesday March 19 -- .55 cts. Cloudy. 30. Paid 5 cts for a saucer mould (sic) of maple sugar and 35 cts for a sack of flour for our preacher A donation was made him by a portion of the membership. We met at the church house and from there proceeded to the Parsonage. They were presented with enough groceries for several weeks run. Mary Kelso Lewis called at noon and staid with Eva until 3 o'clock. James Alfrey and wife have gone over to his son John's on a visit.
Wednesday March 20 -- .65 28 . Bought a bag of cow feed for 60 cts Tonight I went to the Christian Church prayer meeting Bro Shuey the pastor was the leader. Prayer was the subject under consideration. If the membership would take up with the advise he gave them they would gain vantage ground and be more spiritual in their devotion The one leading in prayer stands up, the others bow their heads. "For this purpose I bow my knees.. 55 Paul."
Thursday March 21 -- .20. 52. Bob McMains residing in Crawfordsville came in this evening. He used one of our concert tickets and accompanied his sister my wife to the Quartette concert from DePauw University of music. I paid 35 cts for a ticket. I was not entertained and count the investment a very poor one. There was a large crowd in attendance. Paid 20 cts for two lbs of beef steak. Eva & I took dinner a t Kelso's cough is better.
Friday March 22 - 30. Clear 26. Dr Z Ball is very bad sick. James Alfrey and wife have not returned yet. I was at meeting again tonight. Para Shuey labored hard for nearly an hour to convince the audience that Jesus Christ was veritably the son of God and was divine. There was not very many out. The house should have been full and it would if the people would feel interested as they should. Bob returned this evening.
Saturday March 23 - Cloudy. Therm 37. 1.50 I had no work after 5 o'clock. I did not get to go to meeting today or tonight. This morning a 10 minutes of 8 o'clock Dr. Zopher Ball died. Frank Kritz undertaker Jap Miller and I laid him out. He will be buried next Monday. The Masonic Lodge will have charge of the funeral. Eva was uptown today and called to see me. It is after 12 now. Harty Kritz was a visitor and we got interested in chats.
Sunday March 24 - Clear. 49. Rained a little last night. I got the loan of Bro Alfrey's horse and buggy and Mort Butcher and I went over to Byron Post office to hear Bro. Wood preach. He is a very good preacher and resides at Marshall in Park (sic) Co. We were over there in time for Sunday School. Returned by half past one p.m. Gave the Sunday school at Byron 5 cts. Did not visit Willie's grave today. Tonight went with Eva to hear Bro. Shuey. Put 10 cts in the contribution for missions.
Monday March 25 - Clear 39. 45 cts. Paid IOOF dues 1.40 for the daily Indianapolis Journal 15 cts. Eva done her washing this morning, cloths soon dried because the wind was high. Dr. Zopher Ball was buried this afternoon the funeral was at the residence at 2 p.m conducted by the pastor of the Presbyterian Church. The Mason fraternity turned out in uniform and had charge of the burial ceremonies. Went with Eva to church tonight.
Tuesday March 26 - 35 cts. Clear. 40. I have read a good deal today in a book bearing the title of Love Enthroned by Dr. Daniel Steele. It is a most wonderful good book full of genuine religious reading I enjoy its perusal very much. I stoped in at noon to see Sister Bloomfield and had a good talk with her concerning the scriptures. Her clock was not running on yesterday and I started it going for her. I was out to hear Bro TJ Shuey again tonight.
Wednesday March 27 - 90 cts. Clear 34. Paid 10 cts for a can of gooseberries. 35 for a sack of flour 25 # and 5 cts for 6 apples. Sam Swisher was to see me. He is an invalid has to be pushed about in a chair on wheels. He was a soldier in the rebel army. In 1892 he had the contract for building the Knights of Pythias Hall the last work he done or ever will. Paid Quarterly dues in Knights of Pythias Lodge 1.30. Eva and her sister are calculating on visiting their brother Anderson tomorrow. At church tonight.
Thursday March 28 - 70. Clear 33. Eva and Mary went their trip to Anderson's. Returned at 5:30. They had a pleasant drive and a nice visit. Brought home a few apples and some maple wax. Anderson has made over a hundred gal of maple molasses. I bought 3 box of matches for 5 cts. Paid on account 50 cts. At 7 I went to ME Church prayer meeting. Bro Campbell was the leader. We had a wonderful good meeting. Later I went to hear Bro Shuey then I met with Eva and went home with her.
Friday March 29 - 10 cts. 46. I hitched myself to the garden plow after dinner and Loyd held it while we plowed up a good sized onion bed. Planted all the onions we had about a peck of sets and sowed some lettuce seed. Loyd sent his sister residing Mammoth Spring Arkansas 6 gal of maple molasses. This will be a wonderful nice treat for them. Weather the driest and warmest ever known for the season.
Saturday March 30 - Life Insurance Pequa Ohio 1.20. Clear 2.25. Therm 55. Paid 25 cts for two pr of hose for Eva. Kelso's folks sent in for her to come out their home tonight as her sister Nancy was sick. Feb rent 3.00. Bob Kelso remained in town until I was done work which was 11 o'clock then I walked with him out home. Neither of us were at meeting tonight, I expect to hear our little man Campbell on tomorrow and at night.
Sunday March 31 - Cloudy .40. We have had several good showers during the day. It was 20 minutes after 12 when I went to bed last night. Nancy suffered all night with neuralgia in the head. Dr. Reece Kelso came out this morning and gave her a hyperdermic injection. Bob brought Eva and I over home soon after breakfast. I heard Bro Campbell at 11 a.m. Visited Willie's grave. Took a good nap after dinner. Heard Bro C at 7 and stopped in and heard Bro Shuey for about half hour.