MAY 1903 - HIRAM PRATT DIARY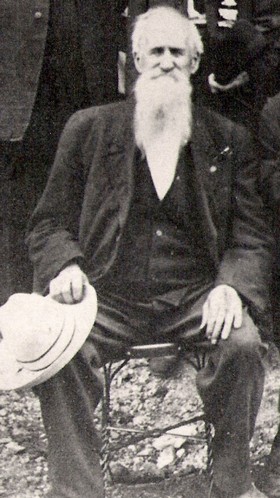 Note: These diaries were in the Waveland Public Library for decades but were disposed of by a librarian several decades ago. Luckily, another librarian's daughter (thanks sooo much Pam, at the death of her mother, Virginia Banta Sharpe found them in some belongings and gave them back for proper housing. A complete circle; however, only 14 of the 50+ diaries were saved from the library's incinerator. I'm a librarian too and thought since they'd been lost to posterity for so many years that it would be a good thing to transcribe them and give them to the world. They are currently housed in proper temperature/storage at the Crawfordsville District Public Library - typed as they were written
Note 2 : Karen Bazzani Zach (transcriber) was raised in the big 'ol town (500 people) where HA Pratt lived 5 decades before I was born. I remember the building where his little shop was and wish it was still there. What an interesting little place. ALAS! Progress ! Oh, and I've tried to type the diaries as is - mistakes & all
Note 3: Some information about Pratt -- he was born in Parke County, Indiana April 20, 1840 the oldest child of eight born to Erastus & Elizabeth Allen Pratt and died October 12, 1914 in his beloved Waveland, Indiana. He was twice married, first to the love of his life (he kept a life-sized poster of her in one of his cabinets at his barber shop, even long after his second marriage) Eliza Franklin Shaw (born Oct 23, 1841 died Oct 12, 1887), and #2 to his friend, Evaline "Eva" McMains. He was very active in the community where he and Eliza chose to live. He gave generously of his time and money to the Methodist Church in Waveland. For a few years, he served as Marshall of the town. Also, he worked diligently for his Odd Fellows, Rebekah & Knights of Phythias Lodges, was for a time on the town board, and read to those who could not read from the several newspapers he was agent for. Pratt volunteered and served for three years during the Civil War (Co. B, 36th Infantry), and spent time in the dreaded Andersonville prison. He and Eliza adopted a son, Willie Franklin Stump, age two (not sure ever officially or just had permission to take him from the Poor House in Crawfordsville) and he was an amazing young boy (high grades, worked in the church, quite musicially inclined, just an ideal child) until Eliza was taken to the hospital where she was operated on for six cervical tumors (one weighing six pounds) from which she died. Willie went wild after that and he and Hiram's second wife, Eva never got along. He ended-up in Reform School (for stealing a dollar twice from Eva among other small crimes), and later sent home to die due to consumption (what we know as tuberculosis) dying in Hiram's arms on April 12, in 1894. Hiram missed Willie and Eliza more than most I do believe as he wrote about them so often in these diaries. Just wish the rest of Pratt's diaries he wrote for over 50 years as a barber in Waveland still existed :( kbz
---
Friday May 1 -- $3.25. There was a big white frost this morning. Dick Moore said that ice formed in the chicken troughs nearly a quarter of an inch thick. Mary Lewis said ice formed in the branch west of their house. Have had a fire in the shop stove all day. Eva did not quite finish up the house cleaning we have moved into summer kitchen.
Saturday May 2 - 1 lbs of lettuce 20. 1 can of sammon (sic) or samon (sic) 20. 3 lbs of dried peaches .25. 3 lbs of beef steak 45. Sent eh World Manufacturing Co of Cin O $3 for a bath cabinet. Oatis W Sharp reports to have seen on yesterday snow falling. A boy baby was born in the family of Bob Kelsos yesterday. Put calf on partch ? yesterday at Bob Kelso's
Sunday May 3-I went with Eva to her church and heard Brother Moorman deliver to the graduating class the bacalureate sermon. I was so sleepy that I could hardly keep awake and can't remember enough of the sermon to quote any part of it except the last sentence, "And may the Lord bless you all." House was full to overflowing. Heard Bro Paxon tonight.
Monday May 4 -- $4.80. Eva has the house in fine order, straightened up every room last Saturday. She is real glad that the task is off her hands. She paid Mrs. Gilkison $2.25 for her assistance. I visited Willie's grave yesterday evening late. The cold weather continues throughout quite cold enough for fire in the heating stove. $4.05 for gasoline
Tuesday May 5 - 42.40. Paid 20 c for beef steak. Sent the Excelsior Supply co of Chicago $1.10 for sewing machine supplies. Eva received a letter from Perla Petty. She is in Topeka, Kansas. She will be married to Dr. Conover, assistant city physician of Kansas City. He lately received the appointment for 2 more years. The wedding will take place at her fathers in Okmulau, IT. June 10. 50 c for shoe polishing 10 for apples.
Wednesday May 6 -- $1.40. Paid 20 for beef steak. Gave Eva a dollar. Weather is not quite cold enough for fire in the heating stove. Rained a little. Frank Belton and Tim Rice on yesterday started for Spokane, Washington. They went by the way of Terre Haute and St. Louis. Mr. Gilkison is going to tend our garden on the share (rent).
Thursday May 7 -- $1.30. Paid 50 c for beef steak. 5 c for bread. Sent JJ Campbell $2.00. The weather is a little warmer. Rhoda Fullenwider and 6 of her children are at our house tonight. They will leave for Indianapolis in the morning and for Anderson in the evening for Michigan on Tuesday. The Allumni banquet is held in the Odd Fellows hall tonight 75 c a plate. Supper put up by Chas Jones.
Friday May 8 -- $3.25. One peck of apples to eat. Mr. Sam Taylor early in the spring transplanted a maple tree in the late where there was grapes during the summer. I gave him a dollar for doing this. The church house was crowded with humanity to hear the graduates Rhoda and the children were on their way by 8 a.m.
Saturday May 9 -- $8.00. Paid 40 for 2 pine apples. 45 c for 1 doz large oranges. 15 for my supper at the restaurant. Eva for a couple of days has been badly crippled in her back, something like lumbago. She is getting better now. The weather has been fine all day. The most like real summer for a long time. We are done work at 12 or midnight.
Sunday May 10 - At 10 minutes after 11 I was standing at the head of Willie's grave. Yesterday was his birthday had he lived would have been 30 years old. I was in the Presbyterian Church and heard young Mr. Gibson was home by noon. Eva never went to meeting until night on the account of having no new hat. Her back is well of lumbago.
Monday May 11 -- $36. Pension $9 in the shop. Paid $3.10 for 25 gallon of gasoline. 30 c express for the return of laundry and 50 c express on Cabinet Bath from World Mfg Co. 30 c for three slices of ham. Paid John Sharp $5 he says the buggy will do to take out this week. Shaved CB Taylor tonight without the use of specktackles (sic) and by the light of an American Arc light - gas made from gasoline.
Tuesday May 12 -- $3.25. The date of the month reminds me of the death of my little lady and of Willie. Eliza's death was on Thursday morning Oct 12, 1887 and Willie's on Monday morning March 12, 1894. Both at 20 minutes of 3 o'clock. Eva was uptown this morning. I mean this evening and bought a new hat $2.25 and some notions at Wolfe's $1.35. ½ gal ice cream 50.
Wednesday May 13 -- $3.45. Eva got a small bill of goods at Hanna & Kritz yesterday 41.10. I paid it this morning. Frank Clark commenced work on CW Spencer's house yesterday. Two boxes of strawberries yesterday for 25. Two last Saturday 30. Today onions .05. Farmers are in need of a good rain to soften the clods. Last Sunday there was no rain and the 5th Sunday after Easter. $1.45 to the Curtis Pub Co.
Thursday May 14 -- $3.10. Paid 25 c for a quart of ice cream. Eva had gone to bed when I came in with the cream. The weather is now warm and dry. Farmers in a few cases have planted their corn, most of them are waiting for a rain, for their fields are very cloddy. A good soaking rain would be hailed with joy. The Soldiers Encampment at Anderson, close today.
Friday May 15 -- $2.65. Paid 50 c for a pair of summer drawers 41.50 for 10 yds of black lawn for Eva. Bob McMains was at Alfreys last night, was at our house for dinner and supper and will remain over the night. He and Eva are out at Charlie Deers tonight will return at bedtime. Penn Hanna is now in his new home on W. Main Street. Very poor prospect for rain tonight.
Saturday May 16 - We had a "wee" bit of rain this afternoon not enough to lay the dust. Bought a lawn dress pattern for Eva 10 yds for 50 c. Two boxes of strawberries 25. Eat my supper after 11 o'clock furnished the milk and paid 5cts for what bread I used. The milk was kept on ice and was real good. Done work by 11:30
Sunday May 17 - We attended church services this forenoon each at our respective places. I visited Willie's grave at6 the noon hour and gain after ? down. We took dinner at HR Canines boarding house and from there went over to Jim McMains and visited until after 5 p.m. Eva went with me to hear Bro Paxon tonight. No rain today. 6th Sundays of the Easter and 4 with no rain.
Monday May 18 -- $4.55. 1 yd lawn 15 gasoline and oil $3.65. 1 can samon or salmon 20. 1 glas of chipped dried beef 25. No rain today. Farmers cant plow now pulverize the ground preparatory to the planting from yet some have planted and the corn is up. A good soaking rain would be a great blessing. The Indianapolis Morning Sentinel is now called the Indianapolis Globe.
Tuesday May 19 -- $1.80. Hubert Loudermilk took George Fullenwider's place 2 weeks ago last Monday. I forgot to pay him the dollar on last Saturday. Pd 10 c for new onion. Bob McMains eat dinner with us today. He has put up a fine monument for Clay Jarvis has a good prospect for a sale to Paul Clore. We had 84 degrees of temperature yesterday and today. No rain yet. Meat 35. Flour $1.10.
Wednesday May 20 -- $1.10. Telephone rent $1 onions 10 c radishes 5. Ice cream 20 c. Last Monday I paid for 6 weeks shop rent $6.60. Have had repairs on the Fullenwider buggy to the amount of $2.85 and yet more to be done. There was a big rain in the south part of the state. A great deal of damage done to crops we have a promise of showers tomorrow
Thursday May 21 -- $1.30. 15 c for another yard of black lawn goods for Eva's nice dress. Shortly after dinner it began to rain and never ceased until after sundown creeks are all booming. The plowed fields are thoroughly wet. Between here and Crawfordsville there was high wind and many trees are down. Sent the News $11.14 for papers received last month.
Friday May 22 -- $2.10. Paid 15 c for half pound of ground pepper. 5 c for a spool of thread. The big rain yesterday afternoon was general throughout several states. Farmers hereabouts are well pleased. It made the ground too wet to be worked today. W.F. McHughs had a leg broken in a run away last Sunday was up town today.
Saturday May 23 - A pair of low cut shoes for Eva $1.50. Onions 5. Raddishes 5 cts. The day has been real warm. Harry Barr & I will go to Crawfordsville in the morning to hear Dr. Tharp preach - the memorial sermon. He is pastor of the Christian Church a southern man born and educated in the south. Paid Hubert Loudermilk a dollar for going after the papers for me.
Sunday May 24 - Harry Barr and I went up to Crawfordsville this morning we were t the Christian Church in time for meeting. We stayed there until after communion, then went to the Methodist Church. We eat dinner at a restaurant we paid 50c Paid 50 c for "Bobs" dinner at a livery barn. Left for home at 5 p.m. arrived home 7:30. Eva was at Kelsos.
Monday May 25 -- $3.75. I put "Bob" to Alfreys buggy and went over to Kelsos for Eva and while there eat my breakfast. Paid $5.40 for oil and gasolines. Paid Bob Kelso $13.11 for 38 bu of corn. There was a little rain fell yesterday evening as we came from Crawfordsville. The papers came in at 5:54 p.m. all the way by rail. The trip to Milligan every evening is discontinued.
Tuesday May 26 -- $5.90. The News failed to arrive this evening. I hitched up Bob to the buggy and Eva came up to the store for some goods to line her waist to the dress she is making. Bill Durham asked her what would she take for "Bob." She said $100 and he gave her a check for the amount. I had no idea she intended to sell him
Wednesday May 27 -- $2.15. Eva told Will Durham she never intended to sell "Bob," and she allowed he was trying to run a bluff on her and he allowed her to keep the horse. His son Rue was at our house early with a halter to take Bob away and would have done so had I not put him in the south east corner lot. He had not found him. Paid 25 for rice 5 c for onions 10 for ice cream. Several good showers fell today.
Thursday May 28 -- $1.75. Sam Spencer his brother John and Lou Hazlett were at our house for dinner. Sam live sin Montezuma, Ind John lives in Kansas City Mo and Lu lives near Portland Ind. Sam is a farmer, John a railroader, Lou a brick layer. John, Lu and I were prisoners of war at Tyler, Texas.
Friday May 29 -- $1.50. Hubert Loudermill went out to Deers Mill and got 3 bags of wheat bran for $1.45 sent along a bag of unshelled corn and had it converted into chicken feed. Yesterday I bought boiled ham .50 bananas 10 2 packages of coffee 25. Two tickets for the Deal ? Ical? Entertainers. It was a fine exhibition. Sent 5 dollars to the laundry. Paid $5 for a thousand dollars - pounds of ice cream. ?
Saturday May 30 -- $6.65. Paid 15 c for a lunch at the Restuarnt. Yesterday I had Sam Smith put in a short ditch 27 feet long and paid him 50 cts. Harry and Charley Moore for putting tar coal paint on the gutters and virandas of our house $1.85. Eva sent me word by telephone to come to Ladoga for her. She is at Andersons tonight.
Sunday May 31 - I arrived in Ladoga at 11:15 a.m. After meeting went with Anderson and his wife out to Mr. Graybills for dinner and at 2 p.m. was back to town and marched to the Christian Tabbernacle and heard an address by Mr. Hanley of Lafayette. He talked for more than an hour about The Civil War and the lesson it taught. Graves decorated at Andersons tonight. Did not visit the grave of little Willie.