JULY 1885 - Diary of Hiram A. Pratt
Waveland Barber 50 + Years (Standard Diary #31)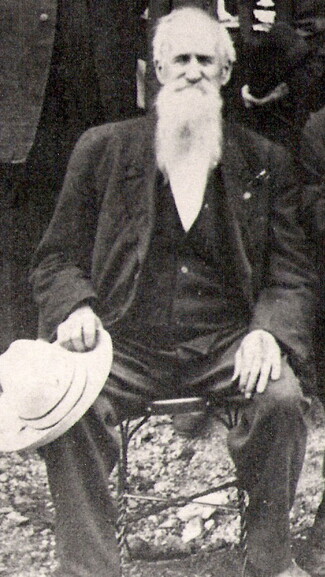 Note: These diaries were in the Waveland Public Library for decades but were disposed of by a librarian several decades ago. Luckily, another librarian's daughter (thanks sooo much Pam, at the death of her mother, Virginia Banta Sharpe found them in some belongings and gave them back for proper housing. A complete circle. I'm a librarian too and thought since they'd been lost to posterity for so many years that it would be a good thing to transcribe them and give them to the world. They are currently housed in proper temperature/storage at the Crawfordsville District Public Library - typed as they were written
Note 2 : Karen Bazzani Zach (transcriber) was raised in the big 'ol town (500 people) where HA Pratt lived 5 decades before I was born. I remember the building where his little shop was and wish it was still there. What an interesting little place. ALAS! Progress !
Note 3: Some information about Pratt -- he was born in Parke County, Indiana April 20, 1840 the oldest child of eight born to Erastus & Elizabeth Allen Pratt and died October 12, 1914 in his beloved Waveland, Indiana. He was twice married, first to the love of his life (he kept a life-sized poster of her in one of his cabinets at his barber shop, even long after his second marriage) Eliza Franklin Shaw (born Oct 23, 1841 died Oct 12, 1887), and #2 to his friend, Evaline "Eva" McMains. He was very active in the community where he and Eliza chose to live. He gave generously of his time and money to the Methodist Church in Waveland. For a few years, he served as Marshall of the town. Also, he worked diligently for his Odd Fellows, Rebekah & Knights of Phythias Lodges, was for a time on the town board, and read to those who could not read from the several newspapers he was agent for. Pratt volunteered and served for three years during the Civil War (Co. B, 36th Infantry), and spent time in the dreaded Andersonville prison. He and Eliza adopted a son, Willie Franklin Stump, age two (not sure ever officially or just had permission to take him from the Poor House in Crawfordsville) and he was an amazing young boy (high grades, worked in the church, quite musicially inclined, just an ideal child) until Eliza was taken to the hospital where she was operated on for six cervical tumors (one weighing six pounds) from which she died. Willie went wild after that and he and Hiram's second wife, Eva never got along. He ended-up in Reform School (for stealing a dollar twice from Eva among other small crimes), and later sent home to die due to consumption (what we know as tuberculosis) dying in Hiram's arms on April 12, in 1894. Hiram missed Willie and Eliza more than most I do believe as he wrote about them so often in these diaries. Just wish the rest of Pratt's diaries he wrote for over 50 years as a barber in Waveland still existed :( kbz
---
Wednesday July 1 - $2.15. Pd 2.10 freight on three gasoline stoves and 4 ovens from Cleveland, Ohio. I put one in at TL Hannas, one at Dow Stones and one at Wm. Canine's. I believe each of them will buy two of them I know will.
Thursday July 2 -- $1.25. I have ovens now that have a glass window. They are quite convenient. Notice can be made of the progress of the work being done without the trouble of opening the door.
Friday July 3-- $4.75. This afternoon I took a gasoline stove out to John Penn's and remained until after supper. Mrs. Penn was much elated over the working of the stove. I believe they will never allow it to be taken away.
Saturday July 4 -- $7.75. We had a tolerable run this forenoon. This evening Charley went to Crawfordsville. I had no further help and was home by 11 ½ o'clock. I was as I always am impressed with the recollections of this day 1863. I was in the battle of Helena.
Sunday July 5 - Willie and I were at church this morning. Since last report of money paid in the church I have paid $3.25. Tonight we were all at church. Bro. Davisson preached a good sermon this forenoon. Tonight he was to me not so much entertaining.
Monday July 6 -- $5.50. Paid 50 cts for one doz box of matches. 5.5 cts for beef this was bought last week. Our chickens are now large enough to commence using. I took a gasoline stove down to Mrs. Read for her daughter to try. Gasoline $2.30.
Tuesday July 7 -- $1.25. Freight $1.10 While at the telegraph office this morning a telegram was handed me from Theodore Shaw, "Pa is bad sick come quick." We were off by next train at 10.35. Tickets $6.40 Pd Westfall in Terre Haute $3.85. Gloves and fan for wife $2.50. Father Shaw is very low.
Wednesday July 8 - 2.25. Father Shaw is some better this morning. The children from Illinois came in early this morning. He is suffering with Neuralgia of the heart and is not expected to get up again. I came home this evening. Paid 75 cts for a dish for cooking fruit in.
Thursday July 9 -- $1.70. I am boarding at the hotel while wife and Willie are at father Shaws. Paid Peterman 1.50 for a pair of shoes for Willie - they were bout (sic - bought) last Friday. I have taken the stove from Reads and have it on trial at Glovers. I was sick last night.
Friday July 10 -- $1.85. Sent $1 to Thomas H. Martin of Chicago for sewing machine repairs. Paid 75 cts for a fruit preserving kettle in which anything can be cooked without burning or scorching. A letter from my wife States her father is not expected to olive from one hour to the next.
Saturday July 11 -- $9.15 - Wm. Bridges is re-roofing our dwelling. We were done work by 11 o'clock. Penn Hanna has returned from Kansas. Charley McCormick has returned from Tenn. During wife's absence I am boarding at the hotel. Weather is warm.
Sunday July 12 -- $ = I remained at home all the forenoon at 2 ½ p.m. I was at Sunday School at 4 - I heard Plunket the Campbellite preach. After supper, was at John Spruhans at night heard Elder Plunket again after which I read awhile and then went to bed.
Monday July 13 -- $4.05 American News Co $5. Enquirer Co 1.50. Commercial Gazette 95 . Postage 10 cts. Rent for June $2. This afternoon I helped to shingle the house one side is nearly done. A letter from my wife states her father is no better. She will not come home yet awhile.
Tuesday July 14 -- $1.00 Monday of last week I bought 3 ½ gal of raspberries for $1.30. Did not hear from my wife today. Suppose her father is no better. I have concluded to put the entire roof on a new, I have found the old roof to be very near worthless. The weather is very warm and dry.
Wednesday July 15 -- $2.05. Borrowed out of Bank for 90 days $75 for which I paid for the use of $1.50. Sent 17.40 to John C. New & Son pd freight .67 odd cents on bill of stove to Spruhan. Paid 35 in Bill of Stoves. Wife and Willie came home this evening. Father's (sic) is better.
Thursday July 16 -- $8.30. Paid Bridges for shingling our house $9. For staining and varnishing a book case 50 cts. The case cost $4 and the glass 1.40. Starch 25 cts. Soap 25 cts. Peaches 50 cts. Wash bill 50 cts. Gasoline $1.15 The weather has been for several days HOT.
Friday July 17 -- $2.30. Paid 1.40 for a gal can of mixed paint. Pd Conner for lumber for saddle boards on the house. The weather is awful hot. A rain would be a good relief. Corn is suffering for the want of it. Hay is about all harvested and in good order.
Saturday July 18 -- $10.05. Paid 25 cts for a gal of coal oil. Paid Jim Roberts $1.50 for helping shingle a day. I am now ready for a good rain. The weather is almost unbearably too warm. A good rain would be a God send. Father Shaw is getting better.
Sunday July 19 - I and Willie attended Sunday school at 2 ½ p.m. I was at church this a.m. Tonight Willie and I went to hear a Japenese student lecture. He was dressed in native costume and talked our language pretty well considering his chances.
Monday July 20 -- $12.50. HOT - Paid 25 cts for Varnish 1.75 for 5 gal can and gasoline. 50 cts. for 3 # of roasted coffee. I was at Budd Galeys and at Brother John W. Todd's with gasoline stoves. They were well pleased with the stoves. I rode in from Browns Valley for 10 cts. Hot weather.
Tuesday July 21 -- $105. Paid 15 in gasoline stoves. Rain passed west north and to the east of us. A young woman was killed by lightning near Browns Valley. The mercury has indicated at different times 100 degrees of heat in the Shade. Cooler tonight after sundown.
Wednesday July 22 - $1.85. We had a very light rain this afternoon. Weather not so hot but hot enough forsee (? - forestall?) practical purposes. Pd 10 cts for one doz green corn 25 cts for lemmon (sic) extract. Wife joined in with Mrs. Bloomfield's folks for ice cream.
Thursday July 23 -- $3.0. Gen US Grant died of cancer in the throat at Mt McGregory, NY at 8:08 this morning. He had been a sufferer for 9 months. He was America's first citizen a great and good man. The greatest military chieftain of the age. 1 gal coal oil 25. The weather hot. Had a rain.
Friday July 24 -- $6.85. .50 Indianapolis Journal was not enough to supply the demand. Most of the paper was about General Grant. Wife and Willie attended the social at the Christian Church. Paid .20 box of siddles soap. 30 bars 3.10. 35 cts for ticket Willie from Farmersburg to Terre Haute.
Saturday July 25- Hot. Rain . $11.45 Paid Bill Moore for what work he done in cleaning up the old shingles from the lawn. 60 cts. Bread tickets .50 Gen Grant's body will not be put away until Aug 8. Central Park NY.
Sunday July 26 - I attended class this morning the attendance was not large only about a half doz. Willie and I attended Sunday school this afternoon at 2 ½. We had a glorious good rain last night and yesterday afternoon. The weather continues warm.
Monday July 27 -- $4.20. Last Saturday I sent 5.47 to AS Fowler of Chicago to pay Quarterly Statement on Life ins. The weather continues very warm. The weather continues most distressedly warm. Willie Hauger came in Saturday evening and returned this a.m.
Tuesday July 28 -- $0.80 Paid for nails 2.60 which was used in the shingling of our house. It does not leak now. Paid in the AOUW $2 on assessment. I rec'd a gasoline stove from Chicago "The Triumph" on which I paid $1 freight. The weather is very warm.
Wednesday July 29 -- $5. Pd $2.60 for dues in the IOOF order. I done this same three weeks ago but had not made a minute of it. Gen Grant will not be buried in Central Park NY but at Riverside Park on the Hudson. Candy peppermint 20. Apples 1 pk .20
Thursday July 30 -- $3.10. Paid 14.37 on gasoline stove. Freight 3.03. Also 73 on stove account. Last night we had a big rain and this afternoon another good rain still the weather keeps very warm. Mrs. Chauncy Smith is not likely to live but a day or so longer. Order fee .10
Friday July 31- $24.60. We have had a very warm day. The rains do not cool the air sufficiently to make an impression. Mrs. Sidney Smith wife of Chauncy Smith died this evening after an illness a little over a week. She had a pin in head.