DIARY OF HIRAM A. PRATT (Waveland, Indiana Barber 50+ years)
MAY 1885 -- Standard Diary #31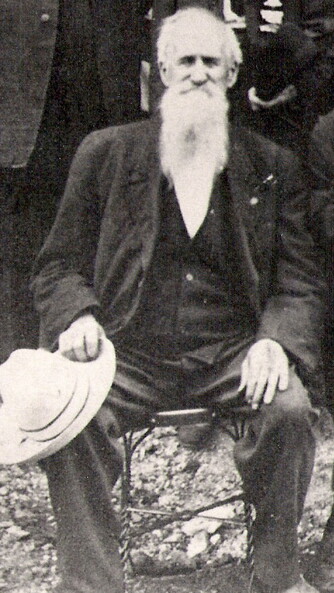 HA Pratt - April 20th - age 45 written in front of book
Note: These diaries were in the Waveland Public Library for decades but were disposed of by a librarian several decades ago. Luckily, another librarian's daughter (thanks sooo much Pam, at the death of her mother, Virginia Banta Sharpe found them in some belongings and gave them back for proper housing. A complete circle. I'm a librarian too and thought since they'd been lost to posterity for so many years that it would be a good thing to transcribe them and give them to the world. They are currently housed in proper temperature/storage at the Crawfordsville District Public Library - typed as they were written
Note 2 : Karen Bazzani Zach (transcriber) was raised in the big 'ol town (500 people) where HA Pratt lived 5 decades before I was born. I remember the building where his little shop was and wish it was still there. What an interesting little place. ALAS! Progress !
Note 3: Some information about Pratt -- he was born in Parke County, Indiana April 20, 1840 the oldest child of eight born to Erastus & Elizabeth Allen Pratt and died October 12, 1914 in his beloved Waveland, Indiana. He was twice married, first to the love of his life (he kept a life-sized poster of her in one of his cabinets at his barber shop, even long after his second marriage) Eliza Franklin Shaw (born Oct 23, 1841 died Oct 12, 1887), and #2 to his friend, Evaline "Eva" McMains. He was very active in the community where he and Eliza chose to live. He gave generously of his time and money to the Methodist Church in Waveland. For a few years, he served as Marshall of the town. Also, he worked diligently for his Odd Fellows, Rebekah & Knights of Phythias Lodges, was for a time on the town board, and read to those who could not read from the several newspapers he was agent for. Pratt volunteered and served for three years during the Civil War (Co. B, 36th Infantry), and spent time in the dreaded Andersonville prison. He and Eliza adopted a son, Willie Franklin Stump, age two (not sure ever officially or just had permission to take him from the Poor House in Crawfordsville) and he was an amazing young boy (high grades, worked in the church, quite musicially inclined, just an ideal child) until Eliza was taken to the hospital where she was operated on for six cervical tumors (one weighing six pounds) from which she died. Willie went wild after that and he and Hiram's second wife, Eva never got along. He ended-up in Reform School (for stealing a dollar twice from Eva among other small crimes), and later sent home to die due to consumption (what we know as tuberculosis) dying in Hiram's arms on April 12, in 1894. Hiram missed Willie and Eliza more than most I do believe as he wrote about them so often in these diaries. Just wish the rest of Pratt's diaries he wrote for over 50 years as a barber in Waveland still existed :( kbz
---
Friday May 1 - $1.90. Paid 65 cts for a bottle of medicine for the cure of indigestion. I am some better than I was one week ago. Paid Eva McMains 3.50 for weaving 28 yds of carpet. She will have it out of the loom this week. Have had to keep up a good fire. Beans 10 cts.
Saturday May 2--- $9.60 I had Ed David to help me to day as Frank Kritz was not well having had the measles. We were done work by 10 ½ o'clock. Have had to keep up a fire all day. Some few farmers have planted corn.
Sunday May 3 - I attended class this morning had a good meeting. A few minutes before preaching commenced William Smith came in and asked me to go over and shave Bob Moore. He died at 15 minutes past nine o'clock. Willie went to Sunday School. We stayed at home tonight.
Monday May 4-- $5.60. Pd 40 cts for 4# of butter. Voted for town officers. Daniel Garwood for Trustee 2nd dis. Wm T. Hanna Treas John S. Lewis Clerk. Araclaus Scott, Marshall were elected. I voted for all 1.25 # Sack of meal. 35 cts. Moore will be buried tomorrow.
Tuesday May 5 - $2.60 -- I paid $2.60 for the chain it took to make our carpet. 1 spool of thread 10 I have had no fire today although we had several showers of rain. Paid Mr. Alward .75 for plowing our garden. Wife and Willie planted it. This was all done yesterday.
Wednesday May 6 -- $2.35. 25 cts for coal oil. 70 cts for 3 ½ # of butter and now have enough to do us for several days. 20 cts for 1# of peppermint lozengers. Have had several showers of rain today. Paid 25 cts for a bottle of corn medicine. We have the new carpets on the floor.
Thursday May 7 -- $1.05. 5 cts for a paper of carpet tacks. 10 cts for 2 spools of thread. Wife was at Mrs. Reads this afternoon having a dress cut. Sent Commercial Gazette $1. Sentinel Co. $2.85. The weather has turn (sic) cold and were it to clear up tonight a big frost sure.
Friday, May 8 -- $1.45. Paid freight on two gasoline stoves 1.50. The weather has been real cold today. April has been necessary. Quarterly meeting at New Market to day and tomorrow. My trouble at the stomache continues. Sarsaparilla pop 10 cts.
Saturday May 9 -- $7.95. The weather is so cold that a fire is in demand to keep warm by. Paid 10 cts for stamps. We were done work by 10 ½ o'clock. Not until late did work come in very brisk. I took a gasoline stove to George Seybold.
Sunday May 10 - This afternoon Willie and I went to Sunday school. Willie also attended the Campbellite Sunday school at 9 o'clock this morning. After Sunday School this afternoon we all took a walk out to Zachie Robertsons. Church at Campbellites.
Monday May 11 -- $5.40. Money order for 15 cts. Paid on gasoline stoves $28.65. Sent the American News Co $5.05. Paid 1.25 for dried beef and 90 cts for a bottle of medicine for my case of indigestion. The weather has been a little more fare. Wire cloth line .70.
Tuesday May 12 - (written in -- ready for this - pink ink). $1.60. Paid 65 cts for interest on note in bank. The weather is a little more moderate, yet cold enough to use a fire in the heating stoves. Stant Harris did not buy a gasoline stove. I took one to Merle Evans to be on trial.
Wednesday May 13 -- $2.40. Sent the Enquirer of Cincinnati 2.55. Rent for last month 2. 20 cts for a hoop for Willie to roll. 75 cts for butter. 75 cts for a sack of flour. 10 cts for pickles. 2 gal of gasoline 35 cts. One pound of tea 75 cts. The weather has been more favorable to farming.
Thursday May 14 -- $2.45. Paid $1 for 2 blacking brushes and boxes of blacking. 65 cts for 6 # of fresh meat. The weather was warm enough today to do without fire in the heating stoves. Wife made Willie a pair of pants today.
Friday May 15 -- $3.69. We have had this makes two days of read good summer weather. Paid 50 cts for 2 gal coal oil. 25 cts for crackers. Bill Thornton has returned and will again resume the tonsorial business. I don't think he will remain very long.
Saturday May 16 -- $12.00. The day has been warm - fine for farmers. We were done work at 11:15 o'clock. I never had an opportunity to eat supper until sundown. I like to be kept bussy. Wife a pair of hose 1 pine box.10.
Sunday May 17 - Wife and I went to church this morning. Willie could not wear his shoes on the account of having hurt his great toe the day before. This afternoon Willie and I accompanied by Frank Gregory took a walk down the railroad.
Monday May 18 -- $4.15. I sent John C. New & Son of Indianapolis $11.86 and in the same letter $1.39 to the Times Co. Paid 25 cts for a gal of apple vinegar. The air became a little cooler at sundown. Gen. Grant is reported not so well. I have ordered two more gasoline stoves.
Tuesday May 19 -- $2.05. Paid 30 cts for a peck of apples to eat and for 7 gal of gasoline $1.15. The weather is real cold. The wheat crop in this locality is about one third of the usual crop. Paid 90 cts for a bottle of medicine for myself. The trade in gasoline stoves is not very good.
Wednesday May 20 -- $3.15. Weather has been warm enough to do without fire today. A large frame residence belonging to John Reddish was burned last Sunday afternoon. Pd $15 on bill for gasoline stoves. Owing to the cool weather the demand for the gasoline stoves is very light.
Thursday May 21 -- $2.00 Paid 65 cts for a summer hat for Willie. We had a little shower of rain this afternoon and night, it was slow and gentle and did much good to the growing crops. We heard tonight that Billy Steele who had gone up to Crawfordsville last evening was in jail. Got drunk and could not pay his fine.
Friday May 22 -- $2.30. I took my wife home at noon today a nice lawn dress. She thought it real nice. I paid WR Barton $1.70 for work done on the road. 20 cts for this is for a light job of hauling. I have the gasoline stove brought back from Evans.
Saturday May 23 -- $10.40. The weather was real warm al day. We were done work by 10:30 o'clock. The lawn dress I took to my wife yesterday cost $1.85. The country would e the better off had she a good rain. Billy Steele's offence (sic) for which he is in jail is drunkenness. He was found lying across the railroad.
Sunday May 24 - We were at home all the forenoon. This afternoon Willie and I were on our way to Sunday School seeing a cloud rising fast from the west and threatening a storm of some description, we concluded it was best to return home. Considerable wind and a little rain. Tonight at bed time we are having a good rain.
Monday May 25 -- $3.75. Paid 30 for ham cut in slices. Mr. Simeon Clore is preparing to furnish citizens here in town with fresh milk. I have agreed to take one gallon per day until our cow comes in fresh which will be in next month. Weather warm.
Tuesday May 26 - $14.60. I paid in the AOUW on assessments $4, one of which was for dues. I attended Odd Fellows lodge last night, was not in until late. I bought a cistern pump and garden plow of George Seybold for 6.50. Sold George the 4 burner gasoline stove.
Wednesday May 27 -- $7.75. I have been for several days picking off the bugs and eggs from of the potato vines. I desire to save them the trouble of devouring the vines. Willie went with Ella Steele on her rounds yesterday in giving music lessons. Weather warm. Coal oil .25
Thursday May 28 -- $1.30. Paid 75 cts to John Phillips for work in the garden. I presume I shall be without any help next Saturday. Frank Kritz is sick and Ed Davis will be in Cincinnati. Do not know of any assistance at this time. We have had more rain.
Friday May 29 -- $27.75. Twenty five dollars of this is payment on gasoline stoves. Wife was up town today and done a little trading. Spent 50 cts. Little Willie is quite elated over having a job of driving two cows to pasture. He gets 10 cts each per week.
Saturday May 30 -- $10.45. Paid 50 cts for fresh beef and 50 cts for coffee. 75 cts for flour. 25 cts for 3 doz pickles. 25 for Lemon extract and 10 cts for one doz nutmeg. This evening at about 5 I secured the services of Bert Kritz to help me until time to close. Brom Brigade (?) last night was splendid.
Monday May 31 - Wife, Willie and I attended meeting at the Presbyterian Church today. Our preacher WC Davisson read the discourse. This evening Willie and I attended Sunday school. I came very near going to sleep while sitting in class. Weather very warm.