MAY 1890 - Diary of Hiram A. Pratt
Waveland, Indiana Barber/Grocer ...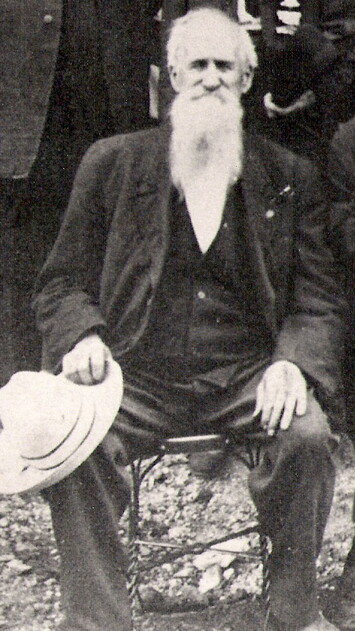 Note: These diaries were in the Waveland Public Library for decades but were disposed of by a librarian several decades ago. Luckily, another librarian's daughter (thanks sooo much Pam, at the death of her mother, Virginia Banta Sharpe found them in some belongings and gave them back for proper housing. A complete circle; however, only 14 of the 50+ diaries were saved from the library's incinerator. I'm a librarian too and thought since they'd been lost to posterity for so many years that it would be a good thing to transcribe them and give them to the world. They are currently housed in proper temperature/storage at the Crawfordsville District Public Library - typed as they were written
Note 2 : Karen Bazzani Zach (transcriber) was raised in the big 'ol town (500 people) where HA Pratt lived 5 decades before I was born. I remember the building where his little shop was and wish it was still there. What an interesting little place. ALAS! Progress !
Note 3: Some information about Pratt -- he was born in Parke County, Indiana April 20, 1840 the oldest child of eight born to Erastus & Elizabeth Allen Pratt and died October 12, 1914 in his beloved Waveland, Indiana. He was twice married, first to the love of his life (he kept a life-sized poster of her in one of his cabinets at his barber shop, even long after his second marriage) Eliza Franklin Shaw (born Oct 23, 1841 died Oct 12, 1887), and #2 to his friend, Evaline "Eva" McMains. He was very active in the community where he and Eliza chose to live. He gave generously of his time and money to the Methodist Church in Waveland. For a few years, he served as Marshall of the town. Also, he worked diligently for his Odd Fellows, Rebekah & Knights of Phythias Lodges, was for a time on the town board, and read to those who could not read from the several newspapers he was agent for. Pratt volunteered and served for three years during the Civil War (Co. B, 36th Infantry), and spent time in the dreaded Andersonville prison. He and Eliza adopted a son, Willie Franklin Stump, age two (not sure ever officially or just had permission to take him from the Poor House in Crawfordsville) and he was an amazing young boy (high grades, worked in the church, quite musicially inclined, just an ideal child) until Eliza was taken to the hospital where she was operated on for six cervical tumors (one weighing six pounds) from which she died. Willie went wild after that and he and Hiram's second wife, Eva never got along. He ended-up in Reform School (for stealing a dollar twice from Eva among other small crimes), and later sent home to die due to consumption (what we know as tuberculosis) dying in Hiram's arms on April 12, in 1894. Hiram missed Willie and Eliza more than most I do believe as he wrote about them so often in these diaries. Just wish the rest of Pratt's diaries he wrote for over 50 years as a barber in Waveland still existed :( kbz
---
Thursday May 1 - The weather is real nice. A light frost last night. The prospect for small fruit is splendid. James Alfrey and his wife Mary Ellen, Eva's sitter came over today from Alamo where they now live. They returned shortly after dinner. Sold Jimmie a nice lamp burner. There is a new gasoline stove in town. The new "Process" it is a nice one.
Friday May 2-Willie spent the day fishing. We will have a good mess of creek fish for breakfast in the morning. Loyd McMains brought three fish today we had them for dinner, had a good mess. I have removed the spouts from several bushel of potatoes Eva thinks she will do her own washing after this week. Wm. T. Hanna of Flora is down tonight.
Saturday May 3 - It is now 31 months since my dear little pet and I left here for Terre Haute. As we passed by in the train, a point opposite our home she covered her face with her hands to hide the tears and said, "Oh will I ever come back to my pretty little home," I showed her that I had a return ticket for her and she remarked "I am afraid that I will never need it." I have for her continued sorrow. I know of her preparation for death and believe she is safe in the paradise of heaven yet I sorrow.
Sunday May 4 - I was to hear old Father Hull preach. He is a grand old man full of fire of the gospel and of the spirit for the Lord. Tonight I went with Eva to hear old father Badger. He is a good old man, a good speaker and commands attention from his auditors. He talked just 30 minutes. I called to see CF Moore as I returned from Sunday School. He has not been well for more than a year.
Monday May 5-31 months ago today my little woman submitted to the removal of internal tumors at Terre Haute, Ind. She was persuaded by no one to have this work done, but of her own free will she submitted. She was under the influence of ether for three hours and 15 minutes. In all this time she had no knowledge of what was going on or being done to her. Mrs. Moore will was again this week for Eva.
Tuesday May 6 - I did think that this week we would plant our garden entire but the weather has been so rainy and cold that I am of the opinion see are better out than in the ground. Willie gets $4 a month now for carrying the mail twice a day and for milking tow cows for Mr. Kritz' folks. He earns a little money once and awhile at odd turns. He would like a steady job on a farm.
Wednesday May 7 - Willie and I spaded a small patch of ground and planted in sweet corn for early use. We now have two patches planted, a few more potatoes are next in order. Willie has partially renovated the cellar. We have more potatoes to over hall the sprouts are to be taken off. Were it not for cloudy weather we would be sure to have frost tonight. The prospect for small fruit is very promising.
Thursday May 8 - The lady members of the Deciples (sic) Church are to have prepared a dinner for the hungry ones who may be here on next Saturday the day of the horse show. Provided it don't rain. The weather at present is rather cool and were it not for the continued cloudy weather frost would surely destroy all small fruit. I went home early tonight having been on my feet all day long.
Friday May 9 - Almyra Petty of Mammoth Springs Ark has been invited to come and see her old mother, next Sunday week she will be 83 years old. We have given for the dinner on tomorrow a pound of prunes, a pound of coffee and a couple pounds of jelly. This afternoon we have had considerable wind, some say they believe a storm is raging somewhere. Eva says she is going to do her washing next week. She has not done it but few times this winter.
Saturday May 10 - A goodly number of people were in town today on the account of the horse show. The dinner cost us 90 cts. A premium of $5 was given Sarah Hanna AP Hanna's daughter. There were only two lady contestants. Miss Hanna and Mrs. JD Fisher. The trade in the grocery store was at times quite lively. The receipts were 73 dolrs. Early this morning the weather was unfavorable for the horse show. May Ellen and Jimmie were over from Alamo.
Sunday May 11 - I was at class meeting this morning. Several were out but the meeting was not up to former meetings in point of interest. At 3 p.m. I was at my place in the Sunday school. Willie was not at any of the meetings today. Tonight we retire at about half past 8. Mary Kelso Lewis was with us for dinner. Yesterday Eva gave me $15 for her mother to send to her daughter Almyra Petty at Mammouth Spring Ark.
Monday May 12 - At 20 minutes of 3 o'clock 31 months ago today my dear little Pet lay a corps at the residence of Mrs. Mahan at No 210 South 13 Street, Terre Haute, Indiana. This was a sorrowful day with me. The evening before her death and in plenty of time for the down train I asked her to allow me to send for her sister Clara and Willie. She said, "Wait until morning and see what the doccor thinks of me Mayby I will be better by morning."
Tuesday May 13 - 31 months ago today at about noon my poor little lady Eliza F. Pratt was laid away to rest in the cemetery adjoining Fletcher Chapel on the east. I think it is about 2 miles north of her father Temple Shaw's near Farmersburg, Sullivan Co Ind. I am permitted occasionally to see to be with her in my dreams. She looks as natural as life when I dream of her.
Wednesday May 14 - I assisted Eva with her washing this week. She washed on Monday. Yesterday it rained as well as in the afternoon of the day before. Willie went to Crawfordsville today to see john Robertson's great circus and animal show. Eva was up town this evening and attended the lecture at the Presbyterian church by George W. Switzer pastor of the ME Church at Crawfordsville Indiana.
Thursday May 15 - The weather is not as warm as it ought to be for brining up the corn planted. The corn planted in our garden some 6 weeks ago is to be replanted most all of it. We have our garden nearly all made. Yesterday we had word from David McMains that he could not be here at his mother's birthday. We have written him again and urged his attendance. I am well.
Friday May 16 - Almira Petty unexpectedly came in this am. George Hanna was at the depot with a buggy and conveyed her down to the house. We were expected her this evening. She is looking rather thin in flesh. Has not been very well for some time. Hope she will soon get well. She left the little girls at home Mammouth Spring Ark. They did not want to come because of sea sickness on the cars.
Saturday May 17 - Miranda Ellis and her daughter Sittie came in last evening. This evening Phillip and wife, I mean Anderson and wife, Phillip's wife did not come. Bob came in too. David will not be here as he failed to put in an appearance this evening. We wanted him. He will be the only one of the children absent and there are 13 of them. None of the children have died only the father is dead. We are all well as common.
Sunday May 18 - On the account of the McMains family reunion I remained at home all day. Eva's mother is 83 years old today. She sat at the head of the dinner table and to her right sat her first born John and to his right the next and so on until the whole family of children (save one David). The family consists of 8 boys and 5 girls none have died. Their father died 10 years ago the 19 of this coming December. Elder OP Badger Pastor in charge conducted religious services at 3 p.m. The Lords Supper administered to the family.
Monday May 19 - The family reunion being over, most of the family have gone to their respective homes. All of the girls were at our house for dinner. Anderson, his wife and two children and Phillips who lives in Illinois went home this morning. Miranda Ellis and her daughter Sittie will remain with us a few weeks. Tomorrow it is purposed that we visit at Nancy Kelso's wife's sister. Mrs. David Moore will do our washing this week. Weather cool and damp.
Tuesday May 20 - Eva and her mother and sisters Almira Miranda and her daughter, Sittie and a Mrs. Ross and Eva's sister Mary and I were at Wm. Kelso's for dinner. Mr. Kelso was planning corn. The ground is most too cold and damp. Willie put out some tomato plants yesterday. GranMa McMains will stay at her daughter Nancy Kelso's tonight having gone over there this morning. Garwood and Foster are a new grocery firm.
Wednesday May 21 - McCormick, Canine & Canine are not able to procure all the wheat required to keep the mill running and fill orders for flour and meal. The weather is getting nice and warm, just right for corn and other grain planted. Strawberries are selling in this market at 15 ct per quart. I have had two boxes and have had one bushel box of beans sent me. I believe I will sell all of them.
Thursday May 22 -I attended our prayer meeting tonight. Brother Banister a traveling man from Terre Haute was with us. The meeting was quite well attended and more than usual interest manifested. The weather continues warm and occasionally a good shower of rain. We all took dinner at Harry McMains today. Eva's Ma came home from Kelso's last evening or I should say this morning I was well.
Friday May 23 -My wife and her mother and sister Miranda and her daughter Sittie and Almira Willie and myself took dinner at Penn Hannas today. We had a splendid good dinner. I have fly screenes (sic) at the doors and windows of the grocery store room. I don't want to be bothered with the flies as much as I was last Summer. Willie failed to milk the cows for Kritz's this evening. He went off fishing and was late.
Saturday May 24 - I helped Frank in the shop a while tonight and was home by 12. Frank had good work in the shop this week and gave me $3.25 for my share. On every dollar he gets for work I get 25 cts. We are going to visit Eva's sister Mary next Tuesday. Tomorrow is Grand Army memorial day. The services will be held in the Christian Church I am always sorry when I meet with the boys in these occasions.
Sunday May 25 -I listed to the best and prettiest memorial sermon today that I have my recollection of. The speakers name is Campbell, a young man born in 1862 and is pastor in charge of the Methodist Church at Park (sic- Parke) Co Ind. This afternoon Eva and her two sisters Almira and Miranda went home with John Warrick. We had a good dinner. John's wife and I used to go to school at the same old log school house.
Monday May 26 - The women folks done their weeks today (sic - washing). We have a new stove (marked out) soap called Diamond made at Marion, Ind that beats all soap I ever heard tell of for cleansing cloths (sic - clothes). Willie is engaged at spading a garden for CF Moore, he will get a dollar for it when done. He done very little at it this day. Farmers are about all done their planting of corn. Some have plowed their corn over once. Corn looks fine.
Tuesday May 27 -We got started for Alamo by half past 7 o'clock. Wm. Kelso and wife accompanied us by 9 o'clock we were at our journeys end. Old Grandma stood the trip very well. She visited an old lady friend after dinner by the name of Heath we all except Sitty Ellis Durham visited the heading factory run by Mr. Alfrey, whom we were visiting. Eva and I will stay at John Alfreys' tonight.
Wednesday May 28 - We were home by half past 9 o'clock. T he roads after we left Bluff Mills were fearful rough - distance from here to Alamo 9 miles, to Bluff Mills 5 miles. Sittie Durham is not feeling so well after the trip. The rough roads were to much for her. Gran Ma stood the trip fine considering her old age. We are glad to be at home again. The weather is remarkably pleasant.
Thursday May 29 -We were all at home today. Willie Butcher attended the prayer meeting else I would have gone. Duffy G. Smith a former student of our now defunct collegiate institute and a son in law of our fellow townsman Alfred Fisher is in from Illinois on a visit. Business in the grocery store is not good. I have to many credit customers. Goods are to be replaced and money not ready at all times. I would like to sell out.
Friday May 30 - We were at John McMains for dinner today. Miranda Ellis and her daughter Sittie returned to their home at Rossville, Ill this morning. James Alfrey and wife from Alamo were at John Mcs for dinner. Mrs. Martha Canine was at our house over last night. Willie is spending more money than one in his standing can afford.
Saturday May 31 - Yesterday was memorial or decoration day. The discourse was delivered by Wm. Whittington of Crawfordsville Ind at the ME Church, the house was packed full of humanity. I marched with the boys to all of the cemeteries where all of the grave of Union Soldiers were decorated with a flag or a wreath of flowers. On a rebel soldiers grave flowers were put but no flag. I am all was reminder of a funeral service.