FEBRUARY 1886 - Diary of Hiram A. Pratt
Waveland, Indiana Barber 50+ Years; CW Soldier + More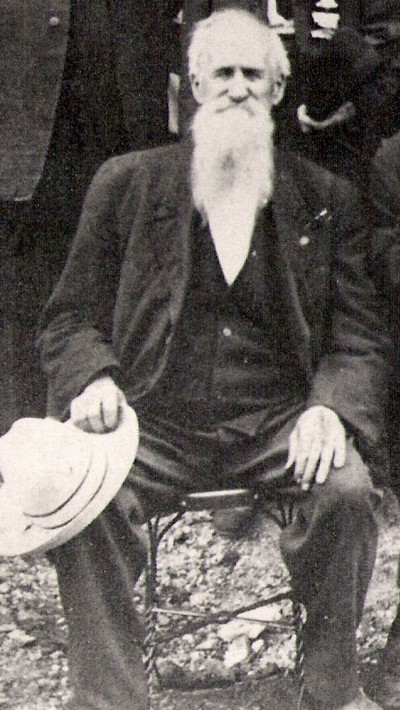 Note: These diaries were in the Waveland Public Library for decades but were disposed of by a librarian several decades ago. Luckily, another librarian's daughter (thanks sooo much Pam, at the death of her mother, Virginia Banta Sharpe found them in some belongings and gave them back for proper housing. A complete circle; however, only 14 of the 50+ diaries were saved from the library's incinerator. I'm a librarian too and thought since they'd been lost to posterity for so many years that it would be a good thing to transcribe them and give them to the world. They are currently housed in proper temperature/storage at the Crawfordsville District Public Library - typed as they were written
Note 2 : Karen Bazzani Zach (transcriber) was raised in the big 'ol town (500 people) where HA Pratt lived 5 decades before I was born. I remember the building where his little shop was and wish it was still there. What an interesting little place. ALAS! Progress !
Note 3: Some information about Pratt -- he was born in Parke County, Indiana April 20, 1840 the oldest child of eight born to Erastus & Elizabeth Allen Pratt and died October 12, 1914 in his beloved Waveland, Indiana. He was twice married, first to the love of his life (he kept a life-sized poster of her in one of his cabinets at his barber shop, even long after his second marriage) Eliza Franklin Shaw (born Oct 23, 1841 died Oct 12, 1887), and #2 to his friend, Evaline "Eva" McMains. He was very active in the community where he and Eliza chose to live. He gave generously of his time and money to the Methodist Church in Waveland. For a few years, he served as Marshall of the town. Also, he worked diligently for his Odd Fellows, Rebekah & Knights of Phythias Lodges, was for a time on the town board, and read to those who could not read from the several newspapers he was agent for. Pratt volunteered and served for three years during the Civil War (Co. B, 36th Infantry), and spent time in the dreaded Andersonville prison. He and Eliza adopted a son, Willie Franklin Stump, age two (not sure ever officially or just had permission to take him from the Poor House in Crawfordsville) and he was an amazing young boy (high grades, worked in the church, quite musicially inclined, just an ideal child) until Eliza was taken to the hospital where she was operated on for six cervical tumors (one weighing six pounds) from which she died. Willie went wild after that and he and Hiram's second wife, Eva never got along. He ended-up in Reform School (for stealing a dollar twice from Eva among other small crimes), and later sent home to die due to consumption (what we know as tuberculosis) dying in Hiram's arms on April 12, in 1894. Hiram missed Willie and Eliza more than most I do believe as he wrote about them so often in these diaries. Just wish the rest of Pratt's diaries he wrote for over 50 years as a barber in Waveland still existed :( kbz
---
Monday Feb 1 - $8. B&L Association 2.50 Sent the Sentinal Co for daily papers $3.21 Wife made a few cod fish balls for dinner which I liked first-rate. Willie was forward tonight for prayers. No one came to talk to him and he did not remain long. I was not aware.
Tuesday Feb 2 -- $1.40. Sent WC Ball & Co 94 cts for the TH Gazettes. The weather has been very cold all day. Mercury standing at 2 degrees above zero. Pd 70 cts for a sack of flour.
Campbellites are having meeting this week. Coal oil 20 cts. Willie was up for prayers tonight.
Wednesday Feb 3 -- $4.20. Paid 45 cts for buck wheat flour. Sent the American News Co $2. Willie claims to have been converted last night. He seems to understand himself and is not in excitement nor has he been influenced by us. Another real cold day.
Thursday Feb 4 -- $4. Carpet tacks 3 papers 10 cts. Cow feed $1.10. 30 cts repairs on stove. 30 cts one peck of apples. I have not had time to eat my supper this evening. The weather continues cold. The meetings are well attended.
Friday Feb 5 -- $1.70. Peaches one pound 20 cts. I have ordered a grate from Evansville for my shop stove. Sent the Sentinel Co. 3.20 on statement rendered Jan 1, 1886. I had neglected to make a note of this. Cold weather continues. Campbellites are holding forth.
Saturday Feb 6 -- $8.25. Globe Democrat .18. Most of the work came in this afternoon and after dark.. Quarterly meeting at the Methodist Church today and tomorrow. It was after 10 o'clock when we were done work tonight. The Cincinnati Enquirer did not arrive Commercial did.
Sunday Feb 7 -I attended Love Feast this morning. There was but little interest manifested. Our preacher has too much talk and not calculated to enthuse the people. Elder Greene preached a good sermon at morning and evening. We were at both services.
Monday Feb 8 -- $5.70. Two gal of coal oil 35 cts. Building & Loan Association 2.50. Weather is moderating fast. Mrs. AJ Clark died this morning at 10 o'clock, Funeral tomorrow at 2 p.m. at the residence. Meeting at the Methodist Church for the present at an end.
Tuesday Feb 9 -- $6.25 - Pd Life Insurance on wife's policy $36.46. The snow is about all gone. Roads and side walks are in a terrible bad condition. Wife and Willie went to hear Villars the funny man at the Methodist Church tonight.
Wednesday Feb 10 -- $2.30. Pd 45 cts for a pair of rubber shoes for wife. 50 cts for beef. Sent 95 cts to SH Moore & Co NY for CN McCullough for Check it on the Hearth. 50 cts to Evansville for stove grate 555 Express charge on stove grate. Villars Is not getting much of a crowd. Postage 10 cts.
Thursday Feb 11 - 2.20. sent McCain 5 dollars. Pd 25 cts for 3 crocks. 25 cts for 2 lbs of peaches. 50 cts for two bars of soap. There has been a steady rain falling all day. Wrote a letter to Rev. LL Buckles of Terre Haute concerning the sale of a sewing machine. Wife has a bad cold.
Friday Feb 12 -- $2.65. 2 yds of domestic gingham for our little boy 20 cts. Paid $1 to the committee on the Villers Entertainment. I sent an old soldier to the Hotel to be kept at my expense. Rained today late this evening. Snowed a little.
Saturday Feb 13 -- $9.85. Paid 75 cts for Hotel fare for a soldier who had no money with which to pay his fare. Sent Crawfordsville Star $1.95 - renewal for Ed Oldshue and 6 mos sub for WM Butcher. The ground has about thawed through. A snow fell last night.
Sunday Feb 14 - Willie and I attended Sunday school at 2 ½ this p.m. I read Sam Jones' sermon delivered Friday night in Cincinnati as published in the Gazette. Tonight we all went over to the Campbellite Church. Several friends called before going to church.
Monday Feb 15 -- $5.75 - Fresh meat 80 cts. B&L 2.50. The weather has turned a little colder, the ground is again frozen over so that it will bear up. The Presbyterians commenced tonight a series of revival meetings.
Tuesday Feb 16 - Paid 1.75 for a ticket to Indianapolis. 5 cts for a daily Journal 30 cts for supper. Have put up for the night at the Occidental Hotel cost 50 cts for a bed, paid the Sentinel Co. 1.89. The Times Co 1.88. Daily Journal 13.16. Made a call at Head Qtr of the AOUW.
Wednesday Feb 17 - This morning I was in line with the Grand Army boys and marched to Masonic Temple. The large Hall was densely crowded with Ex-soldiers. At 11 ½ I went to the Hall of True Friend and met with the Grand Lodge of AOUW. Paid 80 cts for meals. 50 cts for bed at Occidental.
Thursday Feb 18 -- $2.80. 1.75 for a ticket to come home on. 30 cts for dinner. At Crawfordsville had to lay over 3 hours bought a barrel of Baldwin apples for 2.75. 3 head of cabbage 25 cts. Was home 6:30 p.. Have had a very pleasant trip.
Friday Feb 19 - 2.20. Mrs. Read and her daughter Lizzie and Mrs. Alward were at our house for dinner having spent the day on a visit. Paid 75 cts for a pair of rubber over shoes while over at the city. For repair on watch chain .25. The weather is fine.
Saturday Feb 20 - 16.50. We have had a good run of work today. Coal oil 25 cts for 2 gal. Flour 70 cts. Tomorrow night we are going to hear the Presbyterian preacher. He is a Swede. 30 years old. Been in this country 15 years. Speaks very plain.
Sunday Feb 21 - We attended the Methodist Church this forenoon. Five united with the church on probation. Willie was one of that number. He will be 13 years old his next birthday may 9th. He says he knows just what he is doing. God bless him!
Monday Feb 22 -- $4.35. Sent the Enquirer Co. $1.50. Ordered the Cincinnati Gazette for JT Hesler and a couple of men from Marshall. Wife and I visited Willies school room this afternoon. B&L $2.50. Globe Dem for TC Hooker 95 cts. Weather moderating.
Tuesday Feb 23 -- $7.35. Charley Talburt and I done a couple of small jobs of printing today. Charley puts up the type and I do the inking and press work and give him half the price rec'd for the work. Paid him $1.50.
Wednesday Feb 24 -- $2.55. One fourth ream of letter paper note size 30 cts. 2-2 pounds packages of oat meal rolled and cooked 25 cts. American News Co. $10. Ordered a sewing machine for Nashville Tenn for Rev LC Buckles of Terre Haute, Ind.
Thursday Feb 25 - 85 cts. Two gal of Maple Molasses $2. One broom 30 cts. 2 pr hose for wife 50 cts. The weather has suddenly turned cold and is freezing fast and everything in reach of old Jack Frost is being made to feel his powers. The Gazette failed to get in tonight.
Friday Feb 26 -- .70. Paid 1.05 for cow feed. 15 cts for one gal coal oil. Weather moderated some. Snow all melted. Sent $5 to THB McCain with my items for the Journal by James Vancleave a deputy sheriff. Mr. Woolsey, wife and daughter are in jail for unlawful selling of whiskey.
Saturday Feb 27 -- $12.20. Sent 50 cts to Onsantic ? card Co of Birmingham Conn. Have had tolerable good run of customers today. We were done work by 10 ½ o'clock. The weather has been steady cold, thawed a very little. Toweling 9 yds 90 cts.
Sunday Feb 28 - I remained at home all therefore noon. Read one of Sam Small's sermons. Willie and I were at Sunday school at 2 ½ p.m. A tonight, Wife, Willie and I went over to hear the Campbellite preacher. Weather is not very cold.