NOVEMBER 1895 -- Hiram Pratt Diary
Waveland, Indiana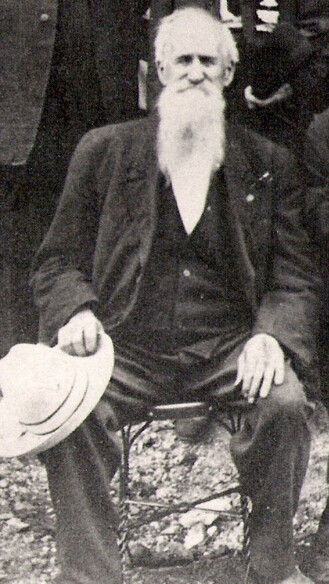 Note: These diaries were in the Waveland Public Library for decades but were disposed of by a librarian several decades ago. Luckily, another librarian's daughter (thanks sooo much Pam, at the death of her mother, Virginia Banta Sharpe found them in some belongings and gave them back for proper housing. A complete circle; however, only 14 of the 50+ diaries were saved from the library's incinerator. I'm a librarian too and thought since they'd been lost to posterity for so many years that it would be a good thing to transcribe them and give them to the world. They are currently housed in proper temperature/storage at the Crawfordsville District Public Library - typed as they were written
Note 2 : Karen Bazzani Zach (transcriber) was raised in the big 'ol town (500 people) where HA Pratt lived 5 decades before I was born. I remember the building where his little shop was and wish it was still there. What an interesting little place. ALAS! Progress !
Note 3: Some information about Pratt -- he was born in Parke County, Indiana April 20, 1840 the oldest child of eight born to Erastus & Elizabeth Allen Pratt and died October 12, 1914 in his beloved Waveland, Indiana. He was twice married, first to the love of his life (he kept a life-sized poster of her in one of his cabinets at his barber shop, even long after his second marriage) Eliza Franklin Shaw (born Oct 23, 1841 died Oct 12, 1887), and #2 to his friend, Evaline "Eva" McMains. He was very active in the community where he and Eliza chose to live. He gave generously of his time and money to the Methodist Church in Waveland. For a few years, he served as Marshall of the town. Also, he worked diligently for his Odd Fellows, Rebekah & Knights of Phythias Lodges, was for a time on the town board, and read to those who could not read from the several newspapers he was agent for. Pratt volunteered and served for three years during the Civil War (Co. B, 36th Infantry), and spent time in the dreaded Andersonville prison. He and Eliza adopted a son, Willie Franklin Stump, age two (not sure ever officially or just had permission to take him from the Poor House in Crawfordsville) and he was an amazing young boy (high grades, worked in the church, quite musicially inclined, just an ideal child) until Eliza was taken to the hospital where she was operated on for six cervical tumors (one weighing six pounds) from which she died. Willie went wild after that and he and Hiram's second wife, Eva never got along. He ended-up in Reform School (for stealing a dollar twice from Eva among other small crimes), and later sent home to die due to consumption (what we know as tuberculosis) dying in Hiram's arms on April 12, in 1894. Hiram missed Willie and Eliza more than most I do believe as he wrote about them so often in these diaries. Just wish the rest of Pratt's diaries he wrote for over 50 years as a barber in Waveland still existed :( kbz
Friday Nov 1 - $1.00 The daily papers had a great many dispatches from various parts of the country about the earthquake. The shock was felt as far west as Nebraska and east as far as Washington DC and north as far as Ontario, Canada and as far south as the Gulf of Mexico. Indiana seems to have been about the center. Brick were shaken from the top of the stove flu at the Methodist Church house. Laundry bill $2.70
Saturday Nov 2 -- $7.40. Piad 75 for Eva an undershirt. She and Almira have gone over to Sam McMains and are expecting to be home tomorrow evening. A small rubber type hand press cost me $2.25. It is handy to print small cards and sign papers as Agent. Can be used for a good many things. De Smalley and wife have agreed to disagree and he has gone to Missouri. I had a letter from him today.
Sunday Nov 3 - Mrs. Smalley came over this morning and waked me to come over for breakfast. Lloyd had gone home with his sister Mary Ellen yesterday evening. I visited Willies grave today and on last Thursday evening I visited it before going in to the prayer meeting. I eat dinner and supper with Mrs. Smalley. We had oysters for dinner. Eva and her sister Almira stayed at Emma McCunes in Russellville tonight. Jim Alfrey was in this p..m.
Monday Nov 4 -- $2. Signed the pension voucher this morning. Eva and her sister were home by 10 a.m. I have wash water ready for them. The Clore Bros have made the discover of a new spring of water on their stock farm since the recent earthquake. It was a God send for at this time of the year we are having the driest weather we ever had. Old citizens never seen so many wells dry.
Tuesday Nov 5 - 35 cts. Oysters for Sunday cost 35 cts. Eva and Almira took supper at Mrs. Amanda Bloomfields tonight. Almira and Lloyd will start for Mammoth Spring, Arkansas next Thursday. The papers report only 6 inches of water in the Wabash river at Terre Haute. Water navigation on the Ohio river above Wheeling VA is discontinued. Here in town a few have had wells drilled 50 or more feet deep and get an abundance of good water.
Wednesday Nov 6 - 75 cts. There is an election in 11 states and one Territory being held today in these United States. The democrats hope to reduce the Republican majority in Ohio to 40 thousand. In Kentucky the Republicans are hopeful of the success of their cause for the democrats are divided on the silver question. Republican papers are confident they will be successful. The dems are equally so. Both cannot win.
Thursday Nov 7 -- $6.50. Almira and Lloyd left this a.m. at 9.35 for Mammoth Spring, Ark. Lloyd gave me $6. I was owing him and when I presented it to him he said for me to keep it. I took $2 of it and bought season tickets for the lecture course and Eva and I went to hear James Hedley on How Shall we Estimate the Worth of a Man? Eva went out home with the Kelso's for dinner.
Friday Nov 8 -- $24. I received today in pension check. I paid with it my state and county tax which was $25.76. Bought a couple pounds of sausage for 20 cts. The papers say the Republicans were successful beyond their expectations in Ohio will probably hole up a republican majority of 100 thousand. Majority in Iowa will be over 60,000 and in Kansas 50,000. Populist party are not in it.
Saturday Nov 9 - 5.50. Paid 2.35 for a pair of shoes. $1 for 16 yds of calico for Perla A. Myrtle Petty a dress for each 35 cts for beef 4 lbs 41 for 20 lbs of granulated sugar. After dinner Henry McIntosh was up in an apple tree shaking off apples when he fell to the ground, was carried home and died in about half hour from the time he fell. He lived on the opposite side of the street from us and a short way east. Eva saw him in the tree but did not see him fall.
Sunday Nov 10 - I visited Willie's grave before going in to meeting house to hear our pastor William Greene Vessals. There was a good congregation present considering that there was preaching in the Baptist church. While milking the cow this evening Newt Shepherd called to see if I would set up at Henry McIntosh's his body is yet at the old residence. I gave conscent. Eva and Mrs. Smalley went to hear TJ Shuey.
Monday Nov 11 -- $1.65. Saturday last I paid express on laundry basket .35. I notice that no item has been made of rent last month which was 3.00 and to the Mutual Accident Insurance Co of Piqua, Ohio $2.20 and to the AOUW 2 dollars. Sack of flour 45 cts. Henry McIntosh was buried this afternoon at 2 ½ the services were held in the Methodist Church house. The large room was filled with friends of the deceased.
Tuesday Nov 12 -- .85 cts. Eva done her usual weeks work yesterday and today. We received a letter from Almira petty. They arrived at Mammouth Spring Friday night. Bert was there with a conveyance, the night was dark and they had a rough road to follow. At home they were gladly received. Lloyd was not very favorably impressed with the beauty of the country. I have paid $25.76 for state and county tax for the year 1895. ? Hard to read - tear in paper but assume 1895.
Wednesday Nov 13 -- .25. We stayed at Mrs. Smalley's last night. The wife of William Brush of Crawfordsville is dead. She was well beloved by all who knew her. The funeral will occur tomorrow at 2 p.m. There are various reports in the papers concerning the death of Henry McIntosh. The Cincinnati Gazette had a report from Crawfordsville that he had climbed a tall tree for a parrot and in reaching for the bird missed his balance and fell 60 feet all a lie.
Thursday Nov 14 -- .65. Bought 2 lbs of sausage 20. 5 cts worth of kraut. Coal for shop and house $4.66. The laundry bill last week cost $3.72. Sent the Journal of Indianapolis $8.14. THB McCain $3.74 to the Sentinel $3.08 and to the Record of Chicago $2.25 and for stove repairs for our heating stove $2.75 and for a dress pattern for the Petty girls $1 and for a pair of shoes for myself 2.35. Two winter shirts for wife $1.40.
Friday Nov 15 -- $1. Four pound beef roast 20. two loaves of bread 10 cts one qt cranberries 10 cts. 2 lbs of fresh pork ham 20 cts. We had John Kelso and wife from Kansas and Will Kelso and wife and daughter Mary Lewis at our house for dinner. James Alfrey and wife were callers at our house yesterday evening. Eva is talking of visiting her sister Mary Ellen next Sunday. I attended the Knights of Pythias lodge tonight. Nettie Moore buried today.
Saturday Nov 16 -- $5.20. Paid 35 cts for Express on laundry basket from Terre Haute. Eva went out home with her sister Mary Ellen. I was done work by 9.30 work was not brisk until after night. I had a very little to do before noon. I was told tonight that our cow come very near being run down on the Midland railroad just at the west end of town. The weather has turned a little mite colder.
Sunday Nov 17 - I started on my walk out to Jim Alfrey's last night at 10 minutes of 11 and arrived at 5 minutes of 12. I had a very pleasant walk nearly all of the way I was promising the Lord at times I was very happy. There was not no moon shining and most of the way the stars were observed by clouds. We were at home by sundown. I did not visit the grave of little Willie today.
Monday Nov 18 -- $3.60. Jim Alfrey and his son John are farming in co partnership. Thin hogs are dying of hog colera (sic). They have had 12 to die. I had not been out there since the time when their corn was barely out of the ground. Mary Ellen has a fine lot of chickens and a few turkeys. They have a very nice farm. We have had a real nice day. Thanksgiving services will be held in the Christian Church.
Tuesday Nov 19 - 50 cts. The weather has made a change and we have had a tough afternoon. Harry Kritz told me that Lloyd McMains had returned from Arkansas. Iw as very much surprised to hear this when I went down home sure enough there he was. Eva at the time he entered the house was over at Charley Richey's. She first saw him he was standing in the door leading from the dining room to the kitchen. She was surprised.
Wednesday Nov 20 - 35 cts. We have had lots of winter weather today. I asked Lloyd how long after he had got to Petty's before he began to have the blues and he said soon after day light when he parted the window blinds and looked out upon the earths surface, he turned as blue as indigo. It was dark when they got home on Friday night. He started home yesterday at about 11 o'clock. Eva set up a part of the night at McIntosh's.
Thursday Nov 21 - 75 cts. Nettie Moore is not expected to tier ? live (I would think but does not look like that) very much longer. She has consumption [tuberculosis] . She is the oldest daughter of Henry and Sarah McIntosh and the wife of Harvey Moore. She was not able to attend her father's funeral. I attended prayer meeting at the Methodist church house. The attendance was very light and the interest is not what it aught to be. I love good lively meetings. Nettie died this morning. Weather is rather bad.
Friday Nov 22 - 65 cts. One small sack of flour 45 cts. I did not get to go to the funeral of Nettie today. Eva says her body was the poorst object she ever looked upon. The great wonder as expressed by nearly everyone is they do not see how she could have lived so long. Her mother was so near exhausted on the return home from the funeral that she had to be carried into the house. It seems that winter is here.
Saturday Nov 23 -- $4.00. Express on laundry .35. I spent most of the afternoon yesterday in putting the repairs in our heating stove. I sent THB McCain on the 12.3.74 the laundry this week cost 3.10 yesterday I sent the Royal Pub Co of Toledo $2. and to the Christian Herald $4. to AC McClery of Chicago 2.50 Lloyds old friends gauge him considerable about his stay in Ark. He said before going that he would stay a year.
Sunday Nov 24 - I was late to class meeting this morning. The meeting was not very well attended but the spiritual part was good. I visited Willie's grave after class meeting. Rain has been falling steady since yesterday morning, a good gentle rain the kind that does good. Bro Vessels gave us a sermon tonight. He was at New Market and gave them a sermon before noon.
Monday Nov 25 -- $4.50. Eva done her usual Mondays work. Mary Kelso Lewis is undergoing treatment at the hands of Dr. Gott of Crawfordsville for throat trouble. The family and friends are very anxious as to her final outcome. It is the opinion of some that she has consumption [tuberculosis] . Lloyd has authorized me to engage a hog dressed and cut up and lard rendered. Patton & Balis (Bayliss) are engaged to get the hog. Ground covers with snow.
Tuesday Nov 26 - 20 cts. I don't get much work to do. Ed Cuppy has a new room and stocked with new furniture. He gets nearly all the work to do. Steve Gott will move his shop into the new room of TL Hanna's. My room is not a very desirable one but the best I can do. I pay $3 per month. They pay a hundred dollars a year. The Midland is doing a fair business in the way of freight.
Wednesday Nov 27 -1.00. Paid 60 cts for groceries. $1.16 for cow and chicken feed. The Cubans are still at war with Spain for their freedom. I am in sympathy with the Cubans but am very fearfull they will not succeed. John Alfrey brought in a turkey for Lloyd yesterday evening. I cut its head off today and Eva will prepare it for dinner tomorrow. Paid 30 cts for a quarter of fresh oysters.
Thursday Nov 28 -- $1. I was at Thanksgiving services today in the Christian Church. Mrs. Maye Shalley and her little girl and John McMains were at our house for dinner. The snow had nearly all melted away when we had a new supply. The Crawfordsville Journal was not printed today. The force lay off for the Holliday. I have paid for coal thus far this year $7.03.
Friday Nov 29 -- .75. The laundry bill this week was $.86 cts. George Cowan has sent in a bill for damages to the laundry works for $1. I took it fro the remittance don't know whether they will allow it. They spoiled one of his cuffs. The hog furnished by the firm of Patton & Balis weight 212 pounds and cost at 5 cts a pound $10.60 and 50 cts for rendering the lard made the total cost $11.10. The weather is some warmer. I am as well as usual.
Saturday Nov 30 -- $5.60. A steady rain has been falling for more than 24 hours. The fall rains are pretty late coming, we are glad that the draut has been broken. Our cistern is well night full. Lloyd has not been up town but twice this week. T he 54th congress of the US will convene in Washington city next Monday. I am anxious to see what they will do fro the finances of the country.