Diary of Hiram A. Pratt, Waveland Barber
(Standard Diary #31) -- JUNE 1870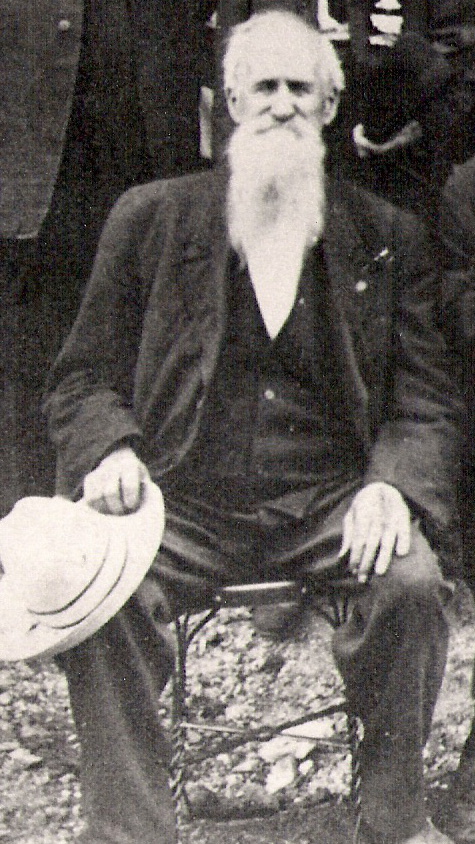 Note: These diaries were in the Waveland Public Library for decades but were disposed of by a librarian several decades ago. Luckily, another librarian's daughter (thanks sooo much Pam, at the death of her mother, Virginia Banta Sharpe found them in some belongings and gave them back for proper housing. A complete circle. I'm a librarian too and thought since they'd been lost to posterity for so many years that it would be a good thing to transcribe them and give them to the world. They are currently housed in proper temperature/storage at the Crawfordsville District Public Library - typed as they were written
Note 2 : Karen Bazzani Zach (transcriber) was raised in the big 'ol town (500 people) where HA Pratt lived 5 decades before I was born. I remember the building where his little shop was and wish it was still there. What an interesting little place. ALAS! Progress !
Note 3: Some information about Pratt -- he was born in Parke County, Indiana April 20, 1840 the oldest child of eight born to Erastus & Elizabeth Allen Pratt and died October 12, 1914 in his beloved Waveland, Indiana. He was twice married, first to the love of his life (he kept a life-sized poster of her in one of his cabinets at his barber shop, even long after his second marriage) Eliza Franklin Shaw (born Oct 23, 1841 died Oct 12, 1887), and #2 to his friend, Evaline "Eva" McMains. He was very active in the community where he and Eliza chose to live. He gave generously of his time and money to the Methodist Church in Waveland. For a few years, he served as Marshall of the town. Also, he worked diligently for his Odd Fellows, Rebekah & Knights of Phythias Lodges, was for a time on the town board, and read to those who could not read from the several newspapers he was agent for. Pratt volunteered and served for three years during the Civil War (Co. B, 36th Infantry), and spent time in the dreaded Andersonville prison. He and Eliza adopted a son, Willie Franklin Stump, age two (not sure ever officially or just had permission to take him from the Poor House in Crawfordsville) and he was an amazing young boy (high grades, worked in the church, quite musicially inclined, just an ideal child) until Eliza was taken to the hospital where she was operated on for six cervical tumors (one weighing six pounds) from which she died. Willie went wild after that and he and Hiram's second wife, Eva never got along. He ended-up in Reform School (for stealing a dollar twice from Eva among other small crimes), and later sent home to die due to consumption (what we know as tuberculosis) dying in Hiram's arms on April 12, in 1894. Hiram missed Willie and Eliza more than most I do believe as he wrote about them so often in these diaries. Just wish the rest of Pratt's diaries he wrote for over 50 years as a barber in Waveland still existed :( kbz
---
Wednesday June 1-- $2.75 I made today. Pd 15 for a bottle of hair oil and 35 for half pint of bay rum. When at Browns Valley I paid 25 for edables. Eliza gave Mrs. Marshal's girl 50 for helping wash the clothes. Gave 10 last Sunday to church expences, gave Grandma McIntosh .20 for work done on my vest. Taylor Grimes home tonight gave security for his appearance at court. Nann English for work Eliza's bonnet 1.40
Thursday, June 2-- I howed most all the forenoon in my garden, was uptown at the Post Office and received a couple of papers. Blade did not come. Almost everybody thinks Taylor and Gee Grimes will not be here to attend court next Sept. If I were in similar circumstances, I believe I would be farmed off on
leg bail rather than go to the Penitentiery for two years.
Friday, June 3-- Eliza and I took dinner at Mrs Haleys today. Bought 1 gal of coal oil for .50 and two lamp chimneys for .25 and for some lace to make Eliza a collar .20 The one Mrs. Haley gave her as a present lst week was missin last Wednesday morning we believe Mrs. Marshal's girl Ellen took it. I took a picture for Eliza today.
Saturday June 4-- $6.25 I made today in the shop. We had a nice shower of rain this afternoon. I heard by Jim Robinson that Aunt Susan would be back from Kansas in a week or two now I hardly believe this report. They have never wrote me anything that I might draw any such inference. Eliza is a good deal better.
Sunday June 5 - Uncle Marshal and his wife came to spend the day with us we were not looking for them. Aunt Rachel seemed very well pleased with her visit and we were well pleaded to have them come. Uncle Marhsal and I went to the Presbyterian CHurch. I went fast asleep, it seemed to me that it was
impossible for me to keep awake. Weather warm.
Monday, June 6 -- This morning John Hovermill his wife and Hannah Evins came. John wa son his way to mill, I went along with him we went to Deers Mill while there we visited the Pine Hill Woolen mill, seen a wheel 28' in diameter the main wheel for power. We went in swimming. Bout 2# of rice for 25 cents. The weather is warm and nice.
Tuesday, June 7 - Had a small shower of rain this afternoon. Pd. rent for the month of May $2.00. Pd $1.55 for butter, $1.50 for a sack of flour. $2.35 I pd at Invis? Hanna's for my shoe. Rec'd a letter form Ause Pratt. He says they are having dry weather some of their corn is nearly knee high. John Moore is coming home next week.
Wednesday, June 8 -- $2.50 is all I made today. Paid 20 cents for 100 cabage plants. Set the m out this evening. We have had a splendid rain today - it wet the ground thoroughly, corn will grown now with great rapidity. Answered Ause Pratts letter. In a few days will send Uncle Dave some money. We are as
well as for common this evening.
Thursday, June 9 - Answered Ause Pratt's letter. It commenced to rain this morning about 8 and kept up a steady rain untill the ground became thoroughly soked. I answered auses letter yesterday not today. A letter came for Uncle Dave from Indianapolis asking the pay for the sewing machine he bought last fall.
Friday, June 10 - $2.10 I made today in shop. Pd 25 for a wooden bucket, 40 for some medicine for ELiza and 75 for hair oil and 30 for fresh beef. Uncle Marshal was here for supper. Aunt Margarett was here a little while yesterday. Answered the sewing machine letter. Had a rain today. The ground is to wet to plow now.
Saturday, June 11
-- $6.65 I made today. Rec'd a letter from Bro. Ben. They
have not got movef in to theit new store room yet. My poor old mother is
about to become blind, she thinks one eye will be destroyed entirely. Buckie
is working by the month on a farm for $13.00 per month. We have had more
rain today the ground is too (he uses this too correctly but usually has to
when it should be too) we to plow first right.
Sunday, June 12 - We went to meeting today. Bro. Hayes' brother from Illinois preached. He is a smart man speaks very well, he preached for us again at 3 p.m. John Crutchfield and wife and Mrs. Mary Croks, Eliza and I eat dinner at our friends JD Haley. Had a big rain today.
Monday, June 13
- This morning James Yount let me take his team, with his
wife and my little woman over to Uncle Marshals. Mr. Yount came over a foot
in the evening. I went over to Uncle Roy Grimes' with Marshal after dinner,
he went on over to his other farm. Roy had first got a letter from Uncle
Dave. I went out in the woods with Dve and John Grmies with guns, killed one
bird.
Tuesday, June 14- $1.45 is all I made today. Yesterday while at Roy's I went out in the woods with the boys to hunt squirrells found but one, didn't get it. We have had 9 showers of rain today. I wrote a letter to Uncle Dave telling him that I would send him his money next Monday . Bought 7# fresh beef .85 cts. 7# sugar for $1.00 1 3/4 # butter .40 cts. Milligan owes Unlce Dave on note $1,632.32.
Wednesday, June 15 -- $2.50 I made today. The exhibition is not so extensively visited as it were last year. Consequently I will not make quite as much Money. John Crutchfield, JD Haley and wife were here for dinner. Haley has read Dan Vorhees speech and hss been caught by it. He will vote the copperhead ticket this fall.
Thursday, June 16
- Eliza suffered a good deal last night. $2.70 is all I
made today. I perceived that I will not get in as much money during this
exhibition as last. There is not half so many visitors in as last year.
Tuesday last I received a letter from Bro. Bill & one from Ben F. Abegg with his picture. Thats my brother and friend.
Friday, June 17 - $5.50 I made today. There was the most people in town today since the week commenced. I got to the room of Exhibition in time to hear the last one (John Brady) speak. I heard it said that he done the best of all. I noticed on the stage Rev. Robert Irwin from Kansas he used to be
their minister here and will preach for them Sunday next.
Saturday June 18 - $5.20 I made today. Done better than I had any idea of doing, most of the work was done from 2 p.m. until 10 p.m. Rec'd a letter form Cyntha Pratt. John Moore wrote a little in it. He sayes he is well pleased with the country. Bill Woodgate hss set up a Blacksmith shop and taken John Moore with him. Eliza was at Mrs. Alward's this p.m. 1 pt hair oil 75 cents.
Sunday June 19 -- We went to the Presbyterian Church today at 11 o'clock services. Heard Rev. Robt Irwin preach a good sermon from Isiah 60-12? the house was full. Tonight we went to our church and heard him again. The subject wss concerning David & Goliah (sic). His remarks upon this was very interrsting. We bade him good by. The house tonight was full. At home by 10 o'clock.
Monday June 20 - Did not get started for Rockville untill after T. Milligan gave me a check on the bank at Rockville for $1000 and $652.32 in money. It was past 12 when I got to town. Between 1 and 2 oc'lock I mailed a bank check toUncle Dave calling for $1630.23. On the way home it appeard to me that I had put the letter in the office without addressing it to anybody. I was then nearly halfway home after a little pause concluded to come on home and write to the cashier of the bank and get him to see if such a letter
remains in the post office. Expenses today .80
Tuesday, June 21 -- $1.00 I made in the stop tonight. This forenoon I worked in my garden at noon I went to Grandma McIntosh's for dinner. Dr. Steele and his wife were there too. Eliza took a dinner over to David Moore's wife. She is confined with her first born since Sunday night. I have commenced to repair my house. Wm. Hutton does the woodwork, Dan Williams the stone work, have had a warm day. Butter .20 Beef .25
Wednesday, June 22 - $.25 I made tonight in daytime. I have to half work about the house. Dan W. Voorheese spoke in Rockville today. This desired information from Rockville did not come untill night. The cashier of the bank there sent me the bank check and sure enough I had put it in the office without directing it to anyone. I have mailed it this evening to Uncle Dave.
Thursday June 23 -- Bill Hutton got mad at me because I would not have his son Johnnie to work at $1.80 (one fifty) per day, though he would have done it if I had not told Johnnie that I would not owe him. So I went and hired John Hutton and George Wymore. They came at noon. Paid BIll Hutton 2.25. Paid for nail .65 and Alwood for halling $2.00.
Friday, June 24 -- Yesterday the Mercury was up to 100 degrees. Today it was 96. We put the sills under the house today before noon. Several from uptown came up to help. Dan Williams finished his job putting pillars under the foundation 12 of them for 12 dollars. I paid him all when done. Hutton & Wymore will be done 10 tomorrow. We are well as common.
Saturday, June 25 - $9.45 I made today in shop. Pd Hutton & Wymore 10 dollars and Jack Sympson for timber and stone 2.75 and Robert McMains for lumber .65 and Mr. Vincent for lumber .30 and John Thornton for halling .75. Yesterday June 24 the mercury was up to 100 and not on the 2e. I made a mistake. Was home by 12, Eliza complains some. I am well
Sunday June 26 - We heard Bro. Hayes preach 2 sermons today. At night I heard a boy 17 years old preach a sermon in the Camlite house of worship his text was 1 Co 13 & 12 "For now we are through a glass darkly.." He done very well. Rec'd a letter yesterday from Ause Pratt. Uncle Dave has bought a farm
of 120 acres for 4,600 dollars including crops. Eliza gave 10 cents for contingent church, expences and .25 for missionary cause.
Monday June 27 - - $1.25 I made today. Paid John Thornton for plowing garden 25 cents. Bought 7 yds of domestic gingham for me a couple of shirts cost 1.75 - We had a little rain today and would accept a little more. Last sunday it rained a little in theafternoon while we were at our church. John and Lizie Crutchfield here for dinner. 2 lamp chimneys .25
Tuesday June 28 - $1.40 made today in shop. In the afternoon the weather was real warm, but not as warm as last Thursday and Friday. Eliza and Mrs. Vincent went visiting at Mrs. Hendrixon's I was there for dinner. Bought me a summer hat for 80 one pounds of cheese for 25 and about minded soon to last overharvest cost .15 I am expecting to help Mr. Hanna, Thornt Watson turned out of the Mason order.
Wednesday June 29 -- $.50 cents is all I made in my shop today. At noon I had to go out to Mr. Hanna's to help harvest at night. Penn Hanna let me have a horse to ride home on. The wheat we have to work in is of the bearded kind, the straw is soft and easy to bind. I expeced to see a nice farm keep up in good style but not so. Mr. Hanna has about 600 acres of land. The improvements are not very good.
Thursday June 30 - I started over to Mr. H's before breakfast got up as far as Sympsons then turned back and took breakfast with my little woman. We had a little sprinkle of rain yesterday afternoon. There are good indications of a good rain tonight sometime. Some think our railroad will run north of town. I would rather have it south.