JULY 1890 - Hiram Pratt Diary
Waveland, Indiana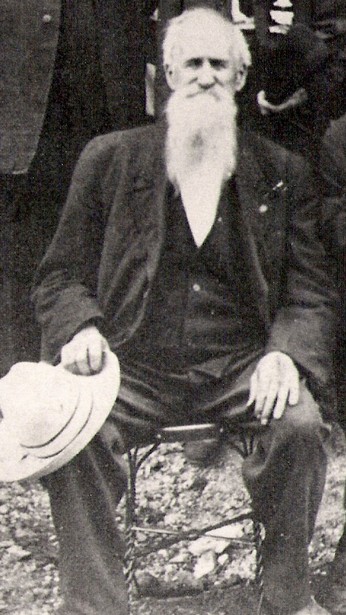 Note: These diaries were in the Waveland Public Library for decades but were disposed of by a librarian several decades ago. Luckily, another librarian's daughter (thanks sooo much Pam, at the death of her mother, Virginia Banta Sharpe found them in some belongings and gave them back for proper housing. A complete circle; however, only 14 of the 50+ diaries were saved from the library's incinerator. I'm a librarian too and thought since they'd been lost to posterity for so many years that it would be a good thing to transcribe them and give them to the world. They are currently housed in proper temperature/storage at the Crawfordsville District Public Library - typed as they were written
Note 2 : Karen Bazzani Zach (transcriber) was raised in the big 'ol town (500 people) where HA Pratt lived 5 decades before I was born. I remember the building where his little shop was and wish it was still there. What an interesting little place. ALAS! Progress !
Note 3: Some information about Pratt -- he was born in Parke County, Indiana April 20, 1840 the oldest child of eight born to Erastus & Elizabeth Allen Pratt and died October 12, 1914 in his beloved Waveland, Indiana. He was twice married, first to the love of his life (he kept a life-sized poster of her in one of his cabinets at his barber shop, even long after his second marriage) Eliza Franklin Shaw (born Oct 23, 1841 died Oct 12, 1887), and #2 to his friend, Evaline "Eva" McMains. He was very active in the community where he and Eliza chose to live. He gave generously of his time and money to the Methodist Church in Waveland. For a few years, he served as Marshall of the town. Also, he worked diligently for his Odd Fellows, Rebekah & Knights of Phythias Lodges, was for a time on the town board, and read to those who could not read from the several newspapers he was agent for. Pratt volunteered and served for three years during the Civil War (Co. B, 36th Infantry), and spent time in the dreaded Andersonville prison. He and Eliza adopted a son, Willie Franklin Stump, age two (not sure ever officially or just had permission to take him from the Poor House in Crawfordsville) and he was an amazing young boy (high grades, worked in the church, quite musicially inclined, just an ideal child) until Eliza was taken to the hospital where she was operated on for six cervical tumors (one weighing six pounds) from which she died. Willie went wild after that and he and Hiram's second wife, Eva never got along. He ended-up in Reform School (for stealing a dollar twice from Eva among other small crimes), and later sent home to die due to consumption (what we know as tuberculosis) dying in Hiram's arms on April 12, in 1894. Hiram missed Willie and Eliza more than most I do believe as he wrote about them so often in these diaries. Just wish the rest of Pratt's diaries he wrote for over 50 years as a barber in Waveland still existed :( kbz
---
Tuesday July 1 - The weather has cooled off wonderfully, we can now sleep under a cover lid or quilt very nicely. Eva seems to be some better. She retains her food, better than a few days ago. Mrs. Sutton Henry Jarvis mother-in-law is quite sick and it is very doubtful of her recovery. Henry L. Kindig our ME Pastor is quite proud of their first born, a girl.
Wednesday July 2- I would like to be out of this grocery business. I done a good deal better in my barber shop. If I could sell it for the cash would rig out a fine shop and continue the barber business. I think I have about $2000 invested in groceries and store pictures ? I work more than I ever did in all my life. Dr. JD Vannuys will be in town soon.
Thursday July 3 - Three yeas ago and 3 months to the best of my recollection Dr. JD VanNuys left here for Witchita Kansas. He and his family are here on a visit. They will return in one week or less. Johnie Robertson's wife died this morning at 3 o'clock. Her funeral will be held in the ME C in the morning at 10 ½. Mrs. Sutton died this forenoon She will be burried in the home farm tomorrow. 33 months today my little woman and I went down to Terre Haute.
Friday July 4-Three years ago today my dear little woman and I went down to Terre Haute. She passed an examination by Dr. Leo J. Winstein and consented to be operated on for the removal of a tumor. We did not know that she had more than the one. Clara and Willie that day went to the Shades of Death a pleasure resort some 5 miles north of town. Eva and I were at the funeral of Mrs. Robertson a large attendance. Cooler weather.
Saturday July 5 - Yesterday morning Willie stole from Eva $1. He confessed to me this morning just before he got on the train for Guion where he went to see a game of ball. He was at the Shades yesterday. I am going up to Crawfordsville Monday to get an order from Judge Snyder for his adoption to the Reform school at Plainfield, Ind. He will then have the benefit of a school and be set to learn a trade and have a home. 33 mos to day my Lida was operated upon.
Sunday July 6 - Willie and I were to hear our Pastor HL Kindig. At 3 p.m. I was at Sunday school. Willie had taken the cot out under the grape arbor and was asleep. He lay there until time to go. Milk Kritz's cows. At night I met him or rather overtook him on the way to church and we journeyed together and seen ? seats in the same pew. Eva attended her church. Bro. Badger was over. This afternoon has been warmer than common.
Monday July 7 - I went up to Crawfordsville this morning to see a lawyer about what disposition to make of Willie. I was advised to have him indicted for pettit (sic) larceny. If he pleads guilty there will be no trial either way he will have to go to jail and lay for the September court. The supposition is that the judge will send him to jail for 6 months and then the Governor will commute the sentence to the Reform School at Plainfield. He will be arrested in the morning.
Tuesday July 8 - Willie, before breakfast cut some weeds down in the garden which grew by the fence. After breakfast I went with him to the pasture where he mils Kritz's cows. On the way there he sloped Loyd Mc's hogs. After the milking he and I came up to the store. Mr. Goslin, a JP from Browns Valley had the papers made out for his arrest. I took him to Crawfordsville. Had ½ doz negatives for photos taken. We eat dinner at John Hunts. A few minutes after 3 p.m. I turned him over to the sheriff and he was put in jail. I bade him good by at 5 minutes of 4.
Wednesday July 9 - Mrs. Dave Moore washed for Eva last Monday. Mike Daly George & Fred Cooper were in Crawfordsville today and called at the jail and seen Willie. He told them he did not know what he was in jail for and that he guessed I had a stubborn spell on and wanted to vent my spite on him. All of which he knew was false. There was another man in prison since the first of June with whom he was having a good deal of sport with. Weather warm.
Thursday July 10 - The corner stone of the new church was laid at 2 p.m. by the Masonic Order. The day was fair and the attendance was good. Ira J. Chase our Lt. Gov delivered an address of about half hour in the forenoon. Todays Journal of Indianapolis had a statement in it concerning Willie's confinement in the county jail. The account only in part was true. He is 17 years old since May 9th instead of 16. Eva is about well again. Paid Justice Goblin 1.50 for papers on Willie.
Friday July 11 - Last night and the night before were good for sleeping. The weather is very nice today. Corn would be the better of a good shower of rain. The Independent, our town paper had an item in about Willie being in jail for petit larceny. "His last escapade was the stealing of a dollar from Mrs. Pratt." The little boy is getting a good deal of free advertising. Had he minded me, he would not be in a prison today. I told him time and again whither he was tending.
Saturday July 12 - 33 months ago at 20 minutes of 3 o'clock of the morning my precious little lady breathed her last and the tabernacle in which she dwell was dead. Not long since I had a very pleasant dream of her. Wish I could be with her in my dreams every night. She brought Willie from the poor farm near Crawfordsville in the early fall of 1875 and on the 8 inst I took him to Crawfordsville and put him in jail for stealing. I am sorry for him.
Sunday July 13 - I went to class meeting this morning and at 3 p.m. was at Sunday School. Last Sunday Willie went with me to church morning and night. He had a good dinner and a good bed. His fare will not be so good. I and Eva went out to Wm. Kelso's a little while this evening. Bob was over with his buggy and we made the round trip with it. The weather is warmer than usual this evening. My health is real good.
Monday July 14-Eva had her washing done by Mrs. DM Moore. The farmers are at wheat threshing. The crop is the lightest for many years past. Some fields are turning gout the usual crop, while there are some that will not yield anything. I rec'd a letter from Willie this morning. He was well. He would like to be cut on a bond. He allows that the jail is not a very nice place to be in he had a good place to sleep and plenty to eat.
Tuesday July 15-Dr. Wm. W. Steele was in Crawfordsville today and called a minute or so at the jail to see a man by the name of Pettit or Petett who is in a charge of wife murder. While there he called to see Willie who was engaged in a game of cards with another prisoner. The little boy will earn. I hope a lesson from experiences that will do him much good in life to come. I wish him well.
Wednesday July 16 - We had a big wind and rain storm this afternoon. The corn in our garden is nearly all flat on the ground. Limbs from shade trees obstruct the side walk in places. Fruit trees are damaged to some extent. I am in hopes that I can find a buyer for my grocery store. I would a great deal rather be in a barber shop can make more money and a great deal easier. Ten cents is not much but several of them put together in a day counts up.
Thursday July 17 - Another good rain and wind storm this evening. The ground is now thoroughly soaked. Wheat threshing will be delayed a short time. We had green beans for dinner, from the vines that Willie planted and tended. The poor little fellow could have retained his home with us had he been honest and obedient. He can only blame himself for being where he is. He had timely warnings and all of his life had better training. Poor unfortunate boy.
Friday July 18 - I was at Prayer meeting last night. Our Elder Henry Middleton was there. He was on his way to Byron about 4 miles north of here. He will be here tomorrow and Sunday our fourth and last Quarterly meeting. We have been favored with a magnificent rain. The wind blew the growing corn down on many farms. This rain was I think general in application reaching all over the country.
Saturday July 19 - It was my intention to have attended our quarterly meeting but I found my time was on demand to supply my customers with their wants. We had a good trade today. If every day was like today in point of collections it would seem more like business. I have paid this year 20 to our ministers salary. Next year I will pay $10.
Sunday July 20 - I attended quarterly love feast at 9:30 this morning. Quite a number bore testimony of redemption through the merits of the precious blood of Christ our Lord and Saviour. The regular service commenced at 10:30. The main part f the building was well nigh full several found more comfortable seats in the side room. A window sash in this room fell and broke a glass.
Monday July 21 - I was at our meeting last night and heard our Elder HM Middleton. He is a good speaker and in the enjoyment of full and complete salvation. He was at our house for dinner yesterday. Bro. Badger was there also. They had heard of each other often but had never met before. Eva prepared a splendid dinner for them. Bro. M preached in the afternoon at Byron.
Tuesday July 22 - Yesterday Eva made the discovery of the theft of another dollar, which we have every reason in the world to believe was stolen by Willie. A few Sundays ago when John Alfrey and wife dined with us. He gave Eva $1 for the church. She put it in the safe drawer to the left hand side in the corner and a paper. At a time when he would be looking through the drawer he happened to find this dollar and took it - stole it.
Wednesday July 23 - Wash Byerly of Alamo Ind called to see me today and offered me 60 cts on the dollar as per invoice of the goods in my grocery. I would like to sell but don't want to give the goods away. He has property in Flora he values at $1,500 he would put in on a trade. Eva done her washing this week. I rendered assistance. Henry McIntosh has a very bad gathering on his neck.
Thursday July 24
- Rec'd a letter from Willie last evening. He was well and has plenty of company - four others have been put in jail since he was put in since his imprisonment. He had no complaint to make. Willie Steele a promising young doctor with a strong drink habit was put in jail Friday night of last week. I made some inquiry of how Willie was getting along. It was his opinion that Willie was getting a little tired of his situation. He felt sorry for him.
Friday July 25-I wrote Willie a letter today. I have a half dozen photographs of him showing just how he looked on the 8th day of this month. He was 17 years one month and 29 days old that day. Henry McIntosh is in a fair way to get well, Bob Mc Eva's brother was out there today and will stay over night. Eva is putting up a new shirt for me. The last one of a half doz she cut out about a year ago.
Saturday July 26 - I mailed the letter to Willie this morning. I put 25 cts in silver in it - a collection I rec'd from Dud Hargrave for him. The weather had been very much like summer the last few days Candidates for congress and other offices who are to be voted for this fall are beginning to circulate among the people. Frank Kritz will go into business with JD Fisher next week.
Sunday July 27 - I attended class meeting this morning. It was lead by Bro PM Conner meeting was good. This afternoon at 3 o'clock I was at our Sunday school. 80 persons will present and 80 cts contributed to the Sunday School by the classes. Tonight I went to bed early. Mary Kelso Lewis was at our house for dinner. Eva put us up a good dinner.
Monday July 28 - Frank Kritz has bought a half interest in Fisher & Sons Stove Tinware and undertaking establishment. He will help me out in the shop on Saturday nights and at other times when he can. I have been at the shop most all day and only took in 35 cts. My shop is not in as public a place as I would like for it to be.
Tuesday July 29 - I sent Willie a couple of papers by mail this a.m. Bob Mc went up to Crawfordsville this morning. He will call and see Willie. I have loaded barrel heading in a car today. Some time ago I took the contrast from Mr. Alfrey to load a few cars of heading and at the time supposed that Willie would do the most of it and that Frank would be in the shop.
Wednesday July 30 - Loaded more stoves this forenoon. Bob Mc Eva's brother returned from Crawfordsville was to see Willie. Said he was laying in his cot when he first went when he was spoken to he jumped up and we seemingly surprised. He had a black eye the result of having a dispute with a fellow with whom he was playing cards.
Thursday July 31 - I have been engaged this afternoon in loading a car with barrel heading for Mr. Alfrey of Terre Haute. Yesterday afternoon was likewise engaged. Bob McMains helped me awhile. I took off my shirt while in the car for it was dreadful warm and oh my how we did sweat. Eva was at the old settlers meeting at Russellville today. She said the crowd was quite large. Rain tonight.