JULY 1902 - HIRAM PRATT DIARY
Waveland, Indiana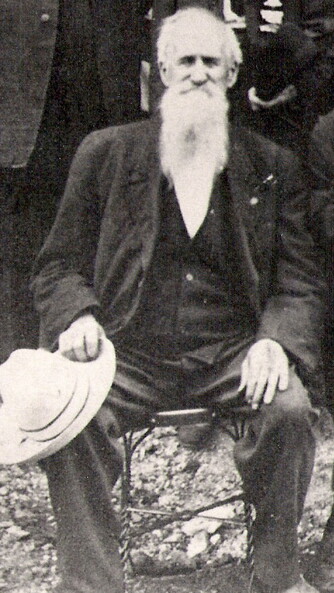 Note: These diaries were in the Waveland Public Library for decades but were disposed of by a librarian several decades ago. Luckily, another librarian's daughter (thanks sooo much Pam, at the death of her mother, Virginia Banta Sharpe found them in some belongings and gave them back for proper housing. A complete circle; however, only 14 of the 50+ diaries were saved from the library's incinerator. I'm a librarian too and thought since they'd been lost to posterity for so many years that it would be a good thing to transcribe them and give them to the world. They are currently housed in proper temperature/storage at the Crawfordsville District Public Library - typed as they were written
Note 2 : Karen Bazzani Zach (transcriber) was raised in the big 'ol town (500 people) where HA Pratt lived 5 decades before I was born. I remember the building where his little shop was and wish it was still there. What an interesting little place. ALAS! Progress ! Oh, and I've tried to type the diaries as is - mistakes & all
Note 3: Some information about Pratt -- he was born in Parke County, Indiana April 20, 1840 the oldest child of eight born to Erastus & Elizabeth Allen Pratt and died October 12, 1914 in his beloved Waveland, Indiana. He was twice married, first to the love of his life (he kept a life-sized poster of her in one of his cabinets at his barber shop, even long after his second marriage) Eliza Franklin Shaw (born Oct 23, 1841 died Oct 12, 1887), and #2 to his friend, Evaline "Eva" McMains. He was very active in the community where he and Eliza chose to live. He gave generously of his time and money to the Methodist Church in Waveland. For a few years, he served as Marshall of the town. Also, he worked diligently for his Odd Fellows, Rebekah & Knights of Phythias Lodges, was for a time on the town board, and read to those who could not read from the several newspapers he was agent for. Pratt volunteered and served for three years during the Civil War (Co. B, 36th Infantry), and spent time in the dreaded Andersonville prison. He and Eliza adopted a son, Willie Franklin Stump, age two (not sure ever officially or just had permission to take him from the Poor House in Crawfordsville) and he was an amazing young boy (high grades, worked in the church, quite musicially inclined, just an ideal child) until Eliza was taken to the hospital where she was operated on for six cervical tumors (one weighing six pounds) from which she died. Willie went wild after that and he and Hiram's second wife, Eva never got along. He ended-up in Reform School (for stealing a dollar twice from Eva among other small crimes), and later sent home to die due to consumption (what we know as tuberculosis) dying in Hiram's arms on April 12, in 1894. Hiram missed Willie and Eliza more than most I do believe as he wrote about them so often in these diaries. Just wish the rest of Pratt's diaries he wrote for over 50 years as a barber in Waveland still existed :( kbz
---
Tuesday, July 1 -- $3.60. Lost 15c. Paid 15 for binding for Eva's skirt, 10 for water mellon. Last Thursday I sent the Laundry $2.75 and today $2.75. For washing 30c. We eat our dinner to day with Eva's sister Mary Alfrey. Charles Smith, his daughter, Murina and sister Miss Sarah known by the nic-name of Sattie were there for dinner, too. Mary butchered a spring chicken that weight 3#. Mrs. Adaline East-wood nee McIntosh called to see Eva yesterday. She was a citizen of the neighborhood 26 years ago - now resident of Springfield, Ohio and on her way to meet her mother in Kansas.
Wednesday July 2 - (Written above the entry - My bro. William died to night at 10:15. At peace with God. $13.15. Paid 5c for 3 peaches, 10 for 1 lb of Sausage (Ham). Ticket for Eva to Danville, Illinois and return $1.72. She will buy another ticket when she gets to Danville. I seen Clifford Goben in town today. He is a son of John L. Goben who was several years a citizen of this neighborhood. Clifford is 21 years old and married. He was not look to be out Christina ? yet, I did not get to go to my dinner until about 5 o'clock this evening. I got Eva a dollar for pin money offered her more but she would not take. I sent the Laundry work up to Crawfordsville yesterday evening. They will not do any work July 4th.
Thursday July 3 -- $1.75. Eva and Mary started for Danville this morning. Jim Alfrey took their luggage to the station this morning as he went off to the farm to work. Ethel Fullenwider will go with me to Crawfordsville in the morning. I don't call to mind the year that on the 4th of July that I ever left my business for a trip of pleasure. The Anti rust tin pail and dippers that I bought in May 1897 on a guarantee to never rust have been abandoned for the use wherein they were bought. The pail is our swill pail. The dipper handle is rusted off.
Friday July 4 - Ethel was on hands early for the trip. We were in Crawfordsville by 11 o'clock. The weather being real warm the horse could not stand a very lively jog. We put up at Bob McMains for dinner and supper. Late in the evening I took Mrs. Jas Goslin out for a drive. We witnessed the display of Fireworks. Some real nice designs and some were very common. Were very common. Paid 25c to be admitted to the Fair Ground. Over 2000 people were within the grounds. The horse, cold and races were the attractions. It was 20 minutes after 12 when I was ready to go to bed. Ethel did not return.
Saturday July 5-- $5.55. A letter came to me yesterday from Carrie M. Harrow. She was married of the 26th of June, I think her name is now Swertz. She signed "Your friend, ever. Carrie." My brother William died at 10:15 p.m. June 2. He was willing and anxious to depart and he forever at rest. Sent word to mother that he would meet her in heaven. He arranged all his temporal business affairs and gave directions for his funeral. His funeral will take place in the First Methodist Church house at half past 10 tomorrow morning. I wish I could have been there. I am glad that he at last found peace to his soul by believing in Jesus. I praise the Lord for a salvation that go us.
Sunday, July 6 - I was at Church at 11 o'clock service, visited Willie's grave before going into the house. After the meeting was dismissed I went to Mrs. Rachel Crabbs for dinner, her father James Alfrey and her daughter, Susan with her husband from Alamo were there too. Had stewed chicken and dumplins, a real good dinner. Before going to meeting I commenced a letter to my deceased brothers' widow. Bro. Will was burried today, the funeral was held in the First Methodist Church house in Ottumwa, Iowa. Beginning at 10:30 a.m. I hope to meet him in heaven.
Monday, July 7 -- $5.05. Paid 2.50 rent. 70c for ice 5 for bread 30 for beef steak. Eva and Mary came home on the 10 o'clock train this a.m. I had used up all the edibles Eva had provided for me except an apple pie and I clear forgot it. I was real glad to welcome her home. This afternoon she went over to her sister Nancy Kelso's. Nancy has had a summer kitchen added to the winter kitchen. I commenced Sunday a letter to my deceased brothers wife. We have had two beautiful showers of rain late this evening. Weather extremely warm.
Tuesday July 8 -- $2.50. Post office box rent 15c one gallon of green peas 10. I mailed the letter to Mrs. M. V. Pratt my deceased brother wife. Sent her 4 pages. Sent the Chicago Daily News 27c and gave an order for a large Thurmometer. The Publisher proposes to send it free. Paid yesterday $2.20 for gasoline could get only 10 gal. Eva reports the Wabash river bottom corn crop destroyed on the account of the overflow where the water had gone to ? confine of the river, the corn was lain flat in the mud where water had not all run off corn could be seen. Tips of the blades, this has been another warm day.
Wednesday July 9 -- $1.75. Paid $1.60 for 60 gal of gas 10c for ten ears of green corn. 10c for peaches. We had a good shower of rain this afternoon. The rain of last Monday was not mentioned. Wrote a letter to my mother. This is her 77th birthday - closed or rounded out her 76 year yesterday. She was born in Kentucky July 9, 1824. I was her first child, born in April before she was 16 years old. For ought I know she was dead when I was writing. I have been expecting every day to hear from her or of her death. Sent Globe Democrat 82c. Post Dispatch 29c. Eva spent the day at Irve Fullenwiders. Warm today.
Thursday July 10 -- $3.40. Paid rent on Telephone $1. For washing 30c Sent the Laundry 42.75. Received a copy of the Ottumwa Daily Courier of July 3, 1902 It contained an article concerning the death of my brother Cyrus William Pratt. He was born in Indiana Oct 8, 1843. He was 53 years, 8 months 24 days old when he died. For several years he was proprietor of the Bee Hive Hotel. A wife and a daughter he left. He was a charter member in the Lodge of Modern Woodman. Sent the Cincinnati News Co. $3. The weather turned a little cooler late this afternoon. I am getting 35 Indianapolis Dailys.
Friday July 11 - $2.05. Paid 15c for one dozen cucumbers. Rev. Elvet E. Moorman and wife made a few calls this afternoon by the use of our horse and buggy. The 4th and last quarterly meeting will be held here next Saturday and Sunday. I have contributed to church expense during the year for preachers salary $15.90. Western Christian Advocate 1.60. Classmate 60c Mission $1. Coal $2 John Alfrey has promised to fill my hay mow with mowed oats. It will hold 4 fair loads. Mrs. Rachel Crabb will move to Jonesboro, Missouri some time next week. Weather continues very warm.
Saturday July 12 -- $9.00. Paid rent last week's $1.25. It was 12 or midnight when I left for home. Had nothing to eat after the noon meal until after midnight. I am reminded by the date of the month that 15 years and 9 months that since my dear little lady died. The day of the week was Wednesday, 2:00 a.m. The same day of the month and hour of the morning Wm. F. Pratt our foster son died 8 years and 4 months ago. The day of the week was Monday. I visited his grave before going into the meeting. The presiding Elder preached a good sermon. I have made a mistake. The last 2 sentences are for Sunday.
Sunday July 13 - I was at the church house in time for the morning sermon. The presiding Elder preached a good sermon from the text, "For I the Lord God am a jealous God too." Before entering the church house, visited little Willie's grave. The weeds and grass are tall and if they were wet I would be compelled to keep away. Mrs. Jas Dulin came in to see Eva after dinner. Charles Taylor and I took a drive of about 20 minutes, went to Marshall and set awhile at Fred Wymours. Home in time to go to church. Eva was my best girl. Union Meetings every Sunday night for two months.
Monday July 14 -- $2.05. Paid 35c Express. Saturday I paid 35 for a beef roast at 8 ½ per lb. The wheat is being threshed and is turning out all the way from 20 to 44 bushel per acre and of good quality. Paid $5.25 for Gasolene and oil. John Alfrey put a small load of mowed oats in the barn this forenoon. John C. Canine has sent for Charley Ellis to come over, he is in a notion to buy his farm. Paid 30c for the washing of cloths. Minnie Ratclif a daughter of Sam McMains' returned home today. She has been visiting her Aunt Nancy Kelso since last Friday. She lives near Bainbridge, Putnam Co, Ind.
Tuesday July 15 -- $5.30. Paid 25c for a beef steak and 50c for a chunKnights of Pythiasickled pork. Beef 20c a pound. Pork 13. This afternoon Eva went over to Milligan to meet Charley Ellis. He brought his little daughter Effie with him. I was mistaken in regard to Mrs. Minnie Ratclif. She never went home until today. Charley asks 55 dollars per acre for the farm. Paid 80c for a bushel of very ordinary corn. Corn will cheapen when the new crop is ready for the market. The freight Handlers strike in Chicago is loosing the merchants a million dollars a day. 700 car loads of parishable goods are imperiled.
Wednesday July 16 - $2. The weather is getting very warm. 98 degrees recorded today. The freight handlers strike in Chicago is declared off and business will resume in the morning. Everybody is glad of it. The strikers did not gain their point viz recognition of their organization as a union. Sent the Cincinnati News Co 45. Expense 7c. Bob McMains was in town a short while this evening. He was on his way to Marshall. I don't think Charley Ellis sold his farm. He is at his Aunt Mary's tonight. Will leave for home in the morning.
Thursday July 17 -- $3. Received a letter from Bro Ed, his daughter Nettie and sister Eliza. It gave me the good news of my dear old mother's triumphant enternce into the Glory World. She passed through the valley and shadow of death at 3 o'clock last Sunday afternoon. She was in her right mind to the end. Sister Eliza said to her a few minutes before the end, "Ma, you cant last much longer" and she replied "Well praise the Lord." My letter to her was received the day before she died. She could not read it but had it read. She was very poor, a mere skeleton. She was born July 8, 1824. She was 98 years and 5 days old when she died. Sister was in Ottumwa when she wrote. The River was all over the bottom land but had commenced falling.
Friday July 18 -- $2.55. Sent the Indianapolis News $8.68. The Sentinal $6.19. The Journal $7.03. One tray of peaches 35. Ice cream 20c. The weather today was not quite as warm as on yesterday. I noticed while at home for dinner Mercury was standing at 81. Expense of money orders and stamp 30c. Blackberries home grown are selling at 40c per gal. Yesterday I put two new mantles on my lamp. It was sometime in November last when I put those on I took off. I knocked a small bit out of one of those tonight.
Saturday July 19 -- $8.00 Paid rent for last month $1.35. For a 24 lb sack of flour 50c. Beef roast at 8 ½ 35c 1 pine apple 20 1 water mellon 25 1 cantelop 10c. This date one year ago we were in great distress the corn needed rain, it was drying up. Grass was dead and in many localities stock had to be fed. Wells were failing, the ground was so dry that there was great cracks in the surface. Mercury was up to about a hundred. Hot winds were drying up all vegetation. We were done by half past 11 and I was home and supper over and in bed by 12 or midnight. Cooler weather.
Sunday July 20 - We had a good rain yesterday evening and one the night before. The Methodist pastor from the Morton Circuit preached in the Methodist church this morning, made my visit to Willie's grave before going in the house. I hitched Bob to the buggy and to (sic- took) Mrs. CB Taylor and Mrs. Williams to the Presbyterian Church and on my return stoped for Auntie Bloomfield, took her to the Christian Church, went down home and got Eva, put her off at the church and continued to the Methodist Church. This afternoon we went over to Russellville, Paid for a half gal ice cream. We were at home before sundown and attended services in the Christian church. Sermon by HC riley of the Baptist Church.
Monday, July 21 -- $3.80. Paid $7.45 for 60 gal of gas and 10 gal of oil. Mercury this morning at Indianapolis was 52. Saturday I sent 15c to a firm in NY for a can opener. Mrs. Rachel Crabb, Roscoe and Burr her two boys will leave on the 10 o'clock train south for Jonesborro, MO. The water mellon I took home Saturday night was not good. The halter repaird for the Comcast 15c. Ice bill was 81c. I don't remember of mention was made of last week, thing it was 87c. Express on the Laundry 30c.
Tuesday July 22 -- $1.75. While over at Russellville last Sunday afternoon I bought half gallon ice cream for 50c. Friday of last week I paid 80c for a bushel of corn. Paid 15c difference on water melon the one I paid a quarter for last week was not good -fed a part of it to the cow. Mrs. Crabb stoped at my shop and bade me goodby. I talked with her a few minutes and we shed tears. I hated to see her leave, she was a good neighbor, as well as a good woman. The weather has warmed up some today. We got a sack of flour for the use of "Bob" and the buggy from Mrs. CB Taylor.
Wednesday July 23 -- $2.50. Eva spent this afternoon over at her sister Nancy Kelso's. Nancy gave her a head of cabbage and some sage. Mrs. Williams, a visitor to Mrs. CB Taylor left for her home at Heckland, Ind, this afternoon. Russell Sharp told me that they had received a letter from Mrs. Adaline Eastwood, who is now at her mother, Mrs. George McIntosh in Kansas, stating that Aunt Susan Pratt has been dead for more than a year. Sent the Enquire Co. John P. McClain $1.50 last week I sent the Curtis Publishing Co. $1.75. The New corn crop is estimated a billion bushels in excess of last year. The waters in the Des Moines and Mississippi rivers are falling.
Thursday July 24 -- $2.75. Had one shoe put on "Bob's" right fore foot 25c. A.J. Wolfe and C.B. Taylor have consolidated their mercantile business and will occupy the room in the brick block on the East side. Have not yet heard the style of the firm. We had a shower of rain yesterday evening and another today. In Louisiana the ground is so dry that it is burning up, holes from 5 to 10' deep. Sent the Gosnel Laundry $2.50. I am thinking some of going down to Terre Haute Wednesday Aug 13. I want to visit Eliza's grave at Fletchers Chapel near Farmersburg, south side of Vigo Co.
Friday, July 25 -- $1.65. Eva and Mrs. Wm. Jarvis - Aunt Virginia, went to Joe Moreland's to visit with Miss Melvina Moreland. She at one time made her home with Mrs. Jarvis. They went via Guion and as they were passing under the railroad bridge a train passed before they were out of the creek bed. "Bob" squatted and pranced, he wanted to get out as soon as possible, it was soon over with him. He does not often scare at a train, but this time it was above him and came up from behind. The returned via John Burk's. Had a pleasant visit and nice buggy ride. The corn all along the route reported very fine.
Saturday July 26 -- $10.95. Paid 69c for groceries that Eva had ordered by telephone. Paid rent for last week, $1.35. Harry Barr shaved a couple of men today that had beards he has been practicing on boys whose growth were light. It was after midnight when we left the shop. Harry began on me 5 minutes before 12. We had a good shower late this evening. It does seem like we have been highly favored with rain sufficient for all needs. The corn on the river bottoms have been destroyed by overflow. Corn on uplands was never better. I bought a bushel of old corn for 80c. It will be cheaper in the sweet by and by.
Sunday July 27 - Twenty minutes after 7 Eva and I started on our trip to Anderson McMains. We were in Ladoga in time for Sunday school as none of Anderson's folks were in we kept on our way and when out of town nearly a mile met them coming in. Ben got in the buggy with us and the rest of the family went on to town and got a piece of ice and returned. This afternoon a few of the neighbors called and we all enjoyed eating ice cream. Had a shower of rain after 5 o'clock. The threshing of grain is delayed for another day provided it does not rain.
Monday July 28 - Anderson and I put Bob to the buggy and went out on the farm to see the growing corn. There is a fine prospect for a big yield. Elsie and I went down to Mrs. Mary Davis' to see William Crutchfield. He is 79 years old and has dropsy has not a cent for his support, he lives with his widowed sister. It would be a God send if he could die and be out of his misery. He fell down in walking from the front gate to the house. We started home 20 minutes after 1 p.m. Stoped in at Charley Oglesbys on the account of rain, was delayed about an hour.
Tuesday July 29 -- $4.30. Paid Union Mutual Life Insurance $5.47. Expense 12c. Express on the laundry 30c. Meacy Woodgate, Deaupee ? has an automobile costing $1,200. She used to live here in Waveland was a poor girl. She now lives in Indianpaolis. Her husband is a Frenchman and a fancy shoe maker. Mrs. Hattie Vansycle of Indianapolis is on a visit to her sister Mrs. CH Johnson. Before her marriage she used to live here and her name was Steele. The weather has turned a good deal warmer since the middle of this afternoon. Paid Insurance in the AOUW $4.87.
Wednesday July 30 -- $1.65. Ten cents for Saigon bark [cinnamon]. 5c for a loaf of bread. Sent the commercial Tribune $2 for 4 guesses on the ? vate for secretary of state in the Indiana election on 4th of November. The guesses are 479911 - 588252 - 503988 - 731. To the one making the closest guess they will give $1,000 made the guesses for my wife. Mame Blake a former citizen now married and a resident of Anderson, Ind called to see me yesterday. She and her Aunt Mrs. Irve Fullenwider will spend the day at ours tomorrow. This has been a real warm day. 98 in the shade.
Thursday July 31 -- $2.55. Paid on last Monday 4.40 for gasoline, paid 20c for dozen of bananas, 10c for Saigon [cinnamon] 35c for peaches, 21 of them, 60c for roast. Mrs. Rhoday Fullenwider and all of her children except George and her husband and a niece Mrs. Mamie Blake Turner were at our house for dinner. Eva prepared a splendid dinner - company left at 6 o'clock p.m. B.M. Harbeson our dental surgeon has typhoid fever, so has Mrs. Nancy Hicks. The weather has been warm - when at home for dinner I noticed the mercury was at 99 degrees, here in the shop 88 degrees by a small thermometer.
---