1931 Lula Goshorn Diary
Lula Goshorn's Journal - Ladoga, Indiana (1930-1944)
"A little background from Judy Goshorn"
My grandfather, Ezra Goshorn, kept a journal, which I have somewhere. He died in April 1930 and that is when this one starts. Lula wrote for her church magazine and the county paper, but apprently had not been keeping a journal. The first entry is a few days after Ezra's funeral, when the older (Marie, John and Roland) children were going back to their lives. Only two children were left at home, my dad, Lewis, age 15, and Ruth, age 9. The running of the farm fell to my dad and Lula. I am amazed at the work a 15-year-old boy did, while attending school and doing well there.
Many of the snapshots I have are early 30s and make good illustrations for this journal :) ENJOY! - JWG
Note: Their church was the Brethren Church on 750 South - Ezra had both the pastors :)
Photo is taken much earlier but a neat part of the history of the Goshorn family (sent by Judy) -- this is Lula and her three oldest children - Marie, Roland & John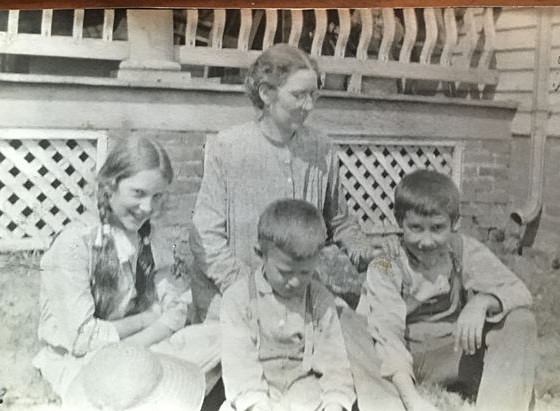 Jan 1 -- Let Warren Yeagley (one eyed man) have tops to cut on shares on east place. North road. I get 1 cord of every 4. Later - did not take it
Jan 2 -- Dr. Lidikay out to see Ruth. Has a sore throat and good deal fever. Was afraid for her lungs again. He says an epidemic of raw throats and flu. Later. Developed little fine measles. Don't know how or where got them. Sent thin sow to Reductive plant. She did not have worms.
Jan 3 -- Nothing
Jan 4 -- Nothing
Jan 5 - Nothing
Jan 6 -- Mason Cummins worked on house today.
Jan 7 -- Cummins worked today, fixing flue. Ruth still in bed with measles. Begin to break out Jan 2. Sick Jan 1 chill & fever, raw throat. Very much rash all over body. Began to pale Jan 6. Temp. ran about 102 in P.M. 101 in A.M. Eyes hurt very bad today. Hadn't hurt before this. Coughs a great deal - some ear ache.
Jan 8 - Cummins worked on house. Ruths eyes hurt so bad today. Cough better.
Jan 9 - Cummins finished work on little house. Repaired ceiling & kitchen wall, built kitchen flue. Fixed windows and doors and some weather boarding and made front steps. Material $8.83. Labor $14.50 is to fix smoke house yet
Jan 10 -- Took the meat to town to be smoked. 4 hams 1 shoulder. 1 1/2 sides. Ruth better but not out of bed yet. Eyes weak. Some cough and a little fever. Shows rash a little on hips and back. Dr. says she has had a hard case.
Jan 11 -- Nothing
Jan 12 -- . Geo. Kessler came to settle for pasture. Agreed to haul out straw stack in field for corn. If cannot get $7.50, hauled, will pay the rest. Harley Rogers, cleaning up house. Wants to move soon to cut wood on Basle (Harshbarger) place before his work starts. Took Mrs. Pearson home. Has been here a week and a day while Ruth was down. Calf pasture 75 c mo for yearling .50 c for weanlings
Jan 13 - Lewis got his driving license today. Harley Rogers moved in little house today. Fine day. Snow on ground - 16 above zero. Ruth up in house. Feels weak.
Jan 14 - Dr. to see Ruth again. Has fever every day. Some facial (? focal?) infection somewhere. Stomach hurting a good deal. Harley commenced feeding at his place.
Jan 15 -- Nothing
Jan 16 - Refund cks. received from Farm Bureau as follows. Cream $17.50. Fertilizer $5.22. F. Elevator & Supply $6l36 Oil & Gas - Kero $10.68. Total $39.76.
Jan 17 - Got our meat from town. Smoked, 7 pieces for 50c. Ruth still has fever but seems better other ways. Harley put flex-o-glass on chicken house windows. Sent ck. to Paul Stoner $5.00 Farm B. membership fee.
Below is a 1930 Farm Bureau ad in the Greencastle Herald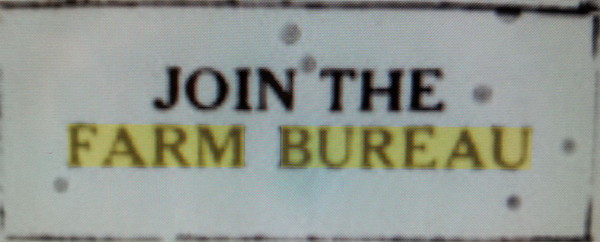 Jan 18 -- Nothing
Jan 19 - Nothing
Jan 20 - First time Ruth has been free of fever this year. Weak & nervous yet. Lewis did not take what she had. Am so glad she's better.
Jan 21 - Nothing
Jan 22 - Nothing
Jan 23 - Ruth more like herself today. Fever left two days ago. Paid tax yesterday. Grandma stayed with Ruth.
Jan 24 - Nothing
Jan 25 - Nothing
Jan 26 -- Ruth went to school for first in three weeks. Commenced "shedding" the 3d week. Still feeling off some. Sat. Breth. Bagwell & GA Snyder of No Manchester called. Sister Denlinger who was a Studebaker, etc. widow with helpless, crazy daughter & debts.
Jan 27 -- Nothing
Jan 28 -- Nothing
Jan 29 -- Nothing
Jan 30 -- Cummins worked on Smoke H.
Jan 31 - Cummins worked on Smoke H finished this eve. Will fix little hood over front door. Told me how to save buying lumber for well platform, by using oak shelf in Smoke H.
Feb 1 - Grandma here for dinner. Made her a birthday cake. 76 tomorrow. Took her for drive in PM. Roland, Ruth & I. Fine day. Nicest Jan ever saw. Some plowing done.
Feb 2 -- Very fine day. Cummins finished work at Harleys. His work all am't $34.83. Roland & H rung sows & boar. R. fixing to plow.
Feb 3 -- Very nice day. Like spring. Roland started the plow this p.m. ground plows fine. Need rain. Many wells dry.
Feb 4 - Roland plowed today. Harley cleaned around straw stack in p.m. 16 loads. Paid him 50c.
Feb 5 -- Roland plowed 1/2 da. ground frozen a bit too much in a.m. to plow well. Went to see Yeagley about wood as he hadn't cut any or reported. Found he didn't want it. Should have said so long ago!
Feb 6 - Roland plowed today. Drizzling a little this evening. Lacks about 5 hrs being done with that field
Feb 7 - Nothing
Feb 8 - Nohting
Feb 9 -- Quite cold. Roland finished plowing the 20 acres this p.m. So glad its done. Ruth still scaling off some and tonsils large and a kernel in her neck but other ways apparently all right over the measles.
Feb 10 -- Set 2 hens. Colder but nice winter weather. Need rain so much. It just drizzles a little once in a great while. We have had very little snow.
Feb 11 -- Nothing
Feb 12 -- C.W. Snodgrass of Claypool Music Co tuned piano today $3.50. Note: The Claypool Music Company owned stores in Crawfordsville, Lafayette, Lebanon, Frankfort and Covington and were quite reknowned in the Music World
Feb 13 -- Nothing
Feb 14 - Settled for calf pasture on Estate for 1930 and '31 to date $20.00.
Feb 15 -- Nothing
Feb 16 - Roland made hot trough of 2 x 8 pine about 8' long. Nice one. A few days ago fixed a new top on sink table. He is so good at fixing things that way.
Feb 17 -- Nothing
Feb 18 - Nothing
Feb 19 - Nothing
Feb 20 -- Nothing
Feb 21 - Nothing
Feb 22 - Nothing
Feb 23 - Nothing
Feb 24 - Nothing
Feb 25 - Nothing
Feb 26 - Fine day. Very nice weather all mo. Aid So met here - 13 members 4 children. Roland fixed up old grape vine trellis cut wood. Lewis went to legislature with school class. Also visited Indp'lis Hews office and Boys School at Plainfield - quite a fine trip.(photo from asylumprojects.org)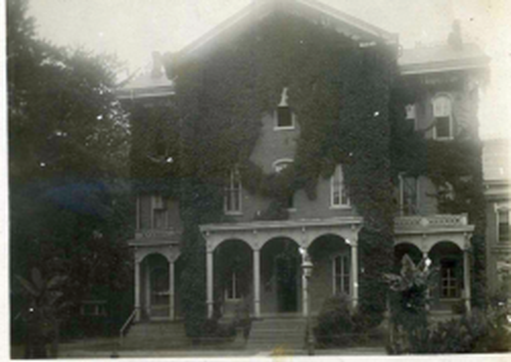 Feb 27 -- Nothing
Feb 28 - Nothing
March 1 -- Nothing
March 2 -- Harley commenced work. Roland plowed in SE corner field in PM Harley hauled manure on gardens and hauled wood.
March 3 -- First Chickens (18)
March 4 -- Nothing
March 5 - Nothing
March 6 - First lambs came
March 7 - Very bad day. Sleet. Wind & snow -- Too bad to work out
March 8 -- Roads drifted some places. No services at church.
March 9 -- No work in forenoon. Weather better.
March 10 -- Northing
March 11 - Nothing
March 12 -- Nothing
March 13 - Nothing
March 14 -- Nothing
March 15 -- Nothing
March 16 -- Nothing
March 17 -- Nothing
March 18 -- Finished fence around Harleys house. Looks so nice, neat and cleaned up there now. Almost makes me homesick to go back there. Begins to look like it did when we lived there. Mr. Lindsey of Indianapolis baleing straw on far place. Same Himes says time to sow oats any time after the middle of Mar. depending on weather. Clover seed in wheat can be sowed any time from last of Feb. on if weather seems favorable.
March 19 -- First pigs came. 11 head. 2nd sow 10 pigs
March 20 - Harley sowed clover seed on 20 a. wehat. Mr. Lindsey paid for straw $27.60 for 552 bales on Estate. 198 bales here $9.90. 90 bales at Paul's $4.50 (1/2 OF which is ours $2.25. 5 c per bale. Ronald finished plowing. Lora Miller went to Quincy, Ind. last Monday to have tumor taken from breast.
March 21 -- Nothing
March 22 -- Nothing
March 23 - Sowed oats in field east of house. Plowed garden. Heard first frogs. Geo. K. commenced sowing oats on estate.
March 24 - Nothing
March 25 -- Put up fence north side of yard. Blustery day. Geo. K. sowed 75 bu oats on 30 a Estate. 36 c bu. We sold the oast to Estate $27.00.
March 26 -- Nothing
Mary 27 - Too drizzly to work muck. Rented the 14 acre field on Estate to Paul Ronk. We furnished fertilizer and take 1/2 the corn if we want it. Paul Ronk furnished seed, husks all the corn, buys our 1/2 at market price if we do not want to keep it at husking time.
March 28 -- Very cold wind, spitting snow, cloudy. Hauled out load of corn for hogs beginning to fatten them. They are the finest in every way for their age we ever had. The winter has been mild. No old straw for them to breathe dust in and we gave them in slop, a tablespoonfull Gen Hog Liquid once a day. Not a coughing droopy one among them. Keyed had calf yesterday. Save out 4 gils for sows. Ruth has stiff neck today. Our male hog 2 yrs old last summer.
March 29 - Hobo had calf.
March 30 - Nothing
March 31 - Two sows had pigs (19). Clayton paid $37.40 for two loads estate corn 58c. Paid Roland $9.00 1/3 oats money.
April 1 - Roland went to Indianapolis to National Chem. Convention. John there, came home with him and both went back Thursday. Glad to see John again. Roland got back about 2 p.m. and almost finished discing inthe oats sowed over a week ago.
April 2 -- Nothing
April 3 -- Nothing
April 4 - Harley sowed clover seed on oats. We went to the Bros. Nursery no. of C'ville and got 125 Premier and 200 Sen Dunlap Strawberry plants $3.05. Roland has sore throat today.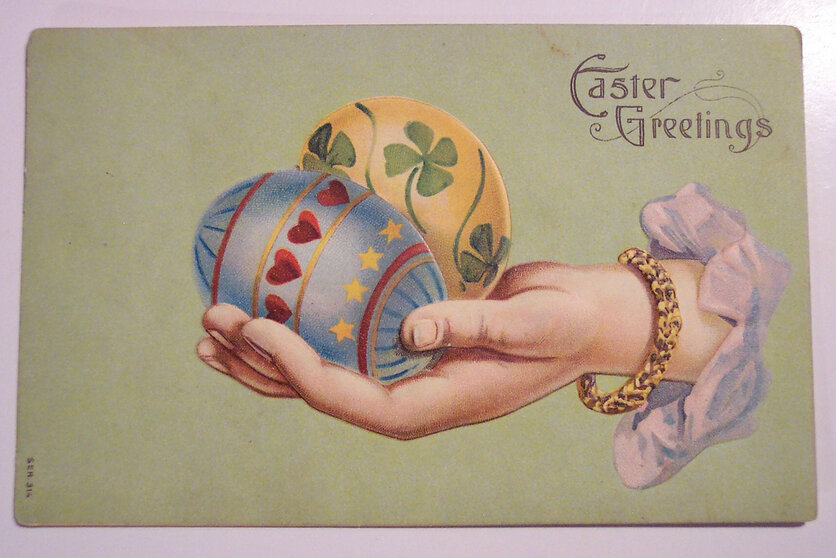 (Easter card - WordPress.com)
April 5 - Easter. Last sow had pigs. 14 of ? chickens all hatched saved 50. Our 5 sows had 54 pigs. Too soon to say how many will live. Rosa Rogers will "incubator" 135 eggs for 1/2 the chickens. Will set this week some time.
April 6 - Set 325 straw b plants. Fix fence between yard & chicken lot. Geo. K. discing oats in. Paul sowing oats today.
April 7 - John Himes here assessing. Frank Nolan of Farm B. here to see about taking over Serum stock. Planted 20 rows potatoes. Pid Harleys dog tax $3.00
April 8 - Hauled out two loads corn for hogs. 5 loads to date. Used Kesslers horses. Made some garden. East row lettuce & radishes Next 1 row onion seed & 4 rows sets. Next R - peas. Next Row, south end carrots, parsnhips, radishes. Next, beets, beans, peas, later beets, lettuc, beans (shellout) tomatoes - Potatoes. L. cabbage, cucumbers, corn - lower part of garden.
April 9 - Nothing
April 10 - Nothing
April 11 - Nothing
April 12 - Nothing
April 13 - Geo. K. sowed clover seed on estate.
April 14 -- Ruth taking measles again. 17 out of her room. She won't get to take exams. Fever some higher than before. Had fever and felt badly 5 days before she began to break out. These are said to be the old fashioned kind. Miller children, Ronks and Kessler-Cline boys, L. Himes and Sanders all have them near here.
April 15 -- Nothing
April 16 - Nothing
April 17 -- Nothing
April 18 -- Nothing
April 19 -- Nothing
April 20 -- Nothing
April 21 - Ruth up today for first; not so sick as before. Commenced planting corn in field back of Harley's yesterday. Rained a little last night and still drizzling this a.m. Much cooler. Got about 7 acres. C planted. Two loads corn out for hogs yesterday.
April 22 - Lewis feeling badly today has some fever. Took him to Dr. Gross. Measles developing. Has been real cold for several days. Harley planting the rest of the corn he started the 21st. Big frost last night.
April 24 -- Harley finished planting corn in the "tomato" field. Lewis in bed with measles.
April 25 -- Nothing
April 26 - Nothing
April 27 - Nothing
April 28 -- Two loads corn to hogs. Moving to clover field. Lewis very hoarse - coughs so hard. Had higher temp than Ruth 103 & 104 - better today.
April 29 -- Nothing
April 30 -- Commenced planting corn south of wheat field east side of road this a.m. Got 40 chickens from the eggs Rosa Rogers set. She got 40 also. Lewis still purple spotted but better, wants up.
May 1 -- Finished planting 20 acres more corn. Check rowed it. Lewis up today still some spotted and coughing. Stayed in house. Lora Miller came home from Sanitarium yesterday.
May 2- Nothing
Masy 3-- Nothing
May 4 -- Geo. Kessler turned 2 calves on pasture today on Estate, 1 yearling 1 Oct calf. He finished planting corn today.
May 5 -- We finished corn planting today. 60 acres. Elmer Myers house burned today. The Davidson homestead and Warner Davidson's house all have burned this year.
May 6 -- Ruth took first music lesson of Mrs. Marks. 1 hr $1.00 lesson. Paid. Roland & Harley shearing sheetp. Price of wool 15 c.
May 7 -- Nothing
May 8 - Got 50 chicks from Miller Hatchery. Ill. 25 Orp. 25 B. Rocks; bought Ruth spring coat reduced price 6.75. She only had her winter coat. Boys will finish sheep shearing tomorrow.
May 9 -- Hauled out 1 load corn for hogs. Hauled out 8 load in all.
May 11 -- Pauls young boar got in with old sows. Brought our old Hog up here today. SOld wool to Riley King 15 c lb. 171 1/2 fleeces nice wool. John & Marian sent me fine box candy. Marie & Roy Mother's Day card.
May 12 -- Nothing
May 13 - Ruth took music lesson $1.00. Pd. Sold hogs. Price $7.10. average weight 221 lbs. On full feed 6 wks. On clover 2 wks. Piad to date 558.65 - Roland gets 1/3 After haul etc recd 597.09.
May 14 -- Took sows to boar at Harleys. 50 little chicks came from Farro's Hatchery. Harley plowed 1/2 day for Ollie M. Cluster R. operated on for appendicitis.
May 15 - Brought Paul's hog over.
May 16 - Aunt Marthetta Kitch died this p.m. Funeral 1st Brethren Ch Clay City. Monday pm. Roland & Lewis attended
May 17 -- Nothing
May 18 -- Nothing
May 19 -- Nothing
May 20 - Ruth took 3d music lesson $1.00 paid. Cleaned Harleys well today. Took nearly 3 sacks cement 60c per.
May 21 - Got male pig of Paul Ronk weighed 35 lbs. He got one of ours.
May 22 -- Nothing
May 23 -- Vaccinated pigs 37 head $15.54.
May 24 -- Nothing
May 25 -- Sowed late cabbage seed.
May 26 - Dr. Schwartz out to see young sow. Has temp. 106 1/2. Bad cold he calls it. Heard the Indianapolis Star gave our fat hogs special mention as extra fine. However, we only got top price for their class. No premium.
May 27 - Ruth took music lesson $1.00.Paid $25.00 got coal oil & oven. Exchanged gasoline stove. Price of stove 26.50 oven 3.75 allowed on gasoline stove $5.25 to Geo. Anderson.
May 28 -- Nothing
May 29 -- Nothing
May 30 -- Nothing
May 31 -- Nothing
June 1-- Took 5 calves to estate pasture. Picked first strawberries today - 1 qt.
June 2 -- Got lawn mower $7.20 Fencing for around two sides of orchard. Boys killed 30 rats at box crib. 8 or 10 more at different times there this spring.
June 3 - Ruth took music lesson $1.00.
June 4 - Nothing
June 5 -- Casterated & run pigs. Set out 100 sweet potato plants. Young black cow had calf. I feel so weak. Heart been off all week.
June 6 -- Nothing
June 7 -- Nothing
June 8 - Nothing
June 9 - Nothing
June 10 -- Ruth took music lesson. My heart bad again. Almost as weak as last spring.

June 11 -- Bought tile off of Ladoga Cannin Co for estate. $3.06 I paid for it.
June 12 - Nothing
June 13 -- Nothing
June 14 -- Nothing
June 15 -- Nothing
June 16 -- Paul Ronk bought 207 bu corn 50 c bu $103.78. Roland traded his old Chevrolet for another 2nd hand one. Much nicer than the old $225 difference.
June 17 - Ruth took her music lesson. Omer Gates fixed sink and put in water trap. Pipe had rusted through $3.56
jJune 18 -- Nothing
June 19 -- Maries came today. Everyone is fine. So glad to see them. Very hot. Signed the rest of Estate papers. Feel weak & nervous
June 20 -- Geo. Kessler turned sucking calf on pasture today.
June 21 --Nothing
June 22 - Nothing
June 23 - Nothing
June 24 - -Ruth took music lesson. 4th Wed in June threshing meeting dartes
June 25 -- Nothing
June 26 - Nothing
June 27 - Nothing
June 28 - Hottest day on record - 100 in shade. Everybody sweltering. Horses and men overcome last week in field. Awfully hot all week. Billy threw a big rock and hit Marie on head - wish Roy was here to help with children. 90 degees at 9 o'clock.
June 29 -- Commenced to cut wheat. Geo. K. drove binder 1/2 day. GK 10 bu oats for horses at estate.
June 30 -- Cut wheat with tractor. Geo. K. drove binder 1/2 day. Too hot for horses worst time in 60 years reported. Over 100 horses killed by heat this and last week near here. Men can hardly work. Our boys and Harley are shocking wheat after night. Fixed binder to tractor and cut much more than horses could this p.m.
July 1 - Ruth took music lesson. FInished cutting wheat. Not all chocked. Boys worked till nearly midnight hsocking las tnight. Terribly hot. Tonight worked till one a.m.
July 2 - Nothing
July 3- Nothing
July 4- Geo. Kessler turned calf on pasture. Johns came at noon yesterday. Roy back noon today. All brought fireworks. Children had fine time. Getting cooler. Boys went fishing. John cut thumb badly trying to skin cat fish.
July 5 - Much cooler - what a relief! Don't think could have stood it much longer. All the folks left today. Seems very still and lonely. Ruth quite lost without the children. Boys decided we should run Estate as usual another year.
July 6 -- Nohting
July 7 -- Nothing
July 8 -- Ruth took music lesson.
July 9 -- Nothing
July 10 - Cut oats pm. with tractor got about 1/2 done. Nice and breezy. Lewis shocked. Harley rides binder. Roland tractor.
July 11 -- Finished cutting oats late noon. Got our first cucumbers today. BYPD group meets at our ch. this p.m. banquet by our Aid Soc. at ME Ch. tonight. We furnish ice cream. All day meeting at Mt. Pleasant tomorrow. Gave Roland $5.72 1/3 of load of oats money - 19 c bu.
July 12 -- Nothing
July 13 -- Commenced threshing wheat. Wilford Harshbargers today. Paid Roland 1/3 of 10 bu oats sold to Estate 70c
July 14 -- Nothing
July 15 - Ruth took music lesson. Threshing stopped for 2 days for folks to cut oats. Geo. K. commenced this A.M. Harley helping. Called for Roland & tractor this p.m. so terribly hot again horses can't stand it.
July 16 -- Finished Geo. K oats this p.m. Very hot 118 in sun at Kesslers. Commence threshing wheat again tomorrow.
July 17 -- Nothing

July 18 -- Nothing
July 19 -- Nothing
July 20 -- Nothing
July 21 -- Nothing
July 22 -- Ruth took music lesson.
July 23 -- Nothing
July 24 -- Threshed wheat today. Ave 36 bu sold Bash ? 105 Paul R 300 one load to town bal. in shop. Price 40 c. Best price since commenced threshing but off 2 c by tomorrow. All of us sick. Boys and Ruth vomiting. I sick but haven't vomited. Ate something not right I guess. Hard on boys, had to work anyway.
July 25 -- Nothing
July 26 -- Nothing
July 27 -- Boys and the rest of us about all right again. Put 3 loads hay in barn at Harleys. Cut more this p.m. Werts put in new B. Batteries in Radio. First since we had radio 18 mos. $8.85 wish we didn't have it.
July 28 -- Nothing
July 29 -- Ruth took music lesson this p.m. Very hot & dry. Boys finished hay this a.m. 4 loads Harleys 5 loads here Harley sick today like we were. Lewis has cold. Ruth just getting over one.
July 30 -- Ed Sanders 48 9/14 bu corn 50 c bu deducted 32 c for weighing etc. Total $24 - 32 c. From Estate corn.
July 31 -- Nothing
August 1 -- Nothing
August 2 -- Nothing
August 3 -- Nothing
August 4 -- Sold 80 bu 50 lbs. Estate corn to Geo. Frantz $40.40. About 20 bu to Mr. Pickett for Mr. Bash (?) - not paid yet. Corn all gone now.
August 5 - Nothing
August 6 -- Commenced to thresh oats in this ring at Wilford 5 pm. very dry and hot.
August 7 - Nothing
August 8 -- Nothing
August 9 -- Nothing
August 10 -- Nothing
August 11 -- Pickett paid $10.20 for corn Aug 11
August 12 - Ruth took music lesson. Lewis got teeth cleaned. Sunday night the biggest rain in months. Turned real cool and pleasant.
August 13 -- Commenced threshing oats at Pauls this p.m. Our part 851 bu cost 3 c bu to thresh.
August 14 -- Threshed our oats. 795 bu off field east of house after mowing two and 1/2 loads off for hay. Estate 2/3 of oats 769 bu. Our wheat ave 36 bu to acre .715 bu total. 2nd best yield of wheat in ring. Price 40 c bu. Best yield and quality oats. Price of oats 15 c today.
August 15 -- Nothing
August 16 -- Nothing
August 17 - Paid Roland $75 1/;3 of grain here. To date $628.10. New girl at Harleys about 11 pm last night. Their third one - "Joan"
August 18 -- Nothing
Aug 19 -- Ruth took music lesson. Boys working on new fence north of Harleys barn along the corn field. Sent "calf" (cow) & 1 hog to Indianapolis by Welsh.
Aug 20 -- Ruth's teeth cleaned - ch. for stock sold yesterday $67.74 (1/3 of hot goes to Roland $5.55) Roland to date $633.65.
Aug 21 -- Harley hauled 3700 lbs.Kentucky coal $5.75 ton (10;64). Moved piano back in little room. Children went to see "Huck Finn" at C'ville tonight. (pic from imdb.com)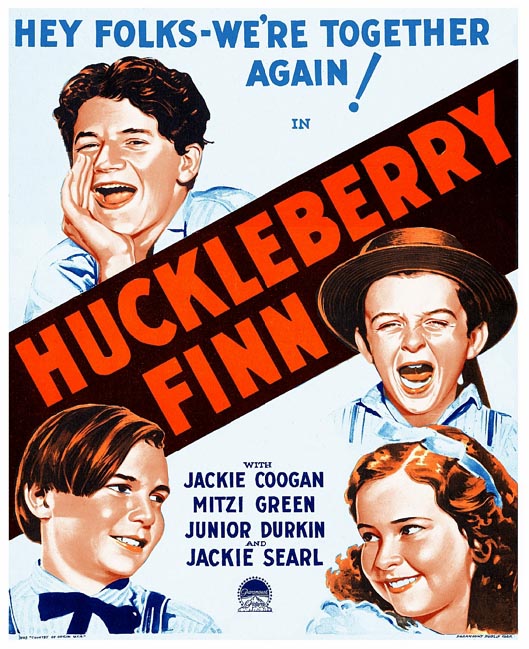 Aug 22 -- Threshers settled today anb we paid out $31.81 besides the threshing bill of $92.19 to Bratton. I don't see how we are going to keep going. Can't sell land and grain no price. May the Lord help us is our only hope.
Aug. 23 -- Nothing
Aug 24 - Got bus tomatoes to can of Wm. Lee. 65. Boys "buzzed" wood this a.m. borrowed a saw and fixed it to the tr4actor. Sent the lambs off today.
Aug 25 -- 15 lambs 1 old sheep $6455 + Haul etc $73.36). Roland. Lewis. Ruth. $11.50 each bal to me. Boys still buzzing wood.
Aug 26 -- Nohting
Aug 27 - Nothing
Aug 28 - Bought Estate Heatrola (stoev) - hay host? in grain 85.00 cash. Old round Oak and the hard coal stove in trade (regular price $129.50) supposed to heat 6 or 7 rooms with less fuel than the other stove. Hope I can save with it. Sold "Shaffs History of the Christian Churchs to Pub. House for $5.00 Had bad heart today 2 1/2 hours.
Aug 29 -- Boys finished buzzing wood. Nice lot of it. Paid Mr. Obenchain 2.50 for use of saw. Had long heart attack 2 1/2 hrs. Thursday p.m. very weak yet. Wish they'd quit.
Aug 30 -- Nothing
Aug 31 - Nothing
Sept 1- Nothing
Sept 2-- Ruth's music lesson today. Here after take on Saturday a.m. on account of school. Roland not well. Stomach and bowels off. Rainy and cool today. Sent for 900 bu (Mont Ward Co) portable slat corn crib for the estate corn.
Sept 3- Nothing
Sepr 4 - Nothing
Sept 5 -- Roland got his auto insured by Homer Kessler in the Farmers Mutual $22.00 year. We took 2 1/2 bu wheat to McCarthy & Co and 50 c sweet potatoes - $1.50 in payment on stove. Geo. Kessler has brought 7 bu clover seed over from estate. We took hogs down to Harleys yesterday. Feeding some old corn a few days then will turn on new corn. Canned 15 qts green beans today. Harley finished hauling wood from north woods. 12 loads making a rich 62 ' long 4 1/2 ' high and 4 rows deep.
Sept 6 - BF Summer preached his first sermon today at Bethel. Children say he did well and they like him. Roland, Lewis & Ruth went to Ed Rhoades' field to see airplane sho9w and parachute jump. Roland & Ruth went to ch. again at night. First pigs came last night. 13 of them one died. 4 more died, found they had sharp tusks and bit the show which made her restless. The boys nipped off the ends of the tusks and she does better. Old shows pigs are said to be worse about having tusks than younger ones. --
Note
: Gee-Bee 4 (wikipedia) that would have more than likely been the star of the airplane show or a similar plane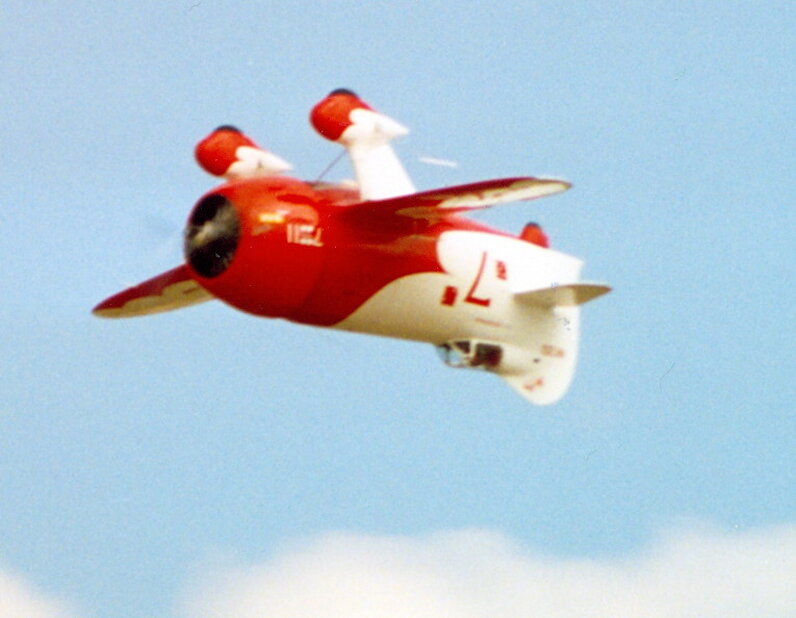 Sept 7 - Nothing
Sept 8 - ANother show has 12 pigs today
Sept 9 -- ANother sow has 6 pigs today.
Sept 10 - Another show has 11 pigs today. Turn shoats on corn field
Sept 11 - Another sow has 12 pigs today.
Sept 12 - Ruth took music lesson
Sept 13 - Nothing
Sept 14 - Nothing
Sept 15 - Paid Geo. Himes $5.50 for 22 loads gravel. 20 loads made Harleys drive way. 2 more loads and cinders about house and in hen house.
Sept 16 - First young sow had 7 pigs mashed one - very hot weather. Flies bite little pigs so. Hot now as it was in July. Children get so tired in school.
Sept 17 -- 2nd young sow had 12 pigs. Very hot yet.
Sept 18 -- Roland left for Ill. U. I can hardly bear to see him go. He has been so good to us and done so much for us the past year. How we will miss him. May God bless him and give him a pleasant winter.
Sept 19 -- 3d young sow has pigs - 7 of them - not so hot now. Hope these raise all of them. 25 pigs from the 3 sows.
Sept 20 -- Nothing
Sept 21 - Card from Rolland. Address 1106 W Clark St, LC Louthan (or SC Southan?) Landlord Urbana, Ill - settled with Kesslers for clover hulling. 18 bu $2 bu for thresing $5.00 for cleaning. Heirs. part $20.90.
Sept 22 - Men came and patched and coated hog shet roof and well shed for 25 bu oats Value $5.00. Mr. Lancaster of Greencastle. Old blind mare at far place got leg cut in wire, pretty bad but she has spells of sickness and hardly expected to live over winter anyway. Harley & George trying to fix her up. She's not worth vget fee we think. Lewis very busy with care of 8 sows and 59 pigs and going to school. Looking after all the chores but milking. Harley does that. Old blind horse has a badly cut leg. Bled so. Harley put soot on and tied it up.
Sept 23 - Nothing
Sept 24 -- Nothing
Sept 25 -- Nothing
Sept 26 -- Ruth took music lesson. Playing "Duo" with Martha Jane Henry. Finished the train part of Heatrola payment. Paid in full now. Got 10 tile for here and estate 45 c 5 in. Sold Roy Stover 1 bu onioins 95.
Sept 27 -- Nothing
Sept 28 -- Gave Harley 2 runty pigs to feed till they are weaned. Then he give me back one. Went to Bro. Summers to a SS Board meeting tonight, with Lewis & Ruth. Tri Mu Class was divided into a young peoples class and a young married peoples class.
Sept 29 -- Harley commenced to plow railroad field with tractor. We're weaning Kud (?) and Red cows' calves.
Sept 30 - Fan belt broke on tractor. Worn out. Had tractor about 6 urs never had a new belt. harley went to Cville for one $2.00. Miss McCoy, Lewis' former Latin teacher came and got the Roman house Lewis made last year.
Oct 1 -- Nothing
Oct 2 - Nothing
Oct 3 -- Ruth took music lesson. Roland came home last night for over Saturday and how glad we are to see him. Mack as glad as any of us
Oct 4 - Roland went back to the U. Lewis & Ruth went to see "Marx Bros in Monkey Business at C'ville. I went along and sat in car and watched the world go by. Lewis turned Buck in with sheet.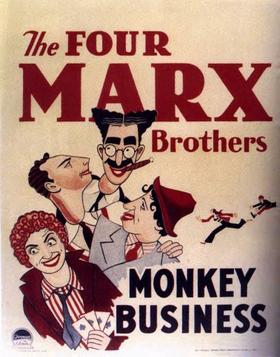 Oct 5 -- Harley commenced to husk corn - in black ground its in fine shape - in clay a little green. No frost yet. Very hot.
Oct 6 - Nothing
Oct 7 - Nothing
Oct 8 -- Sold Harley 2 loads wood. that too long for our Heatrola and too short to cut into (sic). $4.00 to be taken out of work ck. Finished digging sweet potatoes today. No frost yet.
Oct 9 - Nothing
Oct 10 - Nothing
Oct 11 -- Roy and Judge Rosa of Madison Wic surprised us with a little visit today on their way to Atlanta, GA to a tax convention. Mighty glad to see them, especially ROY.
Oct 12 - Geo. K. commenced plowing 20 acres on Estate today with tractor. Plow needs fixing and horse lame, so havn't (sic) team for him. Cost more to hire horses and fix plows than will to use tractor. Don't like to do it tho.
Oct 13 - Rained all day. "Blackie" young cow has cow pox. Dr. says good many caes. Got med to rub on udder. Sent "Nig" old gary mare that was blind and had cut her leg so badly to the rendering plant. Leaves us 4 horses.
Oct 14 - Rained all day. One of the little pigs I gave to Harley died. Cleaned out woodhouse.
Oct 15 -- Sold 31 hogs today $5.35. One ruptured $4.75 for it. Ave weight 183 and a fraction over. Trucking - yardage etc $19 amt we got after that $294.00 We won't have quite enough to pay the tax after Roland gets his third out. Claud H cemented the outside of the bedroom chimney. It is leaning and was cracked, but he says its in good shape now. Cost $3.
Oct 16 - Nothing
Oct 17 - Ruth took music lesson today. Another little pig mashed last night have 55 here. Harley 2 that were runts. We kept out 3 hogs to butcher, of the bunch we sold. One of them trembles like the ague all the time. Short of breath. Dr. thinks its lung trouble. Gave Harley some med for it.
Oct 18 -- Big white frost last night. We have had a long and varied summer season. Our first frost and ice on chicken water pan and in slop buckets. Temp 31.
Oct 19 -- Paid Roland 93.00 - 1/3 of hog money minus $5.00 vaccination fee.
Oct 20 -- Geo. Kessler finished plowing 20 acres on Estate today.
Oct 21 -- Nothing
Oct 22 -- Paid tax today $05.40. CHildren home for two days. Teachers Association. Paul Mitchels came this even. Family stayed here while he went to Thorntown for serum to vaccinate his hogs. Cholera getting every where.
Oct 23 -- Nothing
Oct 24 -- Ruth took music lesson. Logan Ronk fixed pipe joint in windowmill at Harleys cost $1.00.
Oct 25 -- Went to SS and church heard a good sermon. Sankey Fair called in pm. Took a ride in evening. Very fine day. Trees are so pretty now
Oct 26 -- Paul M brought his first load of corn today.
Oct 27 -- Dan Myers farm 162 acres sold today to Dr. Lidikay for $51 1/2 per acres.
Oct 28 -- Paul brought load of corn today.
Oct 29 -- Paul brought load of corn. Harley finished husking the 20 acres across the road from the woods. Thinks got about 750 bu. Roland sent ck for $30 but I sent it back. He has earned what we agreed on and I want him to have it.
Oct 30 -- Nothing
Oct 31 - Ruth took music lesson. Brought all the calves home from estate.
Nov 1 -- Nothing
Nov 2 -- Paul brought another load of corn. Preacher commenced to husk today. Will husk corn to pay for some oats. I will give him one load corn for a part of my "preacher support" as I haven't much money to give.
Nov 3 -- Paul Mahorney will put the balance of our corn in one of his cribs so we can put this places corn here. I agree to that 1 small hog for him at butcheirng time. He to be paid in corn.
Nov 4 -- Nothing
Nov 5 -- Nothing
Nov 6 -- Paul Ronk brought 2nd load of estate corn here and put in north west stall at barn - 45 bu to the load.
Nov 7 -- Ruth took music lesson. Sold 5 yearlings today 240.65 after trucking etc paid.
Nov 8 - Nothing
Nov 9 -- Paul Ronk brought 3d load corn. Having awful time with pigs. They break out and go down to the sows. Lewis is surely having a busy time tending stock and school too. One pig run over by auto. Finally got them in barn hog shed. Keep them there for a few days. Mr. Pfeiffers house burned down today. Where Bert Frame used to live.
Nov 10 -- Preacher took his oats today 15 bu husked corn for it. Huskers get 2 to 2 1/2 cts per bu husking. Wayne Everhart has small pox - broke out in school.
Nov 11 -- Harley finished another 20 acres of corn today. He has husked 40 acres since the 5th of Oct lost about a week, more or less, on account of rain; and the preacher husked 5 loads. One for himself, the others to pay for oats.
Nov 12 -- Nothing
Nov 13 -- Vaccinated 52 pigs today $18.65. Ruth brought home 1.00 she found at school. No one claimed it. Will pay for a music lesson. Harley & J. Light fixed fence on back side of Harleys woods.
Nov 14 -- Ruth took music lesson, paid 1.00 for it, that she found on school ground. Harley hauled 3 loads oats to elevator 20c bu $48.87. Paid Roland 74.22 1/3 of calves minus $6.00 for 1/3 of rented pasture. Paid him $700.87 to date. All of Harley's little pigs I gave him died excepting 1.
Nov 15 -- Nothing
Nov 16 -- Nothing
Nov 17 -- Nothing
Nov 18 -- Nothing
Nov 19 -- Nothing
Nov 20 -- Nothing
Nov 21 - Ruth took music lesson. Marian writes John has a badly cut hand and they can't come home Thanksgiving. My heart gives me trouble. Spells last 2 hours and more
Nov 22 -- Nothing
Nov 23 -- Nothing
Nov 24 - Paid Geo. Kessler 7.00 Estate owed him for coal oil and oil he paid from when plowing 20 acres. I bought two rolls roofing to cover corn cribs for estate corn. $2.00. Paid to estate $18.75 calf pasture for 1931. Geo. K. got done husking on estate today. Paul Ronk not done. Had operation on nose and not able to work for awhile. I also paid to estate $30 for clover seed (5 bu).
Nov 25 -- Cold this morning 28 above but the ground has not been frozen this fall and the weather has been unusually warm for Nov 60-70 some days. Geo K. came and helped Harley cover the slat corn cribs. Found they could not use roofing I got as it was cold and the roofing stiff and would break. They used straw which was Rolands idea in the first place. Paul Ronk brought another load of corn 4th.
Nov 26 - First snow tonight. Paul Ronk brought 5th load corn. Roland home for Thanksgiving. Went to ch. Boys got rabbit this p.m. Bro. Summer & family here tonight awhile.
Nov 27 - Rung & Castereated 52 pigs. 4 in (inches) of snow today. Marian wrote Johns hand was cut in machinery took 10 stitches to close and was 2 hrs being cared for in hospital. Very bad accident.
Nov 28 -- Ruth took music lesson. Boys fixed the hog feeder with ground oats, tankage and mineral.
Nov 29 - Nothing
Nov 30 - Paul Ronk brought 6th and last load of corn. Harley hauled in rest of the wood. Butchered small hog for himself. Roland left yesterday. We miss him a lot. Ruth at home with cough. Got some medicine for her yesterday. Lots of sickness around. Good many small pox cases. Our 4 in snow gone today. No sunshine for 4 days. Misty and damp but not very cold. Had two heart attacks today. They last so long too
Dec 1 --Nothing
Dec 2 -- Ruth still coughing but some better. Went to school today. Very nice day for winter 20 above zero this a.m. Following are the estimated bu. corn for estate. Kessler put in old barn - 100 bu slat cribs 449 bu corner of east crib at Harleys 200 bus. Paul Ronk in slat crib 135 bu. Install at barn 270 bu. Grand total (new corn) 1154 bu. Stall at barn if full would hold about 690 bu.
Dec 3 -- Nothing
Dec 4- Nothing
Dec 5 -- Ruth played in piano recital did very well (2 piano duo) at Mrs. Marks' House full of people. Martha Jane Henrys recital, received diploma for first grade work in music.
Dec 6 -- Nothing
Dec 7 - Nothing
Dec 8 - Nothing
Dec 9 -- Harley finished husking corn this morning - estimate about 160 bu.
Dec 10 -- nothing
Dec 11 -- nothing
Dec 12 -- Ruth took music lesson. Took her to Dr. about cough again. Says she has all symptoms of whooping cough. Lots of it in school. Am obliged to fix a fence east of barn lot. Ordered 20 posts and 1 end post. 2 spools wire of New Ross Lumber Co. Cost 16.95 (posts 36 c end p $3.25. B wire 3.25) Will get wire of Edgar Mangus.
Dec 13 - Nothing
Dec 14 -- Harley went for wire at Mangus. Got 80 rods No 9 x 9 wire .50. 2 sp. barb wire $$3.00. Will use about 50 rods for fence eat of barn. Then I got 10 0rdered top posts @ 36 c and 1 roll 4 pt. barb @3.00 to fix fence on estate. Will use 40 rods of the above wire and 1 sp. barb to make partition fence between will stump property (P:effley Place) and wehre Paul M. lives. We pay 1/2 of that. Got 40 red to posts @ 36 c for the stump. G. Fence got 20 red to posts and 1 sp. wire for our fence.
Dec 15 - Nothing
Dec 16 -- Harley butchered hot for us got of Paul M. estimate weight 165 lbs price 4.25. Pay in corn 25 c. Ruth "whooping" and losing most all her meals this week. Cough worse at night. My heart not good at all these days.
Dec 17 - Nothing
Dec 18 - Harley put up new fence south from gate to corner today. Very nice day. Seems like spring temp 65. Ruth whooping & vomiting. Worse at night.
Dec 19 -- Sent old male hog to pavilion to be sold. Got $12.50o. Trucking cost $1.00 commission 50 c. Harley didn't want to risk casterating him and I would have to pay 2.00 to have it done. His class of hog only brings about 2 c on the market anyway. Ruth seems to have taken cold. Coughs worse. Can't get much sleep and I feel awfully tough and mean, and so does she.
Dec 20 -- Nothing
Dec 21 -- Sent 5.00 to Claud Harshbarger for the fund being raised for Lora Miller. Her cancer has broken out again. Their cow died and their team of horses. People are raising means for x-ray treatment. Harley took team & wagon and with other neighbors finished husking Ollie's corn last week. Lewis - Rollo & Ray Lee saw "Ben Hur" at C'ville. (photo: wordpress)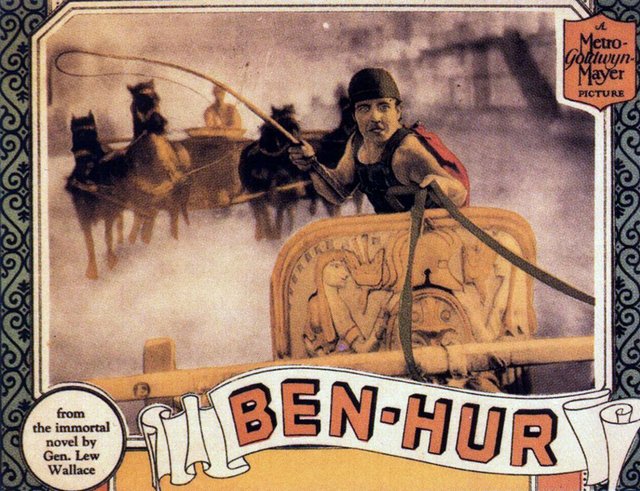 Dec 22 - Nothing
Dec 23 - Nothing
Dec 24 - Nothing
Dec 25 -- Sunny day. Not very cold. Dandelions in bloom south side of house. Roland at home. Ruth weak and nervous. Still coughing lots at night. Had a tree for Ruth. John didn't come that it too hard on us to have so many here. Am so sorry I'm not able to do as I'd like.
Dec 26 -- Nothing
Dec 27 - Paid Geo. Kessler 5 for our part in the non-hunting signs.
Dec 28 -- Nothing
Dec 29 -- Paul M. bought the corn stored in his crib. 28 bu for hogs. bal. 304 1/2 bu 76 13 c what a lot of corn for the amount of money.
Dec 30 -- Nothing
Dec 31 - Harley bought cow for us at Brition ? 31.00 Roland went back this p.m. Always hate to see him leave. He fixed the washing machine again. Had a lot of studying to do this time. Bad day - awful windy from east and rainy for two days. Dandelions and fancy blossoms out on Christmas day. Most remarkable weather this year we ever had. Mrs. Jesse Ashby buried today. Died of cancer. Geo K. paid estate for calf pasture. Will leave four calves down there this winter. 2 head at 40c per mo each. 2 head at 30 each. Lots of green oats and corn stalk pasture. Cow Harley bought has been fresh about 8 weeks. Calf was vealed. Cow four years old. Cost .00 to truck her home.