JULY 1886 Diary of Hiram Austin Pratt
Waveland, Indiana Barber - CW Soldier + More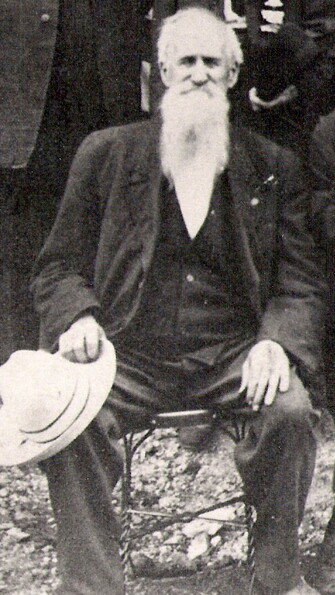 Note: These diaries were in the Waveland Public Library for decades but were disposed of by a librarian several decades ago. Luckily, another librarian's daughter (thanks sooo much Pam, at the death of her mother, Virginia Banta Sharpe found them in some belongings and gave them back for proper housing. A complete circle; however, only 14 of the 50+ diaries were saved from the library's incinerator. I'm a librarian too and thought since they'd been lost to posterity for so many years that it would be a good thing to transcribe them and give them to the world. They are currently housed in proper temperature/storage at the Crawfordsville District Public Library - typed as they were written
Note 2 : Karen Bazzani Zach (transcriber) was raised in the big 'ol town (500 people) where HA Pratt lived 5 decades before I was born. I remember the building where his little shop was and wish it was still there. What an interesting little place. ALAS! Progress !
Note 3: Some information about Pratt -- he was born in Parke County, Indiana April 20, 1840 the oldest child of eight born to Erastus & Elizabeth Allen Pratt and died October 12, 1914 in his beloved Waveland, Indiana. He was twice married, first to the love of his life (he kept a life-sized poster of her in one of his cabinets at his barber shop, even long after his second marriage) Eliza Franklin Shaw (born Oct 23, 1841 died Oct 12, 1887), and #2 to his friend, Evaline "Eva" McMains. He was very active in the community where he and Eliza chose to live. He gave generously of his time and money to the Methodist Church in Waveland. For a few years, he served as Marshall of the town. Also, he worked diligently for his Odd Fellows, Rebekah & Knights of Phythias Lodges, was for a time on the town board, and read to those who could not read from the several newspapers he was agent for. Pratt volunteered and served for three years during the Civil War (Co. B, 36th Infantry), and spent time in the dreaded Andersonville prison. He and Eliza adopted a son, Willie Franklin Stump, age two (not sure ever officially or just had permission to take him from the Poor House in Crawfordsville) and he was an amazing young boy (high grades, worked in the church, quite musicially inclined, just an ideal child) until Eliza was taken to the hospital where she was operated on for six cervical tumors (one weighing six pounds) from which she died. Willie went wild after that and he and Hiram's second wife, Eva never got along. He ended-up in Reform School (for stealing a dollar twice from Eva among other small crimes), and later sent home to die due to consumption (what we know as tuberculosis) dying in Hiram's arms on April 12, in 1894. Hiram missed Willie and Eliza more than most I do believe as he wrote about them so often in these diaries. Just wish the rest of Pratt's diaries he wrote for over 50 years as a barber in Waveland still existed :( kbz
---
Thursday July 1 - $2. Stamps 10 cts one head of cabbage 10 cts & gal coal oil 65 cts. 2 ½ on bu chicken feed 60 cts. One bottle of medicine for Eliza 80 cts. Boat ride yesterday 25 cts. Clara has made all arrangements to go home tomorrow. The old ware house burned last night.
Friday July 2 -- $4.60 Our work today is larger than usual on the account of the Celebration of our National day of Independence as many of the people here propose to go out to the Shades and celebrate. Clara went home today.
Saturday July 3-- $8.60. Paid 75 cts for having my shoes half soled. A great many are in from Rockville & Crawfordsville and in from the country round about. This has afforded us a good run of customers. The weather is warm and dry.
Sunday July 4-We attended church this forenoon. It being the day set apart for the receiving in of probationary members into full connection to church membership. There was 10 received 4 received baptism by immersion.
Monday Jul 5-- $4.55. Paid 60 cts for a sack of flour. 35 cts for stamps. 10 cts for dues on post office box. Sent John C. New & Son 7.60. B&L 2.50 I attended the meeting of the Order of IOOF and was again elected warden.
Tuesday July 6 -- $2.80. Paid 30 cts car fair to Guion. Mr. Acker wanted me to see his sewing machine and if possible to put it in repair. I adjusted it so that now it does all right. The day has been very hot. Mercury 96 in the shade. Rain much needed.
Wednesday July 7 -- $1.75. The machine I went to see I succeeded in putting it in sewing order. The weather continues real warm. Our Willie has gathered one gallon of blackberries. Had my teeth refilled cost 1.50. The filling had got loose and come out.
Thursday July 8 -- $4. Willie Hauger came in on a visit yesterday evening. He is not in my business now. But is making his home at Newman, Illinois. Paid 1.15 for a wooden bucket full of C. Sugar. Weather continues dry and very warm. Rain is much needed
Friday July 9 - 1.55. One qt can of honey 35 cts. One half roast 50 cts. Commercial Gazette 2.25. CF Bragg of Cin OH 21 cts. The enquirer 1.65. This evening we were blessed with a good shower of rain. I had two loads of hay put in the barn soon.
Saturday July 10 -- $8.35. Our fourth and last quarterly meeting convened today and will continue over Sunday. My business does not admit of my attending these meetings on Saturdays. Gasoline can 1.65. Gasoline 1.85. The weather continues warm.
Sunday July 11 - I attended quarterly love feast this morning. Wife and Willie came in for the regular morning services. Willie partook of The Lords Supper for the first time. Elder Greene and Rev. CJ Vaught and Bro Walker and family took dinner with us. We were at services tonight.
Monday July 12 -- $5.25. B&L 2.50 A bill of goods from Chicago cost 3.95. Paid John Philips 35 cts. Sent to John C Shuemaker of Indianapolis Ind today on daily Sentinels for June 1.25. Had a shower of rain and hail this evening. Charley Kritz went to Crawfordsville return tomorrow.
Tuesday July 13 -- $1.45. Paid Perry Mahorny 2.50 for a bed spring. Had it on trial over last night. I have one that I paid as much again for that is not any better one doz lemons cost 50 cts. We had a rain and hail storm this evening. Weather yet very warm.
Wednesday July 14 - 1.65. Two sacks of feed for chickens 1.10. The two Willies and I spent the forenoon picking berries. We gathered 5 gallons and were home by 3 p.m. The weather continues warm. Corn is growing very fast. Wheat is worth 72 cents per bushel.
Thursday July 15 - 1.65. One broom 35. Coffee one package 15 . Peppermint lozengers 20. A portion of the membership fo the Methodist Church made up a little surprise party for our pastor and family - called a pound party. I gave 50 cts worth of sugar.
Friday July 16 -- $1.60. Coal oil .20 Calico .10 The two Willies went after blackberries. They were gone all day. Come home with four gallons. The weather continues very fine for corn crops. Wife has canned and made into jam 20 gals of blackberries.
Saturday July 17 - 7.25. Work in the shop is not very good this week. People are too busy on their farms taking care of crops. A primary convention of the republicans was held here today. Delegates were sent uninstructed to the county convention.
Sunday Jul 18 - We were in our accustomed seats at church this morning. Willie and I were at Sunday school at 2 ½ this afternoon. At 4 o'clock I heard Rev. JW Torrence of Mitchel, Dacota (sic). He was formerly pastor of the Presbyterian Church here. In bed by 7 o'clock.
Monday July 19 -- $3. Paid 15 cts for a hat for Willie. 8 gallon of blackberries 1.20. The American News Co 6.10 I have taken a gasoline stove to Joel Clores on trial. A slight rain fell this evening. The weather is delightful.
Tuesday July 20 -- $1. Two and one half bushels of chicken feed 60 cts. Rent for last month $2. Bill Hauger has bought the right to the sale of Davis' quilting frame in Vigo County. He left here for Newman Illinois this morning. Medicine for Willie 35 cts.
Wednesday July 21 -- $1. On gasoline stove .90. Building & Loan on last Monday 2.50 AOUW last month $3. These items I had neglected to jot down. Sugar one dollar. Fruit cans 1.20. Weather continues most delightful. I am well.
Thursday July 22 - 60 cts. Yesterday I sent John C. New & Son 7.65. I find I had entered this same item on the 5th of this month. One bottle of mucilage 10 cts. Pea Nuts 15 cts. From all accounts I can hear Penn Hanna is married. (Note: Pendleton Hanna had married Jennie McMains on June 23rd)
Friday July 23 -- $3.30. One bottle of shoe polish 15 cts blacking .25 By the Ottumwa Courrier I see that they are having a seige of dry weather out in Iowa. No rain had fallen for 7 weeks. We are as dry as powder horn here too. Weather very warm.
Saturday July 24 -- $7.70. It was past midnight where I ate my supper. Our work did not open out in full blast until about 5 o'clock. The weather continues warm or rather I might be excused if I say, continues hot and very dry.
Sunday July 25- No prospects of rain and ways (sic) soon. "Sow your turnip seed on the 25th of July wet or dry" is an old saying and I have made observation for many years that rain has fallen in some locality from the 23 to 26. We were at Crutchfields this afternoon.
Monday July 26 -- $3.55. Sent the Times Co of Indianapolis 1.32. Late this afternoon there was barely enough rain fell to lay the dust I seen that further to the north there was a heavy ran fall. Lightning was plainly to be seen and the report was easily heard.
Tuesday July 27 -- $2.40. Yesterday paid B&L 2.50. Tonight the AOUW $3. There is no letting up in the warm weather. A good soaking "wet" rain would relieve things mightily. Chicken feed 2 ½ bushel 60 cts. Water melon 30. Beef 20 cts.
Wednesday July 28 -- $2.25. The weather continues getting hotter. Our garden is drying up. For several days we have been throwing water over the cucumber vines. Sugar $1. Two 1-gallon jars 20 cts. Paid last Saturday 5.47 life insurance. Chicago.
Thursday July 29 -- $2. One gal of vinegar 20 cts 1 pound of coffee 15 cts. Bacon 35 cts. The weather today has been the hottest of the season 92 degrees in the shade. There is no indications yet of rain. By digging in the garden for a turnip patch I find the ground to be very dry.
Friday July 30-- $4.25. We had enough rain this afternoon to lay the dust and to make the roads a little muddy. $25 on Sales of machines & Gas Stove. Paid one dollar for 6 gal's of gasoline. The weather was not quite as warm as it was yesterday. At 9 this evening there are more signs of rain.
Saturday July 31 -- $7.30. We were done work by 10.30 and then ate supper. Charlie never went to his supper and I shared mine with him. Coal oil one gal 20 cts. Sealing wax 10 cts. The weather was awful warm this afternoon. Rained a little last night.