JUNE 1895 -- Hiram Pratt Diary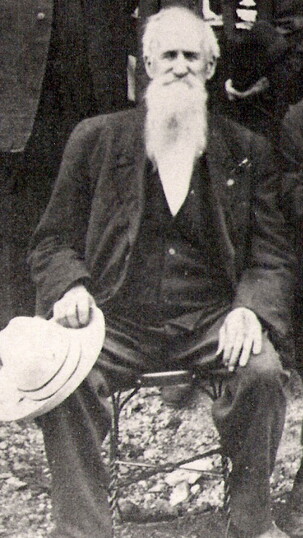 Note: These diaries were in the Waveland Public Library for decades but were disposed of by a librarian several decades ago. Luckily, another librarian's daughter (thanks sooo much Pam, at the death of her mother, Virginia Banta Sharpe found them in some belongings and gave them back for proper housing. A complete circle; however, only 14 of the 50+ diaries were saved from the library's incinerator. I'm a librarian too and thought since they'd been lost to posterity for so many years that it would be a good thing to transcribe them and give them to the world. They are currently housed in proper temperature/storage at the Crawfordsville District Public Library - typed as they were written
Note 2 : Karen Bazzani Zach (transcriber) was raised in the big 'ol town (500 people) where HA Pratt lived 5 decades before I was born. I remember the building where his little shop was and wish it was still there. What an interesting little place. ALAS! Progress !
Note 3: Some information about Pratt -- he was born in Parke County, Indiana April 20, 1840 the oldest child of eight born to Erastus & Elizabeth Allen Pratt and died October 12, 1914 in his beloved Waveland, Indiana. He was twice married, first to the love of his life (he kept a life-sized poster of her in one of his cabinets at his barber shop, even long after his second marriage) Eliza Franklin Shaw (born Oct 23, 1841 died Oct 12, 1887), and #2 to his friend, Evaline "Eva" McMains. He was very active in the community where he and Eliza chose to live. He gave generously of his time and money to the Methodist Church in Waveland. For a few years, he served as Marshall of the town. Also, he worked diligently for his Odd Fellows, Rebekah & Knights of Phythias Lodges, was for a time on the town board, and read to those who could not read from the several newspapers he was agent for. Pratt volunteered and served for three years during the Civil War (Co. B, 36th Infantry), and spent time in the dreaded Andersonville prison. He and Eliza adopted a son, Willie Franklin Stump, age two (not sure ever officially or just had permission to take him from the Poor House in Crawfordsville) and he was an amazing young boy (high grades, worked in the church, quite musicially inclined, just an ideal child) until Eliza was taken to the hospital where she was operated on for six cervical tumors (one weighing six pounds) from which she died. Willie went wild after that and he and Hiram's second wife, Eva never got along. He ended-up in Reform School (for stealing a dollar twice from Eva among other small crimes), and later sent home to die due to consumption (what we know as tuberculosis) dying in Hiram's arms on April 12, in 1894. Hiram missed Willie and Eliza more than most I do believe as he wrote about them so often in these diaries. Just wish the rest of Pratt's diaries he wrote for over 50 years as a barber in Waveland still existed :( kbz
---
Saturday June 1 -A very warm day. $3.80. 93 degrees. No signs of rain yet. Flour is worth 4 dollars per bbl wholesale. Ret at 60 cts per sack of 25 lbs. Canned fruit 50. Cakes 25. Lemons 25. 2# dried peaches 25. Bob McMains has been with us three nights this week. His wife came down this evening. 75 persons came up this a.m. on excursion to the Shades. Eva weighs 215, this hot weather is worrying her.
Sunday June 2 - Clear. 93. Dry and very warm. I paid my regular weekly visit to Willies grave, on decoration day. I placed a bunch of flowers on his grave. They were put in an oyster can filled with water. "What think ye of Christ" was Bro. Campbell's text this a.m. Tonight he talked about the withered hand. I was beautifully entertained at both the services. Eva went both times to hear Bro. Lucas of Indianapolis. I called for her on the way home.
Monday June 3 - Clear. 98. People do not have to labor to raise a sweat, Bob McMains and wife were at our house over last night. James Alfrey and wife were at our house yesterday for dinner. Eva done her usual weeks washing this forenoon. She also canned our maple molasses. We enjoyed a good treat of ice cold lemonade at our dinner yesterday. I am in Terre Haute tonight for the purpose of selling potatoes for Sutger.
Tuesday June 4-I stayed last night with my brother-in-law Albert Shaw. I found the market for potatoes very low especially for old potatoes. The new potatoes are large and red nice. This evening I met with Henry Robertson and by invitation took supper with him at his club room. He is attending the state Normal School. I also met with Miss Minnie Haley who used to reside here. We had a very light rain.
Wednesday June 5 - The weather was considerable cooler last night. Sleeping was good. I enjoyed it. Charley Goldsmith took the potatoes on commission. I visited Minnie Haley at the Frank overall factory and seen her make a pair of pants in 20 minutes. She says she can make a pair in 15 minutes. I also visited the cotton barns of the Distalery (sic) seen about 6000 head of fat cattle came up home on the evening train. Warm tonight.
Thursday June 6 - 1.85. While in Terre Haute I bought a night gown for my wife cost 39 cts. It was the largest size they had and yet not large enough. I gave 50 cts for one for myself. Paid 10 cts for ice cream today. The weather has resumed its old time furnacy of heat, and as dry as ever. Out in Kansas and Nebraska the drought has been broken by a big flod (sic) of rain 6 to 10" of rain fall. Eva reports 3 qt cans of maple molasses stolen. 25 cts.
Friday June 7 - 25 cts. I was at prayer meeting last night, we had a good attendance and a very good meeting. Bro. Campbell was late getting in. Bro Mc L. Wasson had opened the services when he came in the meeting was turned over to him. He can get more work out of the membership than any man I ever seen attempt it. There are a few who don't like him. My opinion is we never had a better one.
Saturday June 8 -- $5.25. We have no rain to report yet. Charley Demaree came in yesterday from Kentucky and said the ground there was too wet to plow. Eva had canned nearly 2 gal of cherries and one qt of gooseberries. I was done work by 11. Paid $1 for 19 p
ounds of granulated sugar and $1 for 20 pounds of "A" sugar and 20 cts for ham.
Sunday June 9 - I went with Eva to meeting this morning. Heard a real good sermon by Frank Ashley of Tuscola, Ill. His was the best sermon I ever heard in that house. Tonight I went alone to the childrens day meeting at the Presbyterian church house. The little children did very well. It was after nine o'clock when I visited poor little Willie's grave. I had not been up in town until tonight.
Monday June 10 - 45 cts. Clear 94. My pulse ran up to 100 this afternoon. We read of large rain falls in some of the western state. I recon our time will be here soon. Bob McMains was at our house for dinner. Lloyd went out to Kelso's with him this evening. The first brick were lain today for the new bank building. It is just north of the new hotel. Paid 10 for a doz rubber rings for Mason glass jars. (Note: The bank is still a bank today and the new hotel a flower shop).
Tuesday June 11 - 1.50. Clear 96. I cleaned up a gasoline stove for John A. Spruhan our railroad ticket and US Express agent. The dry weather continues with more favorable symptoms for rain tonight than for a long time. In the far off southwest flashes of lightning was plain to be seen. Pastures are as dry as we commonly see then in the fall of the year. Beef .10.
Wednesday June 12 -- .45 cts. Cloud 92. Seven years and light months ago at 2:40 a.m. my precious little lady died. Just 1 year and 3 months ago at 2:40 a.m. little Willie died. By the grace of my heavenly Father I am in the enjoyment of splendid health but have rheumatism in my knees. Nancy Kelso, Eva's sister spent the day at our house. We were blessed with a little shower at 6 o'clock barely enough to dry the dust.
Thursday June 13 -- .30 Clear 86. The ground seems as dry as ever and we are in need of more rain. It would take several days of slow rain fall to thoroughly soak the ground. I attended our weekly prayer meeting which was lead by AC Guyer our former pastor. Meeting was good. Our preacher is at New Market will be home tomorrow.
Friday June 14 -- $2.00. Cloudy 85. $4.77 for gasoline. Paid 35 cts for two slices of ham and one beef steak. I weight today 225 strong am 55 years old and write these lines without the aid of glasses. The political parties are considerably divided on the silver question. Some want free and unlimited coinage and some want it coined in such amount as will keep it par with gold.
Saturday June 15 - 3.15 Cloudy 88. No rain today. Mort L. Butcher has sold his Laundry agency to Steve Gott. He had his office in the room with me. I have ordered a hamper sent to me from Ed. L. Lawrence of Terre Haute. (?) I have been looking after business in that line today and have found 26 persons who said they would give me this work. Eva went to Crawfordsville with Mrs. Smalley. Lemons 25. Hat trimmed for Eva 10 cts.
Sunday June 16 - 2.00. Cloud 90. Paid $1.30 quarterly dues to Knights of Pithias. 50 cts for on dozen quart tin cans. Eva has had luck with cherries put in mason glass jars. Herbert & Clay Lewis were at our house for dinner and so was Bob McMains. They gathered a few gallon of cherries. The Laundry basket came in this evening. I have 2.20 worth of work on hands. I got 30 on each dollars worth of work.
Monday June 17 - 1.45. Clear. Most of the day was clear without any sign of rain but after 6 o'clock clouds began to gather in the west. We had 2 light showers and later a slow steady fall sets in. It is now 15 minutes pas t8 and the rain is gently falling. Praise the Lord for his timely remembrance of us in our needcessity. Paid 1.05 for 72 pounds of bacon 22 cts for coffee .25 for a gal of gooseberries 15 for Journal.
Tuesday June 18 - Rain. I ought to have written here what is written on Monday. I neglected to write yesterday Monday 17. Paid Dues in Knights of Pythias 1.40 Eva is done her usual. I am wrong again Sundays report should be on Monday. Sunday seems to have been left out. I do know on that day I was at Sunday School. Visited Willies grave. Heard Bro C. deliver a good sermon. Went to Kelso's for dinner. Eva went to meeting with me at night. We had a dish of ice cream afterward.
Wednesday June 19 - It looks now like we are going to have a real good spell of wet weather. I sent off $5.60 worth of laundry work. Mr. Gott had only a few pieces. I done 30 cts worth of work in the shop today. Lloyd bought 4 gal of red cherries and Eva is going to have Nancy Bloomfield to can them to see if they will keep any better than when she done the cannings. Pd 50 cts for a doz tin cans. Baking pdr .10.
Thursday June 20 - 1.25. Rained most of last night and continued until after noon. At no time did it rain what would be called hard. Plowed ground was made damp to a depth of 6". Eva done her usual weeks work yesterday and commenced on the making of a new dress which she bought in Crawfordsville. The Cubans are in resolution against the authority of Spain. My sympathy is with Cuba.
Friday June 21 - 1.50. Clear 90. The sun today reaches its furthest point north. The days are now the longest. For a few days there will be no change in the length of days recorded. The Town is putting in five large cisterns for fire engine use in time of conflagrations. The Cubans are reported as worrying the Home government troops wonderfully. They have an army of 15,000 well armed.
Saturday June 22 -- $6.25. Paid 25 cts for Ham steak and 30 cts Express on laundry basket. I am well pleased with the general appearance of the work. Mary Ellen Alfrey and Jennie Hanna were at our house a few minutes yesterday evening. Paid $3.84 for gasoline. The price today was 11 ½ cts. Sold Fount Johnson 20 gal at 12 cts. I am done work tonight at 11 o'clock.
Sunday June 23. Clear 86. I was at Sunday school this morning. Last Sunday I donated 5 cts and the same today. I visited Willie's grave before going up to the Presbyterian church. The pastor read his last essay. He has resined (sic) and will move to Kentucky this week. On the way home Bro. Guyer caught up with me and was much enthused over the "sermon." He reads his "sermons" and accuses me of being prejudiced against manuscripts.
Monday June 24 - 2.65. Clear 90. Laundry bill 4.30 cts. Saturday night I paid 25 cts for ham steak. This morning at about 3 we had a real nice rain. It did not last long. Eva is entertaining the Lagardo 10 cts show troop this week. There will be seven of them. She took in 2 more not belonging to the show. She wants to pay for all the provisions and see what it costs to keep three for one week provided they stay. Beef 45 cts. Corn .25. Peas .10. Beets .15 Pork Steak 35. Dues IOOF 1.40.
Tuesday June 25 - 1.85. Cloudy 90. Paid 30 for a pecKnights of Pythiasotatoes. 50 for 13 bread tickets. 25 for a half pound of tea .25 for a pound of cheese 47 cts for a beef roast 5 ½ lbs. 15 for a doz bananas 20 cts for a gal of vinegar. 25 cts for 3 day cakes. 35 cts for 2 lbs ham steak. I helped Eva with dish washing at noon and at night. I milk the cow. This I do every morning that I am at home. The show is out of doors tonight. Had a rain.
Wednesday June 26 - 1.80. Clear 87. We have been abundantly blessed with a first class rain. Enough waterfall to start the branches running. Corn is in good shape to grow and the yeald (sic) is most promising Beef roast 50 cts. The Cubans met with reverses. They are not oft discouraged, but are fighting for liberation from Spanish rule with wonderful odds against them. Filibusters from the US are aiding the Cubans.
Thursday June 27 - Clear 85. $2.40. Paid 2.30 for gasoline 50 cts for a beef roast. The Cubans are talking of forming a Republic with head quarters in New York. I believe that if they gain their independence they will ask to be annexed to the United States of America. The LaGardo show are not getting rich very fast. I hope they will take in enough to pay their board bill. I was at Prayer meeting to night. It was lead by Bro. Conner.
Friday June 28 -- $1.80. Cloudy 80. We had a very light sprinkle of rain after dinner. I had 52 pounds of laundry work this week. Last week 42. I think that I will try the "gem" at Indianapolis if this firm do not pay me for a necktie belonging to Alec Moore, it cost him 50 cts. I sent a small bundle of papers to Helen McMechan (McMachlin?) of Farmersburg. Postage 3 cts. Yesterday I was at 19 cts for stamps. Paid 50 for beef roast and 22 ct for a pound of coffee.
Saturday June 29 -- Clear 68. $11.30. Of course, this is not all for work done in the barbers chair, though I have had a fair days work. Bought a beef roast 9 ½ lbs for 1 dollar. 2 ½ lbs cheese 35 cts. 1 can of apricots 15 cts. I am done work by 11 ½. The Laundry did not arrive until the 5:30 p.. train. I aught to have had it this a.m. The weather has been cool. Rained a little today.
Sunday June 30 - Cloudy. 78. Commenced raining some time this morning before day and did not cease until after dinner. The rain was slow and gentle, but for all that was of great benefit to everyone. I was at class this morning. Meeting was lead by AC Guyer our former pastor. Visited Willie's grave at 7 p.m. Went with Eva to hear Bro. Shuey on "good citizenship." LaGardo and troop went too.