APRIL 1888 - Hiram Pratt Diary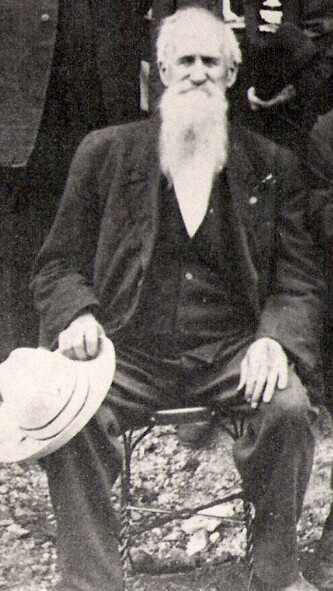 Note: These diaries were in the Waveland Public Library for decades but were disposed of by a librarian several decades ago. Luckily, another librarian's daughter (thanks sooo much Pam, at the death of her mother, Virginia Banta Sharpe found them in some belongings and gave them back for proper housing. A complete circle; however, only 14 of the 50+ diaries were saved from the library's incinerator. I'm a librarian too and thought since they'd been lost to posterity for so many years that it would be a good thing to transcribe them and give them to the world. They are currently housed in proper temperature/storage at the Crawfordsville District Public Library - typed as they were written
Note 2 : Karen Bazzani Zach (transcriber) was raised in the big 'ol town (500 people) where HA Pratt lived 5 decades before I was born. I remember the building where his little shop was and wish it was still there. What an interesting little place. ALAS! Progress !
Note 3: Some information about Pratt -- he was born in Parke County, Indiana April 20, 1840 the oldest child of eight born to Erastus & Elizabeth Allen Pratt and died October 12, 1914 in his beloved Waveland, Indiana. He was twice married, first to the love of his life (he kept a life-sized poster of her in one of his cabinets at his barber shop, even long after his second marriage) Eliza Franklin Shaw (born Oct 23, 1841 died Oct 12, 1887), and #2 to his friend, Evaline "Eva" McMains. He was very active in the community where he and Eliza chose to live. He gave generously of his time and money to the Methodist Church in Waveland. For a few years, he served as Marshall of the town. Also, he worked diligently for his Odd Fellows, Rebekah & Knights of Phythias Lodges, was for a time on the town board, and read to those who could not read from the several newspapers he was agent for. Pratt volunteered and served for three years during the Civil War (Co. B, 36th Infantry), and spent time in the dreaded Andersonville prison. He and Eliza adopted a son, Willie Franklin Stump, age two (not sure ever officially or just had permission to take him from the Poor House in Crawfordsville) and he was an amazing young boy (high grades, worked in the church, quite musicially inclined, just an ideal child) until Eliza was taken to the hospital where she was operated on for six cervical tumors (one weighing six pounds) from which she died. Willie went wild after that and he and Hiram's second wife, Eva never got along. He ended-up in Reform School (for stealing a dollar twice from Eva among other small crimes), and later sent home to die due to consumption (what we know as tuberculosis) dying in Hiram's arms on April 12, in 1894. Hiram missed Willie and Eliza more than most I do believe as he wrote about them so often in these diaries. Just wish the rest of Pratt's diaries he wrote for over 50 years as a barber in Waveland still existed :( kbz
---
Special Note: Hiram's sister, Eliza is at his house helping - Willie is not nice to her. Hiram is lonesome and wants to marry his first wife's sister but Eva McMains has her mind on him. Watch how it all plays out !!
Sunday, April 1 -- Dave and George Moore, Eva McMains and I went to Crawfordsville to attend the funeral of Isom R. Farmer. He was once a resident of this place (Waveland, Ind). Ther was a large attendance. (on side Hiram has written Theodore Shaw married)
Monday, April 2 -- $6.60 -- B & L $5. Yesterday being "All Fools Day" the report was circulated that Eva and I were married. A goodly number of our citizens were thereby fooled. Rain last night nice today.
Tuesday, April 3 -- $1.50. Two cans of canned corn 25. Sent the American News Co $15.10. My trip to Crawfordsville last Sunday cost me $2.25. The weather is getting better. Grass showing plain. My little woman was here 6 months ago today.
Wednesday, April 4 -- $2.50. Bought a skirt for my sister Eliza $1.25. The report got circulated that Eva McMains and I were married last Sunday and strange to say a good many believed the reports. (Could never be 100% sure but would guess Eva might have been pushing those rumors - she's got her mind set on him for sure)
Thursday, April 5 -- $1.30 -- We had a good big shower of rain late this evening. 2 1/2 qts of onion sets .50 cts. Bananas 10 cts. Pea nuts 15. Cream 5. Corn for the cow .50 cts.
Friday, April 6 -- $3.30. Bought a pair of slippers for Eliza $1. Lamp flue .20 cts. 2# Arbuckles coffee 45 cts. Coal oil one gal 20 cts. Rec'd a card from Irene Dowell. The organ reached them on time. Weather is some colder.
Saturday April 7 -- $8.50. 1 gals gas 15 cts. One week ago tdoay I sent the Sat. N. Co of NY a one dollar note (Greenback). The weather is very nice. A candy party at Henry McIntosh's tonight. Candy made of maple molasses. Home by 12 midnight.
Sunday, April 8 -- Willie and I attended class this forenoon and at 2 1/2 we were at Sunday School. Tonight we went to Dow Stone's and set until bed time. I send Clara our town paper and the Terre Haute Mail weekly.
Monday, April 9 -- $5 -- B & L $5. Flour 60. Rice .50 Canned corn 50. Sugar 50. We have had a very wet day of it. The rain has been constant since noon and is likely to continue during the night. Potatoes one peck 35 cts. Card 15 cts.
Tuesday, April 10 -- $1.90. Four doz eggs 50 ts. Four pounds of fresh fish 50 cts. Thread 15 cts. Tickets to home play 90 cts. The rain is over for the present. Medicine for myself 5 cts. My stomach is hurting me again. Weather cool.
Wednesday, April 11 -- $2. Sent the Sentinel Co $2.45. 50 pounds of cement used last fall on our cistern 1.25. There was a big frost last night everything was very white with it. This morning. Eliza's leg is hurting her.
Thursday, April 12 -- $1,70. My little woman died 6 months ago. Paid state, county tx gravel road tax $6.88. Paid $12 for 8 cord of stove wood. Uncle Roy Grimes took dinner with us last Saturday. Weather cold. Freight on two gasoline stoves 99 cts. Medicine for sister 50 cts.
Friday, April 13 -- $1.80 Stamps 30. Buried my little woman 6 months ago. Cerel flakes 25. Dried beef 20. SUpplies for the shop 1.50. Three milk crocks 25 cts. Wrote Clara a letter. The weather has cleared up and the air is cool. I am not well.
Saturday April 14 -- $9.25. Lemons 15 cts bread 10. Beef 65. Weather is fine. Willie planted a few onions today. The ground is most to wet to work well. We were done work by 11 o'clock.
Sunday, April 15 -- Willie and I attended Sunday school at 2 1/2 p.m. At night I went to hear Elder Oliver P. Badger of the Campbellite Church. He is a good speaker and I believe a good christian gentleman.
Monday, April 16 -- $6.15 -- B & L $5. The journal $16.20. One cod fish 70 cts one potatoes 35 cts. Feed for cow 50 cts. The tombstone or monument for my little woman's grave was put on the car this evening. 1 bot med for Eliza 1.25
Tuesday, April 17 -- $2.25 -- Billy Hauger of Newman Illinois was to see me today. He took dinner and supper with us. Returned via ID & S at 12.23. 5 gallons of gas 75 cts. The weather is cool.
Wednesday, April 18 -- $2.10. Bob McMains went down to Farmersburg yesterday to put up the monument to my little woman's grave. Rec'd a nice letter from Clara. Have made a little garden.
Thursday, April 19 --- $1.10. Sent $7.70 to the Commercial Gazette Co. O. Ewing of Decatur Ill was to see me today. He is agent for the Standard Serving Machine. Done some nice silk work on the machine worked a nice book mark for Clara.
Friday, April 20 -- $7.95 -- Since last report I ahve paid out for the washing of cloths $8. Soda 25. Beef .25 I reached my 48th mile post in the race of life today. Write this without glasses.
Saturday, April 21 -- $11.55. Crackers 25. Broom 20. Beef 25. Garden seed 30 cts. Two lumps magnesia 10 cts. 1 gal coal oil 20 cts. One doz Cerrl 5 2 window blindes (?) for shop. 1.50 We were done work at 12 tonight. Weather cool had a fire.
Sunday, April 22 -- Willie and Iattended Sunday school at 2 1/2 10 cts. We remained at home tonight and retired very early - before 8 o'clock. I was very lonely today - the weather cool and no sunshine.
Monday, April 23-- $3.95 B & L 5. Meat 60 potatoes 35. Screw driver 25. Receipt for washing fluid for Eliza 25 cts. Freight .55 Weather clear and cool. Spaded in garden today.
Tuesday April 24 -- $5.20 -- One can of gooseberries 15. 8 pounds of prunes 50 ccts. One peck of seeed potatoes 35 cts. The coming crop of wheat in this locality will not be more than a half crop. I am well.
Wednesday, April 25 -- $1.40. Gave Daisy Hunt for her birthday present 25 cts. Cow to have her rleased from the pen $1. Hd Viola Scott to help my sister yesterday and this a.m. weather is very fine.
Thursday, April 26 -- $3.95 -- 5 yds of gingham for Willie and 5 for Harry cost 1. Fruit 20 cts. Rec'd a letter from Calra yesterday and commenced one to her today. Weather very pleasant.
Friday, April 27 -- $3.75 -- One bottle of Jacob's vil for sister .75. Her leg is giving her much
concern. Sent Clara a letter and a few papers including a story The Little Match Girl of New York; the weather is warm and dry.
Saturday, April 28 -- $12.60. Sent 1.35 to The Helpmate Sewing Machine Co of Chicago for supplies. Fish 30. Nendavene (?) Flaes .25; 3 pies .25 Stamps 30 cts. Evan McMains has wove over 125 yds of carpet last month.
Sunday, April 29 -- I was not home last night until after midnight and took a nap this morning missed class. Willie and I were at our Sunday school and church tonight.
Monday, April 30 -- $6.50. B & L $5. AOUW $2. Union Mutual of Maine $2.23. One quart of Bay Rum .75. Beef roast .35 Wagon for Harry 2.50 Freight on sewing machine 35 cts. Tobacco license 2.700 Stamps and cards .55 Sugar $1