Diary of Hiram A. Pratt, Waveland Barber
(Standard Diary #31)
- March 1884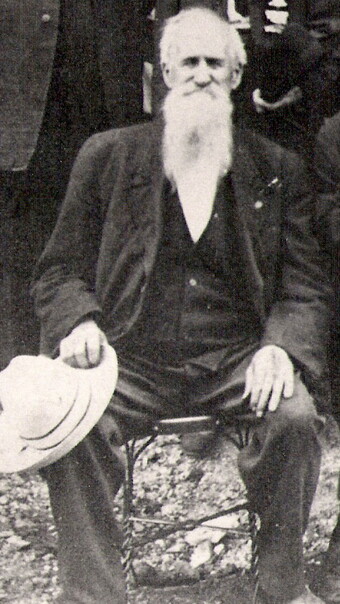 ---
Note: These diaries were in the Waveland Public Library for decades but were disposed of by a librarian several decades ago. Luckily, another librarian's daughter (thanks sooo much Pam, at the death of her mother, Virginia Banta Sharpe found them in some belongings and gave them back for proper housing. A complete circle. I'm a librarian too and thought since they'd been lost to posterity for so many years that it would be a good thing to transcribe them and give them to the world. They are currently housed in proper temperature/storage at the Crawfordsville District Public Library - typed as they were written
Note 2 : Karen Bazzani Zach (transcriber) was raised in the big 'ol town (500 people) where HA Pratt lived 5 decades before I was born. I remember the building where his little shop was and wish it was still there. What an interesting little place. ALAS! Progress !
Note 3: Some information about Pratt -- he was born in Parke County, Indiana April 20, 1840 the oldest child of eight born to Erastus & Elizabeth Allen Pratt and died October 12, 1914 in his beloved Waveland, Indiana. He was twice married, first to the love of his life (he kept a life-sized poster of her in one of his cabinets at his barber shop, even long after his second marriage) Eliza Franklin Shaw (born Oct 23, 1841 died Oct 12, 1887), and #2 to his friend, Evaline "Eva" McMains. He was very active in the community where he and Eliza chose to live. He gave generously of his time and money to the Methodist Church in Waveland. For a few years, he served as Marshall of the town. Also, he worked diligently for his Odd Fellows, Rebekah & Knights of Phythias Lodges, was for a time on the town board, and read to those who could not read from the several newspapers he was agent for. Pratt volunteered and served for three years during the Civil War (Co. B, 36th Infantry), and spent time in the dreaded Andersonville prison. He and Eliza adopted a son, Willie Franklin Stump, age two (not sure ever officially or just had permission to take him from the Poor House in Crawfordsville) and he was an amazing young boy (high grades, worked in the church, quite musicially inclined, just an ideal child) until Eliza was taken to the hospital where she was operated on for six cervical tumors (one weighing six pounds) from which she died. Willie went wild after that and he and Hiram's second wife, Eva never got along. He ended-up in Reform School (for stealing a dollar twice from Eva among other small crimes), and later sent home to die due to consumption (what we know as tuberculosis) dying in Hiram's arms on April 12, in 1894. Hiram missed Willie and Eliza more than most I do believe as he wrote about them so often in these diaries. Just wish the rest of Pratt's diaries he wrote for over 50 years as a barber in Waveland still existed :( kbz
---
Saturday March 1
-- $9.20. Paid 1 for one galon (sic) of maple molasses and 50
cts for the pruning of a grape vine. It has been snowing and blowing today
and the prospect is good for a big spell of weather. Mrs. Rhoda JH Vinson
died at 6 p.m. of consumption [tuberculosis] . She was a cousin of mine.
Note:
Rhoda was a McCollum born 1 Sept 1845 died 29 Feb 1884, at the young age of 38. She is buried in the Waveland Presbyterian Cemetery.
Sunday March 2
-- The weather is stormy wind and snow. I attended and lead
class meeting this morning. A fair attendance and a tolerable good meeting.
At 11 o'clock I attended the funeral of Mrs. Vinson.
Monday March 3
-- $6.60.. Paid 5.55 for 2 wagon load of coal - 30 cts for
beef and $1 for church expenses and 41.75 on Fire Ins. This lets me out in
Ins for 5 years making $16.75 all pd. The weather has been real cold today.
$2 AOUW (his writing - Assoc of Union Workmen)
Tuesday March 4
-- $3.55. Pd 1 for butter 1.05 for fresh beef. 1.50 for
medicine for wife. .25 repairs on pump. Sent 3.20 to Sentinel company. The
weather has been cold all day. Eliza done her usual weeks washing today. I
attended AOUW Lodge tonight.
Wednesday March 5
- $4.65. Sent $1 to Gloe Democrat. To night we had the
Grand Master Workmen of the AOUW of the state to talk with us or to us in
the Lodge room tonight. Paid 80 for a Sack of flour. We prefer the Perless
(sic) Brand.
T
hursday March 6
-- $2.55. Paid 95 for 116# of bran for cow feed. I and P.M.
Conner crated Mrs. Reed's old sewing machine. We had a good prayer meeting
tonight, our preacher. Snow yesterday.
Friday March 7
-- $8.15. Paid $1 for beef. 20 for cofee .70 for 2 brooms .60
freight on machine from Chicago. 2 shirt fronts .75. We have had hard frozen
weather for several days. Our public school closed today. Run 6 months.
Saturday March 8
-- $10.25. Work in the shop did not commence until about 8
o'clock. Wr were at home by 11 1/2 o'clock. The weather continues as for the
past few days, solid winter. My cold and cough is not as bad as it was.
Sunday March 9
-- I attended class meeting this morning. It was lead by
brother P. M. Conner. We had a good meeting. I and the two Willies attended
sunday school at 2 1/2 p.m.. I gave for SS helps 50 cts. We were in bed by 7 p
.m.
Monday March 10
-- $10.25. I paid 70 cts for 3 1/2# of butter. Sent to John
C. New & Son $22.50 including 10 cts charge for exchange. The weather is
turning warmer, snow melted fast. Eliza done her weeks washing. Willie
Hauger at the Mill today.
Tuesday March 11
-- $1.45. Paid .30 for a can of Apricots, .25 for 6
lemmons. .20 for fresh pork. A warm wind from the south last night melted
away all of the snow and caused frequent showers of rain today.
Subscriptions forward 3.80
Wednesday March 12
-- $4.50 Paid for groceries $2.20. The streets and side
walks are in a miserable condition. Mr. Wilson a representative of the daily
Sentinel was in to see me today. We raised the list of the Sentenels 3
papers.
Thursday March 13
-- $3.95. Paid John Phillips .25 for 1/2 bu potatoes. The
weather has turned considerable warmer. The season for making maple sugar is
about over. Mr. and Mrs. John A. Spruhan dined with us today.
Friday March 14
-- $3.45. One sack of flour .80. coffee .20 Lard .75 baking
powder .25. I have in hands a couple small jobs of printing the first I have
had to do for several months. I wrote a short letter to the Terre Haute
daily Express.
Saturday March 15 -
- $10.70. Paid .30 for beef; .20 for 1 gal coal oil. The
weather has been real nice. The republicans of this (Brown) township held
their convention here today. WT Glenn got the nomination for Trustee. We
were done work by 10 o'clock.
Sunday March 16
-- We attended divine worship at 10 1/2 Bro. Hollingsworth
was to me unusually interesting. I contributed to church expense $1. This
afternoon I attended Sunday School. After SS Willie and I went out to
Kleiser's Sugar camp and drank sugar water.
Monday March 17
-- $7.70. Last week I paid rent for last month $2. I sent to
Pecks Sun $1.56. Eliza done her usual wash work today. Al Coons a barber
from Crawfordsville came in to see me today. There was a little rain today.
Tuesday March 18
-- $6.85. Sent Enq Co $5.50.. Cin Gaz .85. .20 for butter
.15 for 1 1/2 gal buttermilk. 3 tin pans for jelly cakes .25-35 for a 2 gal
bucket (tin) AOUW Lodge $1. The day has been tolerable warm. One spung (sic)
cake 30 cts.
Wednesday March 19
-- $4.10. Paid .25 cts for fresh beef. Eliza has been
preparing for company on tomorrow. The weather continues cool cloudy and
damp. Dr. A. T. Steele was presented with a cane by our citizens - honor of
the event of his first grandchild. It was born 18th.
Note
: This is Edith S.
Johnson born 18 March 1884 daughter of Dr. Steele's daughter, Anna Belle
Steele Johnson (husband Charles).
Thursday March 20
-- $11.65. Paid 3.45 for a wagon load of coal. Rev.
Hollingsworth and wife were to have been at our house today but owing to the
intense suffering of Bro. H with a gathering the year (sic -not sure what he's
saying here), they could not come. Cloudy weather.
Friday March 21
-- $2.35. Paid .65 for 2.10 butter and .50 for bran for cow
feed. Bro. Hollingsworth his wife and two youngest children were at our
house today for dinner. The sun has shone bright today. Interest owe $40 - 3
months 80 cents.
Saturday March 22
-- $11.05. I gave 25 cts to a man with one leg to help pay
his way to Sullivan. Paid .45 for butter, 10 cts for shoe strings. The day
has been most too warn to keep up a fire. We were done work by 10 o'clock.
Sunday March 23
-- I attended class meeting this morning at 10 1/2 and at 2
1/2 Sunday school met with Mc Cormick's class. We have two meetings every
sunday. Our preacher is suffering with a rising in the head.
Monday March 24
-- $6.60. Paid Ella Steele $1.50 for music lessons for
Willie. Willie attended the Subscription school, he will perhaps attend
regular for 10 weeks. Paid $7.25 (may be $1.75 or $1.25 - hard to read -
smudged). Eliza done her weeks washing. She is not very well.
Tuesday March 25
-- $2.80. Sent one subscription for How Demaree to Globe
Democrat 95 cts. 12 lbs of sugar $1. One package coffee 20 cts. We have had
a rainey(sic) day with a heavy gale of wind accompanying late this evening.
Eliza don (sic) the ironing.
Wednesday March 26
-- $4.70. Paid $2 for 10 yds of bed ticking and 15 cts
for two spools of thread. Meat for table use dried and fresh beef $1.05.
Willie Hauger and old Mr. McCall sawed wood today since noon. The storm last
night was very severe in southern states.
Thursday March 27
-- $3.75. Paid 20 cts for coal oil (one gal). Paid Mr.
McCall $1 gave a nickel to a beggar .20 for a couple gallons of butter milk.
Attended prayer meeting tonight. 25 cts for soap; 30 cts for cloths (sic)
pins made of spring ware.
Friday March 28
-- $3.85. Paid $1 for a gal of maple molasses . For a
chopping ax and helve (?) $1.60. Billy Hauger and Mr. McCall will finish the
cutting of wood out in Goben's woods today. The weather is too warm to keep
up much of a fire in stoves.
Saturday March 29 -
- $10. Paid 50 cts. for beef. 20 cts for coal oil. We
were done work by 10 1/2. The weather has been some cooler. The 20th of this
month I sent THB McCain $5 & he placed to my credit. I am as well as usual.
Sunday March 30
-- We attended preaching at the Methodist Church at 10 1/2
a.m. at the close of the services I met with the claps (?) and lead the same
as best I could. Tave one dollar to church expense fund. I didn't go out to
the SS Convention tonight
Monday, March 31
-- Paid 15 for thread. I made a bed tick and four sheets,
this I done while I had nothing else to do and my wife will be relieved of
that much labor. The weather is very nice. Willie Hauger has been at work
about the house today.