OCTOBER 1885 - Diary of Hiram A. Pratt
Waveland Barber 50+ Years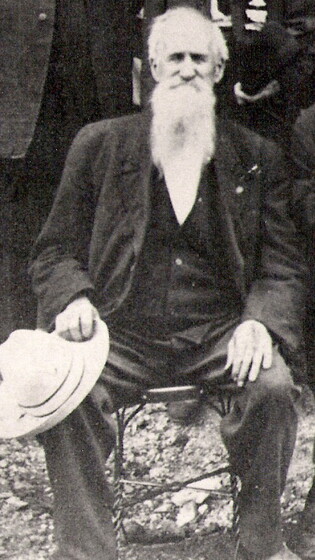 Note: These diaries were in the Waveland Public Library for decades but were disposed of by a librarian several decades ago. Luckily, another librarian's daughter (thanks sooo much Pam, at the death of her mother, Virginia Banta Sharpe found them in some belongings and gave them back for proper housing. A complete circle. I'm a librarian too and thought since they'd been lost to posterity for so many years that it would be a good thing to transcribe them and give them to the world. They are currently housed in proper temperature/storage at the Crawfordsville District Public Library - typed as they were written
Note 2 : Karen Bazzani Zach (transcriber) was raised in the big 'ol town (500 people) where HA Pratt lived 5 decades before I was born. I remember the building where his little shop was and wish it was still there. What an interesting little place. ALAS! Progress !
Note 3: Some information about Pratt -- he was born in Parke County, Indiana April 20, 1840 the oldest child of eight born to Erastus & Elizabeth Allen Pratt and died October 12, 1914 in his beloved Waveland, Indiana. He was twice married, first to the love of his life (he kept a life-sized poster of her in one of his cabinets at his barber shop, even long after his second marriage) Eliza Franklin Shaw (born Oct 23, 1841 died Oct 12, 1887), and #2 to his friend, Evaline "Eva" McMains. He was very active in the community where he and Eliza chose to live. He gave generously of his time and money to the Methodist Church in Waveland. For a few years, he served as Marshall of the town. Also, he worked diligently for his Odd Fellows, Rebekah & Knights of Phythias Lodges, was for a time on the town board, and read to those who could not read from the several newspapers he was agent for. Pratt volunteered and served for three years during the Civil War (Co. B, 36th Infantry), and spent time in the dreaded Andersonville prison. He and Eliza adopted a son, Willie Franklin Stump, age two (not sure ever officially or just had permission to take him from the Poor House in Crawfordsville) and he was an amazing young boy (high grades, worked in the church, quite musicially inclined, just an ideal child) until Eliza was taken to the hospital where she was operated on for six cervical tumors (one weighing six pounds) from which she died. Willie went wild after that and he and Hiram's second wife, Eva never got along. He ended-up in Reform School (for stealing a dollar twice from Eva among other small crimes), and later sent home to die due to consumption (what we know as tuberculosis) dying in Hiram's arms on April 12, in 1894. Hiram missed Willie and Eliza more than most I do believe as he wrote about them so often in these diaries. Just wish the rest of Pratt's diaries he wrote for over 50 years as a barber in Waveland still existed :( kbz
---
Thurs Oct 1 - $2.15. Paid $1.25 for a shovel to be used in my shop to put coal in the stove. Rained all day, just about as it did yesterday. There has perhaps at various times been light spells of cessation and the sun shone a little bit this evening.
Fri Oct 2 -- $2.60. One rat trap .25 Rained a little today. I have been much interested in reading The Century magazine war articles. Wife received a letter from Mrs. Hutton they are located in Thayer Kansas and are well pleased.
Sat Oct 3-- $10.10. Sent the Commercial Gazette $2.60. Rained more today. It has rained every day and night since last Monday. We were done work by 10 ½ tonight. Last Saturday night, it was 15 after 12 when I got home, I cut the ball of my thum (sic) it (sic) bothersome.
Sun Oct 4 - We attended church at 10 ½. Heard our minister of for "I am not ashamed of the gospel of our Lord, Jesus Christ for it is the ? (porner?) of God tic (etc?). " Willie and I attended the Sunday school at 2/12 and at early bedtime, we returned for the night.
Mon Oct 5 -- $4.10. Paid $5 on coal bill and sent The American News Co $5.05. 35 cts for a half bu of corn meal. The mail train goes south now at 6.27 p.m. instead of 10.30 a.m. Rev. DK Tindall passed south on the train at 10.33 I am not well.
Tue Oct 6 -- $2.10. Bread tickets .50 cts 2 gal coal oil 50 cts. Sent for barber shop supplies 9.40. Paid on coal $10 and for 50# of lard 3.90. I had 30 bushel of chicken feed halled (sic) from the mill and put in the barn $6.25. Big frost last night and likely to be one tonight. Postage stamps 10 cts.
Wed Oct 7 -- $1.60. Paid rent for September $2. Mrs. Kritz was at our house today. She wanted to see our stove, "The Lyon," wife put a fire in it for her benefit. We like it the best of any we ever had. We had a slight sprinkle of rain this evening.
Thurs Oct 8 -- $1.50. Wife was up town today and bought goods to the amount of $4.65. the weather is somewhat cooler than it has been for a few days past. This morning a white frost covered the ground. We have concluded to get a coal cook stove.
Fri Oct 9 -- $3.85. Bought me a new hat cost $2.50. Another big frost this morning. Wife made a few calls in the eastern part of town this afternoon. Charley Kritz came in this evening. He will return tomorrow.
Sat Oct 10 -- $9.40 we were out by 10.45. The weather was more moderate only a very light fire required. Charley Kritz returned today or rather this evening. Had my shoes repaired not long since which cost 25. cts. Beef steak 40 cts.
Sun Oct 11 - This afternoon Willie and I attended Sunday school at 2 ½ and after school was out we, including Eliza went over to Mrs. Freelove Moor's. We retired for the night at about 7 o'clock. The weather has been very pleasant.
Mon Oct 12 -- $11.70. Paid 50 cts for 3 ¼ lbs of dried peaches. The weather did not require a fire, though attempted to keep up one in the shop stove. Wife done an unusal amount of work today. She had calculated on Mesa Williams to help her and she failed to do so.
Tue Oct 13 -- $1.40. I sent John C. New & Son $14.15 this includes amounts due the Sentinel (2.53) and The Times (1.34) Paid Harry McMains $2 for spreading 4 load of gravel upon the side walk in front of our property. Rained today the weather is a little cool.
Wed Oct 14 -- $2.40 one woden butter mold 40 cts. Paid on note in bank $10 interest of deferred payments 1.30. For a pair of boots for our Willie $2.25. Mrs. Haley died at half past 10 last night of congestion of the stomach, she was sick about 36 hours. Peppermint can .20
Thurs Oct 15 -- $8.95 - Stamps 25 cts. Three packages of Arbuckle Coffee (roasted) 50 one bottle of shoe polish 15 for wife. One pair of shoes for wife last may the 9th 3.25 and one pair today $3. Mrs. Haley was buried at noon in the Methodist Church Cemetery. Mrs. Fisher and daughter called to see my wife today.
Fri Oct 16 --$6.75. Freight on box of 35 pounds from Chicago 55 cts. 1 bottle of Harters Iron Tonic for wife 90 cts. John W. Coffee was today hanged at Crawfordsville for the murder of McMullen & wife on the 7th day of last Jan. I sold 45 papers on the strength of the execution.
Sat Oct 17 -- $10.75. Paid $1.50 for two mulberry bushes. The weather today has been most delightful. We were done work by 10 o'clock. The demand for papus was real good today partially on the account of the execution yesterday.
Sun Oct 18 - We attended church this forenoon. I put in the contribution $2.50. I became very sleepy during the sermon. It seems like when I get quiet for half an hour or more I am sure to get sleepy. Then I presume too that being up late Saturday nights makes a difference. At Sunday School I gave 5 cts.
Mon Oct 19 -- $4.25. I attended IOOF lodge tonight we had not had a meeting since. An effort is being made to organize a GAR post here. At present we have 14 names of ex soldiers on the petition list for a Charter. Rained nearly all day. Rained yesterday too.
Tues Oct 20 -- $1.55. I sent 6.90 to The American News Co. Mr. Miller is gaining enviable notoriety as a hotel keeper. Everyone who stops with him express themselves as being well pleased with the fare and general appearance.
Wed Oct 21 -- $4.55 I engaged of Dan Hanna 10 bushel of apples at 60 cts per bushel. At night they had not been delivered. There was a big white frost this morning. Wife did her ironing yesterday. Today she over halled the winter clothing. Thought it would be her last time.
Thurs Oct 22 -- $2.80. Paid 20 cts for 1 pound of peppermint lozengers & wife uses them for laying irritation in her throat. The weather has turn a little warmer. Billy Baker a rather an exception of a boy of his age, 10 years died verry suddenly this evening of congestion of stomache.
Fri Oct 23 -- $2.90. Paid 25 express on papers last Saturday night (rec'd). 25 cts for a telegram from THB McCain. He cant come down tonight to organize the GAR Post. Paid 50 cts for beef. Billy Baker was buried at 2 this p.m.
Sat Oct 24 -- $9. We were done work tonight by 10.30. The fire in the stove had to be kept very low on the account of the weather being warm. Paid 15 for stamps. Our new cook stove will be here by next Tuesday. We expect to use coal instead of wood.
Sun Oct 25 - I attended class meeting this morning . At 2 ½ Willie and I were at Sunday School. Eliza she went up to Mrs. Spruhans to set a few minutes. I went with Mr. S. to the railroad office he had to report a train that had passed up ?
Mon Oct 26 - $2.85 -- I paid 35 cts for meat and stamps. Our new cook stove arrived today and we have it put up and a fire in it. It cost $24. There is no better or nicer stove made than it is. I put away in Mr. Philipp's cellar turnips and potatoes.
Tues Oct 27 -- $2.15. Last Saturday I sent to AG Fowler of Chicago $5.45 on life insurance. I buried 10 bushel of apples today. They cost me $5. Tonight I went with the AOUW and paid $3. Assessments in deaths for last month some signs of rain.
Wed Oct 28 -- $2.60. Paid 25 cts for repairs on stool belonging to one of my chairs. Bought a coal hud for 70 cts and had it filled with salt for 30 cts. Wife likes the new coal cook stove first rate. The baking is very even and as nice on the bottom as on top.
Thurs Oct 29 - $15. This afternoon I got the use of Frank Kritz's horse and buggy and took my wife over to Russellville. She wanted to get a new style fall hat. She was not able to find one that suited her. Willie had a pair of shoes repaired cost $1.00
Friday Oct 30 -- $2.15 Last night a post of the Grand Army of the Republic was organized here to be known as Garland Post. No. 423. There was 10 of McFerson Lodge or Post of Crawfordsville cam down and mustered us 16 in all into the service cost me $1.
Sat Oct 31 -- $7.05. Paid 2.90 for goods for Willie a pair of pants and vest for the cutting and trimmings 1.40. One gal of oil yesterday and one today .50 Sometime ago, last week I was sent 1.05 to pay for The Crawfordsville Daily Dispatch for one week.