MARCH 1903 - HIRAM PRATT DIARY
Waveland, Indiana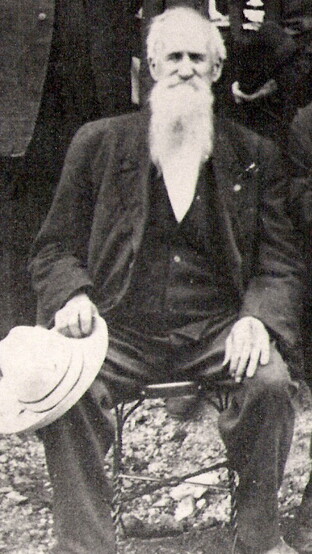 Note: These diaries were in the Waveland Public Library for decades but were disposed of by a librarian several decades ago. Luckily, another librarian's daughter (thanks sooo much Pam, at the death of her mother, Virginia Banta Sharpe found them in some belongings and gave them back for proper housing. A complete circle; however, only 14 of the 50+ diaries were saved from the library's incinerator. I'm a librarian too and thought since they'd been lost to posterity for so many years that it would be a good thing to transcribe them and give them to the world. They are currently housed in proper temperature/storage at the Crawfordsville District Public Library - typed as they were written
Note 2 : Karen Bazzani Zach (transcriber) was raised in the big 'ol town (500 people) where HA Pratt lived 5 decades before I was born. I remember the building where his little shop was and wish it was still there. What an interesting little place. ALAS! Progress ! Oh, and I've tried to type the diaries as is - mistakes & all
Note 3: Some information about Pratt -- he was born in Parke County, Indiana April 20, 1840 the oldest child of eight born to Erastus & Elizabeth Allen Pratt and died October 12, 1914 in his beloved Waveland, Indiana. He was twice married, first to the love of his life (he kept a life-sized poster of her in one of his cabinets at his barber shop, even long after his second marriage) Eliza Franklin Shaw (born Oct 23, 1841 died Oct 12, 1887), and #2 to his friend, Evaline "Eva" McMains. He was very active in the community where he and Eliza chose to live. He gave generously of his time and money to the Methodist Church in Waveland. For a few years, he served as Marshall of the town. Also, he worked diligently for his Odd Fellows, Rebekah & Knights of Phythias Lodges, was for a time on the town board, and read to those who could not read from the several newspapers he was agent for. Pratt volunteered and served for three years during the Civil War (Co. B, 36th Infantry), and spent time in the dreaded Andersonville prison. He and Eliza adopted a son, Willie Franklin Stump, age two (not sure ever officially or just had permission to take him from the Poor House in Crawfordsville) and he was an amazing young boy (high grades, worked in the church, quite musicially inclined, just an ideal child) until Eliza was taken to the hospital where she was operated on for six cervical tumors (one weighing six pounds) from which she died. Willie went wild after that and he and Hiram's second wife, Eva never got along. He ended-up in Reform School (for stealing a dollar twice from Eva among other small crimes), and later sent home to die due to consumption (what we know as tuberculosis) dying in Hiram's arms on April 12, in 1894. Hiram missed Willie and Eliza more than most I do believe as he wrote about them so often in these diaries. Just wish the rest of Pratt's diaries he wrote for over 50 years as a barber in Waveland still existed :( kbz
---
Sunday March 1 -- I heard Bro OP Paxon at 11 o'clock. After meeting was out, visited Willie's grave. On the way home stoped at Alfreys for dinner. Miss Ethel Fullenwider was at our house over the night. She went with Eva to meeting and was at Alfreys for the noon meal. Roscoe Crabb of Poplar Bluff Mo is here.
Monday March 2 -- $4.55. My rent is paid to Saturday Feb 14. The ground was frozen solid this morning got muddy before very late in the day. Tonight the mud is again frozen. George Fullenwider got his dollar last Saturday night. Paid Mrs. Dowden 70 c for 2 weeks washing. Lewis McMains was freed from the charge of Embezzlement. Flour 40. Beef 40 Peaches 25 Oranges 20. I bought these last Saturday.
Tuesday March 3 -- $3.05. Paid the AOUW $4.09 50 c for 11 yds of calico and a spool of thread. The school teachers (marms) are at our house tonight. I was not done work until 15 minutes until 10 and I expect they will be off for home by the time I get home. New maple molasses are on sale $1 per gal.
Wednesday March 4 -- $3.15. Telephone rent for February $1 one talk over the line to Russellville 10 cts. Last Saturday I paid out 1.15 for groceries including beef. The roads are again in a very bad condition. Last Friday I sent the Enquirer Co $1 for papers. The Standard oil man has not been here this week. There was a rain set in shortly after the noon hour and had not let up at 9 p.m. Roads will be worse than before. I met the teachers on the way home last night.
Thursday March 5 -- $2.25. Sent the laundry of Logansport, Ind $3. I got out of bed at 5 o'clock and had 2 hours and 23 minutes in which to get my morning work done and got the laundry to the station for the train. Friday of last week I seen and heard a robin the first one of the season. They bring us a message that the winter is over.
Friday March 6 -- $3.55. Paid 25 c for a half doz large seedless oranges. I have offered Rhoda Fullenwider $5 for the buggy. George used to go after the papers if I got it it will take about 15 dollars to put I in good order. Eva and her sister Mary got a letter from Mrs. Ella Owen of Okmulgee IT. She is a sister of Perla's. She thinks Perla will get married in April.
Saturday March 7 -- $10.90. We were done our work by 11 o'clock. Paid 40 c for 4 lbs of beef roast .25 for 3-10 cent cans of Chapmans baking powders. 25 for 2 lbs of Arbuckle coffee 40 c for a peck of nice apples for eating. Yesterday paid 40 c for having Eva's shoes repaired. 20 gal gas $.70. Relis now at 17 ?
Sunday March 8 - Bro. PM Conner our class leader was not well enough to conduct class meeting today. I went to meeting with Eva and was not up town all day my visit to Willie's grave was not attended to. Mrs. Sallie Smith was at our house for the noon meal. I went with Eva to meeting tonight. Bro Moorman spoke 20 minutes.
Monday March 9 -- $3.40 sent the Cincinnati News $5. Weather over head has been fine. Fire in the heating stove had to be closely watched to keep the fire from becoming extinct. Anna B. Johnson in a suit at law with Adam P. Hanna was to settle the right to herd cows in the public highways. It was discarded in favor of Mrs. Johnson that the herding of cows on the roads is unlawful.
Tuesday March 10 -- $2.00. Sent the Excelsior Supply company $5.40 and to the Commercial Tribune $1.32 can of very small fish for my supper 10 c. 2 large apples 05. Had more rain last night. People on the river bottom land are being crowded out and are seeking safety on higher lands. Stock of all kinds are suffering.
Wednesday March 11 -- $1.80. Two tickets to the Knights of Pythias Hall 50 c. "Jerry, the tramp" is the title of the play and is to be played by Home Talent. One gallon of maple molasses $1. Paid 85 for a spray to use as a treatment for catarrh. I ought to use it 3 or 4 times a day. Have had it a week and have neglected the use of it about ½ the time. We are off for the play at 8:30 p.m.
Thursday March 12 -- $1.50. I rember (sic) that 9 years ago today 20 minutes of 3 o'clock little Willie died I was the only one that was present at the end of his life. He was fixing a pillow under his head, reclining on his left elbow and said to me, "Keep the fun (fan?) going," when he had spoken the word going, he droped like he had been shot. Eliza my sweet little woman died this date in 1887.
Friday March 13 -- $2.05. Paid 15 c for 10 lbs of corn meal. Our horse, "Bob" made the trip to the Sturgeon school house in Park (sic - Parke) Co this afternoon. Mrs. Wm. Scott was the one using the horse. She went after her sister Mabel Sutton who is teaching school. We were well pleased with the play, "Jerry the tramp." Main Street dried up a little and can be easily crossed at regular crossings.
Saturday March 14 -- $7.20. Paid for the shoes I bought for Eva the fore part of the winter $1.75. Bought one dozen bananas 15 c 1 doz oranges 40 dried peaches 35c. Plate beef roast 40 c. At noon today I killed a hen - we're now pretty well fixed for Sundays rations. We were done work by 11:30 but I did not leave for home until after 12. There is considerable opposition to the building of the town hall by taxation.
Sunday March 15 - I heard Bro Paxon at 11 o'clock and immediately went on a visit to Willie's grave after the meeting was dismissed. On returning home found we had company - Jim and Mary Alfrey; Mrs. Rhoda Fullenwider with her children Ethel, George, Hellen, Catherine, Evaline and Moxley the baby. Eva put up a splendid dinner. Eva went with me to church tonight.
Monday March 16 -- $2.60. Commenced to rain at about 7 o'clock and kept it up until about noon. The 100 pounds of sugar I bought of Charlie Jones cost me $5.19. Bought a pair of rubber over shoes .65. John Robertsons Jr wife requested to be taken to the county poor farm. She was sick and had no home her husband is unable to provide for her. Last Friday paid $2.20 for rent. Have paid $2 for straw since last report.
Tuesday March 17 -- $2. A peck of apples to eat .45. Four small mackerel 25 c 1 box of Presto 10. We have had no rain today. There are two places on the road north that it is as much as a horse can do to pass over with a buggy and driver. Paid $6.25 for 30 gal of gas and 20 of oil. George Fullenwider got his "wheel" last Saturday.
Wednesday March 18 -- $2.10. John McMains and his sister Eva went out to Kelso's today. I was there for dinner. Walked over in 20 minutes. John and Herbert Lewis hitched "Bob" to the wagon along side of another horse and went over to Bob Kelsos for a load of wood. I rode back to town. Penn Hanna has commenced the improvement of his property he bought of Wm. Hershberger on west main street. Beautiful sunny day.
Thursday March 19 -- $5.35. I sent the Laundry $3. Paid 25 c for a pound of dried beef. Dried beans 35. I was notified today by the Pension commissioner that I had been granted an increase in my pension claim. I was getting $8 a month and now $12 per month beginning Oct 1, 1902. This is as high as I can go on the law of April 27, 1890. I am thankful for the increase.
Friday March 20 -- $1.60. Piad $1.65 for 11 ¼ pounds of bacon. 30 c for a fish weight 2 ½ lbs. Our stable is so mudy (sic) that I had to take "Bob" out. George Fullenwider is keeping him in his stable. I furnish the feed. I heard over the telephone wire - Mary Lewis and Eva - that Kate Bridges and Mr. Ed Benefield are to be married soon. She is 16 years older than he. Rained a little today. Colder tonight.
Saturday March 21 -- $7.50. Paid 35 c for a bale of straw for "Bob." Two pound of lettuce 40 c. Four pound of beef roast 50 c. 24 pound of Flour 55 c. 25 yds of unbleached cotton cloth $1. Anderson McMains one of Eva's brothers is at Jim Alfrey's. Will be with us for dinner tomorrow. There was a little bit of ice over the water in a tub on the well.
Sunday March 22 - I visited the grave of little Willie at 11 o'clock. There was no meeting in the Methodist house of worship today. I heard Bro EE Moorman from 20 minutes after 11 o'clock to 7 minutes of 12. His creed is that the one baptism is of water. If this is the one baptism and by immersion it is essential or ? to salvation and does away for baptism of the Holy Ghost. Heard him again tonight
Monday March 23 -- $4.10. We have had lots of real March weather today. Snowed. Rained. Sunshine and wind. Put a fire in the heating stove for comfort. Paid 35 c for a bale of straw 10 c for 10 pound of Parsnips 20 c for a beef steak and $5.25 for gas and oil. 30 c for express on laundry. There will be ice made tonight.
Tuesday March 24 -- $2.60. We have had another very disagreeable day for out of doors work. The weather report is more favorable for tomorrow clear up tonight and warmer. Paid $5.25 yesterday for oil and gasoline. I see that a note was made of it on date. Bert Kritz has bought his two Brothers out and is now sole proprietor of the clothing store. His wife will run the milliner department.
Wednesday March 25 -- $4.80. Paid 70 c for fresh pork 50 for dried peaches. Weather nice and fair. Two public sales and a wedding in town today. Will Oglesby age 17 Myrtle Reddish 16 were married by the consent of their parents. When Wm. is of age he will heir $30,000 given to him by Grandfather Wm. J. Davis deceased. It is to be invested in land in this county. Wm. Kelso and family dined with us today.
Thursday March 26 -- $20.10. I made some collections and received $14.40 from a pension check. The weather has been very nice. We have indications of falling weather now soon. Paid 40 for 2 lbs of nuts. Eva is going to bake a fruit cake for next Sunday. John McMains says he found "Aunt" Bet his brothers wife is no better and can not expect to be any better. She is a great suffer of rheumatism.
Friday March 27 -- .70. Thus far there has been no rain since last Monday. Miss Florence Cowan and Miss Bertha Switzer are to be at our house next Sunday for dinner. Miss Cowan is in the Milliner business and Miss Switzer is a teacher in the public school. Paid 35 c for a bale of straw. 45 c for a bag of corn. 30 c for a doz bananas 40 c for a can of peaches 10 for a can of pumpkin.
Saturday March 28 -- $10.70. Paid 30 c for 1 ½ lbs lettuce 40 c for 2 lbs cheese 20 c for 2 cans of Alligator brand of cave (?) oysters.
Sunday March 29 - I visited Willie's grave before going in the meeting house to hear Bro OP Paxon. Miss Blanche Wolfe accompanied me home, Miss Florence Cowan had preceded us. Miss Bertha Switzer came in later. They enjoyed the dinner my wife had prepared and they were enthusiastic in their expressions of delight over the Salt-rising light bread Eva had made.
Monday March 30 -- $4.40. The weather has been fine all day. Paid Mag Moore 35 for washing our clothes. Paid $5 for 3 gallon of oil and 20 of gasoline. Farmers are doing their best to get their oats planted. Wheat is looking fine and promises to large yield. "Aunt Bet" McMains is yet living. Eva and Bob McMains and wife, Wm. Kelso and wife were to see her today. She is expected to die at any time.
Tuesday March 31 -- $1.30. Bought a dozen bananas for 20 a half roast for 35c. Mercury was up in the 60s today. I have put on my straw hat for summer wear. When I went home today Eva noticed that I had cut or trimed my mustache. Her compliments were "oh, you ugly pup" and took a hearty laugh. She avows were I to cut all my beard off she would leave home.