MAY 1907 - HIRAM PRATT DIARIES
Waveland, Indiana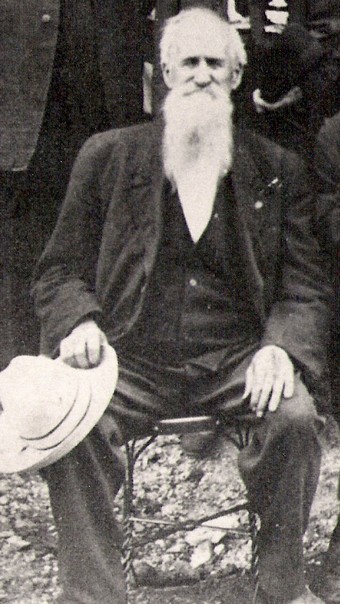 Note: These diaries were in the Waveland Public Library for decades but were disposed of by a librarian several decades ago. Luckily, another librarian's daughter (thanks sooo much Pam, at the death of her mother, Virginia Banta Sharpe found them in some belongings and gave them back for proper housing. A complete circle; however, only 14 of the 50+ diaries were saved from the library's incinerator. I'm a librarian too and thought since they'd been lost to posterity for so many years that it would be a good thing to transcribe them and give them to the world. They are currently housed in proper temperature/storage at the Crawfordsville District Public Library - typed as they were written
Note 2 : Karen Bazzani Zach (transcriber) was raised in the big 'ol town (500 people) where HA Pratt lived 5 decades before I was born. I remember the building where his little shop was and wish it was still there. What an interesting little place. ALAS! Progress ! Oh, and I've tried to type the diaries as is - mistakes & all
Note 3: Some information about Pratt -- he was born in Parke County, Indiana April 20, 1840 the oldest child of eight born to Erastus & Elizabeth Allen Pratt and died October 12, 1914 in his beloved Waveland, Indiana. He was twice married, first to the love of his life (he kept a life-sized poster of her in one of his cabinets at his barber shop, even long after his second marriage) Eliza Franklin Shaw (born Oct 23, 1841 died Oct 12, 1887), and #2 to his friend, Evaline "Eva" McMains. He was very active in the community where he and Eliza chose to live. He gave generously of his time and money to the Methodist Church in Waveland. For a few years, he served as Marshall of the town. Also, he worked diligently for his Odd Fellows, Rebekah & Knights of Phythias Lodges, was for a time on the town board, and read to those who could not read from the several newspapers he was agent for. Pratt volunteered and served for three years during the Civil War (Co. B, 36th Infantry), and spent time in the dreaded Andersonville prison. He and Eliza adopted a son, Willie Franklin Stump, age two (not sure ever officially or just had permission to take him from the Poor House in Crawfordsville) and he was an amazing young boy (high grades, worked in the church, quite musicially inclined, just an ideal child) until Eliza was taken to the hospital where she was operated on for six cervical tumors (one weighing six pounds) from which she died. Willie went wild after that and he and Hiram's second wife, Eva never got along. He ended-up in Reform School (for stealing a dollar twice from Eva among other small crimes), and later sent home to die due to consumption (what we know as tuberculosis) dying in Hiram's arms on April 12, in 1894. Hiram missed Willie and Eliza more than most I do believe as he wrote about them so often in these diaries. Just wish the rest of Pratt's diaries he wrote for over 50 years as a barber in Waveland still existed :( kbz -- ENJOY
---
Wednesday May 1 -- $.90 TL Hanna returned from California last Monday. His daughters Olive and Margarett came too, his wife and Alberta are to be here the last of this month. Eva was up on cross street today looking for a change of style in hats ? Mary and Jim Alfrey unexpected here next Saturday to attended their church fair. Eva received a letter yesterday from her Bro Dave's wife in Hoopeston.
Thursday May 2 -- $4.80. Cloudy 51. There was a white frost plain to be seen early this morning. Yesterday Wm. Milligan put 29 bushel of corn in our corn crib. It cost 50 c the bushel. Paid him 10 dollars over $4.63. Sent eh laundry works at Logansport $5. The News was short in count 3 papers tonight. Paid 25 for a beef steak. Repair work on the McMain house -Russell's now is farely under way.
Friday May 3 - Cloudy. 60. $1.40. Mr. Ruben Burrin and I worked on the raising of our barn - the northeast corner was too low and in putting it in proper shape we had to fix the whole north end. Eva was up to the milliner shop for her new hat cost $3. A small fire was started in a wood house on the property where Rhinehart lives. Rain most all of the afternoon.
Saturday May 4 - Cloudy. 60. $7.80. Paid 15 for the filling out a vouchers for pension 45 for a beef roast. Oranges 30 pine apple 20. Granulated sugar at 5 ½ per lb $1. Express on the return of laundry 05. The Cincinnati Enquirer $1. Ex 5. The sun shone a little while this evening. Paid 25 c for supper at the Fair by the women of the Christian Church.
Sunday May 5-Cloudy. 40. I put the horse "Bob" to the buggy and went to hear a man from DePauw University -a prof in Botany. Visited Willies grave at 11 o'clock. Eva went with me to meeting tonight. The prof is a good speaker. We took our dinner with Jim and Mary Alfrey at WK Kelso's may was at our house last night. Eva and I called to see "Uncle Billy Peterson this afternoon - 92 years old.
Monday May 6 -- $2.15. Paid Oliver McCall all 1 dol 20 gal gas $3. Lap robe for the new buggy $1. Jim Doolin died at 10 o'clock last night. Funeral last planed for tomorrow at 2 p.m. at the house an effort to have it at the Christian Church will be made. Eva and I eat our dinner at Mrs. Doolins. Sent a 5 dollar money order to Terre Haute for tax on Eva's lat..?
Tuesday May 7 - Cloudy. 62. $3. Sent the Terre Haute Star $1.12 Expense 5c. Paid 35. Express on return of laundry next Saturday Elder E. O. Kelly preached the funeral discourse of JJ Doolin at his late residence at 2 o'clock.. The burial was in Maple Ridge cemetery. I was one of the pall bearers (bearers). Rained a little yesterday and today.
Wednesday May 8 -- $1.20 Cloudy 66. Paid Mag Moore 40 for doing our washing. Sent the Union Mutual of Portland Me $3.07. Expense 7c Buddy Kelso went to the Culver hospital at Crawfordsville today and had a piece of the nerve removed from the left side of his face to see if it would not relieve him of the awful suffering he is accustomed at intervals. Bacon 10 cts.
Thursday May 9 - Partly cloudy. 70. $2.05. The weather was warmed up considerable. Mag
Moore helped Eva clean house today They finished one room. Mrs. Ella Phillips of Judson sent Eva word that she would pay her a visit tomorrow. Buddy kelso will be home on the 10.07 train in the morning. The doc
tors done the work for him in about 10 minutes. I hope he is to suffer no more as of yore.
Friday May 10 -- $3.00. Cloudy 68. Sent the Star of Indy $8.41 Ex 10. Buddy Kelso came in today at 10.07. He is well satisfied with the work done on his face. He tried as hard as he could to see if he could make it hurt but could not. Received a letter from Sister Eliza. They have had a hard row to hoe all winter. Her husband has been sick 6 weeks and she fell and hurt herself bad.
Saturday May 11 -- $6.35. Cloudy 49. Paid 60 c for beef roast 20 c for a can of pine apple 20c for a doz bananas 20 for 6 oranges. There was a white frost last night. Ind (sic) the small vessels outstanding containing water covered with a thin glare of ice. Miranda Ellis has sold her house and lot in Rossville for $,000 Snow 6" deep in NY.
Sunday May 12 - I had no call up in the central part of the town and did not visit Willie's grave. He died this date in March 1894. My little Lida (sic) died this date in October 1887. I attended services today with my wife. Buddy Kelso and wife Mrs. Dolin and granddaughter Ruby Teagarden dined with us. (note: the writing in this one is very smudgy - almost as if he cried and drops of tears were on it).
Monday May 13 - Clear all day. 68. $37.50. Pension is part of the receipts. Paid 44.50 for 30 gal of gasoline. Sent The News $2 for Sam Burnsides ex 5. Paid 89c for 3 fense (sic) posts. Buddy Kelso helped me to use them in repair of the line fense between our lot and the Russells. Our cow was turned on grass today. Pd Herbert lewis 50 c for the plowing of a garden.
Tuesday May 14 - Cloudy 80. $2. Commended raining this afternoon and bids fair to keep it up for a time. Eva has done some at house cleaning. Paid Mag Moore35c Hary Shanahan is now at work at barbering in Plymouth. He left her yesterday morning. Paid 25 c for 4 bread tickets. Wheat sold today for $1.03. There seems to be too much of prosperity at the present time.
Wednesday May 15 - Cloudy. 49. $4. Paid shop rent $19.50 for 3months ending April 26. Paid Bob Glover $15 30c for meat. Bought a box of puffed wheat. The grain is about 3 times as large as the real wheat grain. At some time last night we had a big rain. I never heard it. I dreamed of being with little Willie last night and the night before. He talked and looked perfectly natural, cooler tonight.
Thursday May 16 - Cloudy 48. $1.50. Pine apple 20 ½ doz bananas 10 oranges 6 for 20. Onions 10 for 2 bunches . Plate beef roast 35. A few flakes of snow was seen mixed with the rain. Eva and Mag Moore put two more rooms in order today. Mr. Burrin and I fixed our barn and wood and coal house combined complete today. I was away from the shop this afternoon.
Friday May 17 - Sun shone a part of day. Cloudy. 70. $1.80. Wheat sold today at 10.4 Flour has advanced 80 c on the barrel. Wm. and Nancy Kelso visited at Mrs. Fordices yesterday. Eva and Mag got all the rooms cleaned and most of the pictures hung upon the walls. The weather is warmed up considerable today. NF Steadman is going to move his jewelry store to Montezuma. He don't get enough trade here.
Saturday May 18 -- $6.20. cloudy 74. Paid 25 for 2 ½ pounds of fish. Sun was out a few times during the day. Three oranges 10. One half pound of pepper 20. The weather is warming up some. Bud Clore came down home after ? to wet his hair and shave him. He bought me up to the shop in his white car GL Crist helped me today. He took in 4.65.
Sunday May 19 - (very light - faded almost completely - this is my best guess as to what this says). I helped Guy Rice to get the papers ? in church at 11 o'clock Brother Henry read a part of the 15th chapter of St. John and made his entire address on the subject of prayer. I visited little Willie's grave before entering the church house. Eva went with me tonight. Bro. Daugherty of Wingate delivered a good address to the young people of Epworth league.
Monday May 20 - Cloudy 74. $2.50. Paid 30 for 1 ½ lbs of bacon, 20 for a beef steak, 34 cts for 2 lbs of Arbuckle Coffee. Miss Una Shoaf of Walace Ind was adjudged the best looking woman in Indiana by the judges of the Indiana Beauty contest. She is 17 years old and graduates in June from the Crawfordsville High School. Paid Guy Rice 50 for delivering papers. Sun shown some today.
Tuesday May 21 - Paid 50 for street sprinkling. Clear 48. $2.20. Paid Mag Moore 40c Paper of onion seed 05. There was a white frost last night, ice was formed in vessels used for watering the chickens. Potatoes and tomatoes as well as other tender plants unprotected were injured. Tom Rice is using our "Bob" in corn planting. Eva is a caller at Mary Beltons tonight on my way home will get her.
Wednesday May 22 - Cloudy. 76. $1.30. Door lock for my shop 35-50 on repairs on the laundry hamper. Sam Smith planted a part of our garden. He cultivated the whole of it for half of what he raises. The weather was warm like unto summer. My new room will be ready for occupancy within the next two weeks. A part of my goods are already over there in the back room.
Thursday May 23 - Cloudy. 78. $3.345. Paid 20 c for beef steak and 15 for fresh pork. This afternoon we had a heavy rain fall for a few minutes. I was sitting in a chair in asleep - heard the rain falling - was too sleepy to pay any attention to it. I brought our flowers home form the school house. Eva has the house in the most perfect order. She is so glad that house cleaning is over.
Friday May 24 -- $6.20. Cloudy. 75. One dozen bananas 20 ½ doz oranges 96 size 25. 2 lemons 05. Sent The news $1.266. Expense 12 c. Sent Epsy Yaw his razor. Have had it since I was there last fall. We are expecting Jim and Mary Alfrey on next Sunday 100 pounds of cow feed $1.25. We had a rain this morning and another one this afternoon. My new room will be ready soon.
Saturday May 25 -- $6.15. Cloudy 81. At some time last night there was a copious shower of rain fall. We have had several nice showers today. A package of "Elijahs" Manna 15. 1 dozen cookies 10c Mary Ellen sent in word of poor consolation to us. She will not be here tomorrow. I had no help in the shop today. I did what I could and let the rest go.
Sunday May 26 - I visited Willie's grave 15 minutes before 10 o'clock. I never attended Memorial service without flowers until today. There will be no flowers for decoration of the soldiers graves this year. The weather has been too cold. Wheat is now worth in the market at Chicago $1.04. The baccalaureate sermon was preached in Christian Church tonight. We were there.
Monday, May 27 - Clear 50. $2.25. Emma Russell and her brother Dave took dinner with us yesterday. Anderson McMains came in yesterday evening. Stayed over night with us and took dinner at Kelso's. Sent the Enquirer 7c expense 05. Paid 15 for a small slice of ham. $1. to Guy Rice 50 for street sprinkling. I will be ready to move into my new room in the morning. Lots of rain on yesterday.
Tuesday May 28 -- $1.40. Cloudy 66. I am now located in my new room and am very well pleased. It will take me several days to get everything placed as I want it. Eva received a letter form her niece, Mrs. Pearly M. Petty Conover. She will be here next Saturday, week according to present arrangements. She wants to visit for 6 weeks. Paid Oliver McCall a dollar for his help in moving, a small piece of bacon 25 c. Heavy frost tonight.
Wednesday May 29 - Cloudy. 58. $1. Paid Charley Spencer 1.65 for paint brush and a pair of shelf brackets. G T Dillman 25 c for a joint of stove pipe and 10c for two coat and hat racks. I have my shop in pretty good order now. Eva washed a bit lot of bed quilts it helped a little. She was at Wm. Jarvis' last night at 10 o'clock had been at Mrs. McCormack's Mrs. Alspaugh was given a surprise.
Thursday May 30 -- $.1.70. 58 Cloudy. Paid Mag Moore 35 fresh pork 20. I heard of the memorial address by Mr. Murphy of Crawfordsville. The graves nearby town were decorated before dinner. Flowers were wonderfully scarce. Yet each bouquet had one or more flowers. After dinner I put our "Bob" to the buggy and with Miss Mary Kritz and Miss Allen Fisher took a drive. Via Old Union, Freedom, Browns Valley, home.
Friday May 31 - Cloudy. 42. $4.05. Paid 05 for a raddish 15 for a pine apple 5 for a bunch of green onions. About noon today a slow rain began to fall and continued until after dark on the account of damp cool air. I have had a fire in the heating stove all day. Eva went to the high school exhibition tonight. She paid 25 for a ticket. Rev. Wilfley of Crawfordsville gave the address.