OCTOBER 1903 - HIRAM PRATT DIARY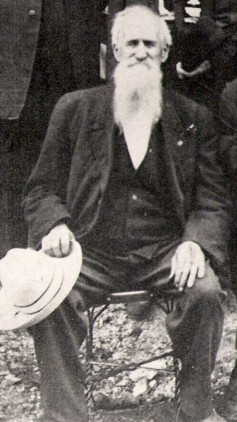 Note: These diaries were in the Waveland Public Library for decades but were disposed of by a librarian several decades ago. Luckily, another librarian's daughter (thanks sooo much Pam, at the death of her mother, Virginia Banta Sharpe found them in some belongings and gave them back for proper housing. A complete circle; however, only 14 of the 50+ diaries were saved from the library's incinerator. I'm a librarian too and thought since they'd been lost to posterity for so many years that it would be a good thing to transcribe them and give them to the world. They are currently housed in proper temperature/storage at the Crawfordsville District Public Library - typed as they were written
Note 2 : Karen Bazzani Zach (transcriber) was raised in the big 'ol town (500 people) where HA Pratt lived 5 decades before I was born. I remember the building where his little shop was and wish it was still there. What an interesting little place. ALAS! Progress ! Oh, and I've tried to type the diaries as is - mistakes & all
Note 3: Some information about Pratt -- he was born in Parke County, Indiana April 20, 1840 the oldest child of eight born to Erastus & Elizabeth Allen Pratt and died October 12, 1914 in his beloved Waveland, Indiana. He was twice married, first to the love of his life (he kept a life-sized poster of her in one of his cabinets at his barber shop, even long after his second marriage) Eliza Franklin Shaw (born Oct 23, 1841 died Oct 12, 1887), and #2 to his friend, Evaline "Eva" McMains. He was very active in the community where he and Eliza chose to live. He gave generously of his time and money to the Methodist Church in Waveland. For a few years, he served as Marshall of the town. Also, he worked diligently for his Odd Fellows, Rebekah & Knights of Phythias Lodges, was for a time on the town board, and read to those who could not read from the several newspapers he was agent for. Pratt volunteered and served for three years during the Civil War (Co. B, 36th Infantry), and spent time in the dreaded Andersonville prison. He and Eliza adopted a son, Willie Franklin Stump, age two (not sure ever officially or just had permission to take him from the Poor House in Crawfordsville) and he was an amazing young boy (high grades, worked in the church, quite musicially inclined, just an ideal child) until Eliza was taken to the hospital where she was operated on for six cervical tumors (one weighing six pounds) from which she died. Willie went wild after that and he and Hiram's second wife, Eva never got along. He ended-up in Reform School (for stealing a dollar twice from Eva among other small crimes), and later sent home to die due to consumption (what we know as tuberculosis) dying in Hiram's arms on April 12, in 1894. Hiram missed Willie and Eliza more than most I do believe as he wrote about them so often in these diaries. Just wish the rest of Pratt's diaries he wrote for over 50 years as a barber in Waveland still existed :( kbz -- ENJOIY
---
Thursday Oct 1 -- $2.80. Sent $3 to the Excelsior Supply Co of Chicago for SM needles, bowls and shuttles. I had 4 packages for the laundry. I gave it to Frank Kritz for I did not have enough to pay expenses. Paid 35 c for fresh pork, 25 c for 2 ½ lbs of rice. Anderson came down to Jarvis' funeral. I had intended going but had to work
Friday Oct 2 -- $1.85. I have moved a little of my stuf (sic) over every day and am not done yet. The west room in my shop is full of plunder. I wish it was out of my sight - most of it. Sweet potatoes 25 c. Irish potatoes 20 c. Two large apples 5 c. Mr. Alston had a thigh bone crushed by a blow up of a cetylene plant at John C. Canines.
Saturday Oct 3 - $6.60. Eva was uptown late this evening and made a purchase of fresh meat. We were done work by half past 11 o'clock. I had several days of my Diary to write up and did not get started home until 15 minutes of one. If the weather is fare tomorrow I expect to take James Alspaugh to Greencastle to visit a daughter.
Sunday Oct 4 - Mr. James Alspaugh and I were on our way to Greencastle by 7 o'clock. At 12 we were in the city. Rain over took us. I eat dinner at his daughter's Mrs. Fannie Walls. Bob was entertained at a livery stable. Called on Mrs. Mary K. Smalley. I left the city at 10 minutes after 2 and was home in time to be at church. Visited Willie's grave before I went in to the church house.
Monday Oct 5 -- $6.25. Paid $3.90 for gasoline. 35 c for 3 ½ lbs of pork sausage 35. for the weeks washing 55. Mary Kelso Lewis was at our house last night. Eva spent most of the day over at her sister Nancy Kelsos and Mary brought her home. The frost thus far has not damaged anything. The weather is real warm. 70 degrees.
Tuesday Oct 6 -- $2.05. Paid 10 c for a dozen cakes 5 c for 4 apples. We had a good rain just before the noon hour. Eva received a letter from Charlie Ellis stating he had a letter from the supt of the asylum that his wife was getting better, she had made no effort to do herself bodily injury for 4 months. Mercury was up 73 degrees today.
Wednesday Oct 7 -- $2.10. Sent the Crawfordsville Journal $1.60 by HA Snyder. He has been here since Monday in the interest of the Journal. Eva is undecided as to the place she will visit - Kansas City Mo or Ocumlge, Indian Territory. We had a big rain this forenoon and the Mercury has gone down considerable.
Thursday Oct 8 -- $1.40. Paid 30 c express on a package of county maps to new Market for a man by the name of Snyder. I had gone out to Mrs. Russells for dinner and he could not get in the shop for the maps. I was in the blame and deemed it the right thing to do. Eva ordered 21 c worth of goods from Wolfs. She got a letter from Charles Ellis - he wants to start Oct 20.
Friday Oct 9 -- $1.55. Paid 25 c for 2 slices of cured ham. The weather has turned considerable cooler since morning. There will be frost if the clouds pass over. I like my new shop the best of any that I ever had. It is located in the most business part of town. We had new corn meal for mush tonight.
Saturday Oct 10 -- $8.25. Paid 75 c for 3 pck of hickory nuts. Anderson McMains boys Holden and Ben brought them to us. Paid 25 c for a pacKnights of Pythiasop corn, brought it from Hubert Loudermale. (note he has spelled his last name several diff ways throughout his diaries - tombstones, obits, etc. have Loudermill). I did not get to go to dinner until after 3 p.m. It is now 15 after 12 or midnight. Have had a fire all day in the grate. There was frost last night and will be also tonight.
Sunday Oct 11 - we left here at 20 minutes after 8 and were in Crawfordsville in time to hear Dr. Cormick the new pastor for the first ME Church. We dined with Mr. and Mrs. George Abraham at Tom Nolan's Restaurant. Tonight we are at Eva's brothers. I went to meeting at 7 p.m. Did not have time to visit Willie's grave before leaving home this morning.
Monday Oct 12 -- $1.60. 16 years ago today Eliza died. Had she lived to the 23 of this month would have been 62 years old. 9 years and 7 months ago Willie our foster son died. We were on the road home 20 minutes after 10. Eva bought 4 yds of Velvet for dress waiste. $3 goods for lining 40c a lace collar 25c. Paid $3.20 for gas and oil. Eva wrote to Charlie Ellis early this a.m.
Tuesday Oct 13 -- $2. Paid 50 c for 2 pairs of stockings for Eva. Word from Charlie calls for her to come over to Danville. She will join in with them at St. Louis. She will leave here the 20th a week from today and be gone until the 10 of November. Fremont Alfrey has his household goods ready to be put on the car for Little Rock Ark.
Wednesday Oct 14 -- $3.25. Yesterday paid 10 for sausage and tonight 25 for pork steak. Eva had a letter from Charles A. Ellis. If he is in St. Louis before Eva he will wait for her. Their train will leave at 8:30 pm. Eva will get in at 7. Charlie will get there at 3:30 p.m They will go on the Frisco system from there to Okmuga Indian Territory.
Thursday Oct 15 -- $2.40. Sent the Indianapolis News $19.78. Expense 8c. The rain was not as heavy as the one we had last Monday. The roof over the rear room of my shop is leaking some yet but not so much since Dillman did some repairing on it. Corn is considered to be out of frosts harm.
Friday Oct 16 -- $1.80. Paid 15 c for fresh pork. 25 c for 2 lbs coffee sent the Curtis Publishing Co of Philadelphia Penn a dollar note. Mrs. Gilkison is making the waist for Eva. In Crawfordsville she would have to pay $4 for the making of it. The laundry was returned to me this evening. It usually gets here on Saturdays.
Saturday Oct 17 - $5.95. Paid Harry Cook $1.40 for passing papers for 3 233ks. Hereafter he will receive 50 c a week. Evas new winter hat cost $2.25. Mrs. Penn Hanna and her son Raymond went to Crawfordsville today. Our horse Bob was the motive power. Paid 30 c for fresh pork and beef to last over Sunday. 15 c for my supper.
Sunday Oct 18 - I put "Bob" to the buggy and took Eva to meeting and then went up to the Methodist meeting before going in to the church I visited Willie's grave. After dinner I and John McMains went within a mile and a half of Parkersburg and got a bushel of Rambo Apples. I gave 60 c for them. Eva wanted some of them to eat while on the way to Okmulgee, I Ter.
Monday Oct 19 -- $7. Paid $1.75 for 5 gallon of floor oil. Used on the shop floor. Cheese 10c Beef dried and chiped 10. Crackers 5. This is Evas feed while on the cars. She will add to it some fried chicken and a few biscuits with some butter. Dr. Straughan says the trouble I am having with my feet is rheumatic gout. Mus ? eat no more meat.
Tuesday Oct 20 --$2.3/4. Sent the Journal of Crawfordsville $1.62 expense 5c. Eva left on the south bound train at 10.07. if no bad luck has befallen her, she is at this hour in St. Louis and will leave in a half hour (10 p.m.) for Okmulgee, Indian Territory. Jess Burford and wife, Mrs. FW Kritz, Will Durham, John Oldshue and wife will go on the same train as far as St. Louis. I am at home alone tonight.
Wednesday Oct 21 -- $1.95. Eva's ticket cost $20.25. If no bad luck has overtaken her she is at her sister Almira's tonight. I took my first meal Jennie Hannas this morning. Bro. Moorman took "Bob" yesterday evening and this to meeting in Browns Valley. He is holding a series of meetings there. Nice weather.
Thursday Oct 22 -- $1.95. Sent an Express money order to the Cincinnati News Co of $10. Expense 10 c. Mrs. Robert McMains and daughter Helen were at Jennie Hannas for dinner. Mrs. Mary E. Alfrey too. The weather turned a little cooler lat this evening. A little girl 12 years of age is singing in the Christian Church tonight. I was kept at work until 5 minutes of 8 p.m.
Friday Oct 23 -- $1.70. I looked for word from Eva but none was received. I put all of her house plants in the house so they should be protected from the frost. It will be apt to be freezing cold tonight. I am prepared to sleep in my shop tonight using the wire cot that Willie died upon.
Saturday Oct 24-- $16.30. Ten of it was a collection from Dr. Straughan on the day Eva went away. Sent the Cin News yesterday $. I see a note was made of it on day before yesterday.
Received a letter from Eva this morning. She had no trouble in getting with Miranda and Charlie Ellis in St. Louis. They left there at 11 o'clock at night on the next day at 10 p.m. was or were at Okmulgee. They had a happy meeting.
Sunday Oct 25 - This morning I got a couple of little girls at Mr. Bartons, Ina and Irene and went over to Roachdale, were there in time to hear our former pastor JJ Fischer. We took dinner at Jim Goslins. His father Frank Goslin was also there for dinner. I called to see Olliver Burford. On our way home we stoped at Russellville and heard our Bro Paxon.
Monday Oct 26 -- $3. Paid the boy Guy Rice 50 c for delivering my papers last week. Paid $3.90 for 30 gal of gasoline. Saturday night I paid 15 for a dish of fresh oysters. 5 c for apples 20 c for a pie and 5 c for a cake. I did not get meals at Jennies that night nor on Sunday. The cow was out of the lot and out on the commons today and was not up for her feed tonight.
Tuesday Oct 27 -- $3.35. Eva has been gone one week today at 10 o'clock. I let Bob and the buggy out to Mrs. Kez Dietrich to go to Crawfordsville for a dollar. The maple leaves have nearly all fallen off the trees - other leaves - the oak and beach or beech have not fallen so fast. The weather is very pleasant.
Wednesday Oct 28 -- $1.75. Paid TL Hanna rent for 1 month to the 26 of this month $5. Sent theUnion Mutual of Maine $5.37. Ex 10 c yesterday. I paid Mrs. Gilkison for a gallon of new cider. I got it to drink. Warren Butch of New Castle, Ky called to see me last night. I did not know him. He used to live here, moved away 24 years ago at the age of 14.
Thursday Oct 29 -- $3.25. Yesterday morning I walked with Warren Butch to the west part of town to the property where they used to live across the street from our house. I had him to enter our house and showed him through the rooms. He said that Elizas picture looked natural. Warm.
Friday Oct 30 -- $1.65. yesterday I sent the laundry to Logansport 4 dollars. The day before I sent the Union Mutual Insurance Co of Portland Maine $5.37. Expense 10c. Took a quart of Maple Molasses to Mrs. Penn Hannas Received a letter from Eva at Okmulgee, IT. She is not verry well pleased with the appearance of the city not a side walk in the town and dust about a foot deep. She was at Ella Owen's on Wednesday for dinner.
Saturday Oct 31-- $8.20. Paid 30 for supper and my breakfast in the morning. Harry Barr rendered no service in the shop today. He spent the forenoon at the church house and the afternoon and night at the school building. Halloween was observed at the school house. A window pane in my shop was broken by the boys.