DIARY OF HIRAM A. PRATT, Waveland Barber (50+ Years)
Standard Dairy #31 - DECEMBER 1884 + Added information at bottom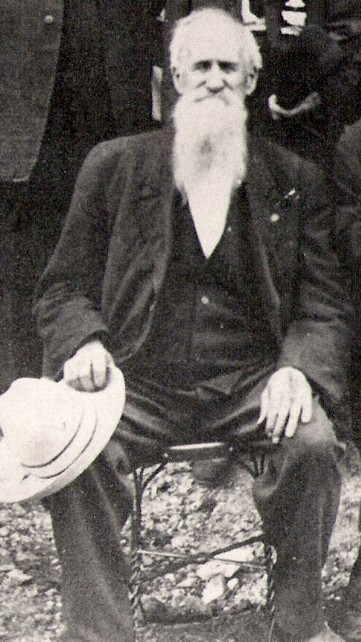 Note: These diaries were in the Waveland Public Library for decades but were disposed of by a librarian several decades ago. Luckily, another librarian's daughter (thanks sooo much Pam, at the death of her mother, Virginia Banta Sharpe found them in some belongings and gave them back for proper housing. A complete circle. I'm a librarian too and thought since they'd been lost to posterity for so many years that it would be a good thing to transcribe them and give them to the world. They are currently housed in proper temperature/storage at the Crawfordsville District Public Library - typed as they were written
Note 2 : Karen Bazzani Zach (transcriber) was raised in the big 'ol town (500 people) where HA Pratt lived 5 decades before I was born. I remember the building where his little shop was and wish it was still there. What an interesting little place. ALAS! Progress !
Note 3: Some information about Pratt -- he was born in Parke County, Indiana April 20, 1840 the oldest child of eight born to Erastus & Elizabeth Allen Pratt and died October 12, 1914 in his beloved Waveland, Indiana. He was twice married, first to the love of his life (he kept a life-sized poster of her in one of his cabinets at his barber shop, even long after his second marriage) Eliza Franklin Shaw (born Oct 23, 1841 died Oct 12, 1887), and #2 to his friend, Evaline "Eva" McMains. He was very active in the community where he and Eliza chose to live. He gave generously of his time and money to the Methodist Church in Waveland. For a few years, he served as Marshall of the town. Also, he worked diligently for his Odd Fellows, Rebekah & Knights of Phythias Lodges, was for a time on the town board, and read to those who could not read from the several newspapers he was agent for. Pratt volunteered and served for three years during the Civil War (Co. B, 36th Infantry), and spent time in the dreaded Andersonville prison. He and Eliza adopted a son, Willie Franklin Stump, age two (not sure ever officially or just had permission to take him from the Poor House in Crawfordsville) and he was an amazing young boy (high grades, worked in the church, quite musicially inclined, just an ideal child) until Eliza was taken to the hospital where she was operated on for six cervical tumors (one weighing six pounds) from which she died. Willie went wild after that and he and Hiram's second wife, Eva never got along. He ended-up in Reform School (for stealing a dollar twice from Eva among other small crimes), and later sent home to die due to consumption (what we know as tuberculosis) dying in Hiram's arms on April 12, in 1894. Hiram missed Willie and Eliza more than most I do believe as he wrote about them so often in these diaries. Just wish the rest of Pratt's diaries he wrote for over 50 years as a barber in Waveland still existed :( kbz
---
Monday, Dec 1 -- $8.25. Paid Billy Hauger 5.50. He left for Farmersburg at 10.33 this morning. Paid 25 cts for coal oil. 50 cts for lard and 35 for sausage. I sent a sewing machine out to SW McCormicks on trial. Snow melted considerable. Express .30.
Tuesday Dec 2 -- $5.70. Sent 25 cts for a 3 mos subscription to Fireside Visitor $1.80 to Globe Democrat. The indications are for snow. Paid 80 cts for two yards of oil cloth. Bread 10 cts.
Wednesday Dec 3 -- $2.90. Medicine for wifes throat 50 cts. Cloths brush 1.25. Sent $3.25 to Young America Press Co of NY for printing material Gazette Co of Cincinati 2.65. One sack of flour 70 cts. The weather is verry warm for the time of year.
Thursday Dec 4-- $4.40. Paid 20 cts for a gal of coal oil. 50 cts for a grain of woolen hose for wife. WT Hanna and Loula Byerla (Byerly?) were married tonight at 8. We ate dinner at the Presbyterian church today. There was a Sunday school convention there.
Friday Dec 5 -- $2.60. Paid rent for Nov $3. The weather has been so wet today that fire in the shop stove went out and I never made up another until nearly night. Frank Shanks came home last evening, he left New Orleans last Sat has been away 3 years.
Saturday Dec 6 -- $11.45. Sent $5 to THB McCain by John Sutton. Rain has been falling nearly all day. Paid $1 for cow pasture. Frank Kritz is my assistant, we were done work by 10.30. Willie brought to me my supper. Watch cleaned 1.25.
Sunday Dec 7 - We all went to church this morning to hear our new preacher WC Davisson. This afternoon at 2 ½ Willie and I went to Sunday school. I remained for class. This evening we stated (sic - started) to church early and stoped (sic) at Bro. Conners.
Monday Dec 8 -- $5.06 but it looks like he has rounded the 5 and made it $6.05. Globe Dem .95 Thomas H. Martin 57. yesterday to the church and Sunday school 1.05. 2 lamp chimneys 20. Merril Meigs & Co 1.15. The weather has turned warmer since last Saturday. Yesterday was windy but not freezing. No rain today.
Tuesday Dec 9 -- $1.50. Pd 15 for a couple of small slices of pork. Elza (Eliza) met wit the lady members of the Methodist Church at Bro Sharps to arrange for a mush and milk Festival for the benefit of the church. It will occur next Friday night.
Wednesday Dec 10 -- $2.75. Rained most all day. Willie was at Mrs. Mag Talburts tonight to hear music by the Williams String band. He never got home until after nine o'clock, he was not aware time was passing as fast. Sentinel Co. 10.90.
Thursday Dec 11 -- $6.85. Popular Monthly 2. Missouri Republican .90 Chicago, American Leibrarn (?) 2.45. 3 crocks ½ gal .25. ½ bushel meal .35 Coal oil 2 gal .50 About 4 inches of wet snow fell today. 25 postal cards .25 Express .50
Friday Dec 12 -- $6.10. We attended the mush and Milk (sic) supper in Bank Hall. The proceeds were for the benefit of the ME Church. The Mush (sic) was made on our gasoline stove. $11 was taken in at the door. Snow tonight.
Saturday Dec 13 -- $12.10. I sent for the Western Christian Advocate for another year 2.20. ½ doz lead pencils .25 We were done tonight by 10.15. Uncle Roy Grimes and his son Willie took dinner with us today.
Sunday Dec 14 - This afternoon Willie and I went to Sunday school. I remained until after class. Tonight we went over to the Campbelite church to hear Elder Plunkett. A big snow storm is raging the biggest of the season.
Monday Dec 15 -- $5. Stamps 25 cts. Willie spent 10 cts for candy at the Mush & Milk supper. Rubbers for wife .75 for myself .90 Bread .10 Pecks Sun 1. Broom .35. The snow is about 10" deep. We ate dinner at PM Conners (Note this is Paris M. Conner - his obituary is on the Montgomery Co IN GenWeb page http://www.ingenweb.org/inmontgomery/ Note2: He was in the IOOF and AOUW with Hiram Pratt) today it being his 54th birthday. 17 ate there.
Tuesday Dec 16 -- $2.20. Paid 25 cts for coffee. 25 cts for a stick of chewing gum and registered for a prize .5 for eating apples. Sent 1.25 to Perry mason & Co of Boston for Youths Companion - the weather is turning colder tonight.
Wednesday Dec 17 -- $2.75. Chamber mug $1. Ear muffs .35 To night promises to be the coldest of the season. We ate dinner at Mrs. Mary McMains. Wife was visiting ther today. Tuesday I received a letter from Bro. Al. He is to be married soon.
Thursday Dec 18 -- $1.60. Bought one can of Silver Star baking powder (no price). Drew a silver plated spoon Mercury was 6 degrees below zero this morning. I have an idea it will be cold by morning. Sent $5 to McCain by freight con.
Friday Dec 19 -- $6.30 Paid 25 cts for an old razor which I will house. Reground. It will then be worth $2. Fresh beef .25. Mercury stood 12 to 18 below zero. Cold all day real winter. CI Bartholomew of Union City is in town this week.
Saturday Dec 20 -- $7.45. Pd 40 cts for the half soling of Willies boots $1.85 for 15 pounds of lard. 25 cts for a gal of coal oil. 50 cts for fresh beef. The receipts today are the smallest of any Saturday for the year. Cold.
Sunday Dec 21 - We heard our Bro. Davisson preach this forenoon. This afternoon at 2 ½ Willie and I attended Sunday school. Tonight we heard Bro D. talk about foreign missionary work as related to Japan. It was verry (sic) interesting.
Monday Dec 22-$7.15. yesterday I paid the church $1 and for cleaning my watch $1.25. I had this done about 3 weeks ago but have neglected to make a note of it. Bought Aesops Fables .50 Christmas stories for Willie 1.25. Snow lots of it.
Tuesday Dec 23 -- $2.25. Lard 1.85 one small sack of flour .70 Beef 50 cts. The above is not correct for I have it noted last Saturday. Wife was up town today and bought Christmas good to the amount of $1.60. Sent a pair of mits (sic - I assume mittens) to Steve Shaw (he is Eliza, Hiram's wife's brother).
Wednesday Dec 24 -- $5.50. Pocket knife for Willie .25. One half doz oranges .25 Candy 10 cts. Paid 40 cts for tickets to the Christmas tree in the Methodist Church. Willie got 4 presents for which he was thankfull (sic).
Thursday Dec 25 -- $3.05. Paid Glover & son $4.50 Thermometer 16 below Cold. Sent .5 to THB McCain by Lewis Reynolds. Pd Gov. Durham 2.50 for 5 bushes of apples. We have had more snow today. Last night was the coldest of the season.
Friday Dec 26 -- $3.00 One gal of coal oil 20 cts. The sky was clear most of today. Snow melted a little. Tonight there is indications of rain or snow. Willie was up town today with his (Nettie) sled. We took home a bag of shorts on it.
Saturday Dec 27 -- $10.15. There has been a steady rain falling most all day. If the snow shall go off with a rain it will be hard on the railroads. Oysters and crackers .60 Soap .25 Coal oil .25 Pocket knife .75 Fire crackers for Willie .10
Sunday Dec 28 - Rained nearly the enduring day the snow will all be gone by morning. The creeks are more than bank full. Willie and I attended Sunday School at 2.40 p.m. I remained at class. No women were in attendance.
Monday Dec 29 -- $9.45. Last Saturday IM Enquirer of Cin Ohio $2.55 and the Times Co of Indianapolis, Ind $3.85. Today I paid 50 cts for sugar and 30 cts for hominy and .50 for a bottle of medicine for wifes (sic) throat. Muddy weather.
Tuesday Dec 30 -- $2.90. Sent the American News Co. $10.10. Sent Toledo Blade .95 Wrote Bro Al a letter. He is to be married New Years day at 8 p.m. in Ottumwa Iowa. We received a long and very interesting letter from sister Matt Dowell of Murdock, Ill.
Wednesday Dec 31 -- $2.70 Sent Bro. Al a letter. Weather has turned cold again everything freezing. Paid 80 cts for one and a half dozen of soap small ckes ? (Cakes?). I met with the IOOF and assisted in the auditing (spelled audiding) of the books. Again to the old year adieu!!
---
These are miscellaneous notes in Pratt's diary at the end which I thought ws interesting
WA Hauger Du (or Dr but pretty sure he wasn't a doctor but was Hiram's apprentice working in his barber shop so think it is Du spelled incorrectly)
Date To cash for all Amount
Up the side of these dates and numbers - he notes
"The whole account is paid in full HA Pratt"
Also on a Memoranda page - Billy Hauger's time on the gravel road work - June 19 one day & quit (& quit is obviously written in later as it doesn't even look like Hiram's writing and definitely a darker and different pen - funny)
I'm not going to type all his Cash Accounts as it's basically all he said in his diary entries for the year 1884 but will here give the months totals
Grand Total 1828.43 1508.23
**There were only TWO addresses listed in the back of his book
Ottumwa Iowa (no street address)