JUNE 1888 - HIRAM PRATT DIARY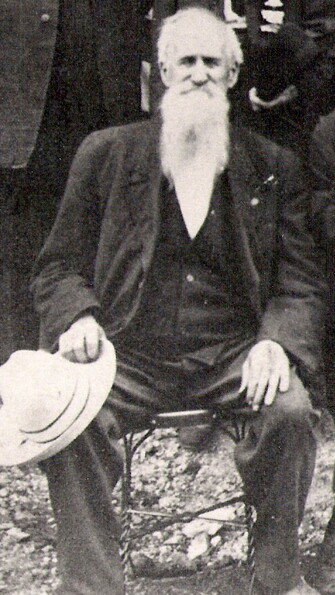 Note: These diaries were in the Waveland Public Library for decades but were disposed of by a librarian several decades ago. Luckily, another librarian's daughter (thanks sooo much Pam, at the death of her mother, Virginia Banta Sharpe found them in some belongings and gave them back for proper housing. A complete circle; however, only 14 of the 50+ diaries were saved from the library's incinerator. I'm a librarian too and thought since they'd been lost to posterity for so many years that it would be a good thing to transcribe them and give them to the world. They are currently housed in proper temperature/storage at the Crawfordsville District Public Library - typed as they were written
Note 2 :
Karen Bazzani Zach (transcriber) was raised in the big 'ol town (500 people) where HA Pratt lived 5 decades before I was born. I remember the building where his little shop was and wish it was still there. What an interesting little place. ALAS! Progress !
Note 3: Some information about Pratt -- he was born in Parke County, Indiana April 20, 1840 the oldest child of eight born to Erastus & Elizabeth Allen Pratt and died October 12, 1914 in his beloved Waveland, Indiana. He was twice married, first to the love of his life (he kept a life-sized poster of her in one of his cabinets at his barber shop, even long after his second marriage) Eliza Franklin Shaw (born Oct 23, 1841 died Oct 12, 1887), and #2 to his friend, Evaline "Eva" McMains. He was very active in the community where he and Eliza chose to live. He gave generously of his time and money to the Methodist Church in Waveland. For a few years, he served as Marshall of the town. Also, he worked diligently for his Odd Fellows, Rebekah & Knights of Phythias Lodges, was for a time on the town board, and read to those who could not read from the several newspapers he was agent for. Pratt volunteered and served for three years during the Civil War (Co. B, 36th Infantry), and spent time in the dreaded Andersonville prison. He and Eliza adopted a son, Willie Franklin Stump, age two (not sure ever officially or just had permission to take him from the Poor House in Crawfordsville) and he was an amazing young boy (high grades, worked in the church, quite musicially inclined, just an ideal child) until Eliza was taken to the hospital where she was operated on for six cervical tumors (one weighing six pounds) from which she died. Willie went wild after that and he and Hiram's second wife, Eva never got along. He ended-up in Reform School (for stealing a dollar twice from Eva among other small crimes), and later sent home to die due to consumption (what we know as tuberculosis) dying in Hiram's arms on April 12, in 1894. Hiram missed Willie and Eliza more than most I do believe as he wrote about them so often in these diaries. Just wish the rest of Pratt's diaries he wrote for over 50 years as a barber in Waveland still existed :( kbz
---
Friday, June 1 -- $3.20. $1.10 to Helpmate SM. Hat for ELiza $2.35. Ice cream 20 cts weather rather cool to for the cream. I have bargained for two hair watch chains to be made of the hair of my little woman, sewed from combings.
Saturday, June 2-- $7. The work ws very light until nearly night. Eva went to New Market to visit Matilda Canada. She will return Monday. The air was a little cool, had fire ina camp stove. Am not well.
Sunday, June 3-- Willie and I were at Church (MEC) this forenoon and at 2 1/2 at Sunday School. PUt 10 cts in the Missions. By sundown we went to bed. Cow was a little late for milking before church.
Monday, June 4- $6. B& L $5. Beef 30 cts. William Kelso bought one of the washing machines. Did not pay for it now. We are having real nice weather most too cold for corn.
Tuesday June 5 -- $2. Cream .05 cts. and for garden 10 cts. Writing paper 660 cts. Coal oil 20 cts. The democrats meet in St. Louis today to nominate the president and vice president. Weather continues nice.
Wednesday June 6 -- $3.20 Paid 25 for eye salve for Willie. 10 cts for cream. Mary Ellen McMains is sick. Wrote a letter to Billy Hauger's wife. He has deserted her. She has not seen or heard form him for two weeks.
Thursday June 7 - $3.35 25 pounds of corn meal 40 cts. 4 qts of strawberries 50. Had good strawberry short cake for dinner. One year ago today Clara Shaw came up to spend the summer with my little woman. Warm today.
Friday June 8-- $3.25. Sent Clara a letter. Our small fruit will not amount to very much. Sold the machine to Alice Moore. Will order three more next Monday. My stomache is again giving me trouble. Weather warm.
Saturday June 9 -- $12.20. Ice cream 30 cts. Eva McMains was at our house when I went down for supper. We were done work by 12 or midnight. One gal gasoline 15 cts. The weather has been real hot this evening.
Sunday June 10 -- I lay down in the bed room this morning after I had done the milking and slept until nearly noon. Willie and I attended Sunday school at 2 1/2. I was in at Mrs. Bloomfields.
Monday June 11 -- $4 - B & L $5. Sent the Bluffon Mft Co of Bluffton, Ind $10.32. Satmps $1. Bot of med for myself 90 cts. Fresh beef 50. The weather is a little cooler than on last Saturday. Penn Hanna returned last week from Kansas.
Tuesday June 12 -- $1.10 (written across top - "My sweet little woman died 8 months ago") -- Summer hat for self 75 cts. 1 pound of crackers 10 cts. Beef 10 cts. The Russellville Nine beat our boys 41 to 8. My sister is well pleased to preside as my housekeeper. If she could get about good, would get along fine.
Wednesday June 13 -- $.50. My work was very light today. Do not know when before I rec'd so small a sum. Dress and gloves for Eliza also a Jersey waist $3.25. Bannanas 40 cts cream .10 cts 8 months ago today my dear little woman was put away for ever.
Thurday June 14 -- $1.10. One half bushel of potatoes 60 cts. Rec'd a letter from Willie Hauger's wife. She is of the opinion he has left her in as much as he has been away from home for two weeks and no word has been rec'd from him.
Friday June 15 - $3.50 -- The weather is getting very much like summer. Had two good showers of rain late this evening. Bottle of Kennedy's medicine for sister Eliza 1.25. Her leg is getting some better. Warm tonight.
Saturday, June 16-- $10.05 - I made a mistake in giving out change today - mistook a $2 bill for a 5. Got the bill from WT Barton. He claims it was a $5 bill. Rec'd yesterday aletter from Clara. They ahve heard about Willie H. ? A?
Sunday, June 17 -- Willie and I were at the Methodist church this forenoon and tonight. He was at Sunday School. I lay in the hamock and took a good nap. To night until after 11 I was with Eva McMains.
Monday, June 18 -- $4.30 One sack of flour (25 lbs) 65 cts. Fish .25 - Six and one half pounds of beef .65 cts. Pins .25 cts. Gave one paper to Eliza. Gave her 25 yrds of fine Muslin $2.50. I have 3 more wash machines on the way.
Tuesday June 19 - $2.25 - Ice cream since last report 30 cts. Last Saturday I sent George M. Talack of Chicago $70 - 27 cts. Have not heard form it yet. Wilie Hauger is at Lamont MO Mercury 96 degrees in theshade.
Wednesday June 20 -- $2.60 -- Pd 90 cts for a bottle of Warners sarsaparilla. Wrote a letter to Clara. Weather warm and dry. Barely a sprinkle of rain fell today. 28 yds of muslin $2.67 Sent the Jouranl $10. Cream .25 cts
Thursday, June 21 - $5. Two yds cotton goods for sister 15 cts. also one dozzen dress buttons .10. Bot a Money order of $4.95 for Com.. Gas $1.30 I sent to Philadelphia for a razer. 1 scythe stone 10 cts. 2 gal gas 30. This is the lognest day of the year.
Friday June 22 -- $1.20 -- 7 gal gasolines $1.05. Two packages Arbuckles coffee 50 cts. Had another nice rain. Weather continues very warm. Colorado potato bugs are quite numerous. Republican Convention in Chicago in order to nominate a presidential ticket.
Saturday June 23 - $8.40 - One gal coa oil 20 cts. One gal gasoline for shop use 15 cts. Rec'd a letter from Miss Carrie M. of Harrow Blakesburg Iowa in reply to one I sent her 3 weeks ago today. Another big rain first after dinner. The American News Co. $10.10. Home by 12 p.m.
Sunday June 24 -- Willie and I attended class at 9:30 a.m. W illie the Sunday school at 2:30 p.m. and at night Harry went with us to the children's day since which we found to be real nice. Donated 25 cts. Willie recited a piece on the stage.
Monday June 25 -- $4 - B & L 5. I was with Eva McMains until 10 o'clock. Gen. Ben Harrison of Indianapolis Ind and Levi P. Morton of NY were nomianted today at Chicago by the National Republican Committee.
Tuesday, June 26 -- $3.55 - Charlie Scoot (Scott?) and I went over to Indianapolis tonight to see the ratifiaction meeting over Harison's nomination. It was immense. Was in to see the picture the Battle of Attack ? The trip cost $3.80. Rained.
Wednesday, June 27 -- $2.15. Pd 45 for beef last Monday. Returned from Indianapolis at 3:20 this a.m. Have had several good showers of rain. Was at McMains again tonight. One battle of Hoods sarsaparilla 85 cts. Rain.
Thursday, June 28 -- $2.15 - 2 3/4 lbs of butter 40 cts. Pd AOUW $2. Eliza got a letter from Mrs. Edith M. Boyd of Hazle Dell, TX. They are done the harvesting down there crops were not very good. Clear today. Wrote to Miss CM Harrow of Iowa.
Friday, June 29 -- $3. I gave EC Dooley our photographer whose leg was broken on last Saturday in an attempt to save another man (Watson) from injury by a fracious house to a buggy. A sack of flour .65 cts and a silver dollar. Garden seed 20 cts. Cow is dry
Saturday, June 30 -- $10.48. Pd last month's rent $3. Walter Mellon 40 cts. 1 gal cherries .35 cts. Soup beans 50 cts. we were done work by half past 11 o'clock. The waether is very warm. The air we breathe is warmer than the blood coursing throuth our veins.
---