FEBRUARY 1890 - Diary of Hiram Austin Pratt
Barber, Waveland, Indiana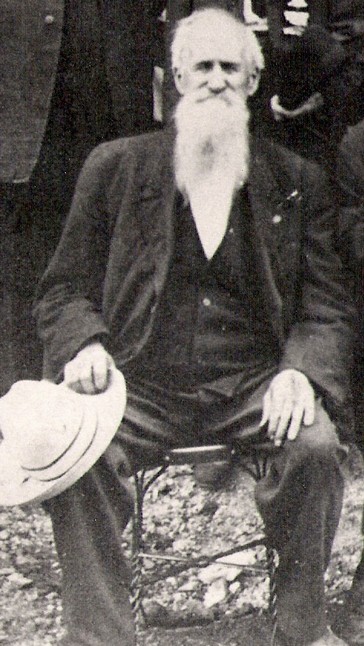 Note: These diaries were in the Waveland Public Library for decades but were disposed of by a librarian several decades ago. Luckily, another librarian's daughter (thanks sooo much Pam, at the death of her mother, Virginia Banta Sharpe found them in some belongings and gave them back for proper housing. A complete circle; however, only 14 of the 50+ diaries were saved from the library's incinerator. I'm a librarian too and thought since they'd been lost to posterity for so many years that it would be a good thing to transcribe them and give them to the world. They are currently housed in proper temperature/storage at the Crawfordsville District Public Library - typed as they were written
Note 2 : Karen Bazzani Zach (transcriber) was raised in the big 'ol town (500 people) where HA Pratt lived 5 decades before I was born. I remember the building where his little shop was and wish it was still there. What an interesting little place. ALAS! Progress !
Note 3: Some information about Pratt -- he was born in Parke County, Indiana April 20, 1840 the oldest child of eight born to Erastus & Elizabeth Allen Pratt and died October 12, 1914 in his beloved Waveland, Indiana. He was twice married, first to the love of his life (he kept a life-sized poster of her in one of his cabinets at his barber shop, even long after his second marriage) Eliza Franklin Shaw (born Oct 23, 1841 died Oct 12, 1887), and #2 to his friend, Evaline "Eva" McMains. He was very active in the community where he and Eliza chose to live. He gave generously of his time and money to the Methodist Church in Waveland. For a few years, he served as Marshall of the town. Also, he worked diligently for his Odd Fellows, Rebekah & Knights of Phythias Lodges, was for a time on the town board, and read to those who could not read from the several newspapers he was agent for. Pratt volunteered and served for three years during the Civil War (Co. B, 36th Infantry), and spent time in the dreaded Andersonville prison. He and Eliza adopted a son, Willie Franklin Stump, age two (not sure ever officially or just had permission to take him from the Poor House in Crawfordsville) and he was an amazing young boy (high grades, worked in the church, quite musicially inclined, just an ideal child) until Eliza was taken to the hospital where she was operated on for six cervical tumors (one weighing six pounds) from which she died. Willie went wild after that and he and Hiram's second wife, Eva never got along. He ended-up in Reform School (for stealing a dollar twice from Eva among other small crimes), and later sent home to die due to consumption (what we know as tuberculosis) dying in Hiram's arms on April 12, in 1894. Hiram missed Willie and Eliza more than most I do believe as he wrote about them so often in these diaries. Just wish the rest of Pratt's diaries he wrote for over 50 years as a barber in Waveland still existed :( kbz
---
Saturday Feb 1 - The weather is a shade cooler today and has the appearance for a rain or snow fall. We have a barrel of good cider made in Monroe Co NY. Sells at 30 cts per gal. Eva has not yet entirely recovered of her cough. My cough is some worse than it was. Don't know whether I have the La Gripp or not. This cough has been with me since our visit at Rossville, Illinois
Sunday Feb 2- Willie and I were at our church in time for love feast. Had a good meeting. The preacher in charge from Russellville, Ind came over and officiated in Quarterly meeting services. Eva was at her church both morning and evening. Willie and I were at Sunday School and at church tonight. Our Elder will preach on tomorrow evening. Weather warm.
Monday Feb 3 - The fine weather is remaining with us as it would appear all winter. I was at church tonight heard a good sermon or rather a talk by our Elder Bro. Middleton. He is a man of pleasant address and a very good speaker. I liked him very much. Mrs. Dave Moore done the washing for Eva. Our cough is clinging with us.
Tuesday Feb 4 - I was at the morning meeting had a good meeting. Eva was at the meeting tonight. I was detained by customers in the shop. The good weather continues. The rain fall is sufficient to keep down the dust. Nancy kelso is having a bad spell of the pneuralgia of the stomach. She has been quite poorly for days. Eva is better of the cough.
Wednesday Feb 5 - I was at church tonight. Our Pastor Henry L. Kindig preached. Have had rain otherwise the weather is very pleasant. I hope we may have a real good meeting. The Presbyterians and Methodists are holding this meeting together. Next week at the Presbyterian church. Trade in the grocery is only fair.
Thursday Feb 6 - Willie and I were at church tonight. I was at the morning service. Not very many were out. I have a Standard Thermometer the face of which is like unto a steam register of a boiler. The hand points to the degrees of cold or heat. Sittie Ellis Durham is at No. 3802 Prarie Avenue Chicago Ill for treatment of paralasis. Bell her husband is at his brother John Durham.
Friday Feb 7 -- Snowed most all the day. It is now about 3" deep. The ground is not frozen so it will not be on very long. Charley Gaylord a former resident of this place and a tailor by profession was recently a visitor here. His hair has turned white otherwise he looks as of yore. My cough is not much if any better. Otherwise I am as well as common. Cold tonight.
Saturday Feb 8 - Eva wrote a letter to her niece at Mammoth Spring, Ark. Miss Ella Petty and one to Sittie at Chicago. Barney Masterson was in to see me this pm. He was a citizen of this place form 1870 to 1877. The SW Tribune from Independence KS gives notice of death of Miss Ida May Gault. She used to live here. Wrote a letter to Miss Leattie Hollingsworth of Knoxville, Iowa.
Sunday Feb 9 - Willie and I were at church this morning at Sunday school this evening and at church tonight. Eva was at her church this morning. I am mistaken about myself being at church tonight. I was not, but Willie was. The weather is quite warm for the time of year. It does seem like we are not going to have any ice to put up.
Monday Feb 10 -- $15 Rec'd in the store today. Mrs. DM Moore done the washing for Eva this week. I made too great haste in mailing some letters this evening it will take several days to get the matter all fixed up. Eva gave me a letter to send to Settie Ellis Durham and one to her niece Ella Petty at Mammoth Spring, Ark I don't know where they went to. FN Johnson has been down with the LaGrippe for two weeks.
Tuesday Feb 11 -- $15. One of the letters missent yesterday came back it was sent to Rockville, Ind. It was forwarded to Ella Petty. There occasionally falls a rain which keeps the roads soft. I am not yet fully recovered of the bad cold contracted over in Illinois. Eva is about well. I was at meeting this afternoon and tonight was at church last night. Willie was at church tonight. Grandma is quite poorly.
Wednesday Feb 12 - Twenty eight months ago today a rather at 2.40 by the clock this morning my dear little woman died in Terre Haute, Ind having been operated upon for the removal of internal tumors. She was anxious to have them removed for they were a great burden to her mind as well as comlyness. The time of her death is getting farther and father away as the days and weeks roll by.
Thursday Feb 13 -- $10. This day 28 months ago my little woman was put away from sight burried at the ME Cemetery at Fletcher Chapel, Pierson Twp Vigo Co near Farmersburg and 1 mile north of her father Temple Shaw's. I have not been down there since the middle of March 1888. Eva's sister Mary E. and Nancy Kelso and family were at our house for dinner. Nancy will stay overnight.
Friday Feb 14 - Mary Ellen stayed over at Mrs. Bloomfields and will stay there tonight. $15. Nancy will remain with us until tomorrow. Have had more rain. A literary entertainment was given by the school. Willie Butcher my clerk in the grocery was excused from duty that he might attend. Sugar making is on hands and soon we will have maple molasses. I was at church tonight attendance was slim.
Saturday Feb 15 -- $25. I done very little work in the shop today. The weather continues very nice so far as temperature is concerned. Occasional light rain keep the roads in a bad shape. We have had a fair days work in the grocery store. The credit sales are rather more than I like. A few of my customers have given me the slip run off forgetting to call and pay their bill. This is what hurts the business.
Sunday Feb 16 - Willie and I at church this forenoon at 2 ½ I was at Sunday School. Willie was at Mr. Alward's After Sunday school I went to see Mr. Alward. Eva had been there a few minutes before I was. The old man has dropsy and cannot be down and can never be well again. My cold or lagrippe is about gone. Eva is as well as usual her mother is quite poorly.
Monday Feb 17 -- $13. Mrs. Dave Moore done the weeks washing for Eva. Mrs. Butcher was at our house early this a.m. and informed me that her son - my clerk in the grocery was sick and could not open the store this morning. He has not been right well for several days. Hope he will soon be able for duty. Weather fine. Prospect for an ice crop is slim.
Tuesday Feb 18 -- $8. Eva sent up by Mary Kelso Lewis to Crawfordsville for a couple of table cloths cost $2.40. She used her own money. Bob McMains is having a real hard time of it this winter. He says the roads are so awful bad that it is impossible to get about through the country. If he makes enough to pay his board he counts it doing well. I called to see Billy Butcher. He is not bad sick.
Wednesday Feb 19 -- $35. Willie helps me in the store at non and at night. At noon he comes down from school and relieves me for dinner. Billy Butcher was in a few minutes today. There was several who paid their accts which went to make up the receipts of the day. We have a report of a cold wave coming 20 cooler by 8 tomorrow morning. We will see about this later.
Thursday Feb 20 -- $10. Had some rain this forenoon. At night it was considerable colder. Had considerable rain fall yesterday. The cold snap reported on yesterday did not show up. Perhaps it is just getting here now. A week or so ago I wrote to my little girl at Knoxville, Iowa. I have no t heard from her for a good while. Peter K. Smith of this place has a new wife. He got her near Farmersburg, Ind in last Sat he brought her home.
Friday Feb 21 - Mercury was 10 above zero this morning. Bob McMains says that they are going to come back to Crawfordsville and lay over until the middle of March. The sun shone bright all day Thawed in the fair sun shine but was freezing in the shade. Eva is preparing to make a comfortable. She received a letter from her niece Minnie McMains to night.
Saturday Feb 22 - We had a tolerable good sales today (but he does not put how much). The weather continues very nice. I done a few jobs of work in the shop tonight. Eva contemplated a trip to Crawfordsville on next Wednesday to visit her sister Mary. Several of her lady friends are going with her. I never remember of a winter in the northern states as warm as this has been so far. The ice crop will be a failure in my opinion.
Sunday Feb 23 - This morning Eva and I went over to her sister Nancy Kelso's. Willie came over for dinner. At one o'clock bob Kelso and I came over to town. I attended the funeral of old sister Banta and remained at the church until after Sunday School. Willie was not at SS but spent the evening with Charlie Stone at Mrs. Maggie Talburt. He did not get home until after 9 o'clock.
Monday Feb 24 - Eva had Mrs. Moore do her weeks washing. The weather continues very fine. Late this evening the appearance of the atmosphere denotes a change of weather perhaps rain or if it gets colder. I heard today that Bob McMains was in Crawfordsville. If so he will be down here perhaps Wednesday evening. He has had a hard time of it this winter to make ends meet.
Tuesday Feb 25 - Willie while at school yesterday said he chilled nearly if not quite all day. He does not feel well today and has remained home from school. Has been about home all day sitting about the fire reading. He has a bad cough. This he has every winter. Eva did the ironing of the clothes today. The cash receipts in the grocery last week was one hundred and two dollars. Rain nearly all day.
Wednesday Feb 26 - Willie was uptown yesterday evening and reported to Dr. Kleiser who gave him some medicine. He took a couple of doses last evening and a few more of them today. This evening he was at Mag Talburts returning after I had gone to bed. Last evening he went home as I did. Eva and her company visited Mary Ellen at Crawfordsville today. The weather has fased up and rains as usual. I am as well as common.
Thursday Feb 27 - I gave Willie a dose of salts to work off his medicine he took yesterday. He says he never slept well last night he occupied the lounge in the new bedroom while Bob Mc occupied the bed with his brother Loyd. He has not set up as much today as on yesterday. Tonight he is sleeping with Loyd and Bob is in the lounge. The weather is getting ready for another change.
Friday Feb 28 - Willie is not so well today. When I left him at noon requested that he report to the doctor. When I went home which was after 10 tonight found that he had not done as requested. In the morning I will call a doctor to see him. Eva is going to move her mother's bed into our parlor and Willie will sleep in our bed with me and Eva will sleep with her Ma.