OCTOBER 1890 - Hiram Pratt Diary
Waveland, Indiana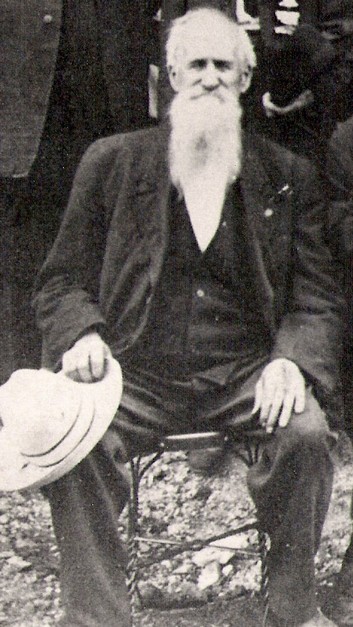 Note: These diaries were in the Waveland Public Library for decades but were disposed of by a librarian several decades ago. Luckily, another librarian's daughter (thanks sooo much Pam, at the death of her mother, Virginia Banta Sharpe found them in some belongings and gave them back for proper housing. A complete circle; however, only 14 of the 50+ diaries were saved from the library's incinerator. I'm a librarian too and thought since they'd been lost to posterity for so many years that it would be a good thing to transcribe them and give them to the world. They are currently housed in proper temperature/storage at the Crawfordsville District Public Library - typed as they were written
Note 2 : Karen Bazzani Zach (transcriber) was raised in the big 'ol town (500 people) where HA Pratt lived 5 decades before I was born. I remember the building where his little shop was and wish it was still there. What an interesting little place. ALAS! Progress !
Note 3: Some information about Pratt -- he was born in Parke County, Indiana April 20, 1840 the oldest child of eight born to Erastus & Elizabeth Allen Pratt and died October 12, 1914 in his beloved Waveland, Indiana. He was twice married, first to the love of his life (he kept a life-sized poster of her in one of his cabinets at his barber shop, even long after his second marriage) Eliza Franklin Shaw (born Oct 23, 1841 died Oct 12, 1887), and #2 to his friend, Evaline "Eva" McMains. He was very active in the community where he and Eliza chose to live. He gave generously of his time and money to the Methodist Church in Waveland. For a few years, he served as Marshall of the town. Also, he worked diligently for his Odd Fellows, Rebekah & Knights of Phythias Lodges, was for a time on the town board, and read to those who could not read from the several newspapers he was agent for. Pratt volunteered and served for three years during the Civil War (Co. B, 36th Infantry), and spent time in the dreaded Andersonville prison. He and Eliza adopted a son, Willie Franklin Stump, age two (not sure ever officially or just had permission to take him from the Poor House in Crawfordsville) and he was an amazing young boy (high grades, worked in the church, quite musicially inclined, just an ideal child) until Eliza was taken to the hospital where she was operated on for six cervical tumors (one weighing six pounds) from which she died. Willie went wild after that and he and Hiram's second wife, Eva never got along. He ended-up in Reform School (for stealing a dollar twice from Eva among other small crimes), and later sent home to die due to consumption (what we know as tuberculosis) dying in Hiram's arms on April 12, in 1894. Hiram missed Willie and Eliza more than most I do believe as he wrote about them so often in these diaries. Just wish the rest of Pratt's diaries he wrote for over 50 years as a barber in Waveland still existed :( kbz
---
Wednesday October 1 - The Presbyterian Minister John P. Engstrom and family left this morning on the Midland to Lebanon, Indiana. They were the first patrons of the Midland. This evening the alarm of fire was sounded and it was discovered or disclosed that Mrs. Davis' house was on fire Penn Hanna had apart of it rented. Most of the household goods were saved. Fire originated form a defective flue. Rain this p.m bushel.
Thursday October 2- The daily Crawfordsville Journal of yesterday has a statement concerning what Mr. Cox had to say about Willie concerning his new home. I pasted it in the back of this book. I hope he will prove a good boy. The Midland road will not run over the Vandalia at present other arrangements are to be made first. The weather is getting warmer farmers are having nice weather.
Friday October 3 - Three years ago this morning my little woman and I went to Terre Haute. The weather was fair and nice like it is now. Eva and I will go up to Crawfordsville this evening to attend the Methodist Annual Conference. I was on the Midland for one hour after dinner. They are putting in the turn table. Trains run next Monday.
Saturday October 4 - We have had nice weather during the day. I done very little work in the shop was at home by 10:30. The Midland road have permission to run over the Vandalia to Sand Creek for the purpose of halling coal over the road. Eva and I went to Crawfordsville last evening. I done no work in the shop. We stayed at Frank Godards tonight. He is a cousin of Evas. We were also at church tonight.
Sunday October 5 - We were at Frank Godards over Friday night and last night and tonight at John L. Gobens. He is our county auditor. Today for dinner we were at Mr. Vanslykes. I heard Dr. JPD John of DePaw (sic - DePauw) University at 11 a.m. and 3 p.m. Bishop Wm. Taylor at the YMCA at 4 p.m. Tonight we went to hear his son Ross at the "Christian Church." He is a wonderful good preacher. His father spoke at the ME Church.
Monday October 6-I had a negative taken of Eva for a dozen photos at Nicholson's By 10 o'clock we were on our way home. It was just 3 years ago on yesterday that my little woman submitted herself to the surgeons for the removal of tumors located in the abdomen. Three years, oh how the time flies. The remembrance of her is as only on yesterday. She was a meek and sweet sufferer. Dear woman.
Tuesday October 7 - The body of James H. Spencer who died a few years ago was taken up to be put in another place and it was disclosed that the left hand was at the top of his head. Evidently he was not dead when first burried. Not so with my little woman for decomposition had set in quite awhile before life was extinct. Henry L. Kindig is our new preacher for this year.
Wednesday October 8 - It is three months ago today since Willie and I went to Crawfordsville and he was put in jail for stealing money from Eva. I rec'd a letter from him today. He says the school is a nice place. He goes to school half of the day and works half of a day. On Saturday afternoon he has for play - once in 3 weeks he is allowed a visit to his friends at home. On Thanksgiving Day, I want to send him a nice present.
Thursday October 9 - Two years ago today Eva and I were married. We started immediately for Foster Mc where Eva's sister Almyra Petty then lived. Our first stopping place was in St. Louis when were the next day visited the noted resort, "Shaw's Garden," and at night the Exposition. The Midland have a small engine pumping water in the big tank. Rained last Sunday. Weather fair now.
Friday October 10 - I have sent a bundle of papers to Willie. 2 Hoopeston papers one Banner of Holiness and our Christian Advocate. He said that they had a scarsity of papers to read. I have ordered our town paper the Independent sent to his address for 9 months. His family No. is 8 and register number 3,200. His house father's name is Lawrence. The weather is warm and at present threatening rain.
Saturday October 11-We had rain last night. The Midland railroad will land another excursion here tomorrow from Anderson. I am past 50 years old and write this without the use of spectacles. I done but very little work in the shop. The shop is not paying me now as well as when Frank Kritz was in charge. He gave me 25 cts on every dollar with Albert Deer I get one half.
Sunday October 12 - Three years ago this morning at 20 minutes of 3 o'clock my little woman had breathed her last breath. She lacked only a few hours of living 8 days from the day of the operation. I continue to miss her as the days go by. She was a lady in whom no one found any fault. A true Christian lady. She trusted in God and said it was all right when I told her we could do no more.
Monday October 13 - I was at Sunday School yesterday at 3 p.m. The excursion was not as large as upon a former occasion. Three years ago today Bro. L. S. Buckles preached the funeral of my little Pet and her body was put away to rest and return to the earth. Last Thursday the remains of Eva's father were taken up and put over in the new cemetery. There was nothing by which to identify the body before death.
Tuesday October 14 -I helped Eva a little yesterday morning with the washing. Bob came to my relief. Had a rain yesterday. The Midland folks are running regular trains from here now. By this rout passengers for Indianapolis can stay in the city two hours longer than when they go over the Vandalia. 16 trains pass her daily.
Wednesday October 15 - The trial of Fred Pettit a Methodist minister in formal days is in progress at our county seat, having been sent there for Lafayette. He was in charge of the Methodist Society at Shawnee Mound in 1879 when his wife died of arsenic poisoning. He is charged with administering it in repeated doses to his wife A Mrs. Whitehead is supposed to be his accomplice. He wanted to mary her. His wife was in the way.
Thursday October 16 - Ed Milligan of this place was the first passenger over the Midland for Indianapolis. He went over yesterday. A manufacturer for making sucker rods for pumps and for the making of all kinds of handles for shoves forks, spades, rakes, hoes and for plaining lumber and scroll sawing is likely to locate here coming from Lima, Ohio. Eva's sister Nancy was with us over last night.
Friday October 17 - Albert Deer is home at present having neuralgia in the face. I am called occasionally to the shop to do work. I wish I was out of the grocery trade and had as good a barber shop as I once had. Sent Willie a bundle of papers this p.m. The weather is quite frosty of mornings. The Pettit trial at Crawfordsville is creating a good deal of interest.
Saturday October 18 - Our trade in the grocery was not very good $29 is about the amount of sales. I have my winter coal and wood stoves away in their proper places. The wood is to be paid for in groceries. The coal I will have to pay 2.40 a ton for. I did not get to read the Petit trial today. The bedroom set donated by me to the holder of ticket 246 has not been called for.
Sunday October 19 - I went to hear our new preacher the same one we had last year, Henry C.
Kindig. At 3 p.m. I was at Sunday School at night I went to hear old Bro. OP Badger, Eva's preacher. There is no prove that Pettit murdered his wife. Yet everything goes to show that he did. No one knows that he put the poison in the Tea or oil, yet it is believed that he did.
Monday October 20 - The bedroom set drawn by ticket 246, I took down home today. The day of the drawing was the 20th of last month. I announced then if the ticket was not presented within 30 days I would call the draw off and would take it home. I rendered Eva a little assistance in her washing this morning. I mailed a letter for her last Friday to my sister Eliza.
Tuesday October 21 - I have had halled down home from the store a couple wagon load of boxes and barrels. I can use them for starting fires. The new depot on the Midland is about done. By next week it will be ready for the plaster. They are getting some business over their rout. The Pettit trial is the leading feature of interest at present. Bob Mc helped his sister Eva with the washing of bed clothes today.
Wednesday October 22 - Two years ago today Eva and I started home from our trip to her sister family at Foster, Mo. They now live at Mammouth Spring, Arkansas. The weather most of today had been rather rainy and amp. A part of the roof is on the new depot. The grocery trade is extremely dull with this house at present. We have moved our cook stove into winter quarters. I am well.
Thursday October 23 - Were my little woman living she would be 49 years old today. A the time of her death, she was 45 years 11 months and 19 days old. Two years ago today Eva and I returned home from Foster Missouri. We had 60 persons at our house that night for supper. Our new parlor bedroom set looks very respectable. We are using it in our West front room this winter.
Friday October 24 - The surveyors on the Midland have returned but some time next week will return. There is a report that the road will be extended to Paris, Illinois, also a branch run to Brazill (sic) in Clay County at this latter place the Black Coal is the great inducement. We are having a very nice run in good weather. Lloyd McMains is confined on the account of cold.
Saturday October 25 - There is the least excitement over political issues of any election. I have ever noticed while a resident of the town. Business in the grocery is exceedingly dull. The nights are cold. The leaves on a good many of the trees are all off. I sent Willie a small bundle of papers. Poor little boy. I wish he had been a good boy and remained at home.
Sunday October 26 - I did not attend class this morning. Aquilla Groves being at our house he is a candidate for our county commission. Eva's mother is his aunt. He took dinner with us. Is a resident of Waynetown, was formerly of this place. I was at Sunday school at 3 p.m. I have to go alone Willie used to go with me. At home tonight and at rest.
Monday October 27 - I rec'd a letter from Willie this morning. It was the second since he has been to Plainfield at the reform school for boys. He was well. He has not a very favorable opinion of the woman who visited him at the mail and represented herself as his mother. He asked for a pair of gloves. I want to send him some thing son Thanksgiving day. Gloves. Drawers and undershirts. Helped Eva a little.
Tuesday October 28 - The new depot is enclosed and partly lathed. The ground is so soft in the cut through Prof HS Kritz's garden that the mud has worked up between the ties until in many places it is up to the rails. The name of the road is called by some as The Mudland. I met with the Independent Order of Odd Fellows last night. The Lodge is not very well attended. The good weather is with us yet.
Wednesday October 29 - TH Pettit murder trial is grinding slowly. While I believe that he gave his wife Hattie Pettit poison, it has not yet appeared in evidence that he did. He gave her in my opinion a dose on Sunday morning before he started to Newtown to preach. It was in the tea he gave her. She remarked, "Fred this tea is bitter." He gave the next in a capsule on Wednesday in oil for in 20 minutes she was in convulsions.
Thursday October 30 - There was a republican speaker in town tonight. Very little interest was manifest, I was not out to hear him. I am a republican in my political views, but don't care to meddle in politics. I have never voted for a single democrat in the state of Indiana and for only one since I came from the army. I was at our prayer meeting tonight it was well attended and a good interest manifested.
Friday October 31 - There was a democrat speaker in town tonight. I did not go, but went home and read the Pettit trial. The state will get done with the prosecution next week. From what I have read, I believe Pettit to be guilty of the charge preferred, but the burden of positive proof will not be sufficient for his conviction. Eva is knitting a pair of mittens for Willie. I will send him a Thanksgiving present.