FEBRUARY 1903 - Hiram Pratt Diary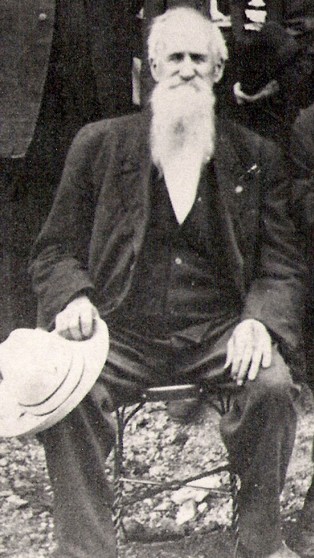 Note: These diaries were in the Waveland Public Library for decades but were disposed of by a librarian several decades ago. Luckily, another librarian's daughter (thanks sooo much Pam, at the death of her mother, Virginia Banta Sharpe found them in some belongings and gave them back for proper housing. A complete circle; however, only 14 of the 50+ diaries were saved from the library's incinerator. I'm a librarian too and thought since they'd been lost to posterity for so many years that it would be a good thing to transcribe them and give them to the world. They are currently housed in proper temperature/storage at the Crawfordsville District Public Library - typed as they were written
Note 2 : Karen Bazzani Zach (transcriber) was raised in the big 'ol town (500 people) where HA Pratt lived 5 decades before I was born. I remember the building where his little shop was and wish it was still there. What an interesting little place. ALAS! Progress ! Oh, and I've tried to type the diaries as is - mistakes & all
Note 3: Some information about Pratt -- he was born in Parke County, Indiana April 20, 1840 the oldest child of eight born to Erastus & Elizabeth Allen Pratt and died October 12, 1914 in his beloved Waveland, Indiana. He was twice married, first to the love of his life (he kept a life-sized poster of her in one of his cabinets at his barber shop, even long after his second marriage) Eliza Franklin Shaw (born Oct 23, 1841 died Oct 12, 1887), and #2 to his friend, Evaline "Eva" McMains. He was very active in the community where he and Eliza chose to live. He gave generously of his time and money to the Methodist Church in Waveland. For a few years, he served as Marshall of the town. Also, he worked diligently for his Odd Fellows, Rebekah & Knights of Phythias Lodges, was for a time on the town board, and read to those who could not read from the several newspapers he was agent for. Pratt volunteered and served for three years during the Civil War (Co. B, 36th Infantry), and spent time in the dreaded Andersonville prison. He and Eliza adopted a son, Willie Franklin Stump, age two (not sure ever officially or just had permission to take him from the Poor House in Crawfordsville) and he was an amazing young boy (high grades, worked in the church, quite musicially inclined, just an ideal child) until Eliza was taken to the hospital where she was operated on for six cervical tumors (one weighing six pounds) from which she died. Willie went wild after that and he and Hiram's second wife, Eva never got along. He ended-up in Reform School (for stealing a dollar twice from Eva among other small crimes), and later sent home to die due to consumption (what we know as tuberculosis) dying in Hiram's arms on April 12, in 1894. Hiram missed Willie and Eliza more than most I do believe as he wrote about them so often in these diaries. Just wish the rest of Pratt's diaries he wrote for over 50 years as a barber in Waveland still existed :( kbz
---
Sunday Feb 1 -- I went to hear Bro OP Paxon at the morning service. He returned to Russellville for the evening service. A protracted meeting is being lead there. A man from Indianapolis is to preach for us next Sunday in the morning. Tonight I went to the Presbyterian Church. Heard a good sermon by the pastor Gibson. Did not visit Willie's grave. Ground very soft.
Monday Feb 2 -- $3.70. Eva went to hear the Presbyterian Minister Rev. Montgomery of Thorntown Ind. She stoped at Mrs. Bloomfield's on the way to the meeting. Paid $3.60 for 30 gal of gasoline. One quart of Bay Rum 60 cts. The is a case of small pox at Marshall about nine mile west of here. Eva sent Parla Petty a letter today. The weather has been warm like spring time Birds were whistling.
Tuesday Feb 3 -- $2.65. Paid rent $5.50 to Saturday Jan 3. To the order of Ancient Order of United Workmen $3.84. I went to the Presbyterian meeting tonight was not carried away by the eloquence of the preacher yet his discourse on the text "I Am" was interesting. The singer a young man by the name of Campbell is a fairly good singer.
Wednesday Feb 4 -- $4.30 Sent the laundry $3 it will leave on the up train in the morning. Aquilla Groves of Waynetown Ind was at our house for dinner. He is at Mrs. Russells tonight will not return home until after Sunday. A law law (sic) has been passed to have all barbers to pass an examination and pay a state license of $10 per year. Another cold wave upon us.
Thursday Feb 5 -- $.60. Paid for 24 pounds of flour 60 c. For 2 pounds of Arbuckle coffee 25. For stamps 20 c on the laundry $3. Eva attended the nite society at John Spruhan's and remained at Mrs. Bloomfield's until after supper then went to the Presbyterian Meeting. Stoped at the shop for me as she wnet home. Weather is moderating.
Friday Feb 6 -- $1.90 Paid 10 cts for a pound of mixed nuts. Eva assisted her sister Mary with the fresh hog meat. Yesterday they killed hogs out at John Alfreys and Jim took one and a half for his share. Mary gave Eva about a dollars worth of sausage and lard. We eat our dinner there. The Nicholson temperance clause was retained in our state law 65 to 27.
Saturday Feb 7 -- $7.20. One quart of Bay Rum 60 cts. Rev. WT Cuppy died at about 7 o'clock this evening. The bell in the Baptist Church was tolled. He was once pastor of that society. It is his request to be buried at Shelborne Ind. We were done our work by 11 o'clock Snow and rain has been falling most the afternoon.
Sunday Feb 8 - I heard a Methodist preacher in the ME Church at 11. He raised 65 dollars for the Methodist Hospital in Indianapolis to be built and to cost $200 thousand dollars. The preachers name is Halstead. He gets a salary of 25 hundred dollars and gives half of it away. He is a very interesting speaker. This afternoon I took him over to Russellville. Roads were fearful bad. Bob broke both of the tugs and the strop over the neck. Bro Dr. Harvey at whose house we stoped had a riveting machine and temporarily repaired the harness. The trip home was successfully terminated went with Eva to meeting tonight.
Monday Feb 9 - F5. Paid 40 for a peck of apples to eat. Olliver Boyd has small pox. He is wealthy. Had a doctor from Indianapolis to make him a professional visit. He lives on his farm 3 ½ or 4 miles south of here (Waveland, Ind). Rev. WT Cuppy's funeral was held in the Baptist Church house here this afternoon Joel S. Deer dies this pm. Irve Fullenwider is in Michigan.
Tuesday Feb 10 -- $2.85. Two weeks express on the laundry 60. Sent eh Cin News Co 3.50 ? 5 cts. Cuppy's body was shipped to Shelbourne, Sullivan Co yesterday evening. The funeral there will be preached by SK Fuson of Rockville. The snow is going off fast. Bob McMains was at our house today Pd Bob Kelso $2.50 on corn owe him 7 more. The ground could not be made any wetter than it is. Roads are almost impassible.
Wednesday Feb 11 -- $25. The funeral of old Uncle Joel Deere took place this a.m. at Freedom Baptist meeting house. Several of our citizens attended. Ten gallon of Eocene ? oil $1.25. The coal oil man was two days late. Paid George Fullenwider a dollar. I forgot it last Saturday night. Have had a wagon load of coal put in the bin at the shop.
Thursday Feb 12 -- $2.75. Sent WR Gosnell of Crawfordsville $5. John Mc is at our house tonight. There is a big scare raging on the account of small pox. There is at present none in town but several have been in having been exposed to it. Jesse Fullenwider is engaged in manufacture of cement in Michigan. Tom Rice came home yesterday He was with Irve.
Friday Feb 13 - $1.90. Telephone rent $1. There is no small pox in town up to date. I would not be at all surprised to hear of it in town at any time. There is nothing much of the big snow of last Sunday left. The weather is getting colder with a promise of more snow. 16 years ago 4 months ago my little pet was buried. 8 years 11 months ago Willie was buried.
Saturday Feb 14 -- $12.65. Paid 55 cts for a small roast of beef at 12 ½ per lb 100 for 18 ¾ lbs of granulated sugar 10 c for a pound of soda. We were done work by half past 10. Paid Bob Kelso $2 owe him 5 more. There was a light snow fell last night by sundown it had disappeared. EE Moorman is engaged in a service of meetings at Browns Valley, Ind .Did not have enough papers.
Sunday Feb 15 - I went to meeting this morning. Snowed all of last night. The morning was beautiful limbs on the trees were loaded with the beautiful ? (makes little sense but that's what it says) I did not enter the cemetery to visit the grave of little Willie. Weather is getting colder fast since noon. I am not feeling well at all - 8 below
Monday Feb 16 -- $2.75. Paid for gasoline $3.12. Presto 3 packages 30 c. This is a prepared flour for bread, cakes, pies and all kinds of use for which flour is used. It is a splendid article but costs to much to be of general use. Weather is still closer mercury has been below zero all day. I have to keep a good fire in the shop stove all night. Have put a hod of coal in on a good bed of coal.
Tuesday Feb 17 -- -14 below zero. ON the 11th of the month I sent the News $11.25 expense included. Madge Spruhan is bad sick and her life is ebbing away. Her brother Fred is home from school at the Purdue University in Lafayette, Ind. This morning at our house at 7 o'clock mercury registered 14 below at noon it was 2 below. This is decidedly the coldest weather for the season.
Wednesday Feb 18 -- $2.10 for yesterday and today -7. some warmer this morning than yesterday . Our citizens who are in the habit of putting up ice or making all preparations to commence the ice harvest in the morning. Bee McCormick has engaged my wire spring cat for use in the practice of the play on tomorrow night and on Saturday night. Paid 20 c for a ticket for Eva.
Thursday Feb 19 -- $1. 6 above zero at 7 this morning. Monday and Tuesday I did not earn a cent at work had none to do. Too cold. Eleven yards of calico for Eva a dress cost 55 cts. 1 pound of nuts 1.00 Sent the News 24 cts. PacKnights of Pythiasostal card 25 cts. Stamps 10. Sent he Crawfordsville Journal a day or so ago $1 for Oliver Buford. 1 yrs sub.
Friday Feb 20 -- $4.10. Weather is getting warmer the ice crop is about all cared for. Tomorrow will let them out. The ice harvested is 7 to 8" in thickness. Madge Spruhans case is a little more hopeful. Dr. K. Straughan thinks she will die. Eva, her sister Mary and husband went to see the play by home talent "Mrs. Brigs in the Cabbage Patch." It is claimed to be a good one.
Saturday Feb 21 - $5.50. The weather having turned warmer mercury is no longer watched with the care and close attention of a few days ago. Bob Oldshue and wife returned from Floriday in time to get the full benefit of a real winter. I was home by midnight. Eat supper after 12 p.m.
Sunday Feb 22 - I was at class meeting this a.m. Had a good meeting lead by Bro Paris M. Conner. Tonight I went with Eva and heard a good sermon by the pastor EE Moorman. During the discourse he said, "A person may join church be baptized (emersed) attend all church services, punctual and prompt in all requirements of the church and be lost, not having heard regenerated converted and made a new in Christ." Did not visit Willie's grave.
Monday Feb 23 -- $2.50. Paid 55 c for 11 yds of calico for Eva. 10 c for apples. The coal oil man did not get in today last week I paid $3.13 for 25 gal of gasoline at 12 1/1 per gallon. The snow is fast disappearing. Maple sugar weather is now here. Not so much sugar is made as molasses. We have on our table maple molasses made 3 years ago this spring.
Tuesday Feb 24 -- $1.80. Have ordered a copy for the News to be sent direct form the office in Indianapolis, Ind to Jesse Burford for 1 month. He lives north and west from town on the free delivery route. Madge Spruhan is yet living but very poorly. Last Saturday paid Bob Kelso $2 owe him $3. We gave Jim and Mary Alfrey some potatoes. We went to keep even with them for they are give us things to eat.
Wednesday Feb 25 -- $4.80. Last Thursday I paid $2.25 for gasoline. The roads are by the people who have use for them for hauling the worst they ever seen them. The ground is to wet as can be made not to be flooded. If I live through the summer I expect to see a time we would be glad to have "a good soaker." Or a "goose drownder."
Thursday Feb 26 -- $1.90. Mrs. Nancy Dowan is doing our washing now. She gets 35 every week. I don't make a note of this all the time. The Russellville Church does not want to be on the Waveland circuit. They want the pastor to live there. We will accommodate them by letting them have their own way. We can run our own affairs as we have been for several years.
Friday Feb 27 -- $3.05. Eva and I eat our dinner with Rhoda Fullenwider. Eva spent the day there. In the month of May she is expecting to go to Michigan where her husband now is. She read us a couple of letters from Irve. He is well pleased and is making close on the way of $18 per week.
Saturday Feb 28 - The weather turned colder about the middle of this afternoon and at midnight tonight the ground is frozen over and covered with a light snow. John McMains was at our house last night. I heard tonight that Lewis McMains was arrested for embezzlement and has been brought back to Crawfordsville by an officer from Michigan. He is a nephew of Eva's.