HIRAM AUSTIN PRATT - DIARY of JUNE 1885
(Standard Diary #31)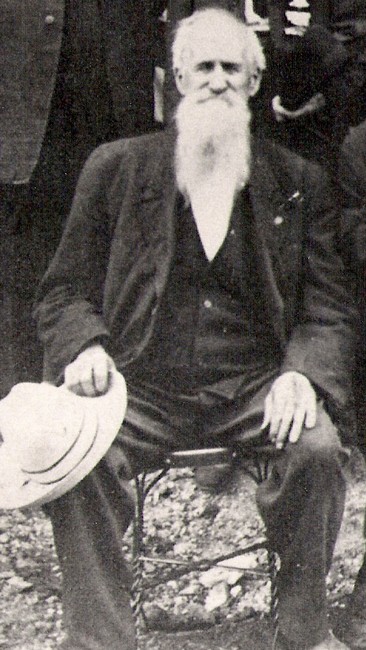 HA Pratt - April 20th - (birthday) age 45 written in front of book
---
Note: These diaries were in the Waveland Public Library for decades but were disposed of by a librarian several decades ago. Luckily, another librarian's daughter (thanks sooo much Pam, at the death of her mother, Virginia Banta Sharpe found them in some belongings and gave them back for proper housing. A complete circle. I'm a librarian too and thought since they'd been lost to posterity for so many years that it would be a good thing to transcribe them and give them to the world. They are currently housed in proper temperature/storage at the Crawfordsville District Public Library - typed as they were written
Note 2 : Karen Bazzani Zach (transcriber) was raised in the big 'ol town (500 people) where HA Pratt lived 5 decades before I was born. I remember the building where his little shop was and wish it was still there. What an interesting little place. ALAS! Progress !
Note 3: Some information about Pratt -- he was born in Parke County, Indiana April 20, 1840 the oldest child of eight born to Erastus & Elizabeth Allen Pratt and died October 12, 1914 in his beloved Waveland, Indiana. He was twice married, first to the love of his life (he kept a life-sized poster of her in one of his cabinets at his barber shop, even long after his second marriage) Eliza Franklin Shaw (born Oct 23, 1841 died Oct 12, 1887), and #2 to his friend, Evaline "Eva" McMains. He was very active in the community where he and Eliza chose to live. He gave generously of his time and money to the Methodist Church in Waveland. For a few years, he served as Marshall of the town. Also, he worked diligently for his Odd Fellows, Rebekah & Knights of Phythias Lodges, was for a time on the town board, and read to those who could not read from the several newspapers he was agent for. Pratt volunteered and served for three years during the Civil War (Co. B, 36th Infantry), and spent time in the dreaded Andersonville prison. He and Eliza adopted a son, Willie Franklin Stump, age two (not sure ever officially or just had permission to take him from the Poor House in Crawfordsville) and he was an amazing young boy (high grades, worked in the church, quite musicially inclined, just an ideal child) until Eliza was taken to the hospital where she was operated on for six cervical tumors (one weighing six pounds) from which she died. Willie went wild after that and he and Hiram's second wife, Eva never got along. He ended-up in Reform School (for stealing a dollar twice from Eva among other small crimes), and later sent home to die due to consumption (what we know as tuberculosis) dying in Hiram's arms on April 12, in 1894. Hiram missed Willie and Eliza more than most I do believe as he wrote about them so often in these diaries. Just wish the rest of Pratt's diaries he wrote for over 50 years as a barber in Waveland still existed :( kbz
---
Monday June 1 - $4.05. Pd $2.95 for freight on four gasolive stoves sent me from Cleveland, Ohio. Two of these stoves are already sold, they are 4 and 3 burner "ideal." The other two are The New Lyman same number of fires. We had rain last night & today.
Tuesday June 2-- $1.55. One gal coal oil 25 cts. Dried beef .95. Postage 30 cts. The weather is real warm with frequent showers of rain. Wife was uptown and bought 5 yds white dress goods for $1 and spent 50 cts for other goods. She is remodeling a white dress.
Wednesday June 3 -- $3.25. Bought one pounds of peppermint lozenges 20 cts. Thread not before noted in this memoranda 15 cts. The war in Europe at present seems to have blown over. The prospect for money matters are not likely to be any better until towards Faul (Fall?)
Thursday June 4 -- $19.95. Sent 57.95 to Cleveland for gasoline stoves. 30 cts charges on money sent . We had a big rain this evening. Willie was belated by it. I had to go in search of him. He had stoped (sic) in at Mr. Zach Robertson's out of the rain.
Friday June 5-- $2.05. We have had no more rain since last night. I took a New Lyman gasoline stove down home today for my wife to try. She baked 3 loaves of salt rising light bread in just 30 minutes. She likes the stove very much. Tin pail .25 cts
Saturday June 6 -- $9. Some time ago I paid Charley Switzer for sodding the yard in front of our residence $4.75. I had neglected to make a minute of it till now. Pd last Monday for milk 70 cts. We were done work tonight by 11.30. Weather warm & sultry.
Sunday June 7 - We remained at home all the forenoon. This afternoon I and Willie attended Sunday school. Since last note of any contribution to the Sunday school I have put in to the Sunday school fund 25 cts. I attended the lecture by Dr. Prettyman tonight in the ME Church.
Monday June 8 -- $4.75. Paid rent for the month of May. The air turned cool this morning and kept on getting cooler all day. Tonight if it turns off clear I believe it will frost. Wife was uptown today and spent 50 cts for hat trimmings. Sold Ella Steele a gasoline stove.
Tuesday June 9 -- $2.25. (above it in a different color ink 1.35). Paid $3 for the pump in our cistern and 3.50 for a small plow with which to plow our garden. Pd 6 dollars for 30 bushel of chicken feed. Now have nearly 200 chickens. Frost this morning.
Wednesday June 10 -- $9.25. The front yesterday was not so hard as to do much damage. Wife was up town yesterday and bought goods to trim her hat cost $1. She paid 15 cts for Willie a pair of stockings. The weather was cool today some few had fire.
Thursday June - $20.55 - Paid 1.10 for milk during the past two weeks. Wife and Willie went up to Crawfordsville to do a little trading. She is out for car fare 1.30 and paid for a new spring hat $3.25. The weather has been real nice, not to warm.
Friday June 12 -- $2. Paid 25 cts for postal cards. Eliza is not well pleased with her purchase of a new hat in Crawfordsville yesterday. I ordered more gasoline stones. The weather has turned off warm. A rain would be very acceptable.
Saturday June 13 -- $10.15. Paid 80 cts for 2 gal strawberries. 25 cts for fresh beef. It was after 11 o'clock when we were done work tonight. A big rain last night made the fields too wet to plow in many localities. Lyford Canine returned today from Kansas
Sunday June 14 - We remained at home all the forenoon after dinner we started for Sunday School but were too late. Our clock was more than a half hour slower than the janitor's time. We called at Mrs. Burrows and at John Spruhans. A rain last night and a good prospect for one tonight.
Monday June 15 -- $4.50. Paid 35 cts for two gal of gasoline. Send John C. New & Son 16.28. Three and 25 to the Sentinel and 1.50 was included for the Times Co. Rain last night and rain tonight. Charley Kritz returned from Crawfordsville. Coffee .50
Tuesday June 16 -- $2.30. Thread 10 cts. Butter 80 cts. Milk .35 Sent to Birmingham Connecticut for cards 1.55. Last week I ordered a copy of Globe Democrat 90. We had a splendid rain last night. Ground is well soaks this morning. Charley Kritz will work here until Sept.
Wednesday June 17 -- $1.50. 2# of butter 40 cts. 30 cts for one gal of strawberries. 50 cts for wife a pair of carpet slippers. 20 c for repairs on garden plow. We have had a splendid day for all kinds of business. I have cut the grass in our yard.
Thursday June 18 -- $1.15. 30 cts for a fish. 20 cts for Lemmons (sic). Weather has been delightful. The four barrel of gasoline ordered last week will be here this week I think. Had my little clock cleaned cost 75 cts. Willie has lost my pocket knife.
Friday June 19 -- $1.65. 45 cts for beef. 75 cts for Willie pair of suspenders and two yds of goods for waists. Today I pulled a small garden - plow and Willie held it 2-4-he plowed me (I have no idea what he's saying here - maybe a family joke?). I ordered another new Lyman Vapor stove.
Saturday June 20 -- $7.60. Berries 35. Starch 10 cts. We were done our work by 10.30. The weather has been quite warm. I received 4 bbls (? Barrels?) of gasoline today and turned them over to customers at cost $17.74. No account will be made in cash acct. Wife is not very well.
Sunday June 21 - We have had frequent showers of rain today. I attended preaching at the Methodist Church at 10:30 heard Rev. Samuel Beck of Terre Haute. Our preacher went down there and preached for him. Willie and I were at Sunday School 2:30. (those of you following his diaries, have you noticed he doesn't say 10 ½ anymore? I thought that was cute - wonder if it was an Iowan way to say it?).
Monday June 22 -- $4.15. Paid 65 cts for one gal of pickles. Sent to Globe Dem 50 cts. I done some work in our garden this afternoon. Wife done her usual weeks work this morning. I attended IOOF lodge tonight. My health is again restored.
Tuesday June 23 -- .75. Paid 25 cts for one gal of coal oil. I attended AOUW tonight and paid $2 assessments. For thread 25 cts. Tom Campbell of Darlington Ind was here today and sold his pool tables to John Scott. The weather has been fine.
Wednesday June 24 -- $1.80. Two and a half pounds of butter 35 cts. Milk for last week .40 Wife and Mrs. Hutton made several calls this afternoon upon their friends in different parts of town. I am in need of gasoline stoves. No word from them.
Thursday June 25 -- $1.20. Paid 65 cts for a pocket knife. Willie lost mine some two weeks ago. Paid 5 cts for a paper of turnip seeds. The weather is quite warm real summer like. I was over at Boney Doley's (Dooley?) tonight to see about trading for a few loads of hay - no trade.
Friday June 26 -- $1.60 Paid 50 cts for a pair of suspenders. Rec'd shipping bill of two gasoline stoves - suppose they will be in tomorrow. The weather is fine for making hay - no rain since last Sunday. Webb Hanna delivered me a load of hay too small for $4 - the price he asks for it!
Saturday June 27 -- $7.50. Two cans of fruit 25 . Fresh beef .45 Cheese 25. Lemons 15 trast (?) to lemonade .15. Our cow "found" a beautiful red heifer calf this forenoon. The weather has been very warm and suffocating a good time for the growing crops Done work by 11.30 Rain.
Sunday June 28 - Willie and I attended Sunday school at 2 ½. Rained today. I went with our little boy after the cows. We had to call in at Mr. Zachie Robertson and wait for the shower to pass. Weather warm.
Monday June 29 -- $5.05. I attended the election of officers in IOOF Lodge tonight. Starch 25 cts. Gages 25. Flour 1.57. The weather is very pleasant for all out door work not too hot. Wheat crop will be of a good grade but not a large yield.
Tuesday June 30 -- $2.15. I attended the election of officers in the AOUW Lodge tonight and paid dues one dollar for the quarter ending Sept 30. Beef 35 cts. Sent $5 to THB McCain of Crawfordsville. Candy lozenges wife .30